AMERICA BETRAYED: BUSH, BIN LADEN & 9-11
by Rhawn Joseph, Ph.D.
© 2003 R. Joseph
1st ed.
NOTICE: THIS WORK MAY BE PROTECTED BY COPYRIGHT
YOU ARE REQUIRED TO READ

THE COPYRIGHT NOTICE AT THIS LINK

BEFORE YOU READ THE FOLLOWING WORK, THAT IS AVAILABLE SOLELY FOR PRIVATE STUDY, SCHOLARSHIP OR RESEARCH PURSUANT TO 17 U.S.C. SECTION 107 AND 108. IN THE EVENT THAT THE LIBRARY DETERMINES THAT UNLAWFUL COPYING OF THIS WORK HAS OCCURRED, THE LIBRARY HAS THE RIGHT TO BLOCK THE I.P. ADDRESS AT WHICH THE UNLAWFUL COPYING APPEARED TO HAVE OCCURRED. THANK YOU FOR RESPECTING THE RIGHTS OF COPYRIGHT OWNERS.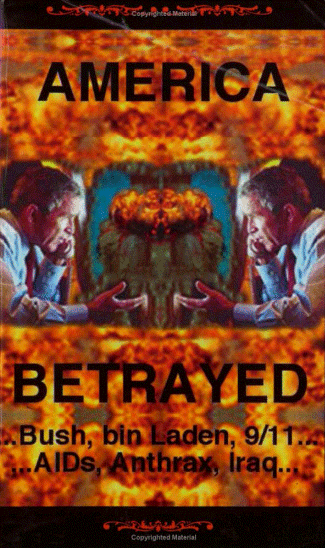 Table of Contents
1. THOSE WHO BURN BOOKS: When History Repeats Itself. The Nazi Roots.
2. THE NAZI-TERRORIST OIL-CONSPIRACY
3. THE BROTHERHOOD OF DEATH
4. CIA-NAZIS: TERROR & MURDER INCORPORATED: Corporate Terrorism, Guatemala, Chile, Cuba, Watergate and the Kennedy Assassination
5. THE TERRORIST ASSASSINS: Operation Gladio, Rockefeller, Bush, the For-Reagan Assassinations
6. THE TANGLED ROOTS OF TERRORISM: Wahhabism, Nicaragua, Iran-Iraq War, Iran-Contra, and the Sadat Assassination
7. BUSH-LADEN, WAHHABISM & THE GULF WAR
8. BIOLOGICAL ETHNIC WEAPONS: THE U.S. TERRORIZES AMERICANS: IG Farben, AIDs, Anthrax, Eugenics
9. OSAMA BIN LADEN, AFGHANISTAN, TALIBAN, AL-QAEDA, FLORIDA & GEORGE BUSH
10. BUSH, FBI & CIA SABOTAGE PRE-9-11 INVESTIGATIONS: FBI/CIA Agents Working for Bin Laden?
11. 9-11: BUSH KNEW & ALLOWED IT TO HAPPEN
12. TERROR FOR OIL
13. BIN LADEN THE BUSINESSMAN: "This is Not Terrorism. This is Strictly Business."
14. A TAIL OF TWO "HEROES": Drunk, Drugged & Getting Out of Harm's Way
Prescott Bush and Rockefeller's Standard Oil had been in business with the Hitler regime and the Nazis since 1933, and in 1942, three Bush businesses were seized by the U.S. government, for violation of the Trading With the Enemies Act.
Three generations of the Bush clan became members of a German secret society: the Yale chapter of the "Order of Skull and Bones." In Germany, the Order of Skull of Bones -- also known as "The Brotherhood of Death"-- gave rise to Hitler and the dreaded SS. Prescott Bush, through his shipping company, became a special "Friend" of Himmler's SS -- the same SS which, in conjunction with IG Farbin, ran the concentration and slave labor camps.
The Bush clan and Rockefeller's standard Oil, were in business with IG Farben, as well as with the Saudis who had also partnered with Hitler.
At the conclusion of WWII, and Germany's defeat, thousands of high ranking Nazis and SS agents were recruited, by Bush-Rockefeller lawyer, Allen Dulles, into what would later become the CIA. Allen Dulles, and later, George Bush, would become directors of the CIA...
... IG Farbin, a consortium of companies that included Bayer, conducted horrible experiments on concentration camp inmates to discover an "ethnic biological weapon" --a deadly disease that would target specific ethnic groups... Drs. funded by the Rockefeller foundation directed this research.
In 1957, a scientist who completed his medical training in Nazi-occupied Poland, and who was funded by the Rockefeller foundation, injected 300,000 Central African men, women, and children, with an experimental polio vaccine -- a vaccine that contained a deadly AIDS-like virus, monkey HSIV. Years later, Central Africa would become "Ground Zero" for the AIDS/HIV epidemic...
On August 6, 2001, Bush received a memorandum titled "Bin Laden Determined to Strike in U.S.," but then did nothing. Two weeks later, CIA Chief Tenet and his top deputies received a briefing paper labeled "Islamic Extremist Learns to Fly." Bush and Cheney were notified and did nothing...War would be good politics and good for the business of war.
...Three generations of the Bush clan have been in business with governments and people who kill Americans, and on the morning of 9-11-2001, Bush sr. was in business with the bin Ladens and other Saudis who had helped fund Osama bin Laden and the attack of 9-11-2001... 15 of the hijackers were from Saudi Arabia and Bush did nothing to stop the attack.
The attack of 9-11, would transform an inept, incompetent president into a war time leader who would attack not Saudi Arabia but Iraq and then steal its oil and assets...as well as attack American Civil Liberties and the U.S. constitution...
Bush knew in advance, but welcomed the attack of 9-11-2001, as its aftermath would not only earn his family and associates billions of dollars, but would provide an excuse for attacking Iraq and toppling its leader, Saddam Hussein--the sworn enemy of Osama Bin Laden.
"Key FBI Headquarters personnel had to be spies or moles.. who were actually working for Osama Bin Laden....Key FBI HQ personnel... continued to, almost inexplicably, throw up roadblocks and undermine Minneapolis' desperate efforts... to stop terrorists...." who planned "to take control of a plane and fly it into the World Trade Center." --FBI supervisor, and Colleen M. Rowley, FBI Special Agent & Chief Division Counsel...
"It was as if Usama bin Laden, hidden in some high mountain redoubt, were engaging in long-range mind control of George Bush." --United States Counterterrorism Chief, Richard A. Clarke.
...and it goes on and on...