Wall Street and the Rise of Hitler
by Antony C. Sutton
© Copyright 2000, by Antony C. Sutton
NOTICE: THIS WORK MAY BE PROTECTED BY COPYRIGHT
YOU ARE REQUIRED TO READ

THE COPYRIGHT NOTICE AT THIS LINK

BEFORE YOU READ THE FOLLOWING WORK, THAT IS AVAILABLE SOLELY FOR PRIVATE STUDY, SCHOLARSHIP OR RESEARCH PURSUANT TO 17 U.S.C. SECTION 107 AND 108. IN THE EVENT THAT THE LIBRARY DETERMINES THAT UNLAWFUL COPYING OF THIS WORK HAS OCCURRED, THE LIBRARY HAS THE RIGHT TO BLOCK THE I.P. ADDRESS AT WHICH THE UNLAWFUL COPYING APPEARED TO HAVE OCCURRED. THANK YOU FOR RESPECTING THE RIGHTS OF COPYRIGHT OWNERS.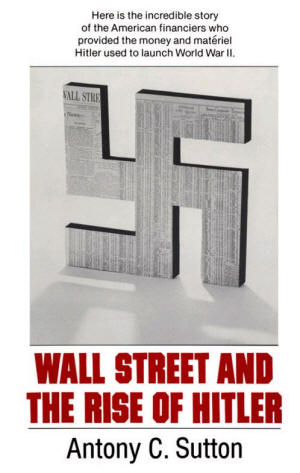 Table of Contents
• Inside Cover
• Preface
• Introduction: Unexplored Facets of Naziism
PART ONE: Wall Street Builds Nazi Industry
• Chapter One: Wall Street Paves the Way for Hitler
o 1924: The Dawes Plan
o 1928: The Young Plan
o B.I.S. -- The Apex of Control
o Building the German Cartels
• Chapter Two: The Empire of I.G. Farben
o The Economic Power of I.G. Farben
o Polishing I.G. Farben's Image
o The American I.G. Farben
• Chapter Three: General Electric Funds Hitler
o General Electric in Weimar, Germany
o General Electric & The Financing of Hitler
o Technical Cooperation with Krupp
o A.E.G. Avoids the Bombs in World War II
• Chapter Four: Standard Oil Duels World War II
o Ethyl Lead for the Wehrmacht
o Standard Oil and Synthetic Rubber
o The Deutsche-Amerikanische Petroleum A.G.
• Chapter Five: I.T.T. Works Both Sides of the War
o Baron Kurt von Schroder and I.T.T.
o Westrick, Texaco, and I.T.T.
o I.T.T. in Wartime Germany
PART TWO: Wall Street and Funds for Hitler
• Chapter Six: Henry Ford and the Nazis
o Henry Ford: Hitler's First Foreign Banker
o Henry Ford Receives a Nazi Medal
o Ford Assists the German War Effort
• Chapter Seven: Who Financed Adolf Hitler?
o Some Early Hitler Backers
o Fritz Thyssen and W.A. Harriman Company
o Financing Hitler in the March 1933 Elections
o The 1933 Political Contributions
• Chapter Eight: Putzi: Friend of Hitler and Roosevelt
o Putzi's Role in the Reichstag Fire
o Roosevelt's New Deal and Hitler's New Order
• Chapter Nine: Wall Street and the Nazi Inner Circle
o The S.S. Circle of Friends
o I.G. Farben and the Keppler Circle
o Wall Street and the S.S. Circle
• Chapter Ten: The Myth of "Sidney Warburg"
o Who Was "Sidney Warburg"?
o Synopsis of the Suppressed "Warburg" Book
o James Paul Warburg's Affidavit
o Some Conclusions From the "Warburg" Story
• Chapter Eleven: Wall Street-Nazi Collaboration in World War II
o American I.G. in World War II
o Were American Industrialists and Financiers Guilty of War Crimes?
• Chapter Twelve: Conclusions
o The Pervasive Influence of International Bankers
o Is the United States Ruled by a Dictatorial Elite?
o The New York Elite as a Subversive Force
o The Slowly Emerging Revisionist Truth
• Appendix A: Program of the National Socialist German Workers Party
• Appendix B: Affidavit of Hjalmar Schacht
• Appendix C: Entries in the "National Trusteeship" Account
• Appendix D: Letter from the U.S. War Department to Ethyl Corporation
• Appendix E: Extract from Morgenthau Diary (Germany)
• Footnotes
• Bibliography
• Index
"The 1945 interrogation of I.G. Farben director von Schnitzler reads:

Q. What did you do when they told you that I.G. chemicals was [sic] being used to kill, to murder people held in concentration camps?

A. I was horrified.

Q. Did you do anything about it?

A. I kept it for me [to myself] because it was too terrible .... I asked Muller-Cunradi is it known to you and Ambros and other directors in Auschwitz that the gases and chemicals are being used to murder people.

Q. What did he say?

A. Yes: it is known to all I.G. directors in Auschwitz."

***

"The critical point is that the German industrialists financing Hitler were predominantly directors of cartels with American associations, ownership, participation, or some form of subsidiary connection. The Hitler backers were not, by and large, firms of purely German origin, or representative of German family business. Except for Thyssen and Kirdoff, in most cases they were the German multi-national firms — i.e., I.G. Farben, A.E.G., DAPAG, etc. These multi-nationals had been built up by American loans in the 1920s, and in the early 1930s had American directors and heavy American financial participation."

***

"The American electrical industry has conquered the world, and only a few of the remaining opposing bastions have been able to withstand the onslaught."

***

Original transfer slip dated March 2, 1933 from German General Electric to Delbruck, Shickler Bank in Berlin, with instructions to pay 60,000 RM to the "Nationale Treuhand" fund (administered by Hjalmar Schacht and Rudolph Hess) used to elect Hitler in March 1933. Source: Nuremburg Military Tribunal, document No. 391-395.

-- Wall Street and the Rise of Hitler, by Antony C. Sutton