Part 2 of 2
Kafka now regarded writing as an alternative to life. He entered the "sacred vocation" of literature, "choosing priesthood over manhood." [57] Composing parables was "a form of prayer," [58] a holy quest for truth. It became his principal reason for being. Only by exercising this gift could he meaningfully serve humanity -- even if God forbade him from doing it. Writing was the only way to justify his "monotonous, empty, insane bachelor's existence." [59] Neglecting this duty might result in mental breakdown. As he asserted to Max Brod: "a non-writing writer is... a monster courting insanity." [60] Nevertheless, Kafka later instructed him to destroy many of his manuscripts out of fear that they may have originated from evil spirits.
Kafka's story "In the Penal Colony" (1914) not only flouts literary conventions, but presages Auschwitz. On some remote Devil's Island an officer proposes to execute a prisoner for not saluting the commandant's door. He's enthusiastic about carrying out the sentence with a high-tech instrument of torture, consisting of an oscillating harrow with needle that slowly tears victims apart by engraving them with the name of their offense. In a reversal of fortune, the officer ends up mangled by his own infernal machine. This narrative portrays an absurd and unjust society equipped with sophisticated technology for killing.
In The Metamorphosis (1915) commercial traveler Gregor Samsa wakes up one morning transformed into a giant cockroach. His bourgeois family struggles to conceal this incomprehensible disgrace from neighbors. Even Gregor's affectionate sister wants him out of the family's apartment His death brings relief to everyone, himself included.
The Trial, posthumously published in 1925, also starts with the protagonist waking up to a bad dream. It begins with bank clerk Josef K. being awakened one morning and arrested, even though he hadn't committed any crime. He receives a summons to report to an Interrogation Commission. His court appearance takes place in the back room of a dilapidated apartment building. Judge and prosecutor refuse to divulge the charges against him. When he argues eloquently against this violation of his civil liberties, the district attorney solemnly informs him that such contrariness has only gotten him into more trouble. The nightmare gets progressively worse. His own lawyer proves incompetent. Josef visits the court's office, a filthy apartment where the judge's wife attempts to seduce him. Law books on the library shelf don't contain statutes and legal precedents, but lewd stories with pornographic illustrations. In the end authorities condemn Josef to death for an unspecified "crime" and execute him at a quarry. The Trial uncannily prefigures Nazism's system of "justice," even down to the detail of Josef's murder near pits outside of town.
Kafka's father's behavior influenced his bleak characterizations of "lawful" authority in "The Judgment," The Trial, and The Castle. Franz never forgot an incident which occurred during his childhood. As a four year old he could not sleep and whined for his mother. Hermann rushed in, violently shoved him out onto the balcony, and left him crying there in his pajamas. Thirty years later Franz vividly recalled his distress.
" ... I still suffered from the tormenting fantasy that the gigantic man, my father, the supreme authority, could come at night, almost without any grounds, and carry me from my bed to the balcony and that I was therefore, for him, such a nonentity." [61]
Two of Kafka's novels reprised this childhood trauma in veiled form. In The Trial police induced Josef K's landlady to rouse him from bed. In The Castle, an agent of Count Klamm named Schwarzer woke up K. and informed him that he must leave the village at once since he didn't have a permit.
Some critics interpret The Castle as an allegory about Jewish alienation. Protagonist K. attempts to contact Klamm, shadowy lord of the manor, on the pretext of conducting a land survey. Lower level employees obstruct his efforts. Unable to accomplish anything he appeals to local residents for help. They won't cooperate, and slavishly express satisfaction with Klamm's unfathomable governance. Helping K. might imperil their own interests. A lukewarm moderate tells him: "nobody's keeping you here." Wishing to remain politically-correct, he softens this by adding: "you're not being thrown out." [62] K.'s an outsider -- or non-person, the villagers don't really care about.
K. seduces Klamm's ex-mistress, a barmaid named Frieda, but she knows little about her former lover's business, and has no influence with him. He also befriends members of the Barnabas family who have become outcasts for unknown reasons -- without breaking any laws. The Barnabases have been informed that in order to clear themselves of the unstipulated charges against them, they must prove others guilty. Klamm's regime demands that innocent parties bear the burden of proof.
Since it abruptly stops in mid-sentence, most critics have pronounced The Castle "unfinished." However, Max Brod thought Kafka intentionally ended the work that way to emphasize that the problem of capricious power, wielded from behind the scenes, will never be resolved. Hitler had his Night and Fog Decree, the Mafia its code of silence. Arbitrary authority envelopes itself in secrecy to evade accountability.
In 1917 Kafka had an affair with Grete Bloch, a fashionable young secretary whom Felice Bauer deputized as a "go-between." Grete later claimed to have borne Kafka a male child out of wedlock, who died at the age of six in Munich, circa 1921. Most scholars dismiss her story as a fabrication. She probably had sex with Kafka and may have had a child by another man. Unfortunately, Grete suffered from mental illness in 1940 when she related this story to Walter Schocken. Four years later German troops murdered her and other Jews in Florence, Italy.
While convalescing at Schelesen Sanitarium in 1919 Franz met an attractive dressmaker named Julie Wohryzek, daughter of a Jewish cobbler. She had been hospitalized for depression after her fiance's death in the war. Following a month of pleasant companionship, Kafka suddenly proposed to Julie. Their engagement did not last long. Franz's interest waned because he thought her somewhat shallow, his parents disapproved, and the couple's arrangements for an apartment in a Prague suburb fell through. In the aftermath of this debacle Hermann Kafka snapped that his son should give up on love and just pay for sex at brothels.
Kafka never had a close relationship with a gentile girl until meeting Milena Jesenska in 1920. When she was thirteen years old her mother died of pernicious anemia. Her father, Czech nationalist Dr. Jan Jesenska, specialized in plastic surgery and jaw reconstruction. The choleric doctor beat his daughter severely and often, but also sent her to The Minerva, Prague's best private school. Milena flourished there as a writer and student of literature. By 1915 she frequented the Arco Circle of Kafka's friend Franz Werfel. Shortly after joining Werfel's salon, nineteen year old Milena commenced a stormy affair with Oskar Polak, a thirty-six year old Jewish writer with a reputation for womanizing. At the same time, she stole money from her father and became addicted to cocaine. In an attempt to control his wild daughter, Dr. Jesenska clapped her into Veleslavin Insane Asylum for ten months. This confinement had no effect on her feelings for Polak. Shortly after being released, she ran off with him to Vienna. A proponent of free love, Polak not only cheated on Milena, but physically abused her. By 1919 she had to support herself by working as a baggage handler in Vienna's railroad terminal.
Kafka caught her on the rebound about this time. She wrote him a letter praising his literary works and requesting permission to translate some stories into Czech. Bright and beautiful Milena immediately made a favorable impression on Kafka. He commenced a fresh round of platonic correspondence with her. Kafka prized Milena's "clairvoyant wisdom," [63] but had reservations about her common sense. Despite Polak's inexcusable behavior, she remained obsessed with him.
Franz deplored Polak's scandalous conduct, which reflected badly on Jews. He passed on to Milena the comment of one her own relatives to Josef David (his sister Ottla's husband.)
"Don't ever get involved with Jews. Look at what happened to our Milena ... " [64]
She admitted that Polak was only interested in sex -- "fifteen minutes of male business," as she put it.
Franz elevated her spirit with romantic strolls, candle-lit dinners, kisses, embraces, hand-holding, caresses, soulful looks, and heartfelt words of endearment. He claimed to be less jealous of the caddish Polak than Milena's female friends -- who wasted so much of her time with superficial "girl talk."
Milena sized "Frank" up as a "neurotic Jew." He could not deny being high strung, and once acknowledged doing "everything while literally disintegrating." [65] In 1905 and 1906 after final exams at the University Franz had checked into asylums for "rest cures." He was fastidiously clean and picky about whatever he ate. The fear that letters might contain bad news induced him to leave them unopened for days. Kafka had a phobia about receiving phone calls. The telephone's jarring alarm bell always seemed to herald sudden misfortune. Although he excelled as a letter writer, he felt vulnerable as an ad-libbing conversationalist -- especially with "prosecutors" who "ambushed" him via telephone.
Rodents terrified Kafka. While in Zurau during a vacation he discovered mice running around his cottage. He quickly overcame a lifelong repugnance for cats, inviting one to patrol the room -- even though it repeatedly startled him by jumping into his lap, and once defecated in his bedroom slipper. When Max Brod teased Franz about his mouse phobia, he struck back with uncharacteristic sarcasm.
"... You have nothing against mice? Of course not. You also have nothing against cannibals. But if, in the middle of the night they came creeping out of all your closets and flashed their teeth, you would definitely stop being fond of them." [66]
Like Heinrich Heine, Kafka could not tolerate noise. The relatively faint sound of the elevator in his apartment building drove him to distraction. He described it as:
"a purposeless noise-machine that imitates the sound of (the game) skittle. A heavy ball's rolled rapidly over the entire length of the ceiling, hits the corner and bumps slowly back." [67]
To drown out this bothersome rumbling he ordered special "Oropax" earplugs from Berlin.
In September, 1918 while resting at a cabin in Zurau with his sister Ottla, Kafka complained that he lived next door to "the only piano in north-west Bohemia." [68] He referred to his bedroom at home as "racket headquarters."
"When the noise of breakfast stops on the left, the noise of lunch starts on the right, doors are now being opened everywhere as if the walls were being demolished." [69]

"I hear every door being slammed ... I hear even the clang of the oven door being shut in the kitchen. My father breaks down the doors to my room and comes marching through ... Ashes are being scraped out of the stove in the next room ... Valli, addressing no one in particular, shouts through the foyer as across a Paris street, wanting to know if father's hat had been brushed ... Finally, father is gone and now begins the more ... distracting noise led by ... two canaries." [70]
The constant din forced him to write at night, take long walks, and seclude himself in libraries. He explained the therapeutic value of being alone to Max Brod.
"Solitude has a power over me that never fails ... A slight tidying of my interior gets under way, and I need nothing more, for in small talents nothing is worse than disorder." [71]
In April, 1910 Kafka's nervous tension manifested embarrassingly at work. During an insurance conference his boss, the portly and bearded Dr. Otto Pribram, made a mildly humorous remark. Franz burst into hysterical laughter. He desperately struggled to disguise his uncontrollable mirth as a coughing fit. Then a department head stood up and uttered some cliches with unintentionally comic hand gestures, which struck Franz as vaudeville "schtick." He completely lost it, laughing maniacally for ten minutes straight, while a room full of business colleagues ogled at him in stunned silence.
"I exploded in gales of laughter. .. as perhaps only grade school youngsters are capable... At the same time ... my knees were shaking with fear ... Thanks to a letter of apology I wrote to the president right after the incident ... the matter has now largely been smoothed over. Needless to say, I was not granted a full pardon ... " [72]
Franz did not deny Milena's charge that he was "an anxiety-ridden Jew," bur declared that only a minority of his co-religionists suffered from this affliction.
"The reproach does not apply to your husband... in my experience it does not apply to most Jews, but ... is applicable only to rare individuals, such as myself; but those it hits hard." [73]
Indefinable feelings of trepidation and doom plagued him when in his "psychic state" as a writer. Since Franz could not deny their validity, he felt duty-bound to articulate them. His hard-bargaining father was really just a clownish figure compared to sinister elements coalescing after the Austrian Empire's post-war dissolution.
When Milena invited him to Vienna for a few days, he overcame extreme apprehension and undertook the journey. "I'll need neither breakfast nor supper, but a stretcher," [74] he wrote. His telegram providing time and place of arrival implored:
"Please, Milena, no surprises. No sneaking up on me from behind." [75]
This visit went well, but their relationship cooled off. He ruefully prophesied:
"Few things are certain, but one of them is that we shall never live together, in the same apartment, body to body, at the same table, never, not even in the same town." [76]
Kafka loved Milena, but seduced a chambermaid in Meran, Italy during the height of their relationship. His interest in the liberated Czech girl waned due to his own failing health and her refusal to leave Polak. Franz conceived of himself as an old geezer who held out a "quivering ... clawed, unsteady ... hand ... " [77] to a volatile younger woman. Milena's irrationality, impulsiveness, and lingering attraction for Oskar Polak made him uneasy. He did not relish hair-raising rides on her emotional roller coaster.
"Either you're mine, and then it's good, or you're lost to me, (and) .. it's ... annihilating." [78]
They remained friends after drifting apart in 1921.
In spite of Kafka's homeopathic precautions, his health deteriorated. He frequently caught colds, suffered from migraine headaches, insomnia, and boils. On August 2, 1917 he coughed up blood, but did not go to his doctor until August 10th. The Workmens Institute granted him sick leave on August 19th due to a pulmonary hemorrhage. Dr. Muhlstein theorized that he might have contracted tuberculosis by drinking unpasteurized milk for "health reasons." Kafka's condition improved slightly until October, 1918, when he came down with Spanish flu. Influenza somehow bolstered the T.B. infection. Kafka spent time in various sanitariums, including Mrs. Forberger's in the High Tatra Mountains near Matliary, even though he abhorred
" ... those institutions rocked to their foundations day and night by cough and fever, where they make you eat meat, where retired hangmen dislocate your arms if you try to resist injections, while Jewish doctors stand by and stroke their beards ... " [79]
He spoke of the sanitarium as a "mass grave." [80]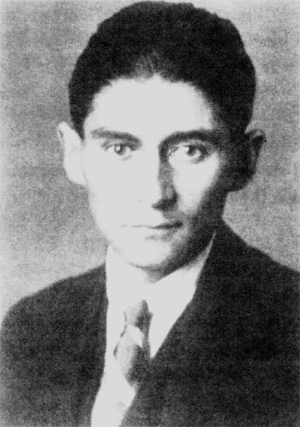 Franz Kafka, 1923
In July, 1923 Kafka traveled to the lakeside resort of Muritz, Germany with his sister Elli and her two children. On Friday, July 13, 1923 he encountered 19 year old Dora Diament, who had recently fled from her Hasidic family in Galicia. She worked at the children's day care center in Berlin's Jewish People's Home. As the older brother of three sisters, Kafka knew how to charm younger girls. Dora found him a "born playmate, always ready for some mischief." [81] Franz invited her to meals and strolled on the beach with her. The unlikely pair soon fell deeply in love.
Kafka was desperately ill with tuberculosis at this time. The inflation of 1923 had just wiped out his savings. Nevertheless, he and Dora moved into an apartment together. They spoke of emigrating to Palestine and opening up a restaurant -- though neither knew how to cook. He wrote to her parents in Poland, asking for their daughter's hand in marriage, portraying himself as a "penitent one who is returning (to Judaism.)" [82] Her father consulted his rabbi, who advised him to refuse permission.
Dora encouraged Franz to read the Talmud. Meanwhile, landlords evicted them from two apartments. Kafka's parents and sisters had to mail checks to keep the two lovebirds afloat.
In the fall of 1923 Franz was still well enough to take courses at the Hebrew Academy. While on his way there one day he saw a little girl crying, and asked her what was wrong. She replied that her doll had been lost. Kafka told her that
"the doll, whom he had only just met, had to go away but ... promised to write... For weeks afterwards he sent her letters in which the doll described her travel adventures." [83]
Like Heine, Kafka experienced love on the eve of death. For her part, Dora worshipped him.
"He was everything she had been longing for: a man with the mind and manners of an educated Western European, and a heart as Jewish as her own." [84]
From March until June, 1924 Dora nursed her dying lover with help from his sisters and Dr. Robert Klopstock. Tubercular lesions on his larynx made it impossible for Kafka to eat or drink by early May, 1924. He could not swallow so much as a mouthful of liquid, but noticed that cut lilacs in a vase of water "still swig away while dying," [85] Intravenous feeding technology did not yet exist. On May 11th, the day of Max Brod's last visit, Dora saw an owl at the window-an omen of death to Eastern Europeans. Kafka died of dehydration and starvation on June 3, 1924. At his funeral two days later Dora dove on top of his grave and wept hysterically.
Major works such as The Trial, Amerika, and The Castle never would have been published without the efforts of Max Brod, who fortunately ignored Kafka's instructions to burn his manuscripts.
If he had survived to age sixty and remained in Czechoslovakia, the SS would surely have murdered Franz Kafka. The "anxiety-ridden Jew's" dark forebodings ultimately turned into grim realities. Dora Diament managed to escape from Hitler's Germany in 1933, then Stalin's Soviet Union in 1938. Others were not so lucky. Nearly all of Kafka's relatives died in the Holocaust. His sisters Valli, Elli, their husbands, and children were deported to Lodz ghetto. Every one of them perished. Ottla Kafka David's gentile husband and two daughters survived World War II. However, upon divorcing Josef David in 1942, Ottla was arrested by the Gestapo and imprisoned at Terezin ghetto. She died in October, 1943 after volunteering to escort children on a rail journey from Terezin to Auschwitz. A German soldier shot and killed Kafka's girlfriend Grete Bloch in Florence, Italy. The SS transported his comedian pal Yitzhak Levi from the Warsaw ghetto to Treblinka for execution in 1942. Milena Jesenska worked for the Czech Resistance between 1938 and 1939, when Nazi Secret Police arrested her. She died from illness in Ravensbruck concentration camp on May 17, 1944. All of Kafka's surreal premonitions came to pass during the Nazi reign of terror.
_______________
Endnotes
1 Ronald Hayman, Kafka, A Biography, Oxford University Press, New York, 1982, p. 6.
2 Ibid., p. 92.
3 Ernst Pawel, The Nightmare of Reason: A Life of Franz Kafka, Quality Paperback Book Club, New York, 1984, p. 17, op. cit. Franz Kafka, Dec., 1912 letter to Felice Bauer.
4 Franz Kafka, Letters to Milena (Letters of Franz Kafka to Milena Jesenska), Willy Haas, editor, New York, Schocken Books, 1952, p. 49.
5 Franz Kafka, Letter to his Father, trans. Ernst Kaiser and Eithne Wilkins, Schocken, New York, 1966, p. 18.
6 Pawel, p. 383.
7 Ibid., p. 51.
8 Ibid., p. 102.
9 Hayman, p. 261. Kafka actually used the word "western," which had the implication of "free-thinking" or "secular."
10 Franz Kafka, Letters to Felice (Letters of Franz Kafka to Felice Bauer), Erich Heller and Jurgen Born, editors, trans. James Stern and Elisabeth Duckworth, Schocken, New York, 1973, p. 723, 10/11/1916 letter of F. Kafka to F. Bauer.
11 Pawel, p. 22.
12 Franz Kafka, The Diaries of Franz Kafka, 1910-1923, Max Brad, editor, trans. Joseph Kresh, Schocken, New York, 1948-1949, entry for 10/1/1911.
13 Letters to Felice, F. Kafka to F. Bauer, 9/16/1916.
14 Kafka Diaries, Brad ed., 10/1/1911.
15 Kafka, Letters to Milena, p. 184.
16 Hayman, p. 248, op. cit., F. Kafka 4/8/1920 letter to Max Brad.
17 Ibid., p. 251, F. Kafka May, 1920 letter to Max Brad.
18 Kafka, Letters to Milena, p. 33.
19 Pawel, p. 377.
20 Max Brod, Franz Kafka, Schocken Books, New York, 1960, p. 137.
21 Hayman, p. 209, op. cit. F. Kafka letter to Max Brod, July, 1916.
22 Ibid., p. 99, op. cit. Max Brod Diary, 9/2/1911.
23 Kafka, Letters to Felice, 5/15/1913.
24 Ibid.
25 Kafka Diaries, 6/28/1912.
26 Pawel, p. 400.
27 Ibid., p. 124.
28 Hayman, p. 246.
29 Ibid.
39 Pawel, p. 195.
31 Kafka Diaries, 7/19/1912.
32 Pawel, p. 260.
33 Ibid., p. 176.
34 Ibid., p. 181.
35 Ibid., p. 187.
36 Ibid., p. 194, F. Kafka letter to Max Brod, summer, 1909.
37 Hayman, p. 41, op, cit. F. Kafka 1/27/1904 letter to Oskar Pollak.
38 Pawel, p. 100.
39 Kafka Diaries, 1/19/1911.
40 Kafka, Letter to his Father, p. 51. (Ronald Hayman states that the book given to Hermann was "The Penal Colony and Other Stories.")
41 Ibid., p. 192, F. Kafka letter to Max Brad, September, 1908.
42 Kafka Diaries, p. 401.
43 Kafka, Letters to Felice, 12/16/1912.
44 Pawel, p. 195.
45 Ibid., p. 430.
46 Kafka Diaries, 8/20/1912.
47 Kafka, Letters to Felice, 8/14/1912.
48 Ibid., 9/28/1912.
49 Pawel, pp. 282-284 passim.
50 Kafka, Letters to Felice, p. 402, 7/22/1912 letter.
51 Ibid., p. 383, 51/5/1913 letter.
52 Ibid.
53 Ibid., p. 458, 8/22/1913 letter.
54 Ibid., p. 284, 11/1/1912 letter.
55 Ibid., p. 295, 6/26/1913 letter.
56 Ibid., p. 291, 2/20/1913 letter.
57 Pawel, p. 252.
58 Ibid., p. 97.
59 Kafka Diaries, 8/15/1914.
60 Pawel, p. 97, F. Kafka letter to Max Brad, 7/5/1922.
61 Kafka, Letter to his Father, p. 11.
62 Franz Kafka, The Castle, trans. Edwin and Willa Muir, A. A. Knopf, New York, 1941, p. 64.
63 Kafka, Letters to Milena, p. 20.
64 Ibid., p. 34.
65 Hayman, p. 73, F. Kafka letter to Hedwig Weiler, mid-April, 1909, p. 67.
66 Pawel, p. 366, F. Kafka letter to Max Brad, October, 1917.
67 Kafka, Letters to Felice, p. 3/21/1915 letter.
68 Hayman, p. 226, F. Kafka letter to Oskar Baum, mid-September, 1917.
69 Ibid., p. 86, F. Kafka postcard to Max Brod, postmarked 10/20/1910.
70 Kafka Diaries, 11/5/1911.
71 Hayman, p. 87, F. Kafka letter to Max Brad, 12/26/1910.
72 Kafka, Letters to Felice, pp. 239-240, F. Kafka 8/1/1913 letter to F. Bauer. The actual incident occurred three years earlier, in April, 1910.
73 Kafka, Milena Letters, p. 43.
74 Ibid., p. 39.
75 Ibid., p. 58.
76 Ibid., p. 179.
77 Ibid., p. 54.
78 Ibid., p. 167.
79 Ibid., p. 120.
80 Franz Kafka, Letters to Ottla and the Family, Nahum N. Glatzer, editor, trans. Richard & Clara Winston, Schocken, New York, 1982, p. 77, 4/6/1920 letter from F. Kafka to Ottla Kafka David.
81 Hayman, p. 290, up. cit., J. P. Hodin, "Memories of Franz Kafka," Horizon Magazine, 1948, pp. 36-37.
82 Ibid., p. 302.
83 Ibid., p. 294.
84 Pawel, p. 437.
85 Hayman, p. 303.