Part 1 of 2
9: Karl Marx: The Cinder Klaus of Political Economy
"He who is not a socialist at 19 has no heart. He who is still a socialist at 30 has no brain."

-- Otto von Bismarck
It is not religion but revolution that is the opiate of the people.

-- Simone Weil
Dietrich Eckart constantly railed against "Jewish Communism" in Auf Gut Deutsch. Ironically, his nemesis Karl Marx -- whom he nicknamed "Mordechai" -- resembled him in many respects. Both men were hard-drinking sons of lawyers who ultimately became radical polemicists noted for acerbic writing.
Although Adolf Hitler always fought against Communists, he co-opted their socialist rhetoric to attract working class support. Nevertheless, he repudiated "Mordechai's" Jewish intellectualism on the grounds that it spawned "world historical mistakes" such as helot revolts, women's rights, Negro emancipation, birth control, and German emigration to America. Hitler rejected Karl Marx's naive view that religious, national, and racial differences would disappear when social classes were abolished. He opposed Marxism's leveling cosmopolitanism, which held that Germans, French, and Russian workers could overlook ethnic dissimilarities and unite to make common cause against the bourgeoisie. Nazis believed that collectivism only worked within particular racial groups. Germans might support a welfare state for fellow Germans, but not Jews, Gypsies, Russian immigrants, or guest workers from Turkey. "Internationalism" went against human nature. Social relationships needed to be bonded by "Folk Spirit."
However, the two men concurred on a surprising range of other issues. Neither was capable of self-criticism. Both thought in black-and-white terms, and blamed external forces for their problems -- and the world's ills. They disparaged religion as an "opiate of the masses," and repeatedly used the word "parasite" in their writings. Even though he was ethnically Jewish, Marx had no love of Jews. According to Isaiah Berlin:
"His references to individual Jews, particularly in his letters to Engels, are virulent ... His origin was evidently a personal stigma which he was unable to avoid pointing out in others ... " [1]
Hitler and Marx both deemed themselves practitioners of Realpolitik. Each regarded France and Russia as Germany's traditional enemies. Hollow pronouncements about "individualism" and "the rights of man" struck Marx as bourgeois decadence. Hitler dismissed liberty, equality, and fraternity as maudlin rubbish. Communists and Nazis alike scorned the angst-ridden spiritual crises of artists and intellectuals. Such "morbid attention to private emotional states ... (smacked of) ... bourgeois degeneracy." [2]
According to both Nazism and Communism, meaningful change could only come through violence. Marx preached Revolution, Hitler wars of conquest. Neither man had any use for parliaments. Hitler ridiculed them as debating societies which took forever to pass watered-down measures. Time and again Marx railed against "parliamentary cretinism," and blasted Prussian assemblymen as corrupt windbags who obstructed progress.
Marx and Hitler agreed that working men ought to receive a greater share of national wealth through higher wages, government-subsidized medical insurance, and retirement pensions. In 1933 anti-democratic Communists and Nazis colluded with each other to wreck Germany's Weimar Republic. Many leading National Socialists -- including Josef Goebbels and Robert Ley -- were fervent communists before converting to Nazism. Hans Mend claimed that Hitler tried to join the Communist Party while on leave from the army in 1917.
Karl Marx descended from the Jewish priestly caste. His grandfather (Meier Halevi Marx,) a great-grandfather, and an uncle all served as rabbis. Karl's father Herschel married Dutch Jewess Henrietta Philips. When Prussia reinstated its proscription against Jewish lawyers in the wake of Napoleon's 1812 defeat by Russia, law student Herschel Marx promptly changed his name to Heinrich and converted to Lutheranism. His son Karl renounced all religions by age eighteen.
Karl Marx was born on May 5, 1818 at 664 Bruckergasse in Trier, a quaint medieval city on the Rhine. His sister Sophie described him as a domineering boy with a mop of thick black hair who forced her to eat mud and pull his toy cart like a horse. Karl grew into an energetic young man, with voracious appetite for learning, along with a penchant for drinking and bar fights. Heinrich Marx marveled at the way his son combined "senseless and inexpedient erudition" with rowdiness. Never before had he encountered such a learned ruffian. Well before his twenty-first birthday Marx joined the Trier Tavern Club, an organization devoted to pub-crawling and revelry. Bonn University suspended him for disorderly conduct in 1835. He narrowly escaped debtors' prison while attending the University of Berlin in 1841. Police in Cologne arrested him for carrying a concealed weapon. Because of his unruly coal-black hair, swarthy complexion and ungovernable nature Marx's companions dubbed him "the Moor," a nickname that stuck. In Francis Wheen's words,
"he was, like Esau, (a) hairy man (with) lion-like head (and) ... jet-black mane ... a bristling boar. .. " [4]
Two philosophers captivated Marx during his college days: Georg Friedrich Hegel and Ludwig Feuerbach. Hegel posited a theory of dialectical evolution toward Spirit, which operated by a process of thesis-anti-thesis-synthesis. For example, hedonism (thesis) versus asceticism (antithesis) might yield the hybrid concept Epicureanism, or rational pleasure-seeking. Epicureanism then would become a new thesis, opposed by stoicism (rational self-denial,) which would lead to a more sophisticated formulation, such as Kant's Categorical Imperative, an abstract (or "ideal") solution to ethics' pleasure-pain issue. Being an utter materialist, Ludwig Feuerbach denied the existence of Spirit, asserting that thought arose from being, rather than being from thought. Human ideas were simply gases emanating from the biological swamp, not revelations vouchsafed by an invisible, "noumenal" world superintended by God. Marx adopted Feuerbach's naturalistic view of existence.
"Man is an object in nature ... swayed by no supernatural influences .... (possessing) no occult properties; (his) entire behavior can be adequately accounted for by means of ordinary verifiable physical hypotheses." [5]
Physical factors such as economic conditions, heredity, education, culture -- even diet -- combined to determine the nature of an individual man. Spirit did not exist.
Marx would eventually take secular humanism to its ultimate conclusion, fusing the ideas of Hegel and Feuerbach into a clumsy synthesis he called Dialectical Materialism. This paradigm held that the proletariat, antithesis of our bourgeois ruling class, would create a communist state through revolution. Marx, though cynical by temperament, believed in the perfectibility of man. With some qualifications, he accepted the romantic optimism of Jean Jacques Rousseau, who imagined that free public education and re-distribution of wealth would eliminate crime, reduce disease, and lift mankind into a better world.
The baptized Marxes enjoyed good social relations with Trier's preeminent citizen, Baron Ludwig von Westphalen. The Baron engaged clever Heinrich Marx as his attorney. Sophie Marx, Heinrich's daughter, became the best friend of the Baron's little girl, Jenny. Karl befriended his schoolmate Edgar von Westphalen, Jenny's younger brother.
At the age of sixteen Karl feel deeply in love with beautiful twenty year old Jenny von Westphalen. To his amazement, she reciprocated, and accepted his proposal of marriage in 1836, though they did not marry until seven years later. During this long period of betrothal Marx studied and caroused at the universities of Bonn, Berlin, and Jena, finally receiving his Doctor of Laws degree from Jena on April 15, 1841.
Karl had vague intentions of teaching at the university, but soon torpedoed any chances of attaining a professorship by writing an anti-clerical broadside, The Last Trump of Judgment Against Hegel. That setback did not daunt him. In the coming years his controversial writings repeatedly got him into trouble.
Radical Journalist
Marx moved on to Cologne, where Moses Hess, a wealthy Jewish liberal hired him as associate editor of Die Rhenische Zeitung (The Rhineland Times,) which was subsidized by a group of anti-monarchist businessmen. Marx vigorously attacked Prussia's repressive government. Under pressure from miserly landowners the Prussian Landtag passed a law rescinding the centuries-old right of peasants to gather fallen tree limbs from private forests for firewood. A mean-spirited Junker deputy defended this stingy measure by insisting that "pilfering ... wood occurs so often because it's not regarded as ... theft." [6] Marx retorted:
"By analogy ... the legislator would have to draw the conclusion "a box on the ear has become so frequent because it is not regarded as murder." [7]
Insolence toward noble officials did not go over well in Prussia. In December, 1842 Oberpresident von Schaeper recommended that Die Rheinische Zeitung be prosecuted for "impudent and disrespectful criticism of ... existing government institutions." [8] Marx's extremism made his bourgeois sponsors uncomfortable. They wanted a well-trained Doberman, not an ungovernable pit bull. No less a personage than Tsar Nicholas I of Russia had complained about the Zeitung's advocacy of anarchism. Intractable Marx then bit the hand that fed him, howling that Hess and his patrons really didn't care about freedom of the press. They fired him in January, 1843.
On November 16, 1842, while passing through Cologne, a well-dressed young man named Friedrich Engels ambled into the Rheinische Zeitung's office and introduced himself to Marx. Though captivated by his writings, Engels first impressions of Marx were unfavorable. He found him personally obnoxious -- a rampant egotist who brooked no dissent. The pair would not become friends for another two years.
Karl Marx married Baroness Johanna Bertha Julia Jenny von Westphalen on June 19, 1843. The couple remained on her mother's estate in Kreuznach for an extended honeymoon. Through marriage Karl acquired a mother-in-law justifiably skeptical of his bread-winning abilities, plus two widely disparate brothers-in-law: Jenny's elder half-brother Ferdinand von Westphalen, a stern reactionary who served as Prussia's Minister of the Interior, and her younger brother Edgar, an amiable buffoon who cleaned out the Marxes' liquor cabinet on every visit.
While in Kreuznach Marx wrote "A World without Jews" In response to his friend Bruno Bauer's article "The Jewish Question," which had argued against granting civil rights to Jews. Marx identified "Jews" with "entrepreneurs," an assumption easy to make in Germany since the word "Judentum" meant "business." According to him, after the Protestant Reformation, "Christians have become Jews." [9] Now all of mankind needed to be emancipated from "Judentum" (capitalism.) Marx felt that the issue could be resolved by establishing an anti-clerical socialist state.
"How is religious opposition made impossible?

By abolishing religion. As soon as Jew and Christian recognize that their respective religions are no more than different stages in the development of the human mind, different snake skins cast off by history, ... the relation of Jew and Christian is no longer religious, but. .. only a critical, scientific, and human relation." [10]
The not-quite-assimilated Jew refused to believe In the hide-bound notion of blood ties.
Twenty-five year old Karl Marx largely based this essay upon a play on the words "Jude" (Jew) and "Judentum" (commerce.) He presumptuously assumed that modern Reason had already judged theology false, thus rendering religious differences meaningless. These suppositions plagued Marxist ideology to the end. Communist states failed everywhere because they underestimated men's pecuniary, spiritual, and national aspirations.
In October, 1843 journalist Arnold Ruge offered Marx a job in Paris as editor for The Franco-German Annals. Jenny declined Ruge's offer to live in a commune with his wife and children. Michael Bakunin, Heinrich Heine, and the poet Georg Herwegh all contributed articles to the paper. Marx and Ruge soon quarreled about politics, domestic matters, and Herwegh's extramarital affair with a French noblewoman. Their potshots at the Prussian government did not go unnoticed. Ruge's series about the wretched working conditions of Silesian weavers sparked a furor. In April, 1844 Marx could not resist publishing a ponderous jest at the expense of Prussian King Friedrich Wilhelm. No one remembered much about this leaden joke -- other than that it provoked groans rather than laughter, and had something to do with the queen's breasts. At any rate, gendarmes closed down Franco-German Annals in August for his lame witticism, and expelled him from France. The incident illustrated Marx's dual nature as an intellectual giant and clutz. He mixed trenchant criticisms of existing institutions with silly attacks on individuals. Trashing real and imagined villains in print generally had the effect of damaging his own self-interest, without ameliorating social conditions one iota.
Marx and Friedrich Engels met again on August 28, 1844 at the Cafe DeRegence Place du Palais in Paris, one of Voltaire's favorite hangouts. This time they hit it off. Jenny had taken baby Jennychen for an extended visit to her mother's estate in Germany. This freed up "Moor" and "The General" for ten straight days of tippling and political discussion. From that date on, Engels became an indispensable friend and benefactor.
Now a persona non grata in both Germany and France, Marx moved to Belgium. In Brussels he collaborated with new friend Engels on A Critique of Economics and Politics and The German Ideology. They took a trip to England to meet Chartist radicals George Julian Harney and Ernest Jones, who favored such reforms as higher wages, universal male suffrage, paid M.P.'s, and the abolition of "rotten boroughs." With funds from Wilhelm "Lupus" Wolff and other members of The Communist League, Marx founded The New Rhineland Times just as France's Revolution of 1848 heated up. A succession of incendiary articles got him into trouble. On March 19, 1849 Belgian authorities issued an order banishing him from their soil. Marx appealed this action, but received a formal denial five months later. On August 27, 1849 he sailed for London.
Born to Evangelical Christian parents in Wuppertal, Germany on November 28, 1820, young Friedrich Engels worked two years as a bank clerk in Bremen. While there, he studied the works of Hegel, Lessing, Fourier, St. Simon, and others. In 1841 Engels served as an enlisted artilleryman in the Prussian Army. Wanting to make the best of it, he perused several books on military science and became something of an armchair expert on that subject. Because of his extensive knowledge about weaponry, battlefield tactics, and supply, Marx nicknamed former Private First Class Engels "The General." The duo co-wrote several works, including The Holy Family, German Ideology, and The Communist Manifesto. On his own Engels published The Condition of the Working Class in England and The Origin of the Family, Private Property and State (1884). The two men had different strengths, which complemented one another. Engels wrote rapidly and clearly about actual economic conditions in Europe. Though lacking his colleague's fluency, Marx had a firm grasp of abstract concepts, and managed to weld communist theory into an internally logical system. Engels was an unmarried playboy with good income and cheerful disposition, Marx a scholarly and cantankerous family man.
Friedrich Engels Sr. owned the textile company Engels & Ermen. Engels Jr. supervised this firm's Manchester, England plant from 1844 to 1870, and became a managing partner in 1864. He greatly enjoyed the un-communistic sport of foxhunting, smoked Cuban cigars, and collected expensive wines. Through Marx's recurrent monetary crises, Engels could be relied upon not only for funds, but cases of hock, claret, sherry, and port to fortify his comrade's vitality. After Paris's disastrous Revolution of February, 1848 -- led by poet Georg Herwegh -- Engels treated himself to a vacation in Provence.
"At every step I found the gayest company, the sweetest grapes and prettiest girls .... " [11]
He preferred "the cleanly-washed, smoothly combed, slimly built women of Burgundy" [12] to their hard-working sisters in Loire.
Engels' conviction that marriage oppressed women afforded him an excuse to remain a lifelong bachelor. Between visits to bordellos he carried on affairs with two attractive Irish sisters, Mary and Lydia Burns. Mary, his favorite, worked for awhile in Ermen & Engels' cotton spinning mill. She introduced him not only to downtrodden workers, but Chartist political activists such as George Julian Harney, Feargus O'Connor, and Ernest Jones. Her sudden death in January, 1863 plunged him into all five stages of grief for months.
Chronic Penury
"The bourgeoisie will pay dearly for every one of my carbuncles."

-- Karl Marx
Marx once described himself as "tormented as Job, though not as God-fearing." [13] He and Jenny truly loved one another, but their lives were anything but blissful. The couple endured dire poverty and the deaths of three children: Edgar ("Musch"), Guido ("Fawksey"), and Franziska.
Karl suffered from boils, carbuncles, piles, eye-inflammations, rheumatism, and liver disease. The foul-smelling stogies he chain-smoked gave him bronchitis. Jenny contracted a severe case of smallpox in 1861 which disfigured her beautiful face. A variety of female maladies plagued her -- aggravated, no doubt, by bill collectors who hounded her almost daily from 1849 to 1864. Five year old Edgar "Musch" Marx learned to spot detectives, and yell: "Mr. Marx ain't upstairs." [14]
Karl Marx was a world class economist incapable of balancing his own household budget. It does not require a certified public accountant to see why. He rarely held a steady job, and always lived beyond his means. During their first fifteen years in London creditors banged constantly on his door for past due payments. Bailiffs arrived regularly to repossess the family's household contents. Marx pawned and redeemed Jenny's wedding silverware on several occasions. Because of his scruffy appearance the police once arrested him at a pawnshop on suspicion of fencing stolen goods. In 1851 a compassionate neighbor gave him money to bury infant daughter Franziska. Marx could not afford proper medical care for his dying son Edgar in 1855.
In the early 1850's a German spy described his mode of life in Dean St.
"He lives in one of the worst and cheapest neighborhoods in London. He occupies two rooms. There is not one clean or decent piece of furniture ... Everything is broken, tattered, and torn, with thick dust over (it.) Manuscripts, books and newspapers lie beside the children's toys, ... pieces from his wife's sewing basket, cups with broken rims, dirty spoons, knives, forks, lamps, an inkpot, tumblers, pipes, tobacco ash -- all piled up on the same table. On entering .... Smoke and tobacco fumes make your eyes water to such an extent that ... you seem to be groping about in a cavern ... " [15]
Karl's brainstorm of marketing a "magical varnish" came to nothing in 1854, as did a scheme with son-in-law Paul LaFargue to sell photo-engraving equipment. The railroad turned him down for a clerk's position because of his rumpled appearance, indecipherable handwriting, and notoriety as "The Red Terrorist Doctor." Although conventional employment eluded Marx, he churned out a vast corpus of literature in the British Museum's reading room. But after Das Kapital's publication, he complained that the book's meager royalties did not reimburse him for cigar expenses.
Marx leeched shamelessly off Friedrich Engels -- despite receiving substantial inheritances from his mother, eccentric bachelor Wilhelm Wolff, and Jenny's mother. Shortly after selling his Ermen & Engels shares back to the company in 1870, munificent Engels solved the Marxes' incessant financial problems by granting them an annual pension of 350 pounds.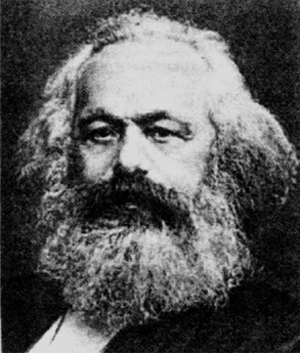 Karl Marx, 1875
The Bourgeois Bohemian
For all his communist rhetoric, Marx had decidedly bourgeois tastes. He took great satisfaction in Jenny's noble pedigree. At his request, she often enclosed a card bearing her title, "Mrs. Jenny Marx nee Baronesse de Westphalen," along with letters to editors. Marx had no qualms about associating with bigwigs. For instance, he relished having lunch in posh clubs with newspaper magnate Leonard Montefiore and cabinet minister Sir Mountstuart Elphinstone Grant Duff. Although Marx considered Scottish member of Parliament David Urquhart "an utter maniac," [16] he carried on a long friendship with him. An advocate of Islam, Turkish baths, protective tariffs, and Calvinism, Uruquart loathed the Anglican Church, Whig party, and Russia. He and Marx shared Russophobic prejudices and the crackpot theory that British Prime Minister Henry John Temple Palmerston -- who waged the Crimean War against Russia -- was a paid agent of the Tsar.
The spies who tailed Marx in London all described him as an affectionate husband and father -- albeit one with "disorderly habits." He took his daughters on frequent excursions to the park, rode donkeys for their amusement, told bedtime stories, and entertained them with dramatic readings from the works of Aeschylus, Shakespeare, and Cervantes.
His friend and fellow socialist Wilhelm Liebknecht commented:
"Although in political and economic discussion he was not wont to mince ... words, often making use of quite coarse phrases, his language was so gentle and refined in the presence of children and women that even an English governess could have no cause for complaint." [17]
Though Marx cursed like jack tar himself, obscenities muttered by rogues in polite company made him "fidget and blush like a sixteen year old maiden." [18]
Conservatives who associated socialism with sexual promiscuity exasperated Marx. In The Communist Manifesto he asserted:
"(We) have no need to introduce free love; it has existed almost from time immemorial... Our bourgeoisie, not content with having the wives and daughters of ... proletarians at their disposal, not to speak of ... prostitutes, take the greatest pleasure in seducing each others' wives." [19]
Marx assumed the tone of a Presbyterian church elder when reproving his daughter Laura's boyfriend Paul LaFargue:
"If you wish to continue your relations with my daughter you will have to give up your present manner of "courting" ... You know full well that no engagement has been entered into ... The practice of excessive intimacy is especially inappropriate ... To my mind, true love expresses itself in reticence, modesty, and even the shyness of the lover toward his object of veneration, and certainly not in giving free rein to one's passion and in premature demonstrations of familiarity. If you should urge your Creole temperament in your defense it is my duty to interpose my sound reason between your temperament and my daughter. If in her presence you are incapable of loving her in keeping with (propriety), you will have to resign yourself to loving her from a distance." [20]
American communist Victoria Woodhull's endorsement of free love made him as uncomfortable as the American clergymen who pilloried her. Associating communism with licentiousness damaged the movement.
Marx consistently resisted anarchists like Bakunin. The indiscriminate violence they championed would only lead to chaos and barbarism. He scoffed at Wilhelm Weitling's daft idea of raising a 40,000 army of criminals to revolt against the capitalist state.
Even during hard times Marx tried to preserve a middle class lifestyle for himself and his family. He could not live without wine, choice viands, cigars, books, or decent health care. Being an aristocrat, Jenny absolutely required the assistance of servants. She always wore fashionable clothes. Though their living quarters may sometimes have been untidy, Jenny furnished them tastefully. Daughters Jennychen, Laura, and Eleanor received private school educations. The family owned a series of lap dogs and went on vacation almost every summer. When temporarily flush after receiving legacies, Marx liked to play the stock market.
After the manner of Heinrich Heine, Marx advocated the proletarian cause without feeling particularly fond of proles. The capitalistic system subjected factory workers to toxic chemicals, bad food, cheap booze, poor dental care, and illiteracy. Thus, not all of them were attractive. One day Wilhelm Liebknecht accompanied Marx on an omnibus ride through London. When a cockney woman in distress shrieked "murder!" outside a bar, Marx chivalrously rushed to her aid, only to find himself in the middle of a domestic argument between an inebriated fishwife and her equally intoxicated hubby. The bedraggled pair immediately turned upon her would-be rescuer. Liebknecht, who reluctantly followed his quixotic friend into this fracas, described the outcome.
"The crowd closed more and more around us and assumed a threatening attitude against the 'damned foreigners' ... Had not two strong constables made their appearance in time we should have had to pay dearly for our philanthropic attempt at intervention." [21]
For the most part Marx chose to help the working class cause by conferring with educated peers such as Engels, Lassalle, and Liebknecht. After moving to London, he deputized "men of the people" like George Julian Harney, Johann Georg Eccarius, and Wilhelm Weitling to deliver speeches before workers.
Marx condemned bohemianism as "inverted philistinism," [22] yet spent most of his life as a bohemian. The Prussian Secret Service recorded his irregular habits while keeping him under surveillance in London.
"Washing, grooming and changing his linen are things he does rarely ... He likes to get drunk. Though he's often idle for days on end, he'll work ... with endurance when he has a great deal of work to do. He has no fixed times for going to sleep and waking up. He often stays up all night ... then lies down fully clothed on the sofa at midday and sleeps till evening, untroubled by the comings and goings of the world." [23]
Marx flouted respectability by inventing exotic nicknames for his children: "Fly," "Kiki," "Koko," "Tussy," and "Fawksey," and encouraging them to address him as "Moor" or "Old Nick." Observers noticed his striking resemblance to Cinder Klaus, the dirty and drunken anti-Santa Claus who beat naughty children with a switch. Marx solemnly instructed his daughters to disregard the Bible and all forms of religion. His mother and sisters meant nothing to him. When Engels' girlfriend Mary Burns died in 1863, he wrote:
"Instead of Mary it should have been my mother, who's ... prey to physical ailments and has had her fair share of life." [24]
By all accounts his marriage to Jenny was a happy one, yet he copulated off and on with servant Helene Demuth, getting her pregnant in 1850. On June 23, 1851 she gave birth to Henry Frederick Demuth (1851-1929) and put him up for adoption. "Freddy" spent most of his adult life working as a lathe-operator in London's East End.
Doctor of Laws Marx had little compunction about breaking the law. He kept eight rifles and two hundred and fifty rounds of ammunition at The New Rhineland Times' office in Brussels. While on a bender one evening in London with cronies Wilhelm Liebknecht and Edgar Bauer, Marx threw stones at street lights.
"Clash! Clatter! A gas lantern went flying into splinters ... We broke four or five street lamps. It was, perhaps, two o'clock in the morning and the streets were deserted ... but the noise nevertheless attracted the attention of a policeman ... Happily ... we knew the locality (and) raced ahead, three or four policemen some distance behind us. Marx showed ... surprising agility that I should not have attributed to him ... " [25]
For years penniless Marx cheerfully accepted petty cash that Engels purloined from his employer's till. After Ferdinand Freiligrath helped him get a job as correspondent for the New York Daily Tribune, Marx induced Engels to write dozens of articles under his by-line. Of course, all of the Tribune's paychecks went into Marx's account, without a farthing paid to Engels. Marx's columns, with Engels' secret participation, made a hit with Tribune readers, who appreciated their detailed grasp of politics, economics, history, philosophy, and military science.
"The Tribune's London correspondent soon acquired ... considerable popularity ... as an exceptionally versatile and well-informed journalist." [26]
General Orneriness
Karl Marx loved his wife, children, and "heart brothers" Friedrich Engels, Wilhelm "Lupus" Wolff, and Wilhelm Liebknecht. Outside that narrow circle, there was a long trail of broken relationships. He turned on Moses Hess and Arnold Ruge, individuals who gave him his first breaks in journalism. Fellow socialist theoretician Ludwig Borne suffered the same fate. Young Hegelian Bruno Bauer had been his favorite drinking buddy in 1841. Four years later Marx skewered him in a vituperative pamphlet entitled The Holy Family. Poet Ferdinand Freiligrath and Marx were fast friends for over twenty-five years. Freiligrath raised money for him, contributed socialistic poetry to The New Rhineland Times, and introduced him and Engels to New York Daily Tribune editor Charles A. Dana. A rupture occurred in 1870. Marx exploded because Freiligrath wrote a collection of patriotic German poems. They never spoke again.
Like Heinrich Heine and Dietrich Eckart, Marx regularly penned malicious satires against his enemies. The Last Trump of Judgment versus Hegel ruined his prospects of securing a teaching post. While his family nearly starved in 1852, he wasted four months composing The Great Men of Exile, a vitriolic assault on forgotten poet Gottfried Kinkel.
Marx's bigger targets included the Prussian monarchy, Russian autocracy, and bourgeois governments of France and England. His best diatribe, The 18th Brumaire of Louis Napoleon (1852) incisively exposed Napoleon III's formation of Europe's first modern police state in reaction against France's 1848 Revolution.
Not long after they overthrew Napoleon III in 1870, French liberals got saddled with President Adolphe Thiers' Third Republic. Marx's "Civil War in France" (1871) exposed the skullduggery of Thiers, his Finance Minister Jules Favre, and Defense Minister Ernest Picard. This trio seized power by collaborating with France's German archenemies. They convinced the Prussians that revolution would break out in Paris, then spread throughout Europe, unless immediate action were taken against radicals.
Misguided members of The Paris Commune executed over a thousand "reactionaries," including the Archbishop of Paris. This rampage seemed to confirm the claims of Thiers and company. With Prussian backing, French soldiers and police commenced a counterrevolutionary purge, killing approximately 19,000 communards and innocent bystanders within a month. France's suppression of the Communards anticipated Germany's own counterinsurgency campaign against Munich's Spartacists in 1919. To make matters worse, a devastating fire destroyed one quarter of Paris. Beleaguered Parisians feared that the end of the world had come.
After Thiers agreed to pay their huge war indemnity, the Prussians installed him as Premier. Germany's "white" overreaction to the Commune's uprising, coupled with its annexation of Alsace-Lorraine, turned English opinion in favor of the French. Prescient Marx immediately divined that England and France would patch up their differences and approach Russia for an alliance, thus guaranteeing a future two-front war for Germany.
Marx assailed Thiers as
"a monstrous gnome ... French Sulla ... , master in small state roguery, ... virtuoso in perjury and treason, ... craftsman in all the petty stratagems, cunning devices, and base perfidies of parliamentary party warfare; never scrupling when out of office to fan a revolution, and to stifle it in blood when at the helm of state; with class prejudices standing him in ... place of ideas, and vanity in the place of a heart; his private life is as infamous as his public life is odious ... " [27]
Thiers' foreign minister Jules Favre lived "in concubinage with the wife of a drunkard resident in Algiers ... " [28] He had made his fortune "by a most daring concoction of forgeries." [29] Political opponent M. Milliere, a National Assembly member, publicized a number of his shady dealings. After Favre came to power he had Milliere shot for treason.
Finance Minister Ernest Picard hung out with sleazy characters, including his brother Arthur,
"an individual expelled from the Paris Bourse as a blackleg ... convicted on his own confession of a theft of 300,000 francs while manager of the Societe General (du Credit Mobilier) branch, Rue Palestro #5 ... The whole financial correspondence of that worthy pair of brothers fell into the hands of the Commune." [30]
Marx did not only excoriate conservatives. Out of peevishness and jealousy, he continually denounced fellow left-wingers. Italian reformer Giuseppe Mazzini was lambasted as a "demagogue," and Russian anarchist Michael Bakunin as "Mahomet without a Koran." [31]
"Bakunin as a theorist, is nothing, Bakunin, the intriguer, has attained to the highest peak of his profession." [32]
He slammed French socialist Pierre Proudhon as a sentimentalist who preached tedious "homilies about home, conjugal love, and suchlike banalities," [33]. .. which mistook "his own petite bourgeois desires ... (for) eternal values." [34] Mocking Proudhon's magnum opus The Philosophy of Poverty as "The Poverty of Philosophy," Marx reviled him for ignorance of history, and a bothersome tendency to moralize.
"Nothing is easier than to invent mystical causes, that is, phrases ... lacking in common sense ... (Man's) material relations form the basis of all his relations... Economic categories are (not) emanations of God's heart ... (Proudhon) thumps his chest and glorifies himself before God and man as being innocent of socialist infamies! ... " [35]
Marx resented Proudhon's disapproval of violent revolution, and his enthusiasm for the "liberty, fraternity, equality balderdash." Pure Communism frowned on individualism as retrograde and fraternity as a utopian illusion. Equality could only be achieved by toppling capitalism and setting up a classless society in its place. Without revolution one had the usual bourgeois double-standard: sanctimonious talk along with de facto segregation.
Marx denigrated American communist Victoria Woodhull as a "whore" who brought discredit upon the International movement. Although Dr. Ludwig Kugelmann functioned as one of his chief German patrons at considerable risk to himself, Marx petulantly broke off all relations with "that hair-splitting philistine" [36] in 1862. Chartist agitator Julian Harney could also have been a valuable ally. However, he and his smitten wife Mary occasionally indulged in public displays of affection which disgusted Marx, who derided Harney as "Our Dear." [37] Mary did not want her husband coming under the spell of unkempt Marx, much preferring French "dandies" such as Louis Blanc and Pierre Francois Landolphe. On February 23, 1851 Marx informed Engels that
"She hates me as a frivolous fellow who might endanger her 'property' ... The extent of Harney's thralldom to this familiar spirit, and of the petty Scottish wiliness with which she conducts her intrigues will be apparent to you ... " [38]
Ferdinand Lassalle incited deep ambivalence in Marx. The son of a wealthy Jewish silk merchant, Lassalle attended the universities of Breslau and Berlin, where he studied philology, law, and philosophy. The theories of Heraclitus and Hegel particularly fascinated him. In 1845 he met Countess Sophie von Hatzenfelt, whose husband had recently abandoned her for Baroness Meyendorff. Lassalle took the countess's case against Count von Hatzenfelt. After thirty-six court hearings over a ten year period Lassalle won a landmark decision, requiring the count to pay alimony and child support.
His litigation on behalf of the countess was interrupted by a year long imprisonment for agitation during the Revolution of 1848. Lassalle took an active interest in Europe's labor movement and criticized German foreign policy. He loathed the Russian autocracy and advocated an alliance of Germany and France against Austria in the Italian campaign of 1859.
A spell-binding orator, Lassalle embarked upon a barnstorming political tour in 1862. Germans had never before seen such American-style political huckstering. He delivered rousing speeches before workers in every major city and industrial town, winning many to the socialist cause. Adolf Hitler's whirlwind political campaigning between 1919 and 1932 followed Lassalle's example.
In 1863 Lassalle founded the General German Workers Association, which later evolved into the Social Democratic Party. Unlike the revolutionary Marx, Ferdinand Lassalle was essentially a reformer who wanted to effect change within the existing system.
Chancellor Otto von Bismarck had no special love for Jews, but he admired their astuteness. He recognized that Ferdinand Lassalle, British Prime Minister Benjamin Disraeli, and banker Gerson Blochroeder all possessed superior intelligence. Bismarck conferred with Lassalle on several occasions. Based on his insights, the Iron Chancellor conceived of an alliance among the monarchy, army, and working class against the bourgeoisie. He accepted Lassalle's argument that blue collar laborers could be won over by humanitarian measures such as government health insurance and universal suffrage.
Always a flashy romantic, Lassalle met an untimely end at the age of 39. He fell in love with Helene von Donniges, daughter of a Bavarian diplomat posted in Switzerland. Helene's father detested Lassalle. He refused permission to marry and mewed her up in the family home. In order to escape from virtual imprisonment, Helene eventually agreed to marry Count von Racowitz. Lassalle wrote a letter to his rival which accused him of coercing Helene to marry him. Von Racowitz challenged Lassalle to a duel. He accepted. On August 28, 1864 the two men walked twelve paces and turned. Lassalle held his pistol down without firing. Von Racowitz shot him in the gut, mortally wounding him. Lassalle died three days later.
Ferdinand Lassalle aided Karl Marx in several ways. He acted as his literary agent in Germany, as well as a conduit for funds. Countess von Hatzenfelt and Lassalle entertained Marx graciously during an extended visit in 1861. Later that year Marx put up Lassalle in London for a few weeks, under much less stylish conditions. The profligate guest offended his host by spending money freely on fashionable clothing, restaurant meals, and wine, while not seeming to notice the Marxes' dire plight. At one point Karl borrowed money from him. Never a prompt debt-payer, Marx felt humiliated and incensed when Lassalle needled him for reimbursement. In letters to Engels Marx applied such anti-Semitic epithets to Lassalle as "the Yid, Wily Ephraim, (Baron) Izzy, and ... the Jewish Nigger." [39] Marx softened a bit after hearing of Lassalle's tragic death.
"He was, after all, ... the enemy of our enemies ... It IS difficult to believe that so noisy, stirring, pushing a man is now dead as a mouse and must hold his tongue altogether ... the devil knows, (our) crowd is getting smaller and no new blood is coming forward." [40]
Marx's enemies did not remain mute about his shortcomings. Bakunin retaliated by depicting him as
" . .. immensely malicious, vain, quarrelsome, as intolerant and autocratic as Jehovah, the God of his fathers, and like Him, insanely vindictive." [41]
Proudhon called Marx "the tapeworm of socialism." [42] Mazzini pegged him as
"a man of domineering disposition; jealous of the influence of others. Governed by no earnest philosophical, or religious belief: having ... more elements of anger than of love in his nature." [43]
Marx harbored prejudices against various racial and national groups. He regarded most Frenchmen -- including his sons-in-law -- as vain coxcombs.
"When presented with the opportunity of making themselves important, the French prepare for it as long in advance and treat it with as much solemnity as the ... lying-in of a pregnant woman." [44]
Their superficial emotionalism made them incapable of true revolution. In Das Kapital Marx attempted to demolish the "shallowness" of French socialists like Charles Fourier, Comte St. Simon, and Pierre Proudhon. His communard sons-in-law Charles Longuet and Paul LaFargue infuriated him by still clinging to Proudhon's "half-baked" altruism.
Marx considered Russians "Tartar brutes" who would never comprehend socialist theory. This negative attitude stemmed in part from antipathy for rival Michael Bakunin and his underworld associate Sergei "Boy" Nechayev, a hooligan who died in a St. Petersburg prison ten years after being convicted of murder.
About Englishmen Marx wrote:
"These thick-headed John Bulls' ... brainpans seem to have been specially manufactured for ... constables' bludgeons ... " [45]
He endorsed Friedrich Engels' characterization of Australia as the
" ... united states of deported murderers, burglars, rapists, and pickpockets ... " [46]
Marx even held a grudge against tolerant Belgium for offering asylum in 1845, then kicking him out after the French disorders of 1848. He lashed out at the "imbecility ... of the ... Belgian press," [47] and slavishness of its police officials, who kowtowed to Europe's worst despots.