Part 2 of 2
Regicide
World War I dealt Tsarist Russia its death blow. Tragically, Tsar Nicholas permitted Russia's fatal mobilization against Austria to go forward on August 1, 1914, even though the Russo-Japanese War's aftermath had nearly brought down his regime nine years earlier. After a Serbian nationalist assassinated Archduke Ferdinand in Sarajevo, Austria began intimidating Russia's Slavic brothers in Serbia. Under pressure from his foreign office and general staff, Nicholas signed a partial mobilization order on July 31, 1914. This alarmed Germany, which declared war on Russia.
When the fighting commenced Russia's army sustained enormous casualties in East Prussia and Galicia. The Eastern Front stretched roughly 1,600 miles from the Baltic to Black Sea. Because of this vast amount of space, commanders had more scope for offensive operations than on the Western Front. After devastating defeats at Tannenburg and Masurian Lakes, Russian units held their ground in central Poland along the Vistula River. In March, 1915 the Tsar's army captured Austria's Premysyl fortress in the Carpathian mountains, only to lose it two months later to the Germans. This pattern repeated itself in 1916. General Brusilov's offensive sent the Austrians into full flight, until a Germany army corps counterattacked and stopped his advance.
Compared to Germany's Reichswehr, the "cudgeled and apathetic Russian peasant army" was badly led and poorly equipped. In the initial East Prussian battles, officers ordered suicidal bayonet charges simply because their men had no ammunition. Soldiers were more plentiful than bullets.
As had happened during the conflict with Japan, Russia's shaky economy caved in under the war effort's weight. Families suffered the losses of sons, brothers, and fathers, and then had to put up with food, fuel, and commodity shortages, as well as inflation, civil unrest, and breakdowns in rail and electrical service. The 15,500,000 man Russian Army had a 51.6% casualty rate in World War I, higher than any other power. By the end of 1917 1,300,000 men were killed, 4,200,000 wounded, and 2,400,000 taken prisoner. In a misguided effort to save Serbia, Russia suffered a holocaust.
Because "Father Grigori" advised him to command the army personally, Tsar Nicholas spent most of his time near the front between August, 1914 and March, 1917. Meanwhile, the Imperial government teetered on a chasm's edge. Signs of insurrection abounded by December, 1916. A Russian Marine regiment mutinied and murdered their commanding officer in October. Uprisings broke out in Petrograd. When Nicholas ordered army troops in to restore order, they joined their brother workers and fired on local police. Those who censored army mail noticed that most enlisted men believed the Empress to be a German agent and mistress of Rasputin. On February 23, 1917 food riots and strikes raged in Petrograd. Two days later the Tsar dispatched a battalion of soldiers to halt looting. British ambassador Buchanan, Duma whip Michael Rodzianko, and Grand Duke Alexander all begged him to remain in the city to deal with this emergency. Rodzianko warned:
"The capital is in chaos... the government ... unable to function ... Fuel and supplies ... completely disorganized ... wild shooting on the streets. It is urgent that a new government be formed. There must be no delay. Hesitation will be fatal." [18]
Nicholas remained detached from reality, writing Alexandra:
"Again, that fat-bellied Rodzianko has written me a load of nonsense, which I won't even bother to answer." [19]
Shortly after Tsar Nicholas set out for Stavka Camp in his private train on March 1, 1917, the Imperial Government fell. Anarchy rocked Petrograd from March 12th to March 15th, when he signed an instrument of abdication under duress from his general staff. Nicholas first appointed Tsarevich Alexis as his successor, then Grand Duke Michael, who reigned for one day. By March 18th the Imperial family became political prisoners.
On April 9, 1917, with the aid of German agents, Vladimir Ilyich Lenin (whose real surname was Ulyanov) boarded a locked railroad car in Zurich and headed for Petrograd. In the words of Winston Churchill:
"The German leaders turned upon Russia the most grisly of all weapons. They transported Lenin in a sealed truck like a plague bacillus from Switzerland into Russia." [20]
Lenin started agitating immediately. Crowds jeered his initial speeches -- which proposed the abolition of police and encouraged army troops to fraternize with their German enemies. Lenin toned down the Marxist rhetoric when it dawned on him that he was addressing crowds of ordinary folk, not fellow cranks in a Zurich coffee house. On Leon Trotsky's advice he downplayed utopianism and began spouting demagogic slogans such as "bread, land, and peace!," "all power to the people!," "down with Tsarist tyranny!," and "end this senseless war!"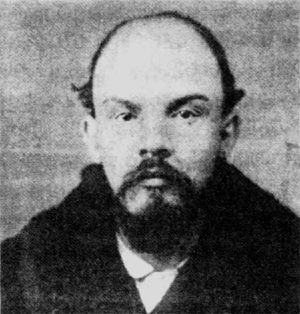 Mug shot of Vladimir Ilych Ulyanov, alias "Lenin," 1895
On July 16, 1917 Lenin and Trotsky staged a huge peace demonstration in Petrograd. Menshevik leader Alexander Kerensky managed to quell the unrest by persuading loyal army regiments that Lenin and Trotsky were German spies. A company of these troops raided Communist headquarters and arrested Trotsky. Lenin fled the city, hid in a haystack over night, then escaped to Finland disguised as a railroad engineer.
But Kerensky made one major blunder. Under pressure from France and England, he continued the war. After the initially successful "Kerensky Offensive," German forces drove the Russians back, then routed them. By July 16, 1917, same day as Lenin and Trotsky's war protest, the Russian army disintegrated.
Kerensky also gravely erred by requesting Bolshevik aid when General L.G. Kornilov initiated a military coup against his Menshevik government in October, 1917. Kornilov's takeover attempt fizzled when more than half his troops deserted to the Communist side. Then Lenin, a much more formidable enemy, returned to Petrograd on October 27th to engineer Kerensky's ouster. Armed Bolsheviks seized control of the city on November 8th. Lenin and his comrades employed propaganda and violence to consolidate their power. They took over newspapers and shot scores of opponents. Anxious to terminate the Tsarist Empire's ruinous war, Lenin opened up peace negotiations. On March 3, 1918 he signed the Treaty of Brest-Litovsk, which ceded most of Poland and the Ukraine to Germany.
The Imperial family's plight worsened. They endured one indignity after another from March, 1917 until July, 1918. On March 18, 1917 a delegation of surly Revolutionary Council members showed up at the Tsar's palace to cut his household down to size. Undisciplined rebel guards mocked and assaulted male servants, molested servant girls, helped themselves to the Tsar's cupboard and wine cellar, and shot tame deer in the park. They dragged Rasputin's corpse out of the chapel mausoleum for a round of hideous abuse, then burned it. Hooligans addressed the Tsar as "Nicky," and Tsaritsa as "Nemka." When Nicholas pedaled his bicycle by a group of guards, one stuck his bayonet into a wheel's spokes, causing him to fall amid a chorus of raucous laughter. Appalled by such outrages, Count Alexander von Benckendorff, the Tsar's Privy Counselor, complained to Kerensky, who appointed Colonel Eugen Kobylinsky to handle security for the Romanovs. Under trying conditions, he tried to protect the Imperial family until being dismissed on May 11, 1918.
In August, 1917, due to escalating violence in Petrograd, Kerensky moved the Romanovs to Tobolsk, in western Siberia, right next to Rasputin's home village of Pokrovskoe. There they occupied the local governor's mansion. Tsar Nicholas and Colonel Kobylinsky had to contend with maltreatment from local commissar Alexander Nikolsky. Former political prisoner Nikolsky nursed a grudge against the Autocracy, and relished every opportunity to harass Nicholas and Alexandra. He barged in at all hours without notice, made them pose for mug shots, harangued the Tsar with insipid political lectures, denied the royals wine, coffee, sugar, and other small comforts.
Three different regiments guarded the Imperial family. The 1st and 4th regiments brought flowers to the Empress and her daughters, played games with the Tsarevich, and smuggled in delicacies and presents from townsfolk. The 2nd Regiment mistreated the Imperial family, wrote obscenities on walls, told lewd stories within earshot of the girls, confiscated all "contraband" for their own use, and forbade Nicholas and his son to exercise outdoors.
Shocked by Nikolsky's cruelty, Tobolsk's populace remained loyal to Tsar Nicholas. Local people prayed daily for the Imperial family in church. Men removed their hats when they passed the governor's mansion. Women got down on both knees, bowed toward the house, and crossed themselves.
When Lenin's Bolsheviks wrested power from Kerensky's Mensheviks in November, 1917, their Ural Soviet issued an order that put "Nicholas Romanov" on soldiers' rations. The residents of Tobolsk immediately sent butter, eggs, freshly-killed geese, cakes, wine, and tea to the Tsar's residence. To embarrass the Romanovs, Lenin's government refused to pay local grocers more than 20,000 rubles for supplies already delivered to them. Hearing of this, a local merchant promptly reimbursed all creditors out of his own pocket.
One of the worst days in captivity occurred in late November, 1917 when Nicholas learned that Lenin gained control of the government. A felon whose wanted poster recently graced police station bulletin boards now ruled Russia. The Tsar told Alexis's tutor Pierre Gilliard that this criminal's assumption of power made him bitterly regret his decision to abdicate.
Nicholas's misgivings were warranted. Lenin soon abolished democratic "workers councils" in favor of a "dictatorship of the proletariat," with himself as despot. When Social Revolutionaries cried foul over this broken campaign promise, he formed the Cheka (Secret Police) and authorized the first Red Terror, which liquidated thousands of his former supporters. Lenin wholeheartedly continued the Tsar's Siberian labor camp system. By 1922 his gulags incarcerated over 70,000 political prisoners, more than double the number detained under Nicholas II. He also ordered purges against kulaks (independent farmers), aristocrats, Mensheviks, and clergy. Between 1921 and 1922 Lenin's secret police murdered 2,691 priests, 1,962 monks, and 3,447 nuns. Approximately 200,000 political dissidents died during Bolshevism's first five years of rule. Lenin's August 11, 1918 telegram to Penza's commissars epitomized his administrative style.
"Comrades! The revolt by the ... kulak(s) must be repressed without mercy .... You need to hang ... at least 100 notorious kulaks, the rich, and the bloodsuckers. We need to set an example. Publish their names. Take away all of their grain ... Use your toughest people for this." [21]
The changes of guard at Tolbolsk became more ghastly after Lenin overthrew Kerensky. On April 18, 1918 Nicholas and Alexandra were shipped to Ekaterinburg, four hundred miles to the south. Their children followed on May 25th. Colonel Kobylinski did not accompany them. Communist militiamen evicted a businessman from Ipatiev House, and quartered the Imperial family there. The commissars in charge were Rodionov and Avadeyev. Rodionov bullied the Romanovs and insisted that they get nothing but black bread and cheap tea for breakfast. He ordered the grand duchesses's heads shaved and forbade them to lock their doors. Avadeyev and Ridionov prohibited table cloths, silver flatware, and all other amenities. Soldiers beat townsfolk who tried to bring gifts for the Tsar's family. When Seaman Nagorny, Alexis's faithful navy guardian, tried to prevent soldiers from stealing a pair of the boy's boots, Rodionov had him arrested and shot.
Avadeyev strode around swigging brandy from a flask while he rebuked the Tsar, occasionally pausing to grab food from the family's table with his hands. He allowed his men to steal personal property from the Romanovs. His churlish troops drank while on duty, and leered at the Tsar's daughters.
A servant handed Nicholas a secret message in mid-June, promising an escape attempt on the night of June 27th. Everyone stayed up all night, but no rescuers arrived.
Worried about the approaching White Army, Rodionov and Avadeyev requested permission from party headquarters to kill Tsar Nicholas and his family. Party Secretary Jakov Sverdlov, shared their concern about rescue attempts. On July 4th sinister Jacov Yurovsky arrived with a detachment of "Letts" (foreigners.) On July 13, 1918 the Ural Soviet with official authorization from Sverdlov, ordered him to execute Nicholas, Alexandra, and their children. Around midnight of July 17th "Lett" guards woke up the Romanovs and told them they were being moved to a new location. Yurovsky ordered everyone to wait in the cellar. Outside, trucks ran their engines -- apparently to drown out the noise of gun fire. When all gathered in the basement, Yurovsky announced:
"Your relations have tried to save you. They have failed and we must now shoot you." [22]
Nicholas stepped forward and extended his arm as if to shield his family. Yurovsky shot him in the head. His men then opened fire, murdering everyone else, including Dr. Botkin and the remaining servants. The Tsar's daughters screamed and writhed piteously after the initial burst of fire. They had jewels packed in their corsets, which deflected bullets shot at torso level. Yurovsky's accomplices dispatched them with bayonet thrusts and close-range head shots. They beat the children's spaniel "Jimmy" to death with rifle butts. According to a deposition obtained by White Army investigator Nicholai Sokolov from participant Pavel Medvedev, Tsarevich Alexis still lay moaning on the blood-drenched floor. Yurovsky strode over and pumped three rounds into his head.
Yurovsky's crew drove the corpses to Commissar Voikov at Four Brothers' Mine a few miles outside of town. They stripped the bodies (discovering the jewel-filled corsets), cut them to pieces with saws, and shoveled the gruesome pile of human offal into a bonfire. After pouring sulphuric acid on charred bones, Voikov's men dumped them down a mine shaft along with several grenades.
Although he swore his death squad to secrecy, Yurovsky overheard townsfolk speaking about the murders one day later. He immediately sent a truckload of men to gather up the ashes and bone fragments from Four Brothers' Mine and transport them to a different site. Their vehicle got stuck in mud. With the White Army closing in, they buried all remains in a common grave, covered it with railroad ties, pushed their truck out of the mire, and drove away. Two years later an anonymous Communist bulletin admitted executing the Tsar, but not his wife and children:
"The crowned hangman ... guilty of innumerable bloody crimes has been put to death... The family has been evacuated to a safe place ..." [23]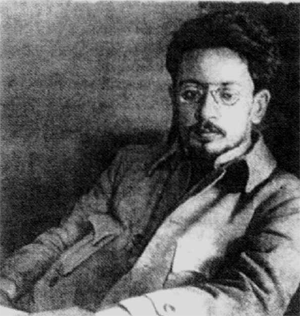 Jakov Sverdlov (1885-1919), Chairman of the All-Russia Central Executive Committee, who ordered the Romanovs' executions in July, 1918.
Leon Trotsky wanted to try Nicholas II for crimes against Russia's proletariat in a public court, and use the Empress and children as bargaining chips in negotiations with Germany. He claimed that Lenin and Executive Committee Chairman Jakov Sverdlov approved the Imperial family's liquidation without consulting him. According to Trotsky, Sverdlov admitted the executions, explaining that
"Illyich (Lenin) believed that we shouldn't leave the Whites a banner to rally around." [24]
Trotsky realized that the underworld-style slayings of Tsar Nicholas and his family created a public relations catastrophe, which seriously discredited Communism's international movement.
Using written information supplied by Yurovsky's son, investigator Gelli Ryabov exhumed nine bodies in 1991. He gathered DNA samples from Romanov relatives -- including Britain's Prince Philip -- so that scientific tests could be performed. The remains of Nicholas, Alexandra, Olga, Maria, and Tatiana were positively identified.
The Bolshevik government killed several more Romanov family members that summer. Cheka agents hauled good-natured Grand Duke Michael, Tsar Nicholas's younger brother, to Perm in May, 1918, and murdered him there around June 12th. Bolsheviks in Moscow arrested Empress Alexandra's sister Elizabeth, Abess of Marfo-Marinskii Convent, and removed her to Napolnaya School near Alapayevsk, along with her assistant, Sister Barbara Yakovleva, Grand Duke Sergei Mikhailovich, his secretary Fyodor Remez, Prince Ioann Konstaninovich, Prince Igor Konstaninovich, and Prince Vladimir Pavlovich Paley. Cheka hit men employed a method of operation similar to the one followed at Ekaterinberg. At 2 A.M on July 18, 1918 armed guards woke up all captives and formed them that they were to be taken to a new location. Foreign soldiers (or "Letts") commanded by Pyotr Konstantinov Startsev and Him Andreev Solovyov loaded the prisoners onto trucks and drove them to a desolate mining area approximately fifteen miles outside of town. Soldiers then dragged all victims into a cave, threw them down a mine shaft, and tossed several grenades after them. Though severely injured herself Sister Elizabeth bandaged the head of Prince Ioann before dying of her wounds. In 1992 the Russian Orthodox Church canonized her as a saint.
Since the Treaty of Brest-Litovsk, the Tsar's French and British allies had showed little interest in him. Nicholas's cousin, King George V of England, wanted to authorize a commando mission to save the Romanovs. Lloyd George, a Labor Party politician with no affection for absolute monarchs, talked him out of it. Foreign policy advisor Sir Francis Bertie agreed that hosting an autocrat-in-exile would be politically inexpedient. While ambassador to France, Bertie had heard gossip about Alexandra in Parisian salons.
"The Empress is not only a Boche by birth, but in sentiment. She did all she could to bring about an understanding (with) Germany. She is regarded as ... a criminal lunatic and the Emperor as a (dupe) from his weakness and submission to her promptings." [25]
If the four Germany corps needed to fight the Tsar's army at Tannenburg in August, 1914 had been deployed in France, Paris would have fallen. Nevertheless, the French didn't lift a finger to help Nicholas.
Ironically, the Germans evinced more concern for Tsar Nicholas's welfare than his Entente treaty partners. When Denmark's Foreign Minister informed them of his plight in March, 1917, they immediately agreed not to shell or torpedo any cruiser bearing the Imperial standard. After signing the Treaty of Brest-Litovsk German diplomat Wilhelm Mirbach repeatedly petitioned Lenin's government to transfer the Romanovs safely from Ekaterinburg to Petrograd. Jacov Sverdlov played a double game with Mirbach, claiming that the Ekaterinburg Soviet -- which was actually under his full control -- would not obey his orders to release the royal prisoners.
The barbaric slaughter of Tsar Nicholas and his family tarnished the Soviet Union. Other European nations viewed it as an outlaw regime until after World War II. To this day pious Russians believe that the massacre cursed Mother Russia, bringing on Lenin's terror, Stalin's purges, Hitler's invasion, the Cold War, Afghanistan disaster, secession of Soviet republics, and other misfortunes.
_______________
Endnotes
1 Count Sergius Witte, Memoirs, trans. Abraham Yarmolinsky, Doubleday, New York, 1921, p. 179.
2 Ibid.
3 General Alexandre Spiridovitch, Les Dernieres Annees do la Cour de Tsarkoe-Selo, Payot, Paris, 1928, Vol. I, p. 73.
4 Ian Vorres, Last Grand Duchess: The Memoirs of Grand Duchess Olga Alexandrovna, Scribner, New York, 1965, pp. 150-151.
5 John Van der Kiste, Queen Victoria's Children, Alan Sutton, Gloucester, U.K, 1986, p. 131.
6 Ibid.
7 Baroness Sophie Buxhoeveden, The Life & Tragedy of Alexandra Feodorovna, Empress of Russia, Longmans, Green, London, 1928, p. 58.
8 Robert K. Massie, Nicholas & Alexandra, Atheneum, New York, 1967, p. 26.
9 Anna Vyrubovna, Memories of the Russian Court, MacMillan, New York, 1923, pp. 108-09.
10 Ibid., pp. 24-33, passim.
11 Massie, p. 173.
12 Vyrubovna, p. 94.
13 Ibid.
14 Bernard Pares, The Fall of the Russian Monarchy, Vintage Books, New York, 1961, p.188.
15 Ibid., p. 399.
16 Maurice Paleologue, An Ambassador's Memoirs, trans. F. A. Holt, Doran, New York, Vol. II, p. 166.
17 W. Bruce Lincoln, Passages Through Armageddon, Simon & Schuster, New York, 1986, p. 28.
18
http://www.wikipedia.org
, February Revolution, p. 3.
19. Ibid.
20 Winston S. Churchill, The World Crisis, T. Butterworth, London, 1923, p. 73.
21 J. Brooks & G. Gernyavskiy, Lenin and the Making of the Soviet State, Bedford/St. Martins, New York, 2007, op. cit. Nicholai Lenin, Telegram to Penza Gubernia Executive Committee, August 11, 1918.
22 Paul Bulygin & Alexander Kerensky, The Murder of the Romanovs, Hutchinson, London, 1935, p. 237.
23 Fen Montaigne, "The Death of the Last Czar," The Philadelphia Inquirer, July 31, 1994, PP. G-1 & G-4.
24 Marc Ferro, Nicholas II: Last of the Tsars, trans. Brian Pearce, Oxford University Press, Oxford, U.K., 1991, p. 255, op. cit. Leon Trotsky.
25 Massie, p. 439.