THE PENTAGONISTS -- AN INSIDER'S VIEW OF WASTE, MISMANAGEMENT, AND FRAUD IN DEFENSE SPENDING
by A. Ernest Fitzgerald
© 1989 by A. Ernest Fitzgerald
NOTICE: THIS WORK MAY BE PROTECTED BY COPYRIGHT
YOU ARE REQUIRED TO READ

THE COPYRIGHT NOTICE AT THIS LINK

BEFORE YOU READ THE FOLLOWING WORK, THAT IS AVAILABLE SOLELY FOR PRIVATE STUDY, SCHOLARSHIP OR RESEARCH PURSUANT TO 17 U.S.C. SECTION 107 AND 108. IN THE EVENT THAT THE LIBRARY DETERMINES THAT UNLAWFUL COPYING OF THIS WORK HAS OCCURRED, THE LIBRARY HAS THE RIGHT TO BLOCK THE I.P. ADDRESS AT WHICH THE UNLAWFUL COPYING APPEARED TO HAVE OCCURRED. THANK YOU FOR RESPECTING THE RIGHTS OF COPYRIGHT OWNERS.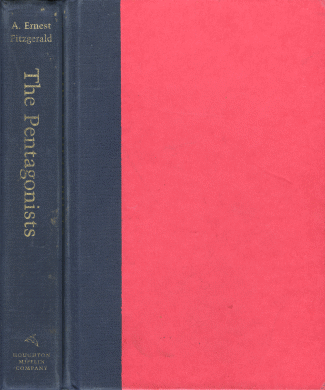 Table of Contents:
Acknowledgements
1.
Code of Silence
2.
Carrying Out the Contract
3.
"Let Him Bleed"
4.
The Cost-Plus Economy
5.
Kangaroo Court
6.
Dr. Doom's Dollar Model
7.
"I Will Never Lie to You"
8.
The King's Lawyers
9.
Reagan's Big Spender Saloon
10.
Adventures of a Born-again Muckraker
11.
Poor Richard's Network
12.
The Phoenix Flop and Other Horror Stories
13.
The Poindexter-Packard Coup
14.
The Santa Claus Coup
15.
Carpet Bombing the Constitution
16.
Operation Ill Wind
17.
Our Corporate State
Appendix A: White House Memorandum, January 20, 1973
Appendix B: FBI Memorandum, Two Versions, May 23, 1978
Appendix C: National Security Decision Directive 102, September 5, 1983
Index
... I too had been strongly affected by Kenneth Cook's death. Cook had been an Air Force weapons analyst, a mathematician and physicist with a fine record for evaluations of advanced weapons systems. His downfall came when he made an accurate and damning study of plans for some useless and very expensive secret weapons that his Air Force superiors favored. Under pressure from them, he refused to alter his analysis. So against Ken Cook the military used the cruelest kind of KGB tactics: they declared him mentally incompetent. Two civilian psychiatrists who examined him contradicted the allegation, and even the Air Force's own top psychiatrist found him nothing more than a "perfectionist" who was "relatively inflexible" in defending his views. I had some personal knowledge of the idiotic proposals Cook had examined, and he would have had to be insane to approve them.

I had learned about the Cook case when I was a consultant to Congressman Jerry Waldie's civil service subcommittee. We were told that the Air Force was indeed permitted to declare someone mentally incompetent without getting a psychiatrist's opinion! All it took were statements by three people equal or superior in rank to the victim. Or the local military sawbones on his own could declare a government employee mentally incompetent. (After the Cook case and other outrages, the rules were changed: a psychiatrist had to make the finding.)

After he was fired, Kenneth Cook found it almost impossible to get a job. The ACLU gave him some legal help, but the legal bases for his mistreatment were unclear. Most judges supported the idea that there was no recourse beyond a review by the Civil Service Commission, that pliant creature of the executive branch.

Cook tried hard through legal and political means to get the decision reversed, but politicians and officials alike were indifferent or hostile. He did valuable volunteer work for public-interest groups and members of Congress, helping to debunk the antiballistic missile proposals.

Eventually his slim resources ran out. When he fell behind in paying his property taxes, his home in New Mexico was auctioned off, in spite of public outcry. The sale brought him a check for fifty-seven cents. I saw him the day that happened, and when he showed me the ridiculous check, that strong man broke down and cried. He was never the same afterward. He went through the motions of fighting his case, but despair and poverty began to crush him. He ate only one meal a day. Having no bus fare, he trudged miles between his rented room in Virginia and the congressional or executive branch offices he haunted.

Though I was only partly employed myself, I bought him lunch whenever I could. Clark Mollenhoff did even more. Cook stopped at Mollenhoff's downtown office frequently, and Clark would take time out to buy him a meal and drive him to his next destination.

One January day in 1973, sick, ragged, and weak, Kenneth dropped dead in a department store across the street from Mollenhoff's office. He was just fifty-nine. Aside from a few old clothes and books found in his room, his entire estate consisted of the seven dollars and thirty-two cents in his pocket.

***

"Every gun that is fired, every warship launched, every rocket fired signifies in the final sense a theft from those who hunger and are not fed, those who are cold and are not clothed. This world in arms is not spending money alone. It is spending the sweat of its laborers, the genius of its scientists, the hopes of its children.... We pay for a single fighter plane with a half million bushels of wheat (by 1987, the price was twenty million bushels). We pay for a single destroyer with new homes that could have housed more than eight thousand people.. This is not a way of life at all, in any true sense. Under the cloud of threatening war, it is humanity hanging from a cross of iron." -- Dwight David Eisenhower's Cross of Iron speech, April 16, 1953

***

It is important for you to understand that the GAO debunked a phony idea widely spread by some Air Force generals that the $435 hammer is a result of the "equal allocation of overhead" to these parts which are of minimum intrinsic value. The 12-cent Allen wrench did not increase to $9,606 by the "equal allocation of overhead" -- General Dynamics and Westinghouse actually charged engineering time to the wrench that resulted in that kind of price. According to an examination of the labor records, Westinghouse charged 63 hours of engineering time to develop a 3-inch piece of common wire for $14,835 -- a tool officially dubbed an assembly pin -- when Westinghouse had been using a wooden peg for five years for the same purpose.

-- The Pentagonists, by A. Ernest Fitzgerald