The Nation and Its Fragments: Colonial and Postcolonial Histories
by Partha Chatterjee
Edited by Sherry B. Ortner, Nicholas B. Dirks, Geoff Eley
© 1993 by Princeton University Press
NOTICE: THIS WORK MAY BE PROTECTED BY COPYRIGHT
YOU ARE REQUIRED TO READ

THE COPYRIGHT NOTICE AT THIS LINK

BEFORE YOU READ THE FOLLOWING WORK, THAT IS AVAILABLE SOLELY FOR PRIVATE STUDY, SCHOLARSHIP OR RESEARCH PURSUANT TO 17 U.S.C. SECTION 107 AND 108. IN THE EVENT THAT THE LIBRARY DETERMINES THAT UNLAWFUL COPYING OF THIS WORK HAS OCCURRED, THE LIBRARY HAS THE RIGHT TO BLOCK THE I.P. ADDRESS AT WHICH THE UNLAWFUL COPYING APPEARED TO HAVE OCCURRED. THANK YOU FOR RESPECTING THE RIGHTS OF COPYRIGHT OWNERS.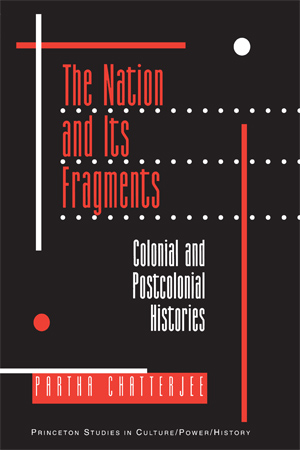 TODAY I WISH TO SAY TO YOU ONCE MORE
WHAT I'VE TOLD YOU MANY, MANY TIMES BEFORE.
Part of the importance of the "fragmentary" point of view lies in this, that it resists the drive for a shallow homogenisation and struggles for other, potentially richer definitions of the "nation" and the future political community.

—Gyanendra Pandey, "In Defence of the Fragment"
Contents
• Preface and Acknowledgments
• Chapter One: Whose Imagined Community?
• Chapter Two: The Colonial State
• Chapter Three: The Nationalist Elite
• Chapter Four: The Nation and Its Pasts
• Chapter Five: Histories and Nations
• Chapter Six: The Nation and Its Women
• Chapter Seven: Women and the Nation
• Chapter Eight: The Nation and Its Peasants
• Chapter Nine: The Nation and Its Outcasts
• Chapter Ten: The National State
• Chapter Eleven: Communities and the Nation
• Notes
• Bibliography
• Index
I described earlier the way nationalism separated the domain of culture into two spheres—-the material and the spiritual. The claims of Western civilization were the most powerful in the material sphere. Science, technology, rational forms of economic organization, modern methods of statecraft—these had given the European countries the strength to subjugate the non-European people and to impose their dominance over the whole world. To overcome this domination, the colonized people had to learn those superior techniques of organizing material life and incorporate them within their own cultures. This was one aspect of the nationalist project of rationalizing and reforming the traditional culture of their people. But this could not mean the imitation of the West in every aspect of life, for then the very distinction between the West and the East would vanish—the self-identity of national culture would itself be threatened. In fact, as Indian nationalists in the late nineteenth century argued, not only was it undesirable to imitate the West in anything, other than the material aspects of life, it was even unnecessary to do so, because in the spiritual domain, the East was superior to the West. What was necessary was to cultivate the material techniques of modern Western civilization while retaining and strengthening the distinctive spiritual essence of the national culture. This completed the formulation of the nationalist project, and as an ideological justification for the selective appropriation of Western modernity, it continues to hold sway to this day.

The discourse of nationalism shows that the material/spiritual distinction was condensed into an analogous, but ideologically far more powerful, dichotomy: that between the outer and the inner. The material domain, argued nationalist writers, lies outside us—a mere external that influences us, conditions us, and forces us to adjust to it. Ultimately, it is unimportant. The spiritual, which lies within, is our true self; it is that which is genuinely essential. It followed that as long as India took care to retain the spiritual distinctiveness of its culture, it could make all the compromises and adjustments necessary to adapt itself to the requirements of a modern material world without losing its true identity. This was the key that nationalism supplied for resolving the ticklish problems posed by issues of social reform in the nineteenth century.

Applying the inner/outer distinction to the matter of concrete day-to-day living separates the social space into ghar and bahir, the home and the world. The world is the external, the domain of the material; the home represents one's inner spiritual self, one's true identity. The world is a treacherous terrain of the pursuit of material interests, where practical considerations reign supreme. It is also typically the domain of the male. The home in its essence must remain unaffected by the profane activities of the material world—and woman is its representation. And so one gets an identification of social roles by gender to correspond with the separation of the social space into ghar and bahir….

The world was where the European power had challenged the non-European peoples and, by virtue of its superior material culture, had subjugated them. But, the nationalists asserted, it had failed to colonize the inner, essential, identity of the East, which lay in its distinctive, and superior, spiritual culture. Here the East was undominated, sovereign, master of its own fate. For a colonized people, the world was a distressing constraint, forced upon it by the fact of its material weakness. It was a place of oppression and daily humiliation, a place where the norms of the colonizer had perforce to be accepted. It was also the place, as nationalists were soon to argue, where the battle would be waged for national independence. The subjugated must learn the modern sciences and arts of the material world from the West in order to match their strengths and ultimately overthrow the colonizer. But in the entire phase of the national struggle, the crucial need was to protect, preserve, and strengthen the inner core of the national culture, its spiritual essence. No encroachments by the colonizer must be allowed in that inner sanctum. In the world, imitation of and adaptation to Western norms was a necessity; at home, they were tantamount to annihilation of one's very identity…

It is striking how much of the literature on women in the nineteenth century concerns the threatened Westernization of Bengali women. This theme was taken up in virtually every form of written, oral, and visual communication—from the ponderous essays of nineteenth-century moralists, to novels, farces, skits and jingles, to the paintings of the patua (scroll painters)…. To ridicule the idea of a Bengali woman trying to imitate the ways of a memsaheb (and it was very much an idea, for it is hard to find historical evidence that even in the most Westernized families of Calcutta in the mid-nineteenth century there were actually any women who even remotely resembled these gross caricatures) was a sure recipe calculated to evoke raucous laughter and moral condemnation in both male and female audiences. It was, of course, a criticism of manners, of new items of clothing such as the blouse, the petticoat, and shoes (all, curiously, considered vulgar, although they clothed the body far better than the single length of sari that was customary for Bengali women, irrespective of wealth and social status, until the middle of the nineteenth century), of the use of Western cosmetics and jewelry, of the reading of novels, of needlework (considered a useless and expensive pastime), of riding in open carriages. What made the ridicule stronger was the constant suggestion that the Westernized woman was fond of useless luxury and cared little for the well-being of the home….

Yet it was clear that a mere restatement of the old norms of family life would not suffice; they were breaking down because of the inexorable force of circumstance. New norms were needed, which would be more appropriate to the external conditions of the modern world and yet not a mere imitation of the West.

What were the principles by which these new norms could be constructed?

Bhudeb supplies the characteristic nationalist answer. In an essay entitled "Modesty," he talks of the natural and social principles that provide the basis for the feminine virtues. Modesty, or decorum in manner and conduct, he says, is a specifically human trait; it does not exist in animal nature. It is human aversion to the purely animal traits that gives rise to virtues such as modesty. In this aspect, human beings seek to cultivate in themselves, and in their civilization, spiritual or godlike qualities wholly opposed to the forms of behavior which prevail in animal nature. Further, within the human species, women cultivate and cherish these godlike qualities far more than men. Protected to a certain extent from the purely material pursuits of securing a livelihood in the external world, women express in their appearance and behavior the spiritual qualities that are characteristic of civilized and refined human society…

The point is then hammered home:

Those who laid down our religious codes discovered the inner spiritual quality which resides within even the most animal pursuits which humans must perform, and thus removed the animal qualities from those actions. This has not happened in Europe. Religion there is completely divorced from [material] life. Europeans do not feel inclined to regulate all aspects of their life by the norms of religion; they condemn it as clericalism.'...

In the Arya system there is a preponderance of spiritualism, in the European system a preponderance of material pleasure. In the Arya system, the wife is a goddess. In the European system, she is a partner and companion….

The new woman defined in this way was subjected to a new patriarchy. In fact, the social order connecting the home and the world in which nationalists placed the new woman was contrasted not only with that of modern Western society; it was explicitly distinguished from the patriarchy of indigenous tradition, the same tradition that had been put on the dock by colonial interrogators. Sure enough, nationalism adopted several elements from tradition as marks of its native cultural identity, but

this was now a "classicized" tradition—reformed, reconstructed, fortified against charges of barbarism and irrationality.

The new patriarchy was also sharply distinguished from the immediate social and cultural condition in which the majority of the people lived, for

the "new" woman was quite the reverse of the "common" woman, who was coarse, vulgar, loud, quarrelsome, devoid of superior moral sense, sexually promiscuous, subjected to brutal physical oppression by males

. Alongside the parody of the Westernized woman, this other construct is repeatedly emphasized in the literature of the nineteenth century through a host of lower-class female characters who make their appearance in the social milieu of the new middle class—maidservants, washer women, barbers, peddlers, procuresses, prostitutes. It was precisely this degenerate condition of women that nationalism claimed it would reform, and it was through these contrasts that the new woman of nationalist ideology was accorded a status of cultural superiority to the Westernized women of the wealthy parvenu families spawned by the colonial connection as well as to common women of the lower classes. Attainment by her own efforts of a superior national culture was the mark of woman's newly acquired freedom. This was the central ideological strength of the nationalist resolution of the women's question….

Formal education became not only acceptable but, in fact, a requirement for the new bhadramahila (respectable woman) when it was demonstrated that it was possible for a woman to acquire the cultural refinements afforded by modern education without jeopardizing her place at home, that is, without becoming a memsaheb…

Indeed, the achievement was marked by claims of cultural superiority in several different aspects: superiority over the Western woman for whom, it was believed, education meant only the acquisition of material skills to compete with men in the outside world and hence a loss of feminine (spiritual) virtues; superiority over the preceding generation of women in their own homes who had been denied the opportunity of freedom by an oppressive and degenerate social tradition; and superiority over women of the lower classes who were culturally incapable of appreciating the virtues of freedom….

Recent historians of a liberal persuasion have often been somewhat embarrassed by the profuse evidence of women writers of the nineteenth century, including those at the forefront of the reform movements in middle-class homes, justifying the importance of the so-called feminine virtues. Radharani Lahiri, for instance, wrote in 1875: "Of all the subjects that women might learn, housework is the most important. . .. Whatever knowledge she may acquire, she cannot claim any reputation unless she is proficient in housework." Others spoke of the need for an educated woman to develop such womanly virtues as chastity, self-sacrifice, submission, devotion, kindness, patience, and the labors of love. The ideological point of view from which such protestations of "femininity" (and hence the acceptance of a new patriarchal order) were made inevitable was given precisely by the nationalist resolution of the problem…

Education then was meant to inculcate in women the virtues—the typically bourgeois virtues characteristic of the new social forms of "disciplining"—of orderliness, thrift, cleanliness, and a personal sense of responsibility, the practical skills of literacy, accounting, hygiene, and the ability to run the household according to the new physical and economic conditions set by the outside world. For this, she would also need to have some idea of the world outside the home, into which she could even venture as long as it did not threaten her femininity. It is this latter criterion, now invested with a characteristically nationalist content, that made possible the displacement of the boundaries of the home from the physical confines earlier defined by the rules of purdah to a more flexible, but nonetheless culturally determinate, domain set by the differences between socially approved male and female conduct. Once the essential femininity of women was fixed in terms of certain culturally visible spiritual qualities, they could go to schools, travel in public conveyances, watch public entertainment programs, and in time even take up employment outside the home. But the "spiritual" signs of her femininity were now clearly marked—in her dress, her eating habits, her social demeanor, her religiosity….

in this as in other aspects of her life, the spirituality of her character had also to be stressed in contrast with the innumerable ways men had to surrender to the pressures of the material world. The need to adjust to the new conditions outside the home had forced upon men a whole series of changes in their dress, food habits, religious observances, and social relations. Each of these capitulations now had to be compensated for by an assertion of spiritual purity on the part of women. They must not eat, drink, or smoke in the same way as men; they must continue the observance of religious rituals that men were finding difficult to carry out; they must maintain the cohesiveness of family life and solidarity with the kin to which men could not now devote much attention. The new patriarchy advocated by nationalism conferred upon women the honor of a new social responsibility, and by associating the task of female emancipation with the historical goal of sovereign nationhood, bound them to a new, and yet entirely legitimate, subordination.



As with all hegemonic forms of exercising dominance, this patriarchy combined coercive authority with the subtle force of persuasion. This was expressed most generally in the inverted ideological form of the relation of power between the sexes: the adulation of woman as goddess or as mother. Whatever its sources in the classical religions of India or in medieval religious practices, the specific ideological form in which we know the "Indian woman" construct in the modern literature and arts of India today is wholly and undeniably a product of the development of a dominant middle-class culture coeval with the era of nationalism. It served to emphasize with all the force of mythological inspiration what had in any case become a dominant characteristic of femininity in the new construct of "woman" standing as a sign for "nation," namely, the spiritual qualities of self-sacrifice, benevolence, devotion, religiosity, and so on. This spirituality did not, as we have seen, impede the chances of the woman moving out of the physical confines of the home; on the contrary, it facilitated it, making it possible for her to go into the world under conditions that would not threaten her femininity. In fact, the image of woman as goddess or mother served to erase her sexuality in the world outside the home.

-- The Nation and Its Fragments: Colonial and Postcolonial Histories, by Partha Chatterjee