Appendices

APPENDIX I: WHAT IS FASCISM?
MUSSOLINI: "Fascism, which did not fear to call itself reactionary when many liberals of today were prone before the triumphant beast [Democracy], has not today any impediment against declaring itself illiberal and anti-liberal. ... Fascism knows no idol, worships no faith; it has once passed, and, if needful, will turn to pass again over the more or less decomposed body of the Goddess of Liberty." (Gerarchia, March, 1923.)
PALME DUTT: "The fascist system is a system of direct dictatorship, ideologically masked by the 'national idea.' ... It is a system that resorts to a popular form of social demagogy (anti-Semitism, occasional sorties against usurer's capital and gestures of impatience with the parliamentary 'yelling shop') in order to utilize the discontent of the petit-bourgeois, the intellectual and other strata of society; and to corruption through the building up of a compact and well-paid hierarchy of fascist units, a party apparatus and a bureaucracy. At the same time, Fascism strives to permeate the working class by recruiting the most backward strata of the workers to its ranks, by playing upon their discontent, by taking advantage of the inaction of Social-democracy, etc. ..."
"The combination of social demagogy, corruption and active White terror, in conjunction with extreme imperialist aggression in the sphere of foreign politics, are the characteristic features of Fascism. In periods of acute crisis for the bourgeoisie, Fascism resorts to anti-capitalistic phraseology, but, after it has established itself at the helm of state, it casts aside its anti-capitalist rattle, and discloses itself as a terrorist dictatorship of big capital."
"Fascism is the open terrorist dictatorship of the most reactionary, most chauvinist and most imperialist elements of finance capital." -- 13th Plenum of Executive Committee of the Communist International, Moscow, 1933.
RAYMOND GRAM SWING: "Fascism is a reorganization of society to maintain unequal distribution of economic power and a substitution of barbaric values for individualist civilization."-"Forerunners of American Fascism."
HEYWOOD BROUN: "I am quite ready to admit that the word Fascism has been used very loosely. Sometimes we call a man a Fascist simply because we dislike him, for one reason or another. And so I'll try to be pretty literal in outlining some of the evidence which I see as the actual danger of Fascism in America. First of all, we need a definition. Fascism is a dictatorship from the extreme Right, or to put it a little more closely into our local idiom, a government which is run by a small group of large industrialists and financial lords. Of course, if you want to go back into recent history) the influence of big business has always been present in our federal government. But there have been some checks on its control. I am going to ask latitude to insist that we might have Fascism even though we maintained the pretense of democratic machinery. The mere presence of a Supreme Court, a House of Representatives, a Senate and a President would not be sufficient protection against the utter centralization of power in the hands of a few men who might hold no office at all. Even in the case of Hitler, many shrewd observers feel that he is no more than a front man and that his power is derived from the large munitions and steel barons of Germany. ... Now one of the first steps which Fascism must take in any land in order to capture power is to disrupt and destroy the labor movement. ... I think it is not unfair to say that any business man in America, or public leader, who goes out to break unions, is laying foundations for Fascism." (May, 1936.)
APPENDIX 2: WHO OWNS AMERICA?
THE Temporary National Economic Committee, headed by Senator O'Mahoney of Wyoming, in its Monograph 29 ("The Distribution of Ownership in the 200 Non-Financial Corporations"), supplemented by Monograph 26 ("Economic Power and Political Pressures"), shows clearly that a handful of men and companies (Big Business, the Big Money, the NAM) own, control, boss and rule America in a manner which approaches the rule of Germany, Italy, and other fascist countries by similar elements.
Monograph 29, page 116, shows that of the 200 ruling families of America there are thirteen which top them all. Here is the official table:
TABLE 6
Identified stockholdings in 200 largest non-financial corporations of thirteen family-interest groups with holdings of over $50,000,000.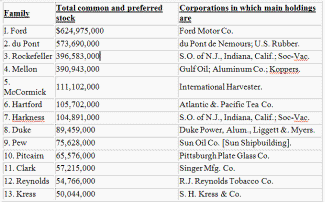 Includes only holdings of family members and family-endowed foundations in stock of 200 largest non- financial corporations insofar as they were identified among twenty largest record shareholdings. Values represent in most cases market values at December 31, 1937; otherwise (particularly for Ford) book values.
In other words, this vast accumulation of wealth (which means vast power) does not represent the totality. The Ford family fortune is estimated at two billion dollars, which is four times the amount of stock held in their own corporation. The same multiple probably applies to the other twelve.
APPENDIX 3: WHO OWNS GERMANY?
AT THE start of the second World War the 25 most important landowners in Germany were:
GERMANY'S BIGGEST LANDOWNERS
Kaiser Wilhelm II's family: 97,000 hectares
Prince of Pless: 50,000 hectares
Prince of Hohenlohe: 48,500 hectares
Prince of Hohenzollern-Siegmaringen: 46,000 hectares
Prince of Solms-Baruth: 38,700 hectares
Ernst von Stolberg-Wernigerode: 36,700 hectares
Duke of Ratibor and Prince Hohenlohe-Schilling fuerst: 31,100 hectares*
Duke of Anhalt-Dessau: 29,300 hectares
Count Thiele Winkler: 28,000 hectares*
Duke of Ahrenberg-Nordikirchen: 27,800 hectares
Count Schaffgotsch: 26,800 hectares*
Leopold Prince of Prussia: 25,000 hectares
Count von Bruehl: 22,900 hectares
Count Fink von Finkenstein: 21,000 hectares
Prince Frederick Henry of Prussia: 17,100 hectares
Duke Albrecht of Wurttemberg: 16,100 hectares
Prince Schaumburg-Lippe: 15,700 hectares
Family of Field Marshal von Kleist: 15,200 hectares
Prince Henkell von Donnersmarck: 15,000 hectares*
Grand Duke of Oldenburg: 13,800 hectares
Prince Richard Sayn-Wittgenstein: 12,000 hectares
Duke of Saxe-Coburg-Gotha: 10,400 hectares
Hereditary Prince Josias of Waldeck: 10,000 hectares
Prince Philipp of Hesse: 7,000 hectares
* One hectare equals: 2.47 acres.
CAPITAL OF JOINT STOCK COMPANIES
PERCENTAGE OF THE TOTAL CAPITAL

CAPITAL OF LIMITED LIABILITY COMPANIES

PERCENTAGE OF TOTAL CAPITAL

* NOTE: -- The Silesian magnates knew what they were doing when they greeted with enthusiasm Hitler's war against Poland. By the partitioning of Upper Silesia in 1921 Count Thiele-Winkler had lost 15,900 hectares, the princes and counts of Donnersmarck 37,000 hectares, the Prince of Hohenlohe-Ingelfingen, 18,700 hectares, the count of Ballestrem, 4,900 hectares, and the Duke of Ratibor 2,600 hectares to Poland. In 1940 all their property on Polish soil was again restored to them.
(Reprinted from Albert Norden's The Thugs of Europe, with permission.)
APPENDIX 4: NAM: AMERICAN FASCISM
(Digest of Senate Report No.6, part 3, 76th Congress, 1st session.)
"A subcommittee of the Senate Committee on Education and Labor, Senator Robert M. La Follette Jr., Wisc., Chairman. ...
"The committee found that the purchasing and storing of 'arsenals' of firearms and tear and sickening-gas weapons is a common practice of large employers of labor who refuse to bargain collectively with legitimate labor unions and that there exists a large business of supplying gas weapons to industry. ... During the years 1933 through June, 1937, $1,255,392.55 worth of tear and sickening gas was purchased by employers and law-enforcement agencies, 'chiefly during or in anticipation of strikes.' The committee noted that:
"'... all of the largest individual purchasers are corporations and that their totals far surpass those of large law-enforcement purchasers. In fact, the largest purchaser of gas equipment in the country, the Republic Steel Corp., bought four times as much as the largest law-enforcement purchaser.'"
The largest industrial purchasers of gas munitions were found to be:
Republic Steel Corp., $79,712.42 ( Girdler; Vice-President and director of the NAM).
U.S. Steel, $62,208.12 (Contributed $41,450 to NAM in four years).
Bethlehem Steel, $36,173.69 (Contributed $29,250 to NAM in four years).
Youngstown Sheet & Tube, $28,385.39 (Contributor to NAM).
General Motors, $24,626.78 (Contributed $66,000 to NAM).
Anthracite Institute, $17,457.
Goodyear, $16,912 (Contributor to NAM and Associated Industries).
National Steel, $12,085 (of Weirton; E.T. Weir of the NAM, president).
Auto-Light, $11,351 (Contributed $4,800 to NAM in four years).
Goodrich, $7,740 (Contributed $2,600 to NAM in four years).
Pennsylvania Railroad, $7,466 (Contributed $10,000 to NAM in four years).
Chrysler, $7,000 (Contributed $35,400 to NAM in four years).
Thompson Products, $6,867 (F.C. Crawford, president of the NAM).
Seattle Chamber of Commerce, $5,873.
Waterfront Employers Union, San Francisco, $5,512.
Columbian Enameling, Terre Haute, $5,482.
Spang Chalfant, Ambridge, Pa., $5,281 (Contributed $5,750 to NAM in four years).
APPENDIX 5: ROSTER OF THE SIXTH COLUMN PRESS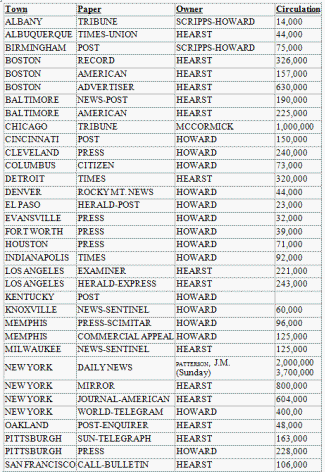 APPENDIX 6: TOBACCO SMOKING AND LONGEVITY
By DR. RAYMOND PEARL, Johns Hopkins University IN THE customary way of life man has long been habituated to the routine usage of various substances and materials that are not physiologically necessary to his continued existence. Tea, coffee, alcohol, tobacco, opium and the betel nut are statistically among the more conspicuous examples of such materials. If all six are included together as a group it is probably safe to say that well over 90 percent of all adult human beings habitually made use of one or more of the component materials included in the group. All of them contain substances of considerable pharmacologic potency if exhibited in appropriate dosage. Widespread and long-continued experience, however, has shown that the moderate usage of any of these materials, if measurably deleterious at all, is not so immediately or strikingly harmful physiologically as to weigh seriously against the pleasures felt to be derived from indulgence, in the opinion of vast numbers of human beings. The situation so created is an extremely complex one behavioristically, and not a simple physiological matter, as it is sometimes a little naively thought to be. Purely hedonistic elements in behavior, which are present in lower animals as well as in man, have a real importance. Indeed they frequently override, in their motivational aspects, reason as well as purely reflex physiological inhibiting factors. There are undoubtedly great numbers of human beings who would continue the habitual use of a particular material they liked, even though it were absolutely and beyond any question or argument proved to be somewhat deleterious to them. Most of them would rationalize this behavior by the balancing type of argument -- that the keen pleasure outweighed the relatively (in their view) smaller harm.
The student of longevity is not primarily interested in the behavioristic aspects of the situation under discussion. His concern is to appraise quantitatively, with the greatest attainable accuracy, the effect of each of these habitual usages upon the duration of life. This problem is necessarily statistical in its nature, for in the ordinary way of usage the effect upon longevity of any of the materials mentioned is not sufficiently strong or immediate to be disentangled in the individual from the effects of other and more powerful factors that are involved, such as infections, for example. An approximate evaluation of the statistical effect of these minor and secondary factors influencing longevity can, however, be reached by the application of actuarial methods (life table construction) to groups of individuals. For the maximum effectiveness of this methodology in the premises, the groups to be compared should be each as heterogeneous or random as possible in their compositions relative to all other characteristics except the one of degree of habitual usage of the particular material under discussion, and as homogeneous as possible relative to that. We shall then have a dispersed and counterbalancing effect within each group of all such factors as economic and social status, occupational and racial differences, etc., the plus variants relative to each such factor offsetting more or less evenly the minus variants; while there will be a concentrated, uni-directional and statistically cumulative effect, if any, of the habitual usage factor under test, since all components of a group will be alike in respect of it.
The purpose of this paper is to report a part of the results of an investigation of the influence of tobacco upon human longevity, planned and carried out along the lines indicated above. The material was drawn from the Family History Records of this laboratory. It is composed of data collected at first hand and ad hoc. The accuracy of the data as to the relative degree of habitual usage of tobacco and as to the ages of the living at risk, and of the dead at death can be guaranteed. The figures presented here deal only with white males, and concern only the usage of tobacco by smoking. The material falls into three categories, as follows: non-users of tobacco, of whom there were 2,094; moderate smokers, of whom there were 2,814; and heavy smokers, of whom there were 1,905. In other words, the results presented here are based upon the observation of 6,813 men in total. These men were an unselected lot except as to their tobacco habits. That is to say, they were taken at random, and then all sorted into categories relative to tobacco usage.
Complete life tables have been constructed for the three groups defined above relative to tobacco usage by smoking. The tables start at age 30 and continue to the end of the life span, by yearly intervals. Here only a condensation of the tables can be presented. This is done in Table I, where the date rate (1000 qx) and survivorship (1x) function are given by five-year intervals.
TABLE I
THE DEATH RATE (1,000 qx) AND SURVIVORSHIP (lx) FUNCTIONS, AT FIVE-YEAR INTERVALS, STARTING AT AGE 30, OF (a) NON-USERS OF TOBACCO; (b) MODERATE SMOKERS WHO DID NOT CHEW TOBACCO OR TAKE SNUFF; (C) HEAVY SMOKERS WHO DID NOT CHEW TOBACCO OR TAKE SNUFF. WHITE MALES.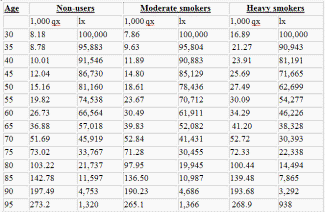 However envisaged, the net conclusion is clear. In this sizable material the smoking of tobacco was statistically associated with an impairment of life duration, and the amount of degree of this impairment increased as the habitual amount of smoking increased. Here, just as is usually the case in our experience in studies of this sort, the differences between the usage groups in specific mortality rates, as indicated by qX, practically disappear from about age 70 on. This is presumably an expression of the residual effect of the heavily selective character of the mortality in the earlier years in the groups damaged by the agent (in this case tobacco). On this view those individuals in the damaged groups who survive to 70 or thereabouts are such tough and resistant specimens that thereafter tobacco does them no further measurable harm as a group.
(This material originally appeared in Science, March 4, 1933, Vol. 87, No. 2253, pages 216-217.)