PART 3: OUR PRESS AS A FASCIST FORCE

CHAPTER 1: THE PRESS IN CHAINS
THERE are traitors among the owners, publishers and editors of the big American newspapers.
This charge was made before the American Society of Newspaper Editors on April 7, 1942, by Archibald McLeish, Librarian of Congress and then head of the Office of Facts and Figures, predecessor of the Office of War Information. It was broadcast at 1:30 P.M. over Station WOR and others.
Unfortunately, Mr. McLeish could not and therefore did not name any names, but all the editors present knew to whom he referred when he mentioned the publication of one of the secret military plans of the War Department.
Interesting also is the fact that although Mr. McLeish used the word "treason" twice in his address, the paragraphs containing it were suppressed by many newspapers, including the Olympian New York Times. Mr. McLeish had said that he knew of one publisher who actually told his staff that he intended to come ''as close to treason as I dare," and that the "defeatists and divisionists who strike from that ambiguous and doubtful shadow where freedom of expression darkens into treason" should be policed out of journalism by their fellow publishers themselves.
Another charge of treason was made by no less an authority than the head of the Department of Justice, Attorney General Biddle. At the time the question of censorship was uppermost, Mr. Biddle appeared before the Senate Judiciary Committee and, speaking in favor of a military censorship, disclosed the fact that certain newspapers and magazines had committed acts "approaching" treason. "The most closely guarded military secrets of the government have come into the possession of newspapers and magazines and ultimately into the hands of agents of enemy governments." This story was of course suppressed in all newspapers, guilty and innocent, but Labor reported from Washington:
"Biddle was testifying on an administration measure making it unlawful for unauthorized persons to divulge the contents of any confidential government document. The measure is under heavy fire. The newspapers are attacking it as a blow at 'freedom of the press,' and liberals in and out of Congress are fearful it may invade the citizen's constitutional guarantees. ...

"Biddle ... cited many instances where vital information has 'leaked,' some to newspapers willing to pay the price. ... Maps of Midway Island and its naval installations, copies of army codes, communications between the Navy Department and commanders at sea, and photographs of army camps and airfields, Biddle asserted, had been made available to newspapers and enemy agents ... A newspaper whose identity was not disclosed was declared to have purchased secret aircraft data from employees of the Wright airplane plant at Paterson, N.J. A technical journal ... was declared to have printed 'detailed data' on planes under construction at the North American Aviation factory. This information, Biddle said, is now being studied by German experts in Berlin. ... Biddle (asked Senators) to keep in mind the main objective -- the protection of the government from unscrupulous newspapers and enemy intelligence agents."
Again, no names were mentioned.
Another indication of the worry over un-American acts on the part of big publishers was given by the New York Daily News Washington columnist, John O'Donnell, who wrote (March 30, 1942):
"Last night members of the Cabinet and Supreme Court were guests at the Willard of the Overseas Writers Association and heard some bloodthirsty appeals, with much talk of concentration camps and treason, from ex-reporters now turned starry-eyed crusaders at so much per month or per lecture.

"The American press which had opposed this nation's intervention into the war before the Pearl Harbor attack was hammered lustily, with the anvil chorus led by three former reporters of the Chicago Tribune. ...

"Roosevelt advisers ... applauded lustily such declarations as: 'The American Senate must be taught the facts of life. ... The important thing is to put an end (to criticism of the Roosevelt Administration) by whatever means may be necessary -- be as ruthless as the enemy .... Get him on his income tax or the Mann Act.... Hang him, shoot him or lock him up in a concentration camp.'"
Readers will note that O'Donnell put his own phrase in parentheses about "criticism of the Roosevelt Administration" whereas =the speakers talked about treason, sabotage of the war effort, etc., and not about criticism.
O'Donnell also failed to state (or his newspapers suppressed the fact) that the former Chicago Tribune correspondents named the Chicago Tribune and its owners, Col. McCormick and Capt. Patterson, as candidates for hanging, shooting or the concentration camp. Moreover, the attack was not made on papers which opposed intervention before Pearl Harbor but on those papers, which since Pearl Harbor have continued to publish news, editorials and cartoons which must please Hitler.
Also mentioned as a Hitlerite publisher who should be tried for treason or put in jail was Charles E. Coughlin. It was suggested that the income tax law under which Al Capone and M.L. Annenberg were retired from circulation could be invoked in an investigation of Coughlin's financing.
But despite the fact that some of their members had been accused of everything from treason to following the Axis propaganda line (Divide and Conquer) the American Newspaper Publishers Associations (the Lords of the Press) held their usual convention in 1942 and devoted the major part of their week to discussing more profits despite the war.
They got together on helping the Associated Press maintain that it is not a monopoly, because it is registered under the hunting and fishing law of New York as a cooperative -- it is, in truth, the only "cooperative" in the world which refuses to accept members, and therefore a fake as well as a hypocrite and a monopolist. The publishers also discussed the newsprint situation of Canada; they were eager to keep curtailment at 10%, but no one suggested that the manufacture of newsprint instead of aluminum by the Canadian pulp mills (many owned by Americans) had curtailed the metals needed by MacArthur at Bataan and Guadalcanal. They also held secret sessions, at which no reporters were allowed, when they discussed the work of their strikebreaking committee (called Standing Committee) and their union-busting committee (called Open Shop Committee). They also brought in the Global War in this way: they argued whether or not to ask money from Uncle Sam for publicizing the bonds the nation was selling to wage a victorious war.
The eyes and ears of America's great publishers were as usual on their pocketbooks. In a special A.N.P.A. issue their mouth organ, Editor & Publisher, reported the convention would: "... examine problems created by the war," which, it explained, were: rising costs of operation, decreased revenue ... shortage of supplies, and censorship ... most important A.N.P.A. convention to be held in the past two decades. ... Among the outstanding questions of 60 scheduled for Tuesday discussion are the following:
"What is going to happen to both local and national advertising during the war? What can a newspaper do to promote new sources of advertising in a period of war emergency?

"What are newspapers under 50,000 circulation doing to offset lineage losses. ...?

"'What is the general attitude of publishers toward advertising by the government?"
Treason? Freedom of the Press? Ethics? Corruption? The anti-labor bias of 75% or more of the press? Aid given to the Axis by the Chicago Tribune and New York Daily News and other reactionary papers? There was no mention of anything but business in any of the points Editor & Publisher listed except one: "Should headlines over war news 'slant' optimistically or pessimistically?"
During the convention the press devoted more columns to its discussion of whether or not to ask the government for war advertising money than to the war itself. The special convention number of Editor & Publisher carried eight big stories, of which six dealt with money and profits, one with the A.P. monopoly which makes it almost impossible for new papers to break into the present combine, and only one dealt with patriotism. Where was MacLeish's sensational charge that there is treason among America's leading newspaper publishers? Editor & Publisher did not suppress that story, the biggest story of the convention, one of the biggest stories since the Global War began. But it buried it on page 94, column 3.
The A.N.P.A. convention followed the American Society of Newspaper Editors Convention and was held simultaneously with the Associated Press convention and other editor-publisher meetings. Director of Office of Facts and Figures Archibald Macleish spoke to the A.N.P.A. as he had to the A.S.N.E., before whom he had made the charge that there is treason among a minority of American publishers.
Reporter Willard Wiener asked questions. William Allen White, Emporia Gazette, replied that "MacLeish made a good speech. But I wish he had named names -- Coughlin, McCormick, Patterson, Pelley, et al, ad lib." Houston Harte, Standard Times, said "Sure there are papers that are doing that [undermining public confidence]. ... What MacLeish said is true." Palmer Hoyt, Portland Oregonian, said: "What MacLeish said is true." A.W. Norton, Christian Science Monitor, was in favor of convicting certain papers of their wrongdoing. Senator Capper, Topeka Capital, said "I endorse what MacLeish said. We can well take notice of his suggestions"; Herbert Bayard Swope, once editor of America's leading liberal paper, the defunct New York World, said "MacLeish is right." John S. Knight, Detroit Free Press, Akron Beacon-Journal and Miami Herald, said "I don't think it ethical for one paper to attack another."
However, the persons who favored driving America's traitors out of America's journalism are with two exceptions small town editors, whereas the owners of the powerful city press refused to agree, or sneered, or threatened. Here is PM's poll:
Col. McCormick (Chicago Tribune): "MacLeish is a Communist. Russia goes on the other side -- MacLeish goes on the other side."
William Randolph Hearst, Jr. (New York Journal-American): "I didn't read MacLeish's speech fully enough to comment on it."
Roy Howard (Scripps-Howard chain): "I know of many daily newspaper publishers with whose editorial attitude toward the war I heartily disagree. I know of none whose loyalty I question."
Eleanor Patterson (Washington Times-Herald): "PM will get nothing from me. I'm going to sue you. You don't print the truth."
Frank E. Gannett (Gannett chain; sponsor of the native fascist strikebreaking organization called Committee to Uphold the Constitution): "I consider it most unfair for anyone to say that even a minority of our press are trying to undermine our Government."
J.H. Torbett, Gannett chain newspapers: "It was the type of speech to be expected from the director of the O.F.F."
L.W. Gracey, Geneva Daily Times: "Don't know the facts. I must have been lighting a cigaret while he was talking."
The foregoing also give a clue to the editorial mind of America -- both small town and metropolitan.
Nothing was done about the defeatists, the divisionists and the traitors in the ranks.
In fact, there was a suspicion current at the convention that this group -- the friends of Fascism and enemies of the welfare of the American people -- actually owned the majority of powerful newspapers of big circulation and could easily control the convention if a patriot were to propose action against a traitor.
The nearest the President has come to indicating a large part of our press as the main enemy of American democracy and the chief agent of foreign Fascism was his indictment in March, 1942, of what he termed the "Sixth Column" which was using the means of communication -- most powerful of which is the daily newspaper -- to spread dissension, disunity, fear and suspicion. Unfortunately the President is not in a position to name names, and unless this is done the job of fighting Fascism is hampered.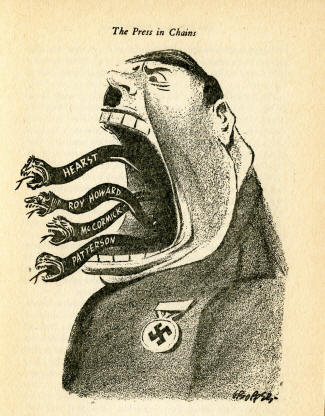 The Press in Chains
The Sixth Column is working for Hitler. Hitler said: "Confusion, indecision, fear; these are my weapons." There are fifteen main lies which Hitler wants you to believe. You will find them listed in the booklet Divide and Conquer which the Office of War Information sent free until Congress cut Elmer Davis' appropriation. Those who have read it can recognize Hitler propaganda in such stories as these: that there will be no November election in America, that we have a dictatorship here, that Britain is not at war but using Russian and American troops to save her empire, that China may at any moment make peace with Japan and betray us, that Russia may at any moment make peace with Germany and betray the United Nations, and scores of other defeatist and divisionist statements.
The Sixth Column has another big job in America, and that is to spread American Fascism. The Sixth Column today, as in peacetime, is active in setting white against Negro, Christian against Jew, Protestant against Catholic, industrial worker against farm worker, American-born against foreign-born.
If the reader thinks of our chain newspaper owners, Hearst, Howard, Patterson and McCormick, as merely four of America's 15,000 publishers, he fails to see the danger to America from an anti-democratic, anti- American press. These four publishers put out one fourth of all the newspapers sold daily on our streets, they own forty of the 200 big city papers which make American public opinion, they run not only the three biggest newspaper chains in the country, but two of the three big news services which supply news to a majority of America's dailies, and because they have always been anti-labor, anti-liberal, and anti-democratic even when not openly following the Mussolini and Hitler lines, they constitute what I believe is the greatest force hostile to the general welfare of the common people of America.
These publishers are all native Fascists. Two of them stand accused of treason, all of them of following the fascist line. In order that there may be no question of the power and influence of this fascist group, and so that Americans throughout the country may know who spreads defeatism, divisionism and fascist propaganda in their cities, I have compiled the facts on these three newspaper chains. (See Appendix 5.)
Colonel McCormick, Capt. Patterson and Eleanor (Cissy) Patterson are the multi-millionaire enemies of the people today. E.W. ("Lusty") Scripps founded the Scripps-Howard empire but after his death Roy Howard forgot the liberalism of the founder, devoted himself to tax-dodging and amassing millions. Everyone knows who William Randolph Hearst is. Of this whose journalistic lot (Hearst, Howard, McCormick, Patterson) it may be said that there is not a spark of social conscience left in them, that it soured to Fascism in the one who was once a Socialist (Patterson) and that the five powerful persons well represent native Fascism. Although they own forty papers and great news agencies, they are all socially and economically illiterate; and all of them are socially irresponsible. They are animated by nothing above their pocketbooks. They are doing nothing to make America a better nation, nothing to advance the welfare of the American people, although they are powerful enough to create a public opinion which could bring about an almost ideal state.
In peace time they are the enemies of American democracy. In war time they are our Sixth Column. Hitler, Mussolini, Hirohito represent the enemies we have to fight with guns; Hearst, Howard, McCormick and Patterson represent the enemy within.