SAWDUST CAESAR: THE UNTOLD HISTORY OF MUSSOLINI AND FASCISM
by George Seldes
Author of "World Panorama," "The Vatican: Yesterday-Today-Tomorrow," Etc.
Harper & Brothers Publishers, New York and London, 1935
© 1935, by George Seldes
YOU ARE REQUIRED TO READ

THE COPYRIGHT NOTICE AT THIS LINK

BEFORE YOU READ THE FOLLOWING WORK, THAT IS AVAILABLE SOLELY FOR PRIVATE STUDY, SCHOLARSHIP OR RESEARCH PURSUANT TO 17 U.S.C. SECTION 107 AND 108. IN THE EVENT THAT THE LIBRARY DETERMINES THAT UNLAWFUL COPYING OF THIS WORK HAS OCCURRED, THE LIBRARY HAS THE RIGHT TO BLOCK THE I.P. ADDRESS AT WHICH THE UNLAWFUL COPYING APPEARED TO HAVE OCCURRED. THANK YOU FOR RESPECTING THE RIGHTS OF COPYRIGHT OWNERS.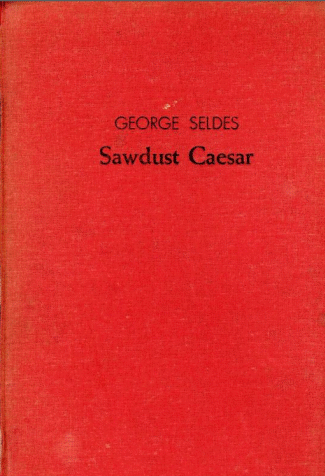 To Helen Seldes, my wife and collaborator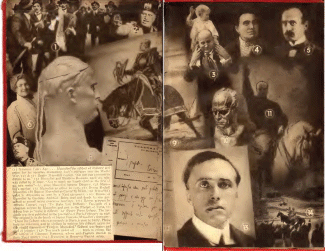 (1) Nineteen Years Ago ... Mussolini, the subject of violence and arrest for his speeches demanding Italy's entrance into the World War. (2) & (7) Benito Mussolini roared. "No one can presume to dictate to us." (3) Mussolini and Bambino Romano, aged six, who was called by Il Duce, "Not so much my fourth child as the first of my new series" -- i.e., since Mussolini became Dictator. (4) Mussolini's mother. (5) Mussolini as editor in 1915. (6) Donna Rochell Mussolini. (8) Bust of Mussolini as Caesar by Wildt. (9) Mussolini's quest in Abyssinia as seen by a Nazi cartoonist. (10) Bronze of Mussolini by Gustinus Ambrosi. Being deaf and dumb, he was permitted to attend secret executive meetings. (11) Recent portrait by Alfredo Vaccari. (12) "To Make Life Difficult." Facsimile of a telegram written by Mussolini and sent to the Prefect of Turin, ordering him to "make it difficult" for Signor Piero Gobetti. The facsimile was first published in the Quotidien of Paris, February 19, 1926. The original is in the hands of Signor Fasciolo, Mussolini's secretary: "I hear the Gobetti, who was recently in Paris, is now in Sicility. Please keep me informed, and be vigilant in making life difficult again for this stupid opponent of "Fascism Mussolini." Gobetti was beaten and died of injuries. (13) Too much castor oil ... leads to crimes like the killing of Giacomo Matteotti, whom anti-Fascists cherish as their No. 1 martyr. (14) Mussolini in Rome -- A Fascist salute.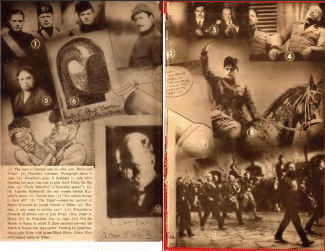 (1) The head of Fascism and his elder sons, Bruno and Vittori. (2) Mussolini, volunteer. Photograph taken in 1916. (3) Mussolini's grin. A flashlight in 1919 while founding the party that was to give Adolf Hitler his Big Idea. (4) "Parla Mussolini" ("Mussolini speaks") (5) Dr. Angelica Balabanoff, the real woman behind Mussolini's career. (6) Portrait bust. (7) "The noblest Roman of them all!" (8) "The Eagle" — equestrian portrait of Benito Mussolini by Joseph Palanti of Milan. (9) "But, dear, I only want to civilize you!" (10) Mussolini— a photostat of picture sent to Jean Drury (Mrs. Peter A. Drury, Jr.) by Mussolini, July 15, 1932. (11) Not the March on Rome, in which Il Duce marched not — but the March in Naples four days earlier. Trusting his Quadrumvirs to take Rome with 50,000 Black Shirts, Editor Mussolini stayed safely in Milan.
Table of Contents:
• Foreword: to Americans facing Fascism
• Part 1: The Force of Destiny
o 1. Tide . . . Taken at the Flood
o 2. The Romantic Rebel
o 3. "Dieu n'existe pas"
o 4. Comrade Angelica and Comrade Benito
o 5. A Miracle Is Explained
o 6. A Politician Goes to War
o 7. Fiume or Death!
o 8. The Secret of 1920
o 9. Fascism Conquers Mussolini
o 10. Priest versus Politician
• Part 2: The Conquest of Power
o 11. The Glorious March on Rome
o 12. The Victor in Search of a Program
o 13. Personal Vendetta
o 14. The Assassination of Matteotti
o 15. Blood and Irony
o 16. The Sons of Brutus
o 17. Purge of the Freemasons
o 18. Mussolini Conquers the Mafia
o 19. The Cheka — spelled Ceca or Ovra
o 20. The Fate of Heroes
o 21. " 'Live Dangerously' Is My Motto"
o 22. The Silent Revolution
• Part 3: Mussolini Victorious
o 23. Mussolini versus the Pope
o 24. Diplomacy: Corfu to Ethiopia
o 25. The Corporate State: People under Fascism
o 26. Fascist Finance
o 27. A Journalist Suppresses the Free Press
o 28. Let There Be Culture!
o 29. The Imperialist Road to War
o 30. Ave Caesar
• Appendices
o 1. The First and Second Fascist Programs
o 2. "Dieu n'existe pas," by Mussolini
o 3. Mussolini's French Money
o 4. Mussolini and the "Bolshevik Era"
o 5. Text of the Pacification Treaty between Fascisti and Labor
o 6. Fascism: "Reactionary" "Anti-Liberal" by Mussolini
o 7. Resolutions Adopted by the Republican, Socialist, Democratic, and Catholic Parties Following the Assassination of Matteotti
o 8. Extract from the Law of December 31, 1925, on the Press. Royal Decree of July 15, 1923. Decree Subsidizing Violence Abroad
o 9. The Labor Charter
o 10. The Fascist Decalogue. The Fascist Ten Commandments. The Apocryphal Fascist Cathechism. The Balilla Credo
o 11. Fascist Finances
o 12. Fascism: Its Theory and Philosophy, by Mussolini
o 13. Il Duce Tells Fascist Journalists Duty Is to Serve Regime
o 14. The Foreign Policies of Fascism, by Mussolini
o 15. Capitalism and the Corporate State, by Mussolini
o 16. Volte-face Caesar
• Chronology
• Bibliography
• Index
Curious, but not surprising to psychologists, is this mingling of the belief in free will, predestination, fatalism, and the commonest Forli superstitions. The village "witch," old Giovanna, taught Mussolini her "magic lore"; he became "an adept in interpreting dreams and omens and telling fortune by cards." He is quoted often saying, "My blood tells me" and "I must listen to my blood," and he once declared proudly, "Que voules-vous? Je ressemble aux animaux, je renifle le temps qui vient, je suis mon instinct, et je ne me trompe jamais" ("What would you? I resemble the animals, I scent the times, I follow my instinct, and I never make a mistake").

The Duce and the age of dictators have already been explained by the scientists. Freud has expressed his belief that nations, like human beings, can suffer a neurosis; Adler believes that people like individuals suffer from inferiority, struggle hard to shake it off and to become superior, and in the case of Italy and Mussolini the world has its best example. More recently Stekel has presented his authority complex to explain the weakness of the masses and the power of the Mussolinis, the "father-substitutes." The millions of inferiorities of the people mass together to become a superiority; the people identify themselves with the leader, partaking of his authority, and the leaders are usually neurotic, suffering from a "compulsion complex." "Dictators in general," continues my colleague, John Gunther, in expounding the Stekel theory, "are a sort of regression to childhood. Love of a leader is a reversion to infantilism." Stekel concludes that "For many generations men fought for democracy, liberty, the right of free assembly and free speech. Thousands of good men have died for these causes. But now one country after another gives up its free institutions, people even vote away their freedom. New dictatorial revolutions . . . are welcomed with relief, not opposed by force. There is a world scramble for authority, for the security of leadership. People everywhere, because their parental sense of authority has disappeared, are looking for a father-substitute, for a strong and beloved parental hand." ...

One of the seeming paradoxes of the Italian situation which Italy has not yet discovered, although it could do so easily by reading the officially printed works of the Duce, is that the embodiment of their wish-fulfillment neither loves nor respects the masses who follow him. Time and again Mussolini has quoted Machiavelli's opinion of the common people as "mud" and sneered at public opinion. But the more the Duce shows that he despises his followers, the more they shout their love and loyalty. Unlike the bourgeois gentleman, Lenin, who really loved the world-filling proletariat, the oligarch of Italy, in origin plebeian, almost hates them. "I do not adore this new divinity — the masses," writes the Duce, thereby confirming Stalin's view that even revolutionary leaders at times despise their following and that "an aristocratic attitude of the leaders towards the masses" frequently arises, an attitude which Lenin escaped because his faith in the nobility of the workingman was never shaken.

The greatness of Mussolini can only be measured by the lowness of his worshipers.

He stalks through the world like the one man who wears the mantle of Zarathustra, possesses the mind of Machiavelli, is the inheritor of the power of Caesar, while all the little minds, all the hundreds of millions of unimportant, unthinking, weak, and ineffectual human beings (whom Sinclair Lewis has both immortalized and crucified with a new word) grovel at his feet, proclaiming him the conqueror. Emperor or Galilean? The same hundreds of millions go to their churches on Sundays and proclaim an unarmed Man who was weak and humble, who preached humility and kindness and love and non-resistance. The other six days they arm for war and praise violence. The mob mind can worship both. ...

The last man to seize a large part of the world, Napoleon, called by Wells, an adventurer, a wrecker, a man of egotism and vanity, a personality archaic, hard, capable, unscrupulous, imitative, and neatly vulgar, is still the hero of the mob. Mussolini has at least this much in common with the Corsican: they were both well-whipped children, therefore destined to a rebellious manhood. Bonaparte was whipped by his mother, Mussolini by his father; the one used a birch rod, the other a leather belt.

The mediocrity of the two minds is amazing. The Code Napoleon, which he claimed was a greater monument than his forty victories, was written by other men. The plan of the Corporate State is not Mussolini's. The "totally uncreative imagination" of Napoleon was influenced by Plutarch towards a revival of the Roman Empire; Mussolini in all his words and deeds has shown the influence of the latest book he has been reading, the last strong-minded politician who has been advising him....

Napoleon, says Wells, could do no more than "strut upon the crest of this great mountain of opportunity like a cockerel on a dunghill. The figure he makes in history is one of almost incredible self-conceit, of vanity, greed, and a grandiose aping of Caesar, Alexander, and Charlemagne which would be purely comic if it were not caked over with human blood." If Bonaparte's aping of Caesar was so ludicrous and so tragic, what can one say of Mussolini's aping of Bonaparte?...

In almost every sentence of his speeches, in almost every page of his writings, Mussolini curses his opponents. He is always shouting "scoundrel," "traitor," "egotist" at someone; his enemies are "soft-brained cowards," "swelled frogs," and "a base and pernicious crew"; he never hesitates to call the man who differs from his opinions a liar; with the utmost contempt he speaks of political enemies and those who have fought duels with him as weaklings, cowards; referring to foreign statesmen and journalists who have said he threatens the peace of the world he replies these are the "accusations of fools"; when he can find nothing evil to say of those whom the world honors he calls them "egocentric," he speaks of their "unbridled egotism"; he is always attacking those who "sell themselves for money, for power," whom he despises — and frequently the word "turncoat" comes up and the six four-letter words in Joyce's "Ulysses."...

Need one go to a psychologist for the explanation of such behavior, or is ordinary intelligence sufficient guide? Proust speaks of "that habit of denouncing in other people defects precisely analogous to one's own." "For," he says, "it is always of those defects that people speak, as though it were a way of speaking about oneself, indirectly, which added to the pleasure of absolution that of confession. Besides, it seems that our attention, always attracted by what is characteristic of ourself, notices that more than anything else in other people . . . an unwashed man speaks only of the baths that other people do not take ... a cuckold sees cuckolds everywhere, a light woman light women, a snob snobs." There can be no better explanation. ...

One thing he has is a blazing hatred. "Not," as one of his compatriots says, "the hatred of a social rebel which is but another facet of love, like the hatred of Brutus for Caesar, of Bruno for the Papacy, of Mazzini for the tyrants," or the hatred which inspired Milton and Byron and Shelley sublimely and which has made heroes and martyrs. Mussolini's dominating hatred, which was important to his success, was the drop of poison on the swift arrow of his Will....

There remains the question of greatness.

He is, for instance, a great journalist but a tenth-rate litterateur. His eloquence is marvelous — emotionally, not logically. He is a great politician, a great leader of the mob, but he is a demagogue and not a statesman.

He is a genius at assimilating the ideas of other persons and making them his own.

He is totally unscrupulous.

He has never done anything original.

He has a tremendous will but an inferior mind....

History will say that Mussolini shows the triumph of the superiority complex, the triumph of Nietzschean catch-phrases, the triumph of the adapter of other people's ideas, the triumph of the book-made egotist.

Reactionary dictators are men of no element of greatness, men with no philosophy, no burning humanitarian ideal, nor even an economic program of any value to their nation or to the world. Grand and imposing as they look in their flaming uniforms and shirts in nationalist colors on marching days, they are almost forgotten the hour a change is made. Who now remembers Waldemiras? What country did he rule? What became of Pangalos? How many Bratianus were there and what happened to them? And how ignoble became that same Primo de Rivera who one day before had stood arm in arm with Mussolini, his treaty-friend, his proud disciple? But it is not too fantastic to imagine a time after Mussolini's disappearance, when the commentators will say that after all he was only a renegade Socialist who could never be trusted, a puny, sententious imitator of Lenin, a rather foolish repeater of Kaiser Wilhelm's foolish phrases, a man mentally and physically ill, a megalomaniac who thought he could change the course of economic forces by the use of magnificent phrases taken from Karl Marx, Nietzsche, Hegel, Vilfredo Pareto, and his former colleagues in the Socialist movement — and nevertheless a person worthy of statues. After all, he is the original Duce of Fascismo, and all the others are merely imitators.

All of Mussolini's monuments will be monuments to the strength of a weakling, monuments to the weakness of his opposition, to the cowardice of the masses, but, above all, monuments to an Ego and a Will.

-- Sawdust Caesar, by George Seldes