Part 3 of 4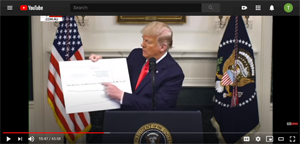 "This is normal"
President Donald Trump: (15:44)
Nobody knows anything about it. By the way, there's your line. This is one of many.
Here's what is normal, and all of a sudden, look at that. This is normal, normal. Look even here, normal. And then boom, all of a sudden, I go from winning by a lot to losing a tight race. It's corrupt.
Detroit is corrupt. I have a lot of friends in Detroit. They know it, but Detroit is totally corrupt. Look at this, look at this. That's at 6:31 in the morning, unexpectedly came in.
In the recent recount in Georgia, which means nothing because they don't want to check signatures, and if you're not going to check signatures in Georgia, it doesn't work, but we have a secretary of state and a governor who made it very difficult to check signatures.
Donald J. Trump @realDonaldTrump

Do something@BrianKempGA. You allowed your state to be scammed. We must check signatures and count signed envelopes against ballots. Then call of election. It won't be needed. We will all WIN!
President Donald Trump: (16:41)
Why? You'll have to ask them, but without a signature match, or a check, it doesn't matter.
They found thousands and thousands of votes that were out of whack, all against me. This was during a recount that I didn't even think mattered.
They found many thousands of votes, and that recount didn't matter. The one that matters is the one that's going on now, that because of the fact it's so close, they had to by law give another recount.
But the recount has to be a recount where they check the signatures. Otherwise, they're just checking the same dishonest thing.
It won't matter.
President Donald Trump: (17:22)
In this case, the signatures on envelopes are the only thing that is relevant. We will compare the signature on the envelope to the signatures from past elections, and we will find that many thousands of people signed these ballots illegally. The Democrats had this election rigged right from the beginning. They used the pandemic, sometimes referred to as the China virus, where it originated as an excuse to mail out tens of millions of ballots, which ultimately led to a big part of the fraud, a fraud that the whole world is watching. And there is no one happier right now than China.
When performed by professionals in criminal cases or legal proceedings, signature verification can take hours. But election employees in many states must do the job in as little as five seconds...

But experts say mail voters are far more likely to be disenfranchised than those who vote in person.

That's particularly true for young people, who are more likely to experiment with various handwriting styles; the elderly, whose signatures sometimes change with age; people with disabilities; and those voting by mail for the first time — a category that this year includes millions of Americans.

People tasked with verifying signatures often receive little or no instruction. According to one study, those without formal training are more likely to flag a genuine signature as a fake rather than identify false signatures as real.

"It is just ripe for error," said Linton Mohammed, a forensic document examiner in California who has been an expert witness in lawsuits over ballot signature rules...

A forensic-level analysis isn't the goal, many election officials said. Instead, workers check to see if signatures look similar enough to be counted, and don't reflect the wrong name or diverge drastically from the one in the voter's file.

"We are not real picky as long as it looks similar," said Jennie Aines, elections director for Franklin County, Pa. She said her staff does not receive any type of instruction in signature analysis.

"There's no training," she said. "We are all just office workers trying to get stuff done in here."...

Without a cure process, rejecting ballots for handwriting issues isn't fair to voters, said Thomas Vastrick, a forensic document examiner who has taught signature verification classes for Florida election workers...

"We always err on the side of the voter," said Robert Rodriguez, a spokesman for the Miami-Dade County Elections Department...

Signatures that don't match do not always signal fraud.

In addition to the young and the elderly, voters whose first language is written right to left — such as Arabic or Urdu — are less likely to have a consistent signature in English, experts say.

Medication can also affect one's handwriting, as can fine motor skills issues, disabilities and injuries.

North Dakota resident Maria Romo didn't learn until this year that her vote in the 2018 midterm election had been rejected due to a perceived signature mismatch.

Romo said her already messy handwriting has gotten worse since she was diagnosed with multiple sclerosis. Her hands sometimes go numb and she struggles to grip a pen. Sitting down, standing up or resting her arm on a chair can change the look of her writing — all of which she would have told elections officials, she said, had they asked...

Emily Will, a forensic document examiner in North Carolina, said she's troubled by the idea that workers may be comparing ballot signatures to just one, or even a few, samples from the voter's file. She said she likes to have at least 20 examples of a voter's past signature when she performs a verification, with several having been written recently.

"Think about signing a credit card receipt as opposed to your will or your mortgage papers," she said. "Some people might consider their ballot signature very important, but some might think this is just nothing and they just scrawl it out."

Amy Campbell of Philadelphia said she thinks she signed her ballot correctly in the June primary but election officials canceled her vote, claiming they "could not obtain" her signature.

The 26-year-old, who voted by mail due to concerns of COVID-19, said she was angry that she was not given the chance to cure her ballot.

"I thought I had done what I was supposed to do to vote and make sure I was doing my part to keep my city safe," Campbell said. "It was frustrating that some minor clerical issue disqualified my vote."

-- 'Ripe for error': Ballot signature verification is flawed — and a big factor in the election, by Maya Lau, Laura J. Nelson, L.A. Times, 10/28/20
President Donald Trump: (18:10)
Many people received two, three and four ballots. They were sent to dead people by the thousands.
In fact, dead people -- and we have many examples, filled out ballots -- made applications, and then, voted, which is even worse. In other words, dead people went through a process. Some have been dead for 25 years.
To hear some people tell it -- including a handful of prominent Republicans, such as members of President Trump's family and supporters like former House Speaker Newt Gingrich and former acting Director of National Intelligence Richard Grenell -- you might think that Democrats were using dead people to steal Michigan's Electoral College votes from Trump.

But, like much of the misinformation circulated online this week by some Trump supporters, the claim falls apart under scrutiny. A CNN analysis of the claim and the purported backing for it did not find a single instance of that happening.

One of the supposed pieces of evidence was a list that circulated on Twitter Thursday evening allegedly containing names, birth dates, and zip codes for registered voters in Michigan. The origin of the list and the identity of the person who first made it public are not known.

CNN examined 50 of the more than 14,000 names on the list by taking the first 25 names on the list and then 25 more picked at random. We ran the names through Michigan's Voter Information database to see if they requested or returned a ballot. We then checked the names against publicly available records to see if they were indeed dead.

Of the 50, 37 were indeed dead and had not voted, according to the voter information database. Five people out of the 50 had voted -- and they are all still alive, according to public records accessed by CNN. The remaining eight are also alive but didn't vote.

The sample CNN reviewed is not representative, but the trend was clear -- not a single one of the names examined was of a dead person voting.

The version of the list CNN found has since been removed from the site hosting it.-- Claims that dead people voted went viral. These are the facts, By Konstantin Toropin, Holmes Lybrand and Annie Grayer, CNN, Updated 10:47 AM ET, Sun November 8, 2020
Millions of votes were cast illegally in the swing states alone, and if that's the case, the results of the individual swing states must be overturned, and overturned immediately. Some people say that's too far out, that's too harsh. Well, does that mean we take a president, and we've just elected a president where the votes were fraudulent?
President Donald Trump: (19:01)
No, it means you have to turn over the election. And everybody knows without going much further, and they've seen the evidence, but they don't want to talk about it, what a disaster this election was, a total catastrophe. But we're going to show it, and hopefully, the courts in particular. The Supreme Court of the United States will see it, and respectfully, hopefully, they will do what's right for our country, because our country cannot live with this kind of an election. We could say, "let's go on to the next one," but no, we have to look also at our past. We can't let this happen.
President Donald Trump: (19:43)
Maybe you'll have a revote, but I don't think that's appropriate. When those votes are corrupt, when they're irregular, when they get caught, they're terminated, and I very easily win. In all states, I very easily win the swing states, just like I won them at 10 o'clock in the evening, the evening of the election.
We're not looking to show you 25 faulty or fraudulent votes, which don't mean anything, because it doesn't overturn the state, or a fifty, or a hundred.
We're showing you hundreds of thousands far more than we need, far more than the margin, far more than the law requires. We can show many times what is necessary to win the state.
...

As President Donald Trump continues to contest the election results, one of the most common questions I get is, "Are you investigating his allegations of voter fraud?" The short answer is yes, we will always look into credible accusations of serious wrongdoing.

The issue here is that many of these allegations are unfounded, overblown or have little or unreliable evidence.

"Reporters on my team have reviewed about 10 lawsuits alleging problems with voting and counting in several states," said enterprise editor Steve Myers. "What many people may not realize is how far the lawsuits fall short of what people claim."

For example, Myers said, in Nevada the Trump campaign announced it and the state Republican Party were preparing to file a lawsuit alleging that up to 10,000 people who no longer lived in Nevada had voted there.

"When the suit was filed, it contained just one vague reference to 'over 3,000 instances of ineligible individuals casting ballots,' and it cited no evidence," he said. The head of elections in Clark County said he would look into the allegation but that out-of-state voters are common, and often include members of the military and college students. Judges declined to stop vote counting.

The lack of evidence appears to be why judges have tossed these cases so quickly – in Georgia, it took just one day.

The Trump campaign went to court the day after the election, alleging Chatham County had improperly intermingled ineligible ballots with valid ones, our journalists reported. A judge dismissed the case after the county elections head said he reviewed the 53 ballots in question and found they had been received before the deadline.

Investigative editor Matt Doig points out that voting irregularities happen every election but, as our reporting has shown, are extremely rare and don't amount to negating a national election.

"A poll worker will accidentally mark the book to show that John Smith Sr. voted instead of John Smith Jr., and the Sr. is dead," he said. "Somebody who lives in Michigan will cast an absentee ballot there, and then vote in person at the precinct near his vacation house in Arizona. Someone will cast a vote for a spouse who died between the time the ballot was mailed and the election deadline."

The conservative Heritage Foundation, which keeps records of voting fraud, found about 1,200 cases dating back to the 1980s. The Heritage database does not include any examples of a concerted effort to use absentee ballot fraud to influence a major election...

-- Backstory: We investigated claims of voter fraud in the election. Here's what we found., by Nicole Carroll, USA TODAY, 11/13/20
President Donald Trump: (20:34)
The media knows this, but they don't want to report it. In fact, they outright refuse to even cover it, because they know the result if they do. Even what I'm saying now will be demeaned and disparaged, but that's okay. I just keep on going forward, because I'm representing 74 million people. And in fact, I'm also representing all of the people that didn't vote for me.
The mail-in voting scam is the latest part of their four year effort to overturn the results of the 2016 election, and it's been like living in hell. Our opponents have proven many times, again and again, that they will say and do anything to get back into power.

President Donald Trump: (21:28)
The corrupt forces who are registering dead voters and stuffing ballot boxes are the same people who have perpetrated one phony and fraudulent hoax after another. You've been watching it now for four years. These entrenched interests oppose our movement, because we put America first. They don't put America first, and we're returning power to you the American people. They don't want America first, they only want power for themselves. They want to make money. That's why they don't want me as your president. I've been investigated from soon after I announced I was running for president. When I immediately went to number one in the Republican primary polls, the investigations never stopped. They went on for four years, and I won them all, I beat them all. Russia, Russia, Russia, the impeachment hoax, and so much more. Robert Mueller spent $48 million of taxpayer money investigating me for two and a half years, issued over 2,800 subpoenas, executed nearly 500 search warrants, issued 230 orders for communications records, and conducted 500 witness interviews, all looking to take me down. There was no collusion in the end, none whatsoever. Senator Marco Rubio, the head of the Senate Intelligence Committee stated, "The committee found no evidence that then candidate Donald Trump, or his campaign, colluded with the Russian government." And, I thank Senator Rubio for that statement.

President Donald Trump: (23:22)
Now, I hear that these same people that failed to get me in Washington have sent every piece of information to New York, so that they can try to get me there. It's all been gone over, over and over again. For $48 million you go through tax returns, you go through everything. The New York attorney general, who recently ran for office, campaigned without knowing me, stating, "We will join with law enforcement and other attorneys general across this nation in removing this president from office." I never met her.

President Donald Trump: (24:03)
"It's important that everybody understands", she said, "that the days of Donald Trump are coming to an end." And all it's been is a big investigation in Washington and New York and any place else that can investigate, because that's what they want to do. They want to take not me, but us down. Then we can never let them do that. Everything has been looked at. A friend of mine, who's very smart, said, "You've probably seen more than anybody else. You've probably been investigated more than anybody else. And for you to come out with a clean bill of health makes you probably the cleanest person in this country."
President Donald Trump: (24:48)
Some people in this administration, but fortunately not all, have been beaten down and disparaged. They just disappeared. Nobody knows what happened to them. Why aren't they active? Why aren't they involved? There's so much to be involved in. The corruption is so rampant. They just couldn't take it anymore. They were threatened by Democrats with impeachment, and horrible things were said about them. And they're good people. Even recently, the head of the GSA was hounded and harassed as she reported, like she has never been before. What can I say? We caught Comey cold, we caught McCabe cold. We caught them all.
We're still waiting for a report from a man named Durham, who I have never spoken to, and I have never met. They can go after me before the election as much as they want, but unfortunately Mr. Durham didn't want to go after these people, or have anything to do with going after them before the election. So who knows if he is ever going to even do a report.
On September 10, Nora Dannehy resigned as the deputy to John Durham, the federal prosecutor investigating the government's probe into the Trump campaign and Russia during the 2016 election.

Dannehy left her post and the Justice Department in part because of Attorney General William Barr's pressure on Durham to release a report on his investigation's findings before Election Day, according to a person familiar with her thinking. Trump had long been hoping a report out this fall would damage Democrats, including Joe Biden, and help him win reelection. In Trump's terminology, Durham's report would reveal an "attempted overthrow" of his administration by Democratic insiders. But Justice Department guidelines restrict prosecutors from taking such actions within 60 days of an election because they might affect the outcome of the election. Both Durham and Dannehy believed that if they complied with Barr's demands they would be violating this doctrine, according to two people familiar with their thinking.

Durham, who is the U.S. Attorney for Connecticut, and Dannehy were also troubled that Barr had purposely misrepresented their work in numerous public comments, the two people said. According to two sources familiar with the probe, there has been no evidence found, after 18 months of investigation, to support Barr's claims that Trump was targeted by politically biased Obama officials to prevent his election. (The probe remains ongoing.)

In fact, the sources said, the Durham investigation has so far uncovered no evidence of any wrongdoing by Biden or Barack Obama, or that they were even involved with the Russia investigation. There "was no evidence … not even remotely … indicating Obama or Biden did anything wrong," as one person put it.



Shortly after the resignation of his prized deputy and with the election looming on the horizon, Durham phoned Barr. He forcefully told the attorney general that his office would not be releasing a report or taking any other significant public actions before Election Day, according to a person with knowledge of the phone call. Dannehy's resignation constituted an implied but unspoken threat to Barr that Durham or others on his team might resign if the attorney general attempted to force the issue, according to a person familiar with Durham's thinking.

After hearing from Durham in September, Barr informed the president and allies that there would be no October surprise, causing Trump to lash out. "

Unless Bill Barr indicts these people for crimes — the greatest political crimes in the history of our country — then we're going to get little satisfaction unless I win,"

he told Fox Business last month. "[These] people should be indicted,

this was the greatest political crime in the history of our country. And that includes Obama and it includes Biden."

The president had been hoping for a repeat of what happened during the 2016 election, when, with just 11 days left, then-FBI director James Comey announced the reopening of the bureau's Hillary Clinton email investigation. Comey's decision is widely seen to have hurt Clinton at a crucial moment and helped Trump pull off a come-from-behind victory. For more than a year and a half, Trump believed that Durham's investigation would confirm the conspiracy theory that the "deep state" — senior officials of the Justice Department, FBI, and intelligence community — had worked to sabotage his presidency with false accusations that he had colluded with Russia. The Justice Department's inspector general last year reported finding no "evidence that political bias or improper motivation influenced the decisions" of the Russia investigators, and so far, the only charge brought by Durham's office has been against an ex-FBI lawyer who pleaded guilty to falsifying an email used to obtain a warrant for electronic surveillance on former Trump campaign aide Carter Page.

For his part, Barr was hyping what the Durham investigation would find since at least the spring and suggested it would be bad for Democrats. "There is a difference between an abuse of power and a federal crime. Not every abuse of power, no matter how outrageous, is a federal crime," Barr told reporters in May. "As to President Obama and Vice-President Biden, whatever their level of involvement, based on the information I have today, I don't expect Mr. Durham's work will lead to a criminal investigation of either man. Our concern over potential criminality is focused on others." One person familiar with the Durham investigation called Barr's comments a backhanded attempt to insinuate that Obama and Biden had abused their powers. Barr's ongoing commentary regarding Durham's investigation appears to have violated Justice Department policy that officials should "not confirm the existence or otherwise comment about ongoing investigations."

While discussing Durham's investigation, Barr's rhetoric also increasingly paralleled Trump's. In contrast to the president, Barr delivered his comments in a measured and restrained manner, while Trump's claims have been coarse and hyperbolic.

Barr has suggested that the DOJ and FBI's investigations of the president was "one of the greatest travesties" in American history and a "bogus scandal," whereas Trump simply called the investigations a "hoax." Barr has said the "greatest danger to our free system" is when law enforcement and intelligence agencies try to "affect the outcome of an election." Trump accused them of an attempted "coup" against him. Barr has said that the "completely bogus narrative" caused by the investigations "was largely fanned and hyped by a completely irresponsible press." Trump blamed the "fake media," period.

After hearing there would be no October surprise, Trump excoriated Barr, telling Rush Limbaugh: "I think it's a terrible thing, and I'll say it to his face."

-- How Trump and Barr's October Surprise Went Bust, by Murray Waas, Intelligencer, Nov 2, 2020
President Donald Trump: (26:11)
But if you look at the lies, and the leaks, and the illegal acts of behavior done by so many people, and their desire to hurt the president of the United States, something should happen. The hardest thing I have to do is explain why nothing is happening with all of these people that got caught spying on my campaign. It's never happened before and it should never happen again to a president of the United States
. All you have to do is watch the hearings and see for yourself. The evidence is overwhelming. The fraud that we've collected in recent weeks is overwhelming, having to do with our election. Everyone is saying, "Wow, the evidence is overwhelming", when they get to see it. But really, it's too late to change the course of an election. It's too late to change the outcome.
President Donald Trump: (27:11)
In fact, there is still plenty of time to certify the correct winner of the election, and that's what we're fighting to do. But no matter when it happens, when they see fraud, when they see false votes, and when those votes number far more than is necessary, you can't let another person steal that election from you. All over the country, people are together in holding up signs, "Stop the steal." To understand how we will challenge this fraud, it is important to know the problems with mail-in balloting. Pennsylvania, Michigan, Nevada, Georgia, Arizona, and most other states allowed anyone to get an absentee ballot and cast their vote without showing any ID. The voting took place entirely on the honor system. No identification of any kind was required.
President Donald Trump: (28:11)
Most Americans would also be shocked to learn that no state in the country verifies United States citizenship as a condition for voting in federal elections. This is a national disgrace. No other advanced country conducts elections this way. Many European countries have instituted major restrictions on mail-in voting specifically, because they recognize the nearly unlimited potential for fraud. Out of 42 European nations, all but two prohibit absentee ballots entirely for people who reside inside the country, or else they require those who need absentee ballots to show a very, very powerful ID.
President Donald Trump: (28:54)
Throughout the Democrat effort to dramatically expand mail-in voting, the Democrat party leaders were also feverishly working to block measures designed to protect against fraud such as signature verification, residency verification, or voter ID. And citizenship confirmation was almost unthought of that we should ask for it. Can you believe this? These are not the actions of people who want fair elections. These are the actions of people who want to steal elections, who are willing to create fraud. The only conceivable reason why you would block common sense measures to verify legal eligibility for voting is you are trying to encourage, enable, solicit, or carry out fraud.
President Donald Trump: (29:47)
It is important for Americans to understand that these destructive changes to our election laws were not a necessary response to the pandemic. The pandemic simply gave the Democrats an excuse to do what they have been trying to do for many, many years. In fact, the very first bill that house Democrats introduced when Nancy Pelosi became speaker, was an attempt to mandate universal mail-in voting, and eliminate measures such as voter ID, which is so necessary.
Dramatically eroding the integrity of our elections was the Democrats number one priority for a simple reason: they wanted to steal the 2020 presidential election. All of the Democrat efforts to expand mail-in balloting laid the groundwork for the systematic and pervasive fraud that occurred in this election.
President Donald Trump: (30:41)
In Pennsylvania, large amounts of mail-in and absentee ballots were processed illegally and in secret, in Philadelphia, in Allegheny counties, without our observers present -- they were not allowed to be present. In fact, they weren't even allowed in the same room. They were thrown out of the building, and they looked from outside in, but they had no way of even seeing because there were no windows. And the windows that were there were boarded up. Democrats even went to the Pennsylvania Supreme Court to block observers from receiving access.
There is only one possible reason that the corrupt Democrat political machine would oppose transparency during the vote counting. It's because they know they are hiding illegal activity. It's very simple.
President Donald Trump: (31:32)
This is an egregious, inexcusable, and irreversible harm that stains the entire election. Yet this unprecedented practice of excluding our observers, our vote watchers, as some people call them, occurred in Democrat run cities, and key states all across the nation. Here are just some of the additional facts that we've uncovered. Many voters all across Pennsylvania received two ballots in the mail, and many others received mail-in ballots for which they never applied. So many get ballots, they didn't even know what they were for. And again, so many received more than one ballot. In some cases, more than two ballots. And they happened to be, for the most part, Democrats.
President Donald Trump: (32:22)
In Fayette County, Pennsylvania, multiple voters received ballots that were already filled out. They didn't know what happened.
Quick Take

A false claim circulating on social media alleges that mail-in ballots already filled out with votes for Democrats, including Joe Biden, were sent to voters in a New York City borough. A spokesperson for the New York City Board of Elections told us the ballot that triggered the allegation was the result of a voter's error.

Full Story

The contretemps began on Oct. 29 with a tweet by Jake Novak, who describes himself on Twitter as a freelance editorial columnist for CNBC.com.

Novak said residents of Queens Village, a section of Queens Borough in New York City, "are receiving pre-filled out ballots for Joe Biden and being told to just send them back to the Board of Elections. This is blatantly ILLEGAL." Twitter tagged the claim as "disputed."

Novak later posted a video on Twitter in which he displays a ballot that he claims arrived entirely filled-in and another in which he elaborates on what he believes took place. The latter tweet is no longer available.

Among other things, Novak said the circles in the ballot are filled in so perfectly that no human being could have done them and they could only have been done by a machine.

Novak's original tweet was retweeted on Oct. 30 by Eric Trump, one of President Donald Trump's sons. The president has repeatedly and falsely claimed that vote fraud is widespread because of mail-in ballots.

The false claim also found its way onto Facebook.

The New York City Board of Elections disputed Novak's allegation in a pair of tweets on Oct. 30. In one tweet, the board challenged the notion that the ballot brandished by Novak had not been filled out by hand. In the other,

the board said it had tracked down the voter who had received the mail-in ballot and the voter had in fact received a blank ballot.

In one of his videos, Novak said he had been in touch with a Queens Village resident who had received the filled-in ballot. He said the ballot had been addressed to someone who hadn't lived at the address for eight months. Novak said his tipster didn't want to be identified because he had voted for past Democratic presidential candidates Barack Obama and Hillary Clinton but this time planned to vote for Trump, rather than Democratic nominee Joe Biden.

In his original tweet, Novak said "residents" had been receiving filled-in ballots but he backed away from the plural in the video. While saying the way the ballot he had seen was filled in suggested it was "mass produced," he said he did not know for sure that others had received filled-in ballots.

Novak said he suspected Democrats were behind the pre-marked ballot but didn't know for sure and was continuing to investigate.

Novak, who also lists himself on Twitter as the "creator of @Varneyco on @FOXBusiness" and a former "Executive Producer of the #KudlowReport," said he wouldn't provide the identity of his tipster to other news outlets because he didn't want to give away his story.

("The Kudlow Report" was a CNBC program hosted by Larry Kudlow, now director of Trump's National Economic Council.)

We asked Novak to put us in touch with the person or persons who had received filled-in ballots and for elaboration on why he thought the ballot could not have been filled in by a person. He did not do so.

But according to the New York City Board of Elections, there is a simple explanation for what happened, and it doesn't involve anything nefarious. We reached Valerie Vazquez-Diaz, the board's director of communications and public affairs, and she described what had happened in a telephone interview.

In Novak's video of the ballot, the voter ID number is clear. According to Vazquez-Diaz, election officials tracked down the voter who had requested the absentee ballot in California. The voter reported receiving a blank ballot, filling it out and depositing it at a mail box in the Golden State.

The problem arose because the voter put the ballot into the oath envelope, which is supposed to go inside an outer envelope to be mailed to election officials. But the voter instead placed the oath envelope into the mail box. The only address on the oath envelope is the voter's, so that's where it was returned.

Vazquez-Diaz said officials had no idea how the envelope made its way into the hands of Novak's tipster.

But as for Novak's tweets, she said they were "inaccurate."

-- False Claim About 'Pre-Filled Out Ballots' in Queens, by Rem Rieder and Angelo Fichera, 10/31/20
In Montgomery County, Pennsylvania, a poll watcher overheard unregistered voters being told to return later to try to vote under a different name. Tens of thousands of voters across Pennsylvania were treated differently based on whether they were Republicans or Democrats. Voters who submitted floored ballots in some Democrat precincts were notified and asked to fix their ballots, while Republican precincts, and in particular Republican voters, were not so notified, which plainly violates the Equal Protection Clause of the United States Constitution. "If you are a Democrat, we're going to fix up your ballot, make sure it's perfect. If you are Republican, don't even talk about it."
President Donald Trump: (33:16)
In Michigan, a career employee of the city of Detroit with the city workers, coaching voters to vote straight Democrat while accompanying them to watch who they were voting for, violating the law and the sanctity of the secret ballot. You can't do that. The same workers say she was instructed not to ask for any ID, and not to attempt to validate any signatures. She was also told to illegally backdate ballots, many, many ballots, received after the deadline. This is something that is so unconstitutional, and she estimates that
thousands and thousands of ballots were improperly backdated
by her and many others.
The Postal Service's inspector general informed Congress on Tuesday that a worker who had made unfounded allegations of ballot corruption inside a facility in Erie, Pa., had disavowed his claims, which Republicans had amplified to suggest there was widespread fraud in Pennsylvania's voting.

Richard Hopkins, a post office employee in Erie, "completely" recanted allegations that a supervisor was "tampering with mail-in ballots" after investigators questioned him, the inspector general's office said, according to the Democratic leadership of the House Oversight and Reform Committee.

Not long after the Democrats' announcement, Project Veritas — a conservative group that researchers say has engaged in a coordinated disinformation campaign to delegitimize the voting process — released a video in which Mr. Hopkins said that he had not actually recanted his statements.

Mr. Hopkins had claimed in a sworn affidavit given to President Trump's campaign that he overheard what he believed to be a discussion about the backdating of postmarks on ballots that arrived at the postal facility after Election Day.

Ballots must have been postmarked by Election Day, Nov. 3, to count. The implication of Mr. Hopkins's claim was that postal workers had backdated ballots that should have been disqualified.

Under Pennsylvania procedures put in place during the coronavirus pandemic, mail-in ballots that arrived at election offices after Election Day have been separated from those that arrived by Nov. 3. They have not been added to the vote tallies for any candidate, and President-elect Joseph R. Biden Jr. has won Pennsylvania without them.

Only about 130 mail-in ballots arrived after Election Day out of about 135,000 ballots cast in Erie County, according to Carl Anderson III, the chairman of the county's board of elections. The post office's processes "will stand as legitimate under scrutiny," he said in a statement.

Republicans, eager to find evidence of wrongdoing to bolster Mr. Trump's fiction that the election was stolen from him, circulated Mr. Hopkins's affidavit and amplified it.

Senator Lindsey Graham of South Carolina, the chairman of the Judiciary Committee, who has urged Mr. Trump to continue to fight the results of the election, sent Mr. Hopkins's affidavit to reporters along with a statement that read in part: "I will not allow credible allegations of voting irregularities or misconduct to be swept under the rug." He later acknowledged in a television interview on Sunday that the claims he circulated were unverified...

-- Postal worker withdraws claim that ballots were backdated in Pennsylvania, officials say, by Luke Broadwater, NYT, 11/10/20
President Donald Trump: (34:05)
Other witnesses in Detroit also saw our election officials counting batches of the same ballots many times, as well as illegally duplicating ballots. One observer testified to seeing boxes and boxes of ballots, all bearing the same signature. Another observer in Detroit gave sworn testimony that he saw countless invalid ballots that did not belong to properly registered voters, and then witnessed election workers in Wayne County entering fake birth dates into the system in order to illegally count them. Witnesses of signed sworn affidavits, so in other words, you go to jail if you lie, testifying that after election officials announced the last absentee votes had been received, a batch of tens of thousands of ballots arrived, many without envelopes, all voting for Democrats.
President Donald Trump: (35:02)
In Wisconsin, a record number of voters were categorized as indefinitely confined, a status reserved for severely disabled individuals, also for the elderly, that allow them to vote without showing ID. Last year approximately 70,000 people claimed this status statewide. This year the number miraculously was nearly 250,000 voters, after election officials in Milwaukee and Dane County, a couple of the most corrupt political places in our country, urged citizens to improperly register under this status. And register they did in levels that don't exist. In Wisconsin there are approximately 70,000 absentee ballots that do not have matching ballot applications as required by law. In Georgia, nine observers have testified to seeing countless irregular ballots without the creases or typical markings. indicating that the ballots did not arrive in envelopes as required.
President Donald Trump: (36:03)
A poll watcher in Fulton County estimated that approximately 98% of the large number of unusually pristine ballots that she witnessed were for Biden. A highly unusual number. In addition,
thousands of uncounted ballots were discovered in Floyd, Fayette, and Walton counties weeks after the election, and these ballots were mostly from Trump voters. They weren't counted.
They were from Trump voters.
Floyd County election officials are acknowledging that 2,500 ballots went uncounted during the 2020 general election.

The additional ballots were determined during a statewide audit of the election results. On Monday the Secretary of State's Office initially reported upwards of 2,600 ballots were discovered.

County election officials released the following statement Tuesday:

We are thankful for the opportunity to perform a hand recount as directed by the Secretary of State. The audit worked exactly as it should have.

We determined that there were approximately 2500 additional ballots that had not been counted. On investigation we determined that the discrepancy was caused by a malfunctioning scanner used during early in-person voting at the Administration Building in Rome. That scanner jammed on October 24 and was rendered inoperable. A new scanner was quickly brought in to replace it.

After an unsuccessful attempt to read damaged memory cards it was determined, based upon advice of Dominion IT assistants on site and in accordance with Secretary of State guidance, to rescan all of the ballots cast prior to the scanner malfunctioning.

For reasons we do not yet fully understand, some of those ballots either were not scanned or the scanned ballots were not migrated into the ballots included in the original tally.

All ballots from the Administrative Office early voting box are now being rescanned and tallied in order to verify the audit number. In addition, the voter affidavits of all voters who voted early at the administration office were counted today in order to provide yet another method of verifying the proper total vote count for that box.

Please remember that number may not match the total audit tally exactly. For instance, there would have been votes for unqualified write-in candidates or some who simply did not vote in a particular race.

No one, least of all the Floyd County Board of Elections, is happy with this situation nor satisfied. We intend to review all processes and procedures to understand how the incident with the scanner led to this voting discrepancy.

However, we want you to understand: There is no evidence of fraud. There is no evidence of intentional misconduct.

Going forward, it is our job to correct the problem, learn from it and put in redundant processes which will prevent it from happening again. Maintaining electoral integrity, making voting fair and accessible, and doing right by the citizens of Floyd County are paramount concerns for the Board of Elections.

-- Election officials clarify how 2,500 ballots went uncounted in Floyd County, by Angelina Velasquez, 11/17/20