TRUMP INSULTS PEOPLE OF D.C. (CODEWORD FOR "BLACK PERSONS")
Trump arguably violates conditions of pretrial release AND tries to insult his way out of a DC trial
by Glenn Kirschner
Aug 6, 2023 #TeamJustice
CAROL ANDERSON: So what Jack Smith has laid out is the conspiracy to defraud the U.S. government, the conspiracy to basically subvert a political legal process for the United States. And the one that really attracts me is the conspiracy against rights, which is the right to vote, because underlying the Big Lie was the big lie of voter fraud. And that big lie of voter fraud was targeted at communities, at cities that have sizable Black and minority populations, and it was trying to delegitimize the votes of those American citizens.

And so, this is so streamlined because there are six — in that indictment, there are six unindicted co-conspirators, but they're not on the charge itself. It is the United States of America v. Donald J. Trump. And so, that's to make sure that this thing is clean, it's smooth. There are none of these pieces like we have with Mar-a-Lago with multiple defendants, with classified documents, that this thing can go through. So, the defense's claims of "we're having an inordinate amount of discovery that we have to go through, of the documents and the witness testimonies that the prosecutor has amassed," so much of that they already have from the January 6th committee hearings. What's new, for instance, is Mike Pence, who went before the grand jury and told about his conversations with Trump.

So, Georgia was targeted — targeted hot, heavy and hard — by the Trump regime. So, you have that infamous phone call from Trump to Brad Raffensperger, who was the secretary of state, where Trump is saying, "All I need is 11,780 votes. Just find me 11,000 votes," and Raffensperger pushing back, saying, "The data don't support that. We don't have those numbers." And Trump is just demanding that Raffensperger overturn the will of the voters here in Georgia and just conjure up some votes and plug a number in there that says that Trump won the 16 Electoral College votes out of Georgia.

When that didn't work, they also had the fake elector scheme, where you have — the legal electors are already meeting in the statehouse, as the law requires. Then, the fake electors then sneak into the statehouse on December 14th, and they're meeting there, and they actually sign a document that says that they are the electors from the state of Georgia and that they then cast their 16 Electoral College votes for Donald J. Trump. And then they send that document to the federal judge, to the president of the Senate and to the head of the National Archives, giving the aura that this is legitimate, when it is actually illegitimate.

And then you have Mark Meadows coming into Georgia at a counting center as a recount is happening over absentee ballots. I mean, hard, hot and heavy pressure on Georgia to overturn the will of the voters.

And let me be really clear about the will of the voters. Ninety percent of Black voters in Georgia voted for Joseph Biden. Almost 70% of Hispanic voters in Georgia voted for Joseph Biden. And more than 60% of Asian American voters in Georgia voted for Joseph Biden. So this attempt to wipe out those votes is wiping out the votes of sizable blocs of minority voters, who did not vote for Donald J. Trump.

So, you have not only Eastman, but you also have Jeffrey Clark of the Department of Justice being warned that this attempt to override the election, overturn the will of the voters, would lead to folks being out in the streets, would lead to riots. And the response was, "Well, that's what the Insurrection Act is for." So, there was a willingness to use the U.S. military against American citizens who were protesting for their rights, protesting, fighting for this democracy, protesting because the will of the voters had been overturned by a cabal of co-conspirators, a cabal who were in league with Donald J. Trump. And so, that willingness to use violence to overturn democracy is — it just tells you how deeply embedded this drive was to keep him in power, and the disregard they had for the lives of American citizens, who withstood a pandemic, a deadly pandemic, to go and vote, who understood that democracy was on the line and were willing to do what they needed to do.

So, in terms of violence, I also have to talk about Rudy Giuliani coming down here to Georgia for three legislative hearings, where he spews — he and his team spew a bevy of lies about dead people voting, but particularly about Shaye Moss and Ruby Freeman, two Black poll workers in Fulton County at State Farm Arena, that Rudy Giuliani equated, made equivalent, with drug dealers, passing around USB ports as if they were heroin, as if it was heroin and cocaine, so linking election workers, Black election workers, with drug dealers. And then those two women receive enormous death threats, death threats that are so horrific that it causes Ruby Freeman to — the FBI warns her that she has to leave her home for protection. That's the kind of violence that this kind of cabal was willing to generate in order to keep Donald Trump in power against the will of the voters. That's why Georgia is so prominent in this discussion.

And this is — and so, this is the kind of terror that is reminiscent of what happened during Reconstruction that led to the KKK Act that Trump is charged with, because that kind of terror was the intimidation of Black people who were exercising their right to vote, the intimidation of Black people who believed that they were American citizens, the intimidation of Black people who were engaged in the electoral process. This is what was happening based on a lie, where Giuliani admits that he lied.

Even worse, I have to say, is that these lies about election fraud, about massive rampant voter fraud, becomes the basis for the voter suppression laws that many states, like Georgia, then put in place. So, you've got an incredible array of laws in place, pieces of those laws dealing with absentee ballots, dealing with drop boxes, dealing with mobile voting units, dealing with places like State Farm, that Fulton County was able to use to deal with the fact that it had to close 90 polling places, and so this was a way to provide a way for people to be able to vote. So, the state using Rudy Giuliani's big lie and Donald Trump's big lie to justify shutting down access to the ballot box to minority communities, because the vast number of drop boxes that were shut down after the passage of S.B. 202 were in the Atlanta metropolitan area. So it went from over a hundred drop boxes to fewer than 25 drop boxes.

So, this is why you have this — also this kind of massive pushback about Trump can't get a fair trial in D.C., he can't get a fair trial in Manhattan, he can't get a fair trial in Fulton County, because of the Blackness of those spaces and because Black people and Black elected officials are seen as illegitimate. Think about Trump with birtherism, with Obama. That was an attack on Obama's legitimacy, legitimacy as an American citizen, legitimacy as an elected political official.

When Blackness becomes illegitimate — so, I think about Mo Brooks, the congressman out of Alabama, who said that if we only count the legal votes, then Trump would be in his second term. So, those legal votes are white people's votes. The illegal votes are those from African Americans. And so, therefore, folks like Fani Willis, folks like Judge Chutkan, folks like Tish James, folks like Alvin Bragg, they're not legal, they're not legitimate, so they can be discounted.

So, when you get a charge that says, "I want a change of venue from D.C. to West Virginia," that is sending the signal about the illegitimacy of Black people as American citizens. This, again, is what happened after the Civil War, where the Ku Klux Klan rose up and said, "These aren't American citizens. The 14th Amendment does not apply to them. The 15th Amendment does not apply to them. We can do to them whatever we want." And that's what you're seeing replicated here in the 21st century.

-- Trump & the KKK Act: Carol Anderson on Reconstruction-Era Voting Rights Law Cited in Trump Indictment, by Amy Goodman, Democracynow.org
Donald Trump seems to be inching closer every day to pretrial detention. Just days after he was placed on pretrial release in his criminal case in the District of Columbia and ordered not to threaten or intimidate the witnesses, he blasts one of the most sharply incriminating witnesses against him, his former Vice President Mike Pence. Judge Tanya Chutkan will very likely have something to say about that, in the form of a Show Cause Order.
Transcript
so friends, apparently Donald Trump
thinks he gets to harass and threaten
the witnesses against him with impunity.
he doesn't.
and he also seems to think he can insult
his way out of having his criminal case
tried in the District of Columbia.
he can't.
let's talk about that,
because Justice matters.
[Music]
hey all Glenn kirschner here so friends
let's take on two new developments in
Donald Trump's criminal case in
Washington D.C because just days after
Trump was put on pre-trial release and
ordered by the Magistrate Judge not to
threaten or intimidate the witnesses
Donald Trump does precisely that
he lashes out at one of the most
directly and sharply incriminating
Witnesses
one of the witnesses who will testify
against him at trial one of the
witnesses who will be called as a
prosecution Witness
his own former vice president Mike Pence
here is the new reporting from CNN
Headline Trump calls Mike Pence
delusional in sharpest attack yet on his
former vice president
and that article begins former president
Donald Trump on Saturday lashed out at
Mike Pence his former vice president and
GOP Presidential primary opponent
calling him delusional and not a very
good person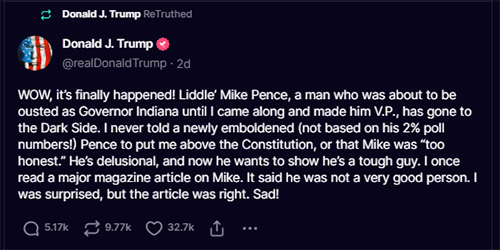 quote wow it finally happened little
Mike Pence a man who was about to be
ousted as Governor Indiana until I came
along and made him VP has gone to the
dark side Trump said in a truth social
post
quote I never told a newly emboldened
not based on his two percent poll
numbers Pence to put me above the
Constitution or that Mike was too honest
Trump added he's delusional and now he
wants to show he's a tough guy
so apparently Trump thinks he gets to
trash with impunity one of the most
sharply incriminating Witnesses against
him
can I make a prediction friends
judge Tanya chutkin is going to have a
little something to say about Donald
Trump's decision to intimidate harass
threaten the witnesses against him
she'll probably have something to say
about it in the form of what's called a
show cause order when somebody's put on
pre-trial release
and the judge sets conditions the do's
and don'ts of pre-trial release and the
defendant engages in some of the don'ts
a judge will typically order a show
cause hearing
and will require the defendant with his
defense attorney's in tow to appear and
show cause why the conditions of his
release shouldn't be modified altered
shouldn't become more restrictive
or perhaps she'll order him to show
cause why he shouldn't be detained
pending trial
now I suspect her opening Salvo with
Donald Trump will be putting him on
heightened restrictions perhaps some
narrowly tailored restrictions on his
speech and on his posts which he
undoubtedly will violate probably later
the same day that she imposes those
heightened restrictions and what she may
tell him when she imposes additional
restrictions is
I'm putting the keys to the jail cell in
your hand defendant Trump
and if you violate these conditions
you will be detained pending trial so in
a very real sense the keys to the jail
cell will be in your hands that's what I
suspect she will do give him enough rope
now will she do it before the next
scheduled court appearance on August
28th she might she might not I have a
feeling the the threats are serious
enough and the violations of his
conditions of release are already
obvious enough that she may haul him
into court before August 28th or she may
just wait until that first scheduled
status hearing and take the matter up at
that time
but she's not going to let it go
and she shouldn't let it go
okay friends let's turn to the second
development
Donald Trump is trying to get his trial
moved out of the District of Columbia
and he thinks the way to accomplish that
is by insulting the people of DC by
berating the jury pool
here is what Trump just posted

no way I can get a fair trial or even
close to a fair trial in Washington D.C
there are many reasons for this but just
one is that I am calling for a federal
takeover of this filthy and crime-ridden
embarrassment to our nation
where murders have just shattered the
all-time record other violent crimes
have never mean worse
and tourists have fled the federal
takeover is very unpopular with
potential area jurors but necessary for
safety greatness and for all the world
to see
so friends Donald Trump thinks that he
can insult his way out of being tried in
the District of Columbia
he figures that if he insults the
citizens of the District of Columbia
then he can claim that he can't get a
fair trial in the District of Columbia
can you imagine if this Behavior
resulted in a defendant being allowed to
successfully change the venue of the
trial by insulting the people in the
city where you committed the crimes
you know if that were the rule
it would give every defendant and then
an incentive to insult the jury pool in
the city where they committed the crime
so they could successfully get their
trial moved to another city
you know these tactical choices by
Donald Trump are so bad
it almost feels like he once again has
Rudy Giuliani giving him legal advice
one thing is becoming increasingly clear
by the day
Donald Trump
is going down
Donald Trump
is going to be held accountable Donald
Trump is going to be convicted
for his crimes against the United States
against the American people
against our democracy
he just is
because Justice
matters
friends hold on tight
we are getting there