Blog Troll, Part II: Arrested
by Lori Stewart Weidert
September 28, 2013
NOTICE: THIS WORK MAY BE PROTECTED BY COPYRIGHT
YOU ARE REQUIRED TO READ

THE COPYRIGHT NOTICE AT THIS LINK

BEFORE YOU READ THE FOLLOWING WORK, THAT IS AVAILABLE SOLELY FOR PRIVATE STUDY, SCHOLARSHIP OR RESEARCH PURSUANT TO 17 U.S.C. SECTION 107 AND 108. IN THE EVENT THAT THE LIBRARY DETERMINES THAT UNLAWFUL COPYING OF THIS WORK HAS OCCURRED, THE LIBRARY HAS THE RIGHT TO BLOCK THE I.P. ADDRESS AT WHICH THE UNLAWFUL COPYING APPEARED TO HAVE OCCURRED. THANK YOU FOR RESPECTING THE RIGHTS OF COPYRIGHT OWNERS.
I revealed in July that I filed a police report against an anonymous troll that has been leaving nasty messages for me and anyone that commented on my blog for the last 6 years. And when I say nasty, I don't mean "your haircut sucks" nasty; I mean, "you should be raped" nasty.
I stopped posting comments to protect others from his wrath, and last Spring I finally shut them off altogether, in an attempt to shut him down for good.
By doing so, I poked a bear. He amped up his game by impersonating me, sending racist and sexist comments to my friends and family, and signing my name. Two of my dearest, instrumental in the repeal of DADT, received this message: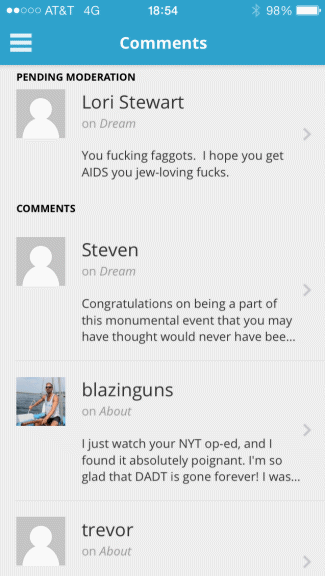 And to one of my best friends, who was instrumental in helping me capture IP addresses to turn into the police:
Lori Stewart has left a new comment on your post "Let's Get A Few Things Cleared Up":
Ad*m S*ndler is a dirty fucking jew that belongs in a cyanide gas chamber.

Control jews, not guns!

You AIDS-infected cunt.
It didn't take long for me to realize that this guy was sending me the very clear message that he was not going away.
When I posted that the police had found this guy through subpoenas to his internet provider, I did not reveal everything I knew, for fear of hindering a still-ongoing investigation. I did learn that he lived in Urbana when the harassment began, and moved to the St. Louis area in '09. I can reveal now that
My blog troll is an information specialist working for the U.S. Dept. of Defense. He has security clearance in this country. He is 55 years old.
A $250,00 Warrant for his arrest was issued last Friday. You can read the article revealing his identity here.
He was arrested in his workplace on Monday. He has since been in custody of the St. Louis police. (Article below.)
I've been trying to write this post for a week, and I'm finding it difficult to explain how it feels to finally shut him up—and have him locked up. I am relieved. Ecstatic. Gleeful! What goes around comes around, and karma, baby, and all that jazz.
And yet, it also a bit unnerving.
I made every attempt I could to not let this guy have any impact on my life. I did not volley comments, or engage him in any sort of conversation, ever. And here I've spent the last week contemplating this stranger, and what he must be thinking right now. Based on his past behavior, I doubt very much he's feeling sheepish or remorseful. Probably mad, wouldn't you think?
Each of us named in the complaint have expressed that it's unsettling to think that you've pissed off some monster that has made constant threatening comments wishing rape and death.
Oh, and I'm going to digress for a second, and address the "Well, did he threaten you directly?" question. It is true that he did not say he'd rape me, anally. He said Ishould be raped, anally, and afterwards that I should lick the shit off the cock that had just raped me.
...He only said I should be raped...over and over and over he said it.
"I'm sorry ma'am, but unless he threatened you directly, there's not much we can do." Whatever law that is should be removed from the books right this instant. Because, fuck that, that's what.
Sigh. I have written to friends that I fluctuate between feeling victorious and scared shitless. Our names are in the paper, and we have a case number, and there will be "stalking no contact orders of protection" issued for all of us. If there's a Not Guilty plea, we face testifying against him.
I'll do it in a heartbeat, of course. I'll put my father's protective U.S. Navy ring on a chain around my neck--it always keeps me brave and safe, and I'll don a red bra of courage, and I'll march my ass into a courtroom with my head held high, if I have to.
• I hope this turns out just the way we want it to.
• I hope he's punished accordingly.
• I hope we all sleep more soundly.
• I hope there are other people out there that will be left alone now.
• I hope the definition of what is considered a direct threat can be revisited.
• I hope more people file reports, and don't sit around for 6 years like I did, and
• I hope when they do, they're listened to very carefully by law enforcement officials.
• I hope these stupid trolls and cyberbullies take note and realize that yes, we really can find you.
• I hope anyone experiencing anything like this saves every comment, every IP address, and every record, for years and years if they have to, even when it seems like nothing will ever be done about it.
• I hope no one else ever kills themselves over dirtbags like this.