Warrant issued over online comments
by Mary Schenk
09/21/2013
NOTICE: THIS WORK MAY BE PROTECTED BY COPYRIGHT
YOU ARE REQUIRED TO READ

THE COPYRIGHT NOTICE AT THIS LINK

BEFORE YOU READ THE FOLLOWING WORK, THAT IS AVAILABLE SOLELY FOR PRIVATE STUDY, SCHOLARSHIP OR RESEARCH PURSUANT TO 17 U.S.C. SECTION 107 AND 108. IN THE EVENT THAT THE LIBRARY DETERMINES THAT UNLAWFUL COPYING OF THIS WORK HAS OCCURRED, THE LIBRARY HAS THE RIGHT TO BLOCK THE I.P. ADDRESS AT WHICH THE UNLAWFUL COPYING APPEARED TO HAVE OCCURRED. THANK YOU FOR RESPECTING THE RIGHTS OF COPYRIGHT OWNERS.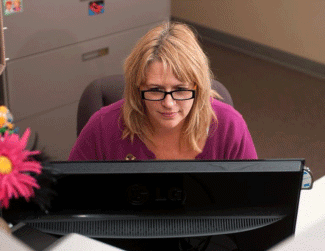 Photo by: Heather Coit/The News-Gazette
Lori Stewart sits at her desk in Urbana on Friday, Sept. 20, 2013. Stewart, who blogs from home, has been the victim of cyberstalking for about six years. Her stalker, who posted vicious messages on her blog, has been identified.
URBANA — For years, Lori Stewart received comments on her blog from an anonymous poster that were mostly vulgar.
The 50-year-old Urbana woman started her blog in 2005 "on a kick" before she even really knew what a web log was.
After her son enlisted in the Army and was deployed to Iraq, she also started a charitable organization called Toys For Troops, to send small plush toys and soccer balls to service men and women abroad to distribute to children. (That organization has recently changed its name to Operation Warrior Watch and while its original cause will continue, the need to send toys is decreasing, so the focus will shift to veterans, their families and their communities.)
It was after Toys for Troops got off the ground, in 2007, that her cyberstalker weighed in more heavily.
"Initially, it started out as a bunch of nasty comments from him. I didn't know who he was. I thought he was some young punk kid. He was posting anonymously. Mostly, I thought he was a royal pain in the ... But then he began attacking anyone I talked about," she said.
That included a sister with cancer, her mother with Alzheimer's, her son in Iraq. The comments, some of which Stewart shared with followers on her blog in July, could charitably be described as obscene.
"I didn't want to invite attacks on other people I loved so I shut down the comments," she said.
The commenter continued to send messages directed at her through other associates of hers in the blogosphere.
"He just amped up his rage and found other ways to get to me mentally," Stewart said, adding that the anonymous poster created accounts using her name and signing it to hate-fueled messages directed at Jewish or gay people.
"He would tell the Jewish families that their children would be annihilated ... and the gay friends that I hoped they died of AIDS," she recounted.
While many of her blog followers and personal friends knew of her problems with the cyberstalker, others did not. Earlier this year, after hearing from more than a dozen people in quick succession who were on the receiving end of mean-spirited messages purported to have come from her, she went to the police.
Champaign County sheriff's investigator Jody Ferry said he was assigned Stewart's case in mid-March and found it different for a couple of reasons.
"Typically, you may get some forms of harassment where people are in a dispute and saying things out of anger during the break-up of a relationship. This was unusual in that this guy was coming at her based off her (blog) and really bombarding her with his anti-Semitism. He became very racist and sexist and relentless in his attacks. It occurred over a period of several years," Ferry said.
The other reason it was unusual is that Stewart did not know the author, who was not the young punk sitting in his mother's basement that Stewart had conjured up in her head.
"I learned through the investigation that he was employed by the Department of Defense out of the St. Louis area," said Ferry.
With the help of Champaign police detective Patrick Simons, who was also working the case because WDWS radio personality Elizabeth Hess was receiving obscene and threatening e-mails at work, Ferry collected IP addresses for where the messages were coming from.
"We were able to get subpoenas and identified him that way," said Ferry.
On Friday, an arrest warrant was issued by Champaign County Judge Rich Klaus charging Robin B. King, 55, of Bella Villa., Mo., a small suburb south of St. Louis, with four counts of harassment by electronic communication, a Class 4 felony. Klaus set bond on the warrant at $250,000.
State's Attorney Julia Rietz said her office obtained the search warrants for the IP addresses.
"They came back to two addresses: a local address that was his ex-wife's and the Missouri address, which was his. They interviewed the ex-wife, who reported that he comes and stays with her from time to time and brings his laptop and uses her wireless network. She confirmed some of the nicknames he used and his personal biases against liberals and Jews," Rietz said.
Ferry said that neither he nor Simons has been able to reach King.
"I've made several attempts to contact him via cellphone and he's refused to take my calls," said Ferry. "I don't know what he's thinking or why he'd be doing what he's doing."
Ferry declined to share King's cellphone number with The News-Gazette. No home listing could be found for him.
Ferry said when he first started investigating, he wasn't sure what crime the comment poster might have committed.
"People do have freedom of speech. When you're on an open blog, they can say what they want. I didn't know I could do a whole lot about it. At some point, it crosses a line when it's repeated over and over. The vulgarity, the sexism and racism, when he takes her identity to push his views on other people," said Ferry.
Rietz explained that the statute makes the harassment a felony if there are three or more instances of it. The counts she filed fall under the portion of the statute dealing with the obscene nature of the comments as opposed to any direct threat to the recipient, she said.
The counts filed against King allege Stewart, Hess, and two others, Benjamin Beaupre and Sarah Boyer, were subjected to obscene electronic comments from King on four occasions each between January and May 2013. Stewart said Beaupre and Boyer also are bloggers she knows. The penalties for conviction of a Class 4 felony range from probation to one to three years in prison.
It's unknown when the warrant will be served.
Stewart and Hess, neither of whom say they know King, said once King's ex-wife was contacted by the police in late May, they stopped getting the hate-filled communications. And Stewart has reopened the comments section of her blog.
Still, she exercises caution in what she posts and how she responds to people.
"Once he left me alone, I started to realize how much more I did shut down. I knew after six or seven years of harassing how he would misconstrue what I wrote.
"I tried not to let him manipulate me into feeling constantly afraid, but if I get an anonymous email, I won't respond."