TARGETING YOUTH: WHAT EVERYONE SHOULD KNOW ABOUT MILITARY RECRUITING IN PUBLIC HIGH SCHOOLS
a Report Prepared by The Constitutional Litigation Clinic, Rutgers School of Law-Newark
NOTICE: THIS WORK MAY BE PROTECTED BY COPYRIGHT
YOU ARE REQUIRED TO READ

THE COPYRIGHT NOTICE AT THIS LINK

BEFORE YOU READ THE FOLLOWING WORK, THAT IS AVAILABLE SOLELY FOR PRIVATE STUDY, SCHOLARSHIP OR RESEARCH PURSUANT TO 17 U.S.C. SECTION 107 AND 108. IN THE EVENT THAT THE LIBRARY DETERMINES THAT UNLAWFUL COPYING OF THIS WORK HAS OCCURRED, THE LIBRARY HAS THE RIGHT TO BLOCK THE I.P. ADDRESS AT WHICH THE UNLAWFUL COPYING APPEARED TO HAVE OCCURRED. THANK YOU FOR RESPECTING THE RIGHTS OF COPYRIGHT OWNERS.
Under the supervision of Clinical Professor Penny Venetis, the following students and interns contributed to writing this report: Heidi Alexander, Avi Appel, Erica Askin, Amy Brown, Eric Bueide, Matthew Coleman, Randle DeFalco, Jason Fertakos, Lisa Hansen, Safia Hussain, Michael Isaac, Syrion Jack, Daniel Louis, Devi Shah, Nadia Rollins, and Robert Ulon.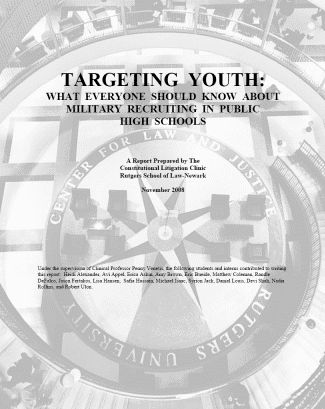 November 2007
Table of Contents:
• EXECUTIVE SUMMARY
• I. INTRODUCTION
• II. THE MILITARY PURPOSEFULLY USES ADVERTISING TECHNIQUES TO LURE ADOLESCENTS INTO ENLISTING
o A. Tax Dollars Fund Aggressive Marketing Tactics
o B. The Armed Forces Hire Top Advertising Firms to Sell Messages of Adventure and Patriotism That Do Not Portray the Harsh Realities of War
o C. The Military Uses Behavioral Psychology to Create Coercive Marketing Campaigns Targeting Adolescents
o D. The Military's School Recruitment Program Handbook is a Sales Plan That Refers to High Schools as "Markets"
• III. MILITARY RECRUITERS EXERT INFLUENCE OVER TEENAGERS WITHOUT PARENTAL CONSENT
o A. The Military Has Extensive Information About Students.
o B. The No Child Left Behind Act Requires Schools to Notify Parents of Their Right to Keep Recruiters From Contacting Their Children
o C. Schools that Fail to Notify Parents of Their "Opt-Out" Rights are in Violation of the Family Educational Rights and Privacy Act
o D. Recommendations to Protect Parents' Rights
• IV. THE JUNIOR RESERVE OFFICERS' TRAINING PROGRAM RECRUITS CHILDREN WHO ARE YOUNGER THAN 17
o A. The Recruiting Debate and JROTC
o B. Donna High School Marine Corps JROTC Program
• V. IMPACT OF THE ONGOING WARS ON MEMBERS OF THE ARMED FORCES
o A. Members of the Armed Forces Serve Up to Four Tours of Duty.
o B. Soldiers Returning from Iraq and Afghanistan Suffer from Brain Damage and Other Psychological Disorders
o C. Suicide is a Growing Epidemic in the Military
o D. Women in the Military are Not Out of Harm's Way
o E. How We Fail Wounded Veterans – The Heath Care Crisis
• VI. STUDENTS INTERESTED IN ENLISTING TO RECEIVE EDUCATIONAL BENEFITS HAVE OTHER OPTIONS
o A. New Jersey State Scholarship Programs
o B. Military Educational Benefits Available to High School Enlistees
o C. Military-Based Education Assistance for College Students and Graduates
o D. Enlistment Benefits for College Students and Graduates Not Enrolled in ROTC Programs
• VII. CONCLUSION
• VIII. RECOMMENDATIONS.
• Appendices
o A. School Recruiting Program Handbook
o B. Sample Emergency Form Opt-Out Language
o C. Sample Opt-Out Letter For Parents
o D. Veteran Health Care Fact Sheet
• Endnotes
The harder it is to recruit teenagers to fight in Iraq and Afghanistan, the more tax dollars are spent on military recruitment advertising. The budget for recruiting advertising campaigns nearly tripled from fiscal years 1990 to 2003. The National Priorities Project reports that prior to 2006, more than $4 Billion per year was spent on recruiting related expenditures. According to the Department of Defense, the 2009 budget for military recruitment is up to $20.5 Billion.

Indeed, under 10 U.S.C.A. § 503, the "Secretary of Defense is required by law to enhance the effectiveness of DOD's recruitment programs through an aggressive program of advertising and market research targeted at prospective recruits and those who may influence them."...

The Billions of dollars spent on advertising could be used for scholarships and other youth programs....

The military has conducted extensive research into the psychological and behavioral factors that influence teenagers to enlist in the military....The Defense Manpower Data Center (DMDC) administers the YATS to students annually so that changes in youth "demographic trends, cultural characteristics, attitudes, and educational attainments" can be tracked by the DOD to formulate recruiting strategies....

The military's marketing campaigns emphasize patriotic themes and tales of adventure that appeal to teenage sensitivities, while downplaying the actual risks of war....

[I]n teens, the judgment, insight and reasoning power of the frontal cortex is not being brought to bear on the task as it is in adults.

The United States Supreme Court has also recognized the psychological vulnerability of children and teenagers in several landmark decisions. In 2005, in discussing why the execution of juveniles is unconstitutional, the Supreme Court cited "[s]cientific and sociological studies documenting the tendency of adolescents to make "impetuous and ill-considered decisions"; their susceptibility to "negative influences and outside pressures": and the "transitory" nature of their character traits....

Recognizing the psychological vulnerability of children, Congress passed laws prohibiting slick marketing campaigns that glamorize risky behaviors such as smoking and drinking. For similar reasons, as the obesity rate among young people has soared, school officials and legislators have targeted the sale of unhealthy foods on school campuses....

While a broad consensus exists that teenagers lack the decision-making capacity of adults, the military deliberately exploits this immaturity by equating the military with video games and other entertainment....

Often the military prominently displays its promotional materials inside or nearby the school cafeteria, where the entire student population can be exposed to the recruiters' messages....

The Army also plans to use cell phone text messages, helicopter simulators in the back of eighteen wheelers, and visits to NASCAR and rodeo races. "[R]ecruiters will visit schools and malls a few days before an event, offering free tickets and the chance to meet famous drivers or bull riders."

Military recruiters create a customized "pitch" for each individual student based in part on personal information gathered from the Armed Services Vocational Aptitude Battery test (ASVAB)....

Military recruiters are instructed to "read yearbooks to 'mysteriously' know something about a prospect to spark the student's curiosity."...

"[C]hallenge his ego by suggesting that basic training may be too difficult for him and he might not be able to pass it."...

Recruiters view each teenager as a potential sale, rather than an individual who is trying to navigate the difficult years of adolescence. Indeed, the Secretary of Defense's Director of Recruiting Policy stated that the military concentrates on schools most likely to "maximize returns on the recruiting dollar [because] the advertising and marketing research people tell us to go where the low-hanging fruit is. In other words, we fish where the fish are."...

[T]he military's School Recruitment Program Handbook ("SRP Handbook"), instructs them to "penetrate the school market" and achieve "school ownership."... High schools are referred to as "markets" where recruiters make "sales presentations" to students....

[R]ecruiters are becoming fixtures in the public school system....

Recruiters are told to give out free mugs, calendars and office supplies with the Army logo on them to school employees...

The SRP Handbook refers to educators as "tools" to further implement the military's goals....

To facilitate this "ownership," recruiters are instructed to approach youths as early and as often as possible and to seek help from school administrators and popular students, or "centers of influence," ("COIs") in the recruiting process....

"If you wait until they're seniors, it's probably too late." ...

[T]he SRP Handbook encourages military recruiters to "[g]et involved with local Boy Scout troops," because " scoutmasters are typically happy to get any assistance you can offer." ... the actual age range for the Boy Scouts is ten to eighteen years old. This means that military recruiters not only target younger high school students, but have access to boys as young as ten years of age, without any parental knowledge or permission....

"Some influential students such as the student president or the captain of the football team may not enlist; however, they can and will provide you with referrals who will enlist."...

"Know [their] student influencers. Students such as class officers, newspaper and yearbook editors, and athletes can help build interest in the Army among the student body. Keep them informed."...

"Be indispensable to school administrators, counselors, faculty, and students. Be so helpful and so much a part of the school scene that you are in constant demand ... Cultivate coaches, librarians, administrative staff, and teachers"...

Military recruiters are instructed to "eat lunch in the school cafeteria" ... The Army's "Calendar of School Activities" urges military recruiters to "wear [their] dress blues" to school events commemorating Martin Luther King, Jr.'s birthday and to participate in activities during Black History Month and Hispanic Heritage Month. There is no mention, however, of similar events such as Columbus Day and Saint Patrick's Day, which are days of ethnic pride for Irish and Italian-Americans....

[T]he Navy created a Web site, called El Navy, which is designed to better communicate with the Hispanic market," and "the Army has specifically tailored radio advertisements to reach the African-American market."...

"Obtain a copy of the HS fall sports and activity calendars [and] arrange to have the schedules copied with the RS [Recruiting Station] address prominently displayed. Post them throughout the RS area, including restaurants, arcades, and anywhere else students congregate"...

"Contact the school's student government ... to discuss what the Army and you can do to assist them in the upcoming SY ... The football team usually starts practicing in August. Contact the coach and volunteer to assist in leading calisthenics or calling cadence during team runs"...

"Attend athletic events at the HS ... Get involved with the parent-teacher association ... Obtain a tactical vehicle from a local USAR ["US Army Recruiting"] troop program unit and drive it in the parade with your future Soldiers riding along.... Deliver donuts and coffee for the faculty once a month.... Hispanic Heritage Month. Participate in events as available"...

"Offer to be a chaperone or escort for homecoming activities and coronations."...

"Assemble and offer a color guard for the opening home game... Prior to Thanksgiving, many student organizations gather food baskets for needy citizens. Offer your assistance and get involved."...

"Contact college students who are home during the holidays." ...

"Turn up the tempo on contacting your juniors." ...

"[A]rrange for an exhibition basketball game between the faculty and Army recruiters." ...

"Prepare certificates for those faculty and staff members who have aided you in your HS recruiting efforts.... present these certificates at a COI [Center of Influence] event.... Continue to advertise in school newspapers and conduct class presentations."...

"Basketball season starts. Offer assistance to the coach." ...

"[S]end thank you notes to those staff and faculty members who have been helpful ... Secure and present USAR Scholar/Athlete Awards at HS graduation or award ceremonies ... Assist in arranging a color guard for the graduation ceremony ... Coordinate with school officials to determine if they can use your assistance during summer school." ...

All four branches of the armed forces host all-expense paid workshops for educators....

Allen Kanner, a clinical psychologist and researcher on military recruiting, calls the use of teachers "a very clever marketing technique," and explains: "Teachers are role models, and if they approve of something, then the students believe the whole school system approves of it." ...

In 2008, to increase enlistment, the military increased its bonus allowance from $1,000.91 to $2,000.92 to members of the Army, National Guard, Army Reserve, retired service-members, and civilian Army employees who refer potential enlistees to recruiters. Authorized by the National Defense Authorization Act for Fiscal Year 2008, active service members or veterans who convince someone to enlist receives $1,000 when the referred enlistee commences basic training, and another $2,000 when the referred enlistee completes basic training and individual advanced training. Under this program, essentially every service-member acts as a recruiter. The program encourages deceptive recruiting practices. Service members have a financial incentive to glorify the war and to minimize negative experiences.

***

Students who object to military presence in their high schools can be ostracized. For example, at one high school in Southern New Jersey, a student was reprimanded and ostracized for refusing to participate in a recruiter-led gym class that simulated military training. During the gym class, students were told to respond "yes sergeant" to the recruiter's orders. The penalty for failing to respond was 20 push-ups. One student who refused to participate was removed from gym class for the day and initially given a "0" grade.

The student was later harassed by students and members of the school's staff. Students called him "un-American" and a "Communist." One student openly confronted him about the incident, sparking a public argument. A teacher chastised the student for refusing to participate in the military exercise. While doing so, the teacher referenced his grandparents who were holocaust survivors.

***

The irony is that DHS students and real Marines actually do share much in common. Both groups are largely poor. Enlisting in the Marines would not provide the average DHS student a way to escape their unpromising life. It will only change the scenery from Southern Texas to Iraq or Afghanistan, and add the risks of snipers, roadside bombs and firefights.

***

[A] Department of Defense policy change highlights that rape is pervasive.

***

Advantages to Enlisting During College: (1) Higher Sign-On Bonuses, (2) Those with Associates Degrees and college credits also qualify for higher sign-on bonuses, (3) Better Pay, (4) Those with Associates Degrees and college credits qualify for higher pay than enlistees who are only high school graduates, (5) More Elite Jobs....

In addition to receiving the benefits listed directly above, college graduates who enlist may reap additional benefits. The military has student loan repayment programs which can help enlistees repay existing student loans. Additionally, college graduates may be eligible to enlist directly into the officer candidate schools of the various military branches. This puts them on a fast-track to interesting careers with better pay and benefits.

***

E/COI tours are designed to be professionally enriching experiences for key influencers. They are not junkets or rewards for cooperation with recruiters. Tours are resources that must focus on those areas (access, ASVAB testing, and release of directory information) that need special attention. Tours provide E/COIs the opportunity to view Soldiers in a training environment. Many participants become informed supporters who publicize and promote Army opportunities with students, graduates, and other key influencers.

-- Targeting Youth: What Everyone Should Know About Military Recruiting in Public High Schools