ENDANGERED MINDS: WHY CHILDREN DON'T THINK, AND WHAT WE CAN DO ABOUT IT
by Jane M. Healy, Ph.D.
© 1990 by Jane M. Healy
Introduction © 1999 by Jane M. Healy
NOTICE: THIS WORK MAY BE PROTECTED BY COPYRIGHT
YOU ARE REQUIRED TO READ

THE COPYRIGHT NOTICE AT THIS LINK

BEFORE YOU READ THE FOLLOWING WORK, THAT IS AVAILABLE SOLELY FOR PRIVATE STUDY, SCHOLARSHIP OR RESEARCH PURSUANT TO 17 U.S.C. SECTION 107 AND 108. IN THE EVENT THAT THE LIBRARY DETERMINES THAT UNLAWFUL COPYING OF THIS WORK HAS OCCURRED, THE LIBRARY HAS THE RIGHT TO BLOCK THE I.P. ADDRESS AT WHICH THE UNLAWFUL COPYING APPEARED TO HAVE OCCURRED. THANK YOU FOR RESPECTING THE RIGHTS OF COPYRIGHT OWNERS.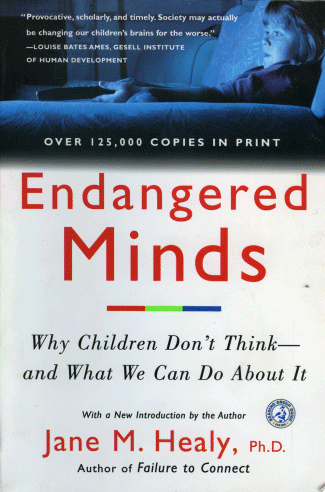 Table of Contents:
•
Introduction
•
Preface
• Part One: Changing Brains
o
1. "Kids' Brains Must Be Different ..."
o
2. Neural Plasticity: Nature's Double Edged Sword
o
3. Malleable Minds: Environment Shapes Intelligence
• Part Two
o
4. Who's Teaching the Children to Talk?
o
5. Sagging Syntax, Sloppy Semantics, and Fuzzy Thinking
o
6. Language Changes Brains
• Part Three: Attention, Lifestyles, and Learning Disabilities
o
7. Learning Disabilities: Neural Wiring Goes to School
o
8. Why Can't They Pay Attention?
o
9. The Starving Executive
• Part Four: Clashing Cultures
o
10. TV, Video Games, and the Growing Brain
o
11. Sesame Street and the Death of Reading
o
12. "Disadvantaged" Brains
• Part Five: Minds of the Future
o
13. New Brains: New Schools?
o
14. Teaching the New Generation to Think: Human and Computer Models at School and at Home
o
15. Expanding Minds
•
Notes
•
Index
Dr. Diamond continues. "Here's a summary of the data comparing brain size and weight of rats reared in the standard cages, those who lived in the 'impoverished' environments, and here" -- she pauses dramatically -- "are the results with the animals who lived in the enrichment cages. Notice how, with increasing amounts of environmental enrichment, we see brains that are larger and heavier, with increased dendritic branching. That means those nerve cells can communicate better with each other. With the enriched environments we also get more support cells because the nerve cells are getting bigger. Not only that, but the junction between the cells -- the synapse -- also increases its dimensions. These are highly significant effects of differential experience. It certainly shows how dynamic the nervous system is and how responsive it is to its internal and external surroundings."

***

Another point: Has no one noticed that children are very culturally literate -- except that it's for a different culture? Just make up a list of any details from Roseanne, Family Ties, Sesame Street, etc. and most kids would come out looking as smart as they really are. The problem is that our children have exposed us to ourselves, and we don't like what we see. We have shown them what is really valued in our society, and those little cultural apprentices have happily soaked it up.

If we are serious about wanting them prepared by a knowledge base to gather the intellectual fruits of world cultures, the obvious expedient is to change the content of children's television programming and use other video as enrichment. In my opinion, this should be a major responsibility of both educational and commercial networks. Otherwise, we will soon be forced to revise university-level curricula to include in-depth studies of talking animals and human buffoons.

Schools cannot plaster children with a paste of "cultural literacy" that the culture itself repudiates. Nor can schools completely counteract the powerful effects of television programming that works at direct cross-purposes with our efforts to teach children to think.

***

While dining not long ago with a scientist who probes the workings of the brain, I enjoyed hearing about the intellectual exploits of his three-year-old daughter, clearly the apple of her Daddy's eye. I enjoyed his stories, that is, until we got to dinosaurs.

"She can recognize all the names when she sees them on the computer screen: Tyrannosaurus Rex, Brontosaurus, whatever -- and she matches them right up to the pictures'" he said happily. "The program we got her even teaches about what each one ate, and whether they could fly, and all kinds of stuff. It's amazing!"

I didn't say what was really on my mind at that point . . . something like, "I'm sure that will be really useful for her when she takes her first course in paleontology." Being something of a wimp in the presence of those who spend their days rooting around in other people's brains, I only said,

"And how long did it take her to learn all this?"

"Oh, she loves her computer. She spends a lot of time at it. When my wife and I are busy we would much rather see her there than watching TV. At least we know she's doing something educational."

"Does your little girl ever just play -- by herself, or with other little kids?"

"Oh, sure." He thought for a moment. "But she really loves that computer! Isn't it wonderful how much they can learn at this age?"

"What do you think that computer is doing to her brain?" I asked.

He paused. "You know," he said slowly, "I never thought about it. I really haven't a clue."

-- Endangered Minds: Why Children Don't Think and What We Can Do About It, by Jane M. Healy, Ph.D.