Ellen Pao lawsuit loss will not slow fight for gender equality in Silicon Valley
by Susan Cagle
March 28, 2015
NOTICE: THIS WORK MAY BE PROTECTED BY COPYRIGHT
YOU ARE REQUIRED TO READ

THE COPYRIGHT NOTICE AT THIS LINK

BEFORE YOU READ THE FOLLOWING WORK, THAT IS AVAILABLE SOLELY FOR PRIVATE STUDY, SCHOLARSHIP OR RESEARCH PURSUANT TO 17 U.S.C. SECTION 107 AND 108. IN THE EVENT THAT THE LIBRARY DETERMINES THAT UNLAWFUL COPYING OF THIS WORK HAS OCCURRED, THE LIBRARY HAS THE RIGHT TO BLOCK THE I.P. ADDRESS AT WHICH THE UNLAWFUL COPYING APPEARED TO HAVE OCCURRED. THANK YOU FOR RESPECTING THE RIGHTS OF COPYRIGHT OWNERS.
Regardless of result, Pao's effort will have 'huge impact' on tech industry, supporters say, as more legal battles are on the horizon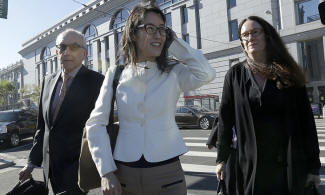 Ellen Pao, center, walks with attorneys Alan Exelrod, left, and Therese Lawless outside of Civic Center Courthouse in San Francisco on 27 March. Photograph: Jeff Chiu/AP
On Friday, a jury found that the venerable venture capital firm Kleiner Perkins had not discriminated against a former junior partner, Ellen Pao, because she is a woman.
Despite the verdict, Pao and other women in the tech industry remained defiant, hinting at more fights to come in their efforts to level the playing field. While Pao's trial was under way, former employees at Twitter and Facebook filed gender discrimination suits.
"I have told my story, and thousands of people have heard it," Pao told reporters outside the courtroom. "If I've helped level the playing field for women and minorities in venture capital, then the battle was worth it."
The trial captivated Silicon Valley for five weeks, as some of the tech industry's most elite investors were called to testify about matters as seemingly trivial and salacious as all-male ski trips and steamy Valentine's Day gifts between colleagues. Pao said she had been denied promotions in Kleiner Perkins' "boys' club" culture – where employees chatted about porn and claimed "women kill the buzz" – and was fired in retaliation after she filed suit in 2012.
A judgment in Pao's favor, along with punitive damages, could have topped $100m. But the jurors – six men and six women – delivered a four-part verdict, siding with Kleiner Perkins on all of Pao's allegations. In interviews, jurors said their decision was based on the testimony and evidence presented.
Kleiner Perkins' attorneys homed in on Pao's perceived personal shortcomings, painting a cartoonish picture of a greedy and incompetent ex-employee out only for revenge and a big pay day.
"There is no question gender diversity in the workplace is an important issue," the firm said in a statement. "KPCB remains committed to supporting women in venture capital and technology both inside our firm and within our industry."
Pao's trial was a watershed moment for women in Silicon Valley, who have always been a minority in the technology industry.
Only 4% of senior investing partners at venture capital firms are women, and new reports show the gender gap in tech is growing.
Over the last year, the issue has come to light in a series of disturbing incidents and allegations.
Whitney Wolfe, a former vice-president of marketing at Tinder, filed suit against the company she helped found, alleging she had quit after sustained abuse, harassment and discrimination. The case was settled quickly.
Engineer Julie Ann Horvath left her position at GitHub, claiming she had been the victim of sexual harassment and discrimination. Horvath did not file suit, but made her allegations public in interviews and on Twitter. GitHub conducted an internal investigation, which resulted in the resignation of its chief executive.
"When you have a voice, it's your responsibility to use it," said Horvath. "After coming out with my experience, I've seen a lot more of the same. I think women are becoming less afraid and more empowered to speak their truth."
Like Pao's suit, the suits against Twitter and Facebook will face significant challenges in presenting clear evidence of discrimination in an industry shaped by implicit bias and stereotypes that often come in the form of vague proclamations of "culture fit".
US employment discrimination law is rooted in Title VII, the 1964 Civil Rights Act, which was passed in a time of open and obvious racial and gender bias and harassment. Successful gender discrimination lawsuits have drawn upon clear expressions of such bigotry:
in Price Waterhouse vs Hopkins, in 1989, an employer told an "aggressive" woman she needed to be "more feminine" in order to earn a promotion
. But stereotypes and implicit bias can be tricky in trial situations that privilege such conspicuous evidence.
"If a jury's only focused on a single smoking gun – the memo from the bad guy who said some horrible language about the plaintiff – then juries miss the reality of the average workplace," said Kelly Dermody, managing partner at Lieff Cabraser Heimann & Bernstein's San Francisco employment practice group.

"There's usually not just one event that explains it all. It's a host of decisions that are complicated and nuanced. Until we catch up culturally, the law is only as good as the people who are interpreting it."
But women in Silicon Valley won't be waiting for juries to catch up to them.
"We're witnessing a generation of women coming forward who have felt that their attempts to work within the system didn't ultimately change the culture, and they need outside assistance to actually require employers to act fairly," said Dermody.
Horvath said: "I'm positive [the Pao] trial will have a huge impact on the way Silicon Valley operates. It becomes more risky for companies to foster or allow misogynistic behavior to be pervasive in their company culture and their leadership."
The Pao verdict creates no new legal precedent, only a socio-cultural one. As the dust settled and attorneys were still making statements to the press, many supporters tweeted to express their gratitude for Pao's courage and leadership – with the hashtag #ThankYouEllenPao.
"I'm very encouraged that there are women like Ellen Pao who will file lawsuits and say, this is too much," said Dermody. "If there aren't people like that, we won't fix it."