How Ellen Pao, who oversaw the effort to rid Reddit of harassment, became its latest victim
By Sarah Kaplan
July 13, 2015
NOTICE: THIS WORK MAY BE PROTECTED BY COPYRIGHT
YOU ARE REQUIRED TO READ

THE COPYRIGHT NOTICE AT THIS LINK

BEFORE YOU READ THE FOLLOWING WORK, THAT IS AVAILABLE SOLELY FOR PRIVATE STUDY, SCHOLARSHIP OR RESEARCH PURSUANT TO 17 U.S.C. SECTION 107 AND 108. IN THE EVENT THAT THE LIBRARY DETERMINES THAT UNLAWFUL COPYING OF THIS WORK HAS OCCURRED, THE LIBRARY HAS THE RIGHT TO BLOCK THE I.P. ADDRESS AT WHICH THE UNLAWFUL COPYING APPEARED TO HAVE OCCURRED. THANK YOU FOR RESPECTING THE RIGHTS OF COPYRIGHT OWNERS.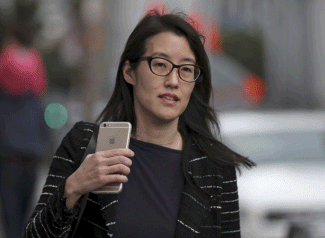 Ellen Pao arrives at San Francisco Superior Court on March 24. (Robert Galbraith/Reuters)
For weeks, the Change.org petition demanding the ouster of interim Reddit CEO Ellen Pao had been rapidly gaining momentum: 10,000 signatures, 100,000 signatures, 213,451 signatures.
On Friday, the meter measuring the petition's progress morphed into a triumphant little red flag, accompanied by the word "Victory" in thin, blunt lettering.
The petition was launched last month in response to the banning of five hate-filled subreddits and other anti-harassment changes overseen by Pao during her brief tenure, and invigorated by the unpopular removal of a well-liked Reddit employee. Its creator lauded Pao's resignation in his victory post this weekend, as did thousands of Reddit users who have been clamoring for her resignation, many of whom crowed their approval in much less polite (and less printable) terms.
[Ellen Pao resigns as Reddit chief executive]
Pao's post on the site announcing her resignation is terse about the terms of her departure, saying only that she felt she could not meet the board's user growth goals "while maintaining Reddit's core principles."
Although she doesn't tie it to her resignation, Pao was much more expansive when writing about the vitriol she endured during her eight months at the helm of the site that is alternately called the Internet's "front page" and its "most hateful space." The vast majority of her post was devoted to examining the way she and others were treated on the site.
"I've seen the good, the bad and the ugly on reddit. The good has been off-the-wall inspiring, and the ugly made me doubt humanity," she wrote. "I just want to remind everyone that I am just another human; I have a family, and I have feelings."
Pao is one of the most recognizable faces in the debate over discrimination in Silicon Valley. She made headlines earlier this year during a bruising and ultimately unsuccessful gender bias lawsuit against her former employer, the venture capitalist firm Kleiner Perkins. And she oversaw a fundamental shift in Reddit policy away from free-wheeling free speech and toward tighter restrictions on harassment.
[Censorship, fat-shaming and the 'Reddit revolt': How Reddit became the Alamo of the Internet's ongoing culture war]
It's not clear how much of this shift has been specifically spearheaded by Pao, but she's been widely credited — or blamed, depending on your perspective — for the changes. Last September, in the midst of a controversy over leaked nude photos of celebrities that had been posted to the site, Pao's predecessor Yishan Wong wrote in a blog post that Reddit would not ban "questionable" subreddits.
"You choose what to post. You choose what to read. You choose what kind of subreddit to create and what kind of rules you will enforce. We will try not to interfere — not because we don't care, but because we care that you make your choices between right and wrong," he said.
Sixth months later, with Pao as chief executive, the site rolled out a new policy against involuntary pornography. A few months after that, it banned five of the site's most hate-filled subreddits as well as all "systematic and/or continued actions to torment or demean someone in a way that would make a reasonable person (1) conclude that reddit is not a safe platform to express their ideas or participate in the conversation, or (2) fear for their safety or the safety of those around them."

Those changes made Pao a target of the same kind of harassment that the new policies attempted to curb. A (now private) subreddit called r/paomustresign featured memes comparing her to feces, racist references to "Chairman Pao," and countless other offensive posts. She also reportedly received death threats from Reddit users.
[Move over, Reddit: Tumblr is the new front page of the Internet.]
Pao's changes became a major front in
the culture war that is currently roiling Reddit and the Internet at large.
To her admirers, she was an advocate for inclusion and a pioneering woman in a male-dominated field (only 11 percent of Silicon Valley executives are female and men are twice as likely to be Reddit users than women).
To her detractors, she was shill for the "social justice warriors" who wanted to censor the site
and a corporate outsider who was changing their community without bothering to understand it.
That belief was solidified early this month, during the mishandled dismissal of Victoria Taylor, the company's beloved director of talent who oversaw the popular "Ask Me Anything" (AMA) chats. Though founder and chairman Alex Ohnihan wrote in a post that the AMA change was his decision, Pao was blamed for Taylor's firing.
Dozens of Reddit pages were blacked out in a user protest against the way Reddit treats its moderators. Meanwhile, signatures on the petition for Pao's resignation snowballed, as did use of the hashtag #RedditRevolt, which was first popularized in the wake of the harassment policy changes last month.
Now, maybe not because of the way she was treated online but certainly not in spite of it, Pao is leaving the site amid the same kind of vitriol she worked to reduce. Those who wanted her gone are applauding the change — as are a few who never had a problem with Pao, like New York Magazine writer and occasional Reddit critic Kevin Roose:
Kevin Roose@kevinroose
Congratulations to Ellen Pao for getting out of hell
2:19 PM 10 Jul 2015