Ellen Pao Loses Silicon Valley Bias Case Against Kleiner Perkins
By DAVID STREITFELD
MARCH 27, 2015
NOTICE: THIS WORK MAY BE PROTECTED BY COPYRIGHT
YOU ARE REQUIRED TO READ

THE COPYRIGHT NOTICE AT THIS LINK

BEFORE YOU READ THE FOLLOWING WORK, THAT IS AVAILABLE SOLELY FOR PRIVATE STUDY, SCHOLARSHIP OR RESEARCH PURSUANT TO 17 U.S.C. SECTION 107 AND 108. IN THE EVENT THAT THE LIBRARY DETERMINES THAT UNLAWFUL COPYING OF THIS WORK HAS OCCURRED, THE LIBRARY HAS THE RIGHT TO BLOCK THE I.P. ADDRESS AT WHICH THE UNLAWFUL COPYING APPEARED TO HAVE OCCURRED. THANK YOU FOR RESPECTING THE RIGHTS OF COPYRIGHT OWNERS.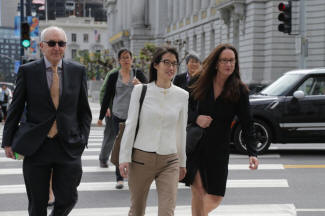 Ellen Pao, center, now interim chief of the social media news site Reddit, outside of the courthouse on Friday. Credit Jim Wilson/The New York Times
SAN FRANCISCO — One of Silicon Valley's most famous venture capital firms prevailed on Friday over a former partner in a closely watched suit claiming gender discrimination, but hardly got away unscathed.
The plaintiff, Ellen Pao, had accused the firm, Kleiner Perkins Caufield & Byers, of discriminating against her in the course of her employment and eventual dismissal.
The decision handed Kleiner a sweeping victory in a case that had mesmerized Silicon Valley with its salacious details while simultaneously amplifying concerns about the lack of diversity in the technology industry.
Even with her loss in the case, Ms. Pao's suit succeeded in prompting debate about women in technology and venture capital, said Deborah Rhode, a law professor at Stanford University.
"This case sends a powerful signal to Silicon Valley in general and the venture capital industry in particular," Ms. Rhode said. "Defendants who win in court sometimes lose in the world outside it."
Kleiner and its lawyers did little to celebrate the win, with the lawyer Lynne C. Hermle saying that it "never occurred to me for a second that a careful and attentive jury like this would find either discrimination or retaliation." Kleiner issued a statement saying it was committed to supporting women.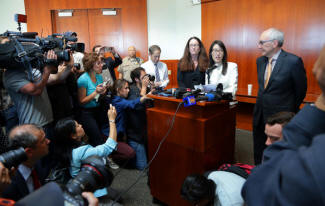 Ellen Pao spoke to the news media after a jury rejected her claims of gender discrimination on Friday. Credit Jim Wilson/The New York Times
Ms. Pao waved to the jury as she left the courtroom for the last time, a smile fixed on her face. "If I've helped to level the playing field for women and minorities in venture capital, then the battle was worth it," she said in a brief news conference.
Her suit, filed in Superior Court here, claimed that Kleiner did not promote her because of her gender, that it retaliated against her for complaining, that it failed to prevent gender discrimination and that it fired her in 2012 for complaining.
The suit asked $16 million in compensatory damages plus punitive damages. Ms. Pao is now interim chief of the social media news site Reddit.
After the jurors rejected each of her four claims, they were found to be one vote short on a claim about her termination. For two hours, doubt reigned, the media unspooled possible outcomes and the jury went back to work. In the end, the problem seemed more juror confusion than anything else, and the claim went down with the others.
The jurors said in interviews they did not take on the role of "conscience of this community," as one of Ms. Pao's lawyers had urged in the closing arguments. They focused on the facts at hand, and concluded it was Ms. Pao's own performance that held her back.

One juror, Steve Sammut, 62, said it was difficult coming to a verdict.

"We were split there for a while," he said, adding that a key point was how Ms. Pao's reviews at Kleiner deteriorated over time. He also said the witnesses for Kleiner, most of whom came from the firm, helped seal the case.

Another juror, Marshalette Ramsey, 41, said she believed Ms. Pao was discriminated against. The male junior partners at Kleiner "had those same character flaws that Ellen was cited with," but they were promoted, she said.

"I'm going home emotional," said Ms. Ramsey.
Ms. Pao joined Kleiner in 2005 as chief of staff to John Doerr, the firm's best-known partner. She became a junior investing partner, failed to make senior partner and was fired in 2012.
It was the most prominent trial in Silicon Valley in memory for many reasons, including Kleiner Perkins's reputation as the quintessential venture capital firm. But the suit, filed in 2012, also came as the freewheeling ways of the male-dominated technology industry increasingly drew scrutiny.
Episodes of men behaving badly make the news frequently here, whether it is sexism or harassment in the workplace or just derogatory attitudes toward women. Critics are increasingly drawing a straight line between such behavior and the small percentage of women who are engineers and executives, and the even smaller percentage of women who are venture capitalists.
According to research from Babson College, the percentage of female venture capitalists is 6 percent, down from 10 percent at the peak of the dot-com boom in 1999.
The suit and the trial introduced a number of colorful phrases that were said to have been uttered to or about Ms. Pao. Most were heavily disputed by the defense, but they made it appear that Kleiner has been slow to evolve since it was formed in the early 1970s.
"Kleiner Perkins has been significantly tainted by the facts that have come out in this proceedings," Ms. Rhode of Stanford said.
During the trial, numerous details emerged, including Mr. Doerr's telling an investigator that Ms. Pao had a "female chip on her shoulder." Chi-Hua Chien, a partner, said women should not be invited to a dinner with former Vice President Al Gore because they "kill the buzz." A senior partner at the time, Ray Lane, joked to a junior partner that she should be "flattered" that a colleague showed up at her hotel room door wearing only a bathrobe. Another senior partner, Ted Schlein, seemed never to have heard of the exhortation of Sheryl Sandberg, a senior Facebook executive, that women should "sit at the table," testifying, "I really don't think it was a very big deal to us who sits at a table or who does not."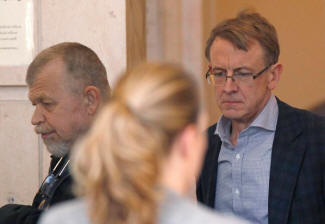 John Doerr, right, a Kleiner Perkins partner, outside of court earlier this month. During testimony, Mr. Doerr agreed that the percentage of female venture capitalists was "pathetic," though he came across as an ambivalent figure during his hours on the stand. Credit Robert Galbraith/Reuters
Ms. Pao is married to Alphonse Fletcher Jr., a Wall Street financier whose hedge fund is bankrupt. Pension funds are suing to recover their money amid accusations of fraud.
Kleiner tried to insert Mr. Fletcher into the case, which would have raised questions about Ms. Pao's motives in bringing suit, but Judge Kahn refused to allow it.
Mr. Fletcher did not attend the trial.
In a sign that the struggle over the place of women in Silicon Valley is only beginning, gender discrimination suits have recently been filed against two prominent companies, Facebook and Twitter.

The suit against Twitter, by a former engineer, Tina Huang, claims that the process for promotion is not clear and is biased in favor of men, a claim that Ms. Pao also made about Kleiner. The suit seeks class-action status. Twitter said in a statement that it was committed "to a diverse and supportive workplace."

The suit against Facebook is narrower. Chia Hong, a former manager, says she was "discriminated against, harassed, and retaliated against" because of her sex and race, culminating in her termination. Ms. Hong is represented by Lawless & Lawless, one of the firms representing Ms. Pao. Facebook has said that it works "extremely hard" on diversity and believes that it treated the employee in question fairly.
The Kleiner trial, which took 24 days before it went to the jury on Wednesday, offered a glimpse of the Silicon Valley elite at work and play.
Ms. Pao accidentally learned about the dinner Mr. Gore was having because she was living in the same San Francisco building. She met Mr. Fletcher at an exclusive fellowship that Mr. Doerr recommended her for.
Even after being fired by Kleiner in 2012, Ms. Pao was paid $33,333 a month for the next six months, plus benefits and bonus. Most Americans could never imagine such handsome remuneration, terminated or not.
But it was competitive and even combative, with sharp elbows and tears. Ms. Pao, it emerged in testimony, compiled a "resentment" chart of colleagues who, she believed, wronged her. People worked through holidays and maternity leaves. The pressure to discover the newest new thing was immense. One great investment — a Google, a Facebook, an Amazon — could make your reputation for life.
As for the rest of life, there was not much of it for the junior partners. One of the stranger points brought up in testimony was how Ms. Pao, before she was married, had dated a colleague for six months without ever realizing he was still living with his wife.