Gawker Blasted for Posting a Lurid Story That Outs Executive
Major names in media are appalled by a Gawker story they're calling 'gay shaming.'
BY YEZMIN VILLARREAL
JULY 16 2015
NOTICE: THIS WORK MAY BE PROTECTED BY COPYRIGHT
YOU ARE REQUIRED TO READ

THE COPYRIGHT NOTICE AT THIS LINK

BEFORE YOU READ THE FOLLOWING WORK, THAT IS AVAILABLE SOLELY FOR PRIVATE STUDY, SCHOLARSHIP OR RESEARCH PURSUANT TO 17 U.S.C. SECTION 107 AND 108. IN THE EVENT THAT THE LIBRARY DETERMINES THAT UNLAWFUL COPYING OF THIS WORK HAS OCCURRED, THE LIBRARY HAS THE RIGHT TO BLOCK THE I.P. ADDRESS AT WHICH THE UNLAWFUL COPYING APPEARED TO HAVE OCCURRED. THANK YOU FOR RESPECTING THE RIGHTS OF COPYRIGHT OWNERS.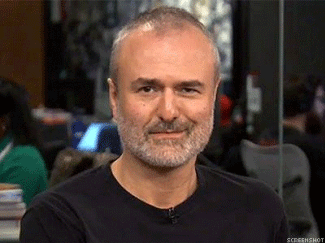 Nick Denton
UPDATE: On Friday afternoon, Gawker CEO Nick Denton ordered the story described below to be removed from his site, saying he regrets the decision to publish it, which was a "close call" among his editorial team. Read the latest here.
The following story was published before Denton decided to remove the story in question from Gawker's site.
Media figures say Gawker, owned by a gay man himself, has gone too far in outing a magazine executive in a lurid story involving a gay porn star and money for sex.
The Gawker story claims that a magazine executive, who The Advocate has chosen not to name, tried to hire a gay porn star for sex at a cost of $2,500. The story contains screenshots of text messages and photos that allegedly identify the man, who is married to a woman and has children.
The backlash from many in media, including out journalists Kara Swisher and Glenn Greenwald, has been swift. Swisher, the Re/Code editor, said on Twitter: "An appalling act of gay shaming disguised as a story — thought we were way past this crap #ughnick."
She is referring to Nick Denton, the founder and chief executive of Gawker Media, who is also an out gay man. Greenwald, the Intercept journalist, tweeted that he didn't understand why Gawker would publish the article: "I'm a fan of Gawker & several of its journalists, but that article is reprehensible beyond belief: it's deranged to publish that."
Glenn Greenwald@ggreenwald: I'm a fan of Gawker & several of its journalists, but that article is reprehensible beyond belief: it's deranged to publish that.
7:46 PM 16 Jul 2015
Jordan Sargent, the Gawker writer, reached out to the executive in question, who answered by calling the threat of publishing the story "a shakedown." Gawker published the story anyway and gave anonymity to the porn star.
The porn star, according to Gawker, had agreed to meet with the executive for sex until he realized the prominence of the man he was texting with.
The executive had concealed his identity, but through some online sleuthing, the porn star discovered the man is the brother of a former official in the Obama administration. He then pressured the executive to help him with a discrimination lawsuit against his landlord, which had not been resolved to his satisfaction. The executive then backed out of the whole thing, and the porn star went to Gawker.
The porn star told Gawker that the executive finally promised to bring his lawsuit to the attention of Obama administration officials if he got Gawker to ax the story. Members of the media have been scathing in their evaluation of whether the account should have been posted.
Liam Stack, a breaking news reporter at The New York Times, tweeted: "This is a completely sleazy story to run. There is no news value in outing the brother of a prominent person."
Alex Burns @alexburnsNYT: Granting anonymity to an escort to allow him to make good on a blackmail threat against a private individual
6:20 PM 16 Jul 2015

Kevin Roose @kevinroose: I think I just read a blog post that ruined a guy's life for no good reason and I don't feel great about it.
5:50 PM 16 Jul 2015

Sabrina Siddiqui@SabrinaSiddiqui: There's no excuse for the Gawker piece, which I won't link to. It's disgraceful, and it should be referred to as journalism.
7:20 PM 16 Jul 2015

Gabriel Sherman @gabrielsherman: That piece is just sick, mean and creepy. I just don't understand why'd they publish.
7:55 PM 16 Jul 2015

Justin Ling @Justin_Ling: what the goddamn hell, Gawker. Seriously. Dude tries a shake down of a closet case, then randomly outs him.
7:16 PM 16 Jul 2015

Clara Jeffery @ClaraJeffery: Think very, very, very hard before you blow up somebody's life, is all
9:00 PM 16 Jul 2015
Adam Weinsten, a senior writer at Gawker, tweeted that he did not stand behind the post: "I had no part in this. I would not have chosen to run it as is."
Anil Dash, the blogger and entrepreneur, harkened back to David Carr, the late New York Times media columnist, who previously wrote about Gawker and its history of outing prominent celebrities such as CNN's Anderson Cooper.
Anil Dash @anildash: I miss @carr2n.
7:49 PM 16 Jul 2015

The Advocate has reached out to Nick Denton, founder and chief executive of Gawker Media, for comment. At the publication of this article, Gawker is trending on Twitter and the post has more than 200,000 page views and counting.