Gawker apologizes, removes article on CFO
by Laura Mandaro, USA TODAY
July 17, 2015
NOTICE: THIS WORK MAY BE PROTECTED BY COPYRIGHT
YOU ARE REQUIRED TO READ

THE COPYRIGHT NOTICE AT THIS LINK

BEFORE YOU READ THE FOLLOWING WORK, THAT IS AVAILABLE SOLELY FOR PRIVATE STUDY, SCHOLARSHIP OR RESEARCH PURSUANT TO 17 U.S.C. SECTION 107 AND 108. IN THE EVENT THAT THE LIBRARY DETERMINES THAT UNLAWFUL COPYING OF THIS WORK HAS OCCURRED, THE LIBRARY HAS THE RIGHT TO BLOCK THE I.P. ADDRESS AT WHICH THE UNLAWFUL COPYING APPEARED TO HAVE OCCURRED. THANK YOU FOR RESPECTING THE RIGHTS OF COPYRIGHT OWNERS.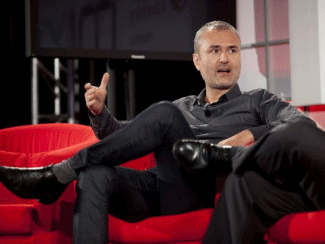 (Photo: Andrew Harrer/Bloomberg via Getty Images)
SAN FRANCISCO — Gawker.com said Friday afternoon it was removing an article about the CFO of Conde Nast allegedly soliciting sex from a gay porn star.
The decision came after the news and gossip site drew heavy criticism Friday for revealing life-changing details about a private individual's life, for no clear social purpose.
David Geithner, a married father of three and brother of former Treasury Secretary Timothy Geithner, denied the allegations.
Gawker nevertheless reported that Geithner planned to go to Chicago to meet a gay porn star and escort, and was prepared to pay $2,500 for the encounter. David Geithner reportedly cancelled the meet-up after the escort tried to get him to use his political connections to help with a housing dispute. Previously, the anonymous escort had asked Republican Sen. Ted Cruz's office for help with his housing dispute, the online article said.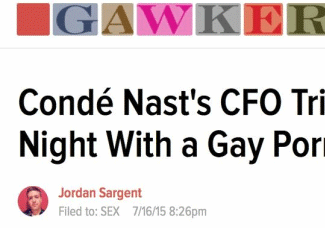 Screenshot of Gawker's article on the Conde Nast CFO (Photo: Gawker)
In a text to Gawker, David Geithner said he had no knowledge of the individual and said, "this is a shakedown."
On Friday, Gawker founder Nick Denton said he regretted the decision to publish the piece and acknowledged internal dissension over the move. He said the post "was true and well-reported," but said it "does not rise to the level" of publication worthy.
"This action will not turn back the clock," Denton wrote. "David Geithner's embarrassment will not be eased. But this decision will establish a clear standard for future stories. It is not enough for them simply to be true. They have to reveal something meaningful. They have to be true and interesting."

In a self-assessment of sorts, Denton said Gawker has changed and must move beyond its roots as a digital muckraker.

Gawker now has an "influence and audience that demands greater editorial restraint," he wrote.
The escort's story, told to Gawker writer Jordan Sargent after the escort was rebuffed, drew a torrent of criticism on Gawker's Facebook page and Twitter. The story itself had been intermittently unavailable on the site late Thursday and early Friday. Some critics shared it via archive.is so that people interested in the issue didn't need to send traffic to Gawker.
Among the comments:
Journalist Glenn Greenwald tweeted: "I'm a fan of Gawker & several of its journalists, but that article is reprehensible beyond belief: it's deranged to publish that."
Re/Code co-executive editor Kara Swisher tweeted: "An appalling act of gay shaming disguised as a story -- thought we were way past this crap."
Glenn Greenwald@ggreenwald: I'm a fan of Gawker & several of its journalists, but that article is reprehensible beyond belief: it's deranged to publish that.
7:46 PM 16 Jul 2015
Gawker senior writer Adam Weinstein tweeted: "I had no part in this. I would not have chosen to run it as is."
Readers pointed out that publicizing Geithner's possible sexual orientation did nothing for the public good: he's not a public official or political candidate who has advocated against gay rights, for instance.
"This guy is not an antigay politician whose hypocrisy needs to be outed. Why would anyone care if he wants to hire an escort?" wrote reader Mike Johnson of Los Angeles on Gawker's Facebook page.
Adam Weinstein @AdamWeinstein: I had no part in this. I would not have chosen to run it as is.
6:20 PM 16 Jul 2015

Gawker. This post has been removed. Against the objections of Gawker Media's editorial leadership, this post was removed on July 17, 2015. More details about the decision can be found here. CEO Nick Denton's statement can be found ...
Gawker editor-in-chief Max Read had responded to the initial volley of comments, saying "given the chance gawker will always report on married c-suite executives of major media companies f**cking around on their wives."
Natasha Vargas-Cooper, senior reporter for Gawker affiliate Jezebel, also defended its publication. "Stories don't need an upside. Not everyone has to feel good about the truth. If it's true, you publish."
Gawker's motto is "Today's gossip is tomorrow's news". Early Friday, "Gawker" was the second most popular term on Twitter in the U.S.
Some irate readers suggested the outrage be directed at Gawker's advertisers.
reason@reason: Gawker Helps Gay Escort Blackmail Timothy Geithner's Brother, Ted Cruz is the Hero of the Story.
10: PM 16 Jul 2015

Best Mom Eva @mombot: @reason. We need to hit them where it hurts. Contact Gawker's advertisers here:
10:26 PM 16 Jul 2015
The online discussion drew in some critics of Gawker and its affiliates from a past issue — its involvement in a long-running online controversy over the treatment of women in gaming, and video-game journalism, that's loosely referred to as #gamergate. The Twitter account that advocated targeting Gawker's advertisers linked to a website, "wiki.gamergate.me," whose supporters advocate targeting the advertisers of Gawker and other blogs.
The online furor comes amid a fresh debate about the line between free expression on the Internet, and curbing harmful and hateful treatment of individuals online. Reddit's new CEO told readers this week that the site was never meant to be a bastion of free speech, a direct response to complaints from the site's users after ex-CEO Ellen Pao curbed some hate speech on the site.
At the same time, the public transformation of Caitlyn Jenner as a woman has brought discussion of transgender and gay issues to the forefront of mainstream media.
Contributing: Nathan Bomey