Geithner Called Dinesh D'Souza A 'Dick' For Outing Of Dartmouth Gays (VIDEO)
By DANIEL STRAUSS
MAY 12, 2014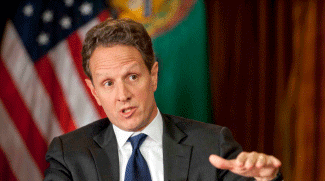 AP Photo / Chris Usher
Before Timothy Geithner became treasury secretary he had a run-in with conservative author Dinesh D'Souza in which Geithner asked D'Souza "how it felt to be such a dick."
That moment was recounted in Geithner's new memoir, Stress Test. It happened in the 1980s when Geithner and D'Souza were undergraduate students at Dartmouth College. D'Souza, then an editor of the conservative Dartmouth Review, had overseen the newspaper publishing a list of members of Dartmouth College's Gay Straight Alliance which effectively outted a number of students who hadn't publicly said they were gay.
David Geithner, Chief Financial Officer at Conde Nast
by Linkedin

Background
Experience

Chief Financial Officer
Condé Nast
August 2014 – Present (1 year)Greater New York City Area
Education

Northwestern University - Kellogg School of Management
BA, Finance, Accounting
1990 – 1992

Dartmouth College
BA, Government
1984 – 1988
According to Geithner in his memoir, as reported by Buzzfeed, he viewed the list as "McCarthy-style." When Geithner ran into D'Souza at a coffee shop he asked the conservative writer "how it felt to be such a dick."
D'Souza is currently under federal criminal indictment for alleged violations of campaign finance law. D'Souza's trial begins May 19, according to Reuters.
Watch Geithner recount the encounter in an interview with Vox.com's Ezra Klein: