Gawker Sucks
by Drew Johnson
April 13, 2013
NOTICE: THIS WORK MAY BE PROTECTED BY COPYRIGHT
YOU ARE REQUIRED TO READ

THE COPYRIGHT NOTICE AT THIS LINK

BEFORE YOU READ THE FOLLOWING WORK, THAT IS AVAILABLE SOLELY FOR PRIVATE STUDY, SCHOLARSHIP OR RESEARCH PURSUANT TO 17 U.S.C. SECTION 107 AND 108. IN THE EVENT THAT THE LIBRARY DETERMINES THAT UNLAWFUL COPYING OF THIS WORK HAS OCCURRED, THE LIBRARY HAS THE RIGHT TO BLOCK THE I.P. ADDRESS AT WHICH THE UNLAWFUL COPYING APPEARED TO HAVE OCCURRED. THANK YOU FOR RESPECTING THE RIGHTS OF COPYRIGHT OWNERS.
Sloppy tackling or sloppy journalism?
When Deadspin broke news of the Lennay Kekua hoax last January, it quickly became one of the biggest stories in the history of the website. This opened them up to plenty of praise as well as some criticism for how they covered the story, but I noticed something strange that actually happened in the midst of their investigation. Deadspin got their tip about Manti Te'o and Lennay Kekua on Friday, January 11th. Within hours, the editors knew they had something big, and the reveal happened on Wednesday, January 16th.
In between, Deadspin made one post about Te'o, titled: "Manti Te'o's Father Wants You To Unsubscribe From The Honolulu Star-Advertiser Because It Printed A Picture Of His Son Missing A Tackle." As the title implies, Brian Te'o was upset because the Star-Advertiser had run a front-page photo of Manti getting "bowled over" by Eddie Lacy during the BCS title game. It was an embarrassing photo, but you can't deny that is summarized how the game went for Notre Dame. Boycotting the newspaper was an absurd response, and Brian Te'o deserved to be mocked for it. However, Deadspin then took things a step further. The author, Isaac Rauch, wrote:
You have to give the paper credit: they had plenty of opportunity to show pictures of Te'o missing tackles, getting lost in coverage, committing penalties or otherwise fucking up before the final game of his senior season. They had heretofore shown impressive restraint:
Rauch then posted a collection of seven photos that supposedly showed Manti Te'o "fucking up." By doing so, Deadspin was symbolically kicking Te'o while he was down. Many commenters joined in on the heckling
, but a few pointed out errors with the post. One commenter, JokeonYou, was annoyed because some of the photos weren't from the 2012 season. Another, AnonDeadspinCommenter, said the picture with Denard Robinson was misconstrued.
I found six of the seven photos that Deadspin used in this Zimbio album, and most of the original captions did not reflect poorly on Manti Te'o. In fact, most of them said Te'o was either making a tackle or breaking up a pass. As an exercise, I tracked down the game footage for each of the seven plays shown in the photos in order to see whose interpretation was accurate.
1.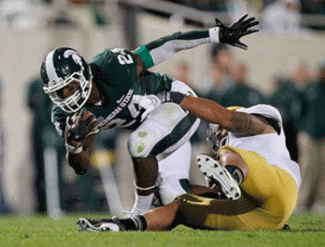 Game: Notre Dame at Michigan State
Date: September 15th, 2012.
Footage of the play.
Verdict: Te'o makes an immediate tackle on Bell.
2.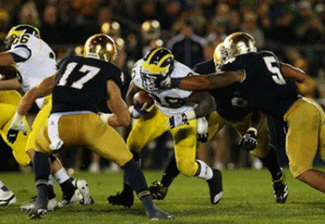 Game: Michigan at Notre Dame
Date: September 22nd, 2012
Footage of the play.
Verdict: Te'o is grabbing at Toussaint's facemask during the tackle. No penalty was called, but even the Zimbio caption mentions the facemask.
3.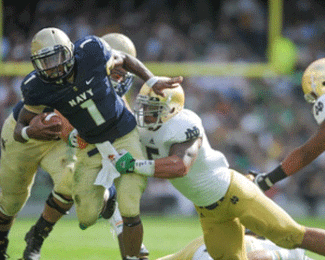 Game: Navy vs. Notre Dame at Aviva Stadium
Date: September 1st, 2012
Footage of the play.
Verdict: Te'o makes the tackle on Miller.
4.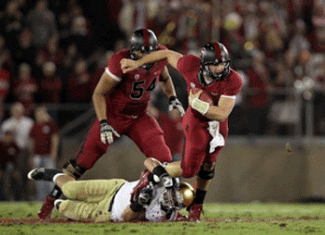 Game: Notre Dame at Stanford
Date: November 26th, 2011
Footage of the play.
Verdict: Te'o trips up Luck during a 4-yard gain.
5.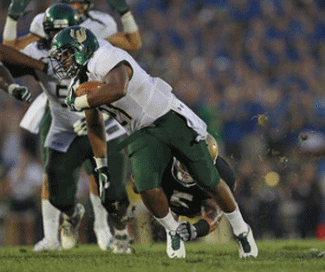 Game: South Florida at Notre Dame
Date: September 3rd, 2011
Footage of the play.
Verdict: Te'o grabs Murray's heel, causing him to stumble after gaining 7 yards. So it's a sub-par tackle.
6.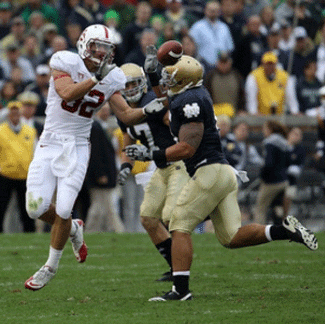 Game: Stanford at Notre Dame
Date: September 25th, 2010
The game is available on Hulu. Advance the tracker to 1:09:21.
Verdict: Te'o successfully breaks up the pass.
7.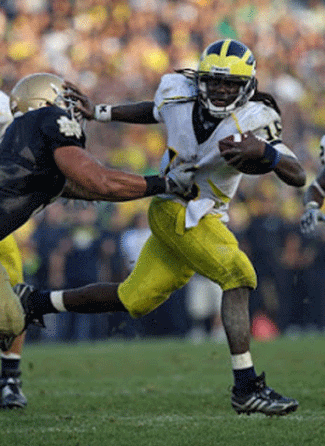 Game: Michigan at Notre Dame
Date: September 11th, 2010
Footage of the play.
Verdict: Te'o drags Robinson down for no gain.
Overall, 5 of the 7 photos definitely show Manti Te'o in the process of making a tackle or breaking up a pass. Another shows Te'o grabbing at an opponent's facemask. Another shows Te'o making a last-ditch attempt to grab an opponent's heel--which technically would count as a tackle.
In the grander scheme of things, Rauch's post isn't a huge deal. But it's just weird how Deadspin would show photos of Manti Te'o sticking tackles and say, 'Here are photos of Manti Te'o missing tackles.' Tommy Craggs, the editor-in-chief of Deadspin, was asked about the site's correction policy during an interview with the National Sports Journalism Center. He replied, "Our corrections policy is to correct our mistakes. Is that a good enough answer for you?" Well, here are some proven mistakes.
I'm not suggesting all the photos be removed. The ones I feel should be removed--based on the evidence--are photos one, three, four, six and seven.