Deadspin's editor-in-chief explains editing, reporting behind Manti Te'o story
by Mallary Jean Tenore
Jan. 17, 2013
NOTICE: THIS WORK MAY BE PROTECTED BY COPYRIGHT
YOU ARE REQUIRED TO READ

THE COPYRIGHT NOTICE AT THIS LINK

BEFORE YOU READ THE FOLLOWING WORK, THAT IS AVAILABLE SOLELY FOR PRIVATE STUDY, SCHOLARSHIP OR RESEARCH PURSUANT TO 17 U.S.C. SECTION 107 AND 108. IN THE EVENT THAT THE LIBRARY DETERMINES THAT UNLAWFUL COPYING OF THIS WORK HAS OCCURRED, THE LIBRARY HAS THE RIGHT TO BLOCK THE I.P. ADDRESS AT WHICH THE UNLAWFUL COPYING APPEARED TO HAVE OCCURRED. THANK YOU FOR RESPECTING THE RIGHTS OF COPYRIGHT OWNERS.
Deadspin Editor-in-Chief Tommy Craggs says Timothy Burke and Jack Dickey were faced with a tough question when reporting their now famous Manti Te'o story: "What lengths do we go to to try and prove a negative?"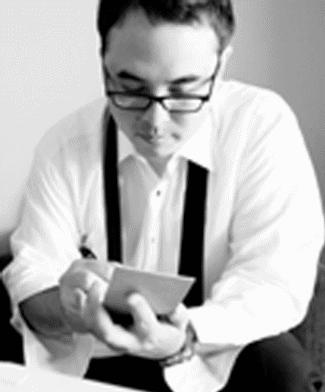 Tommy Craggs
When asked about his reaction to The Boston Globe calling Deadspin "a website that has broken some high-profile stories but not an outlet regarded for journalistic standards," Craggs says: "Whatever. Why should I care what a craven, slipshod outfit like the Boston Globe thinks of my 'journalistic standards'?"
In an email Q&A, Craggs elaborates on Burke's explanation of how Deadspin got the story that all other journalists missed.
Mallary Tenore: Who edited the story?
Tommy Craggs: Tom Scocca and I edited. We have a sort of wrestling-tag-team method of editing these longer features: We'll put the story in a Google Doc and I'll suplex a couple paragraphs and then Scocca will leap off the turnbuckle and piledrive a section or two, and so on.
What sort of editing went into the piece?
From the start, Tim Burke and Jack Dickey kept a running notes file in Google Docs that acted as a skeleton for both their reporting and for the story itself. They asked themselves the obvious questions, Socratically: Who is the person in the photos? Where was Lennay Kekua born? When was Lennay Kekua born? Where did Lennay Kekua live? Did Lennay Kekua attend Stanford? When was Lennay Kekua's car accident? When did Lennay Kekua die? [Then they] set about answering them, through public records and media reports.
There was a fat pile of the latter, contradictions and all, and absolutely nothing of the former. From there, the story wrote itself. That's all pretty obvious, and anyone who reports a story goes through at least a mental catechism like this. But putting it all on the page made the holes in the Lennay story plain to see.
How long did the reporting and editing process take?
The editing was easy — just a matter of making sure we'd asked ourselves the right questions and kicked over the right stones, and then making sure the story wouldn't lose readers as it descended into the rabbit hole.
What sorts of questions did the editor ask to make sure that this was a thoroughly reported story?
We began reporting on Friday. By Monday, Burke had found and contacted the woman in the Lennay photos. Once we had her on the record, we knew we had enough for a story. By Tuesday, we had a draft.
The only question, really: What lengths do we go to to try and prove a negative? Do we call funeral homes in Carson (we did)? Do we call funeral homes *near* Carson (we didn't)? Once we got an answer from Stanford on the question of Lennay's enrollment, I was satisfied.
What's your reaction to the reality that no other journalists thought to look into this story?
Well, I understand how this slipped through the cracks initially. If I'm a beat guy and I have 500 words to file after practice come hell or high water and the best player on the team has just told me a story about his dear, departed girlfriend, I'm not going to go spelunking through SSA death records to make sure he's not full of shit. They won't say that out loud in journalism classes or anything, but that's just the nature of covering sports on a hard deadline.
I have less sympathy for the folks who crafted those painstaking "Love Story"-in-cleats feature stories about Manti and his dead girlfriend. Those were dumb, infantilizing stories to begin with, and they were executed poorly and sloppily, and if there's any lesson to be drawn from this, it's that this kind of simpering crap should be eliminated from the sports pages entirely.
Comments:
http://www.poynter.org/news/mediawire/2 ... teo-story/
We have made it easy to comment on posts, however we require civility and encourage full names to that end (first initial, last name is OK). Please read our guidelines here before commenting.