Josh Duggar's Ashley Madison Problem
by Andrea Denhoed
AUGUST 21, 2015
NOTICE: THIS WORK MAY BE PROTECTED BY COPYRIGHT
YOU ARE REQUIRED TO READ

THE COPYRIGHT NOTICE AT THIS LINK

BEFORE YOU READ THE FOLLOWING WORK, THAT IS AVAILABLE SOLELY FOR PRIVATE STUDY, SCHOLARSHIP OR RESEARCH PURSUANT TO 17 U.S.C. SECTION 107 AND 108. IN THE EVENT THAT THE LIBRARY DETERMINES THAT UNLAWFUL COPYING OF THIS WORK HAS OCCURRED, THE LIBRARY HAS THE RIGHT TO BLOCK THE I.P. ADDRESS AT WHICH THE UNLAWFUL COPYING APPEARED TO HAVE OCCURRED. THANK YOU FOR RESPECTING THE RIGHTS OF COPYRIGHT OWNERS.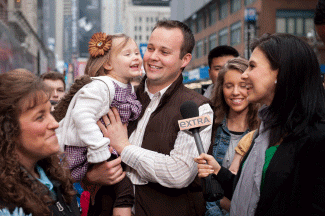 Josh Duggar and members of his family are interviewed for television.
CREDIT PHOTOGRAPH BY D DIPASUPIL/GETTY FOR EXTRA
The first outed celebrity in the Ashley Madison hacking dump is Josh Duggar, the eldest son of Jim Bob and Michelle Duggar, whose enormous, homeschooled, right-wing Christian clan was the subject of the TLC reality show "19 Kids and Counting." It ran from 2008 until May of this year, when it was cancelled following a different sex scandal involving Josh: the revelation that he had been accused of molesting several underage girls, including some of his sisters, when he was fourteen years old.
Just a few months before the molestation charges came to light, the Duggars had been the target of a Change.org petition, with almost two hundred thousand signatures demanding that the family's show be cancelled because of their active opposition to a local ordinance that would ban discrimination on the basis of sexual orientation or gender identity. (Josh Duggar has been particularly active in politics and was working for the political-lobbying branch of the conservative Family Research Council at the time, though he subsequently resigned.) When the allegations of molestation arose, Duggar's critics couldn't resist some gleeful schadenfreude, while allies like Mike Huckabee rushed to offer assurances that Josh was repentant, a changed man and the victim of vicious sensationalism. "Progressive trolls have been anxiously waiting for a chance to burn them down and dance on their ashes," the conservative blogger Matt Walsh wrote of the family.
Josh's sisters Jill and Jessa, who had been fondled by their brother, made statements in support of him, expressing shock that the incident had been made public. That the girls had this very personal trauma dragged into the town square does seem unfair. But perhaps not as unfair as their parents' decision to raise them in "Truman Show"-like conditions as a model of a strong, values-driven Christian family—just a few years after they were sleeping with locks on their doors to safeguard them from the possibility of any further attacks by their brother. (Following the show's cancellation, Jim Bob and Michelle wrote in a statement that "our desire in opening our home to the world is to share Bible principles that are the answers for life's problems.")
On Wednesday, just a few weeks after TLC formalized the cancellation of "19 Kids," Gawker posted evidence that Josh Duggar was a paying member of Ashley Madison, the social-networking site made to facilitate illicit extramarital affairs. He'd spent almost a thousand dollars on two different accounts between February, 2013, and May, 2015, including an "affair guarantee" fee of two hundred and fifty dollars. (Ashley Feinberg, of Gawker, said that the news site had received an anonymous tip.) Yesterday afternoon, the Duggars issued a statement in which Josh wrote, "I have been the biggest hypocrite ever. While espousing faith and family values, I have secretly over the last several years been viewing pornography on the internet and this became a secret addiction and I became unfaithful to my wife." (The statement was later edited to remove the reference to pornography and a reference to allowing "Satan to build a fortress" in his heart. Soon after that, it was removed entirely from the Duggars' Web site, but has since been restored—quiet evidence of what must have been a behind-the-scenes P.R. scramble.) Reading between the lines, Josh creates a narrative of a slippery slope—the porn, the porn addiction, the unfaithfulness—which he slid down as though hypnotized. To members of the Duggars' religious community, the path he outlines will have echoes of cautionary tales about dangerous appetites being given an inch and taking a mile.
This revelation comes at a time when the niche of conservative Christian homeschooling to which the Duggars belong can't very well afford another disgraced celebrity.
(I should note here that I grew up with Christian homeschooling, although I no longer have active connections with the community.)
The past couple of years have been punctuated by scandals involving prominent figures in the movement. In October, 2013, Doug Phillips, of the Vision Forum, an organization that promoted the idea of "Biblical patriarchy," stepped down from his role as president after being accused of sexually assaulting his children's nanny several years before. In March, 2014, Bill Gothard, the founder of the Institute in Basic Life Principles, a homeschooling organization that promotes a strict conservative life style, with an emphasis on extremely modest dress and on women's place in the home, was put on administrative leave (and later stepped down); an organization called Recovering Grace had released allegations from multiple former female employees of Gothard, many of whom were teen-agers when they worked for him, accusing him of sexual harassment. (The Duggars are known to have been involved with Gothard's Institute.) In August, 2014, Michael Farris, the founder of the Home School Legal Defense Association and Patrick Henry College, sometimes known as "God's Harvard," released a statement disowning the ideas of Biblical patriarchy with which Phillips and Gothard are associated. Earlier that year, however, Patrick Henry College had been hit with its own scandal, when The New Republic published an extensive story about allegations that the administration had dismissed or ignored female students' reports of sexual assault. (Patrick Henry disputed the story, calling it "unbalanced and inaccurate.")
Over the same period, a Web site called Homeschoolers Anonymous started gathering stories of hypocrisy, neglect, abuse, and dissatisfaction from former homeschoolers. It's become a gadfly in the community. Many of the movement's leaders have been forced to acknowledge, even if it is to dismiss, the stories and critiques that the site publishes.
(Full disclosure: I grew up with some of the leaders of H.A., but, then, I also grew up with people who would describe H.A. contributors as sensationalist, misguided strays who have been brainwashed by liberal institutions.)
For a movement that has invested deeply, over the years, in the moral and practical superiority of its model for family life, the spate of bad publicity is particularly damaging.
The flip side of the strict sexual prohibitions in the culture to which the Duggars belong is a belief, sometimes bordering on the prurient, in the unbridled nature of male sexuality. Men are often portrayed as sexually ravenous, constantly on the edge of losing control of their libidos. Women, meanwhile, are generally seen as guardians of purity who must not stoke men's passions. In the book "Growing Up Duggar," the Duggar daughters write that their family has a code word ("Nike") that they use to warn their dad and brothers to keep their eyes on their shoes when a woman who is deemed to be too immodestly dressed is approaching, "to help keep the guys' eyes from seeing things they shouldn't be seeing." In an interview with Megyn Kelly shortly after the molestation charges were made public, Jessa said, by way of explaining her brother's actions, "In Josh's case, he was a boy, a young boy in puberty and a little too curious about girls. And that got him into some trouble." Josh's earlier scandal might be explained away, then, not just by his youth but by the fact that he was male. It's not enough to argue that Josh Duggar acted out because he was repressed; there's also the question of how these teachings affect a boy's (or a man's) understanding of his own sexual volition.
Walsh, the conservative blogger who defended Josh Duggar after the molestation story broke, was one of the few former supporters to comment on the Ashley Madison report. He tweeted, "I wrote a piece a while ago giving Josh Duggar the benefit of the doubt that he'd changed his ways and turned to God. I now regret that post."
Later, on Facebook, he wrote, "So I was wrong about Josh being a repentant man." It's a little odd to talk about these two very different episodes as though one were the natural sequel of the other, but Walsh isn't the only one who had once been eager to attest to Josh Duggar's moral rectitude.
At the time of the first scandal, Mike Huckabee wrote, "The fact that he confessed his sins to those he harmed, sought help, and has gone forward to live a responsible and circumspect life as an adult is testament to his family's authenticity and humility."
Jessa Duggar's father-in-law, Michael Seewald, wrote that the molestation incident had been "laid to rest well over a decade ago with Josh's repentance and reformation." But the redemption story was a little too neat, and the capacity for moral perception that was claimed by Duggar's former defenders was blithe.
Those claiming to profess a philosophy built on human brokenness might take more of a pause before making a show of declaring people mended.