More Police Unions Across the Country Call for Quentin Tarantino Boycott
By Greg Cwik and Nate Jones
October 29, 2015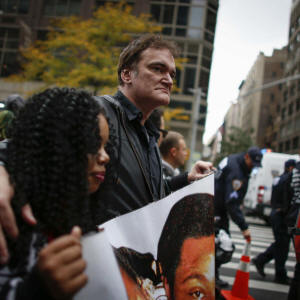 Photo: Kena Betancur/2015 Getty Images
At an October 24 rally in Manhattan's Washington Square Park, director Quentin Tarantino addressed a crowd of a few hundred people, decrying "police terror" and
reading names of those killed by police officers across the country
.
Standing in front of a collage of enlarged photos depicting the faces of victims, Tarantino said, "This is not being dealt with in any way at all. That's why we are out here. If it was being dealt with, then these murdering cops would be in jail or at least be facing charges." The director also defended his sharp rhetoric: "I'm a human being with a conscience ... When I see murders, I do not stand by ... I have to call a murder a murder, and I have to call the murderers the murderers."
As Fox News and the New York Post turned on their outrage machines to emphasize, the rally occurred four days after a police officer was killed in East Harlem. Tarantino responded: "It's like this: It's unfortunate timing, but we've flown in all these families to go and tell their stories ... That cop that was killed, that's a tragedy, too." The rally marked the final day of a three-day series of planned national rallies in a coordinated protest called RiseUpOctober, which began on October 22. Tarantino also spoke at another rally that day in Times Square.
Unsurprisingly, the police have not taken too kindly to Tarantino's words. The day after Tarantino's speech, Patrolman's Benevolent Association president Patrick Lynch called the director a
"purveyor of degeneracy
" and called for a boycott of his movies. "
It's no surprise that someone who makes a living glorifying crime and violence is a cop-hater, too
," Lynch said in a statement. "The police officers that Quentin Tarantino calls 'murderers' aren't living in one of his depraved big-screen fantasies – they're risking and sometimes sacrificing their lives to protect communities from real crime and mayhem." So, Lynch suggests, "New Yorkers need to send a message" by not seeing his movies.
In California the use of violence by the defenders of law and order has, of course, entered a new dimension. It shows us the danger against which we are guarding. No one has suggested that the street people, students, faculty members and citizens of Berkeley who were agitating for that park were much disposed to violence. And no one denies that Ronald Reagan, the most compulsive spokesman for law and order in all the country, mobilized the soldiers and was responsible for the buckshot, helicopters and spraying of a noxious gas in violation of the Geneva Convention. It has long been a point that those who were most indifferent to violence in Vietnam were most concerned about violence here at home. It is now a point that those who talk most unctuously about violence here at home are least reluctant to unleash it here at home.

Before anyone asks us to listen to the wickedness of violence let him, henceforth, establish his credentials as an opponent of violence -- both at home and abroad. Otherwise let us ignore him. Or rather if he is a politician let us be sure that we remember him.

--

One More Look at Our Current Troubles, by John Kenneth Galbraith, from FBI Documents Responsive to FOIPA Request for Cartoonist Al Capp
Over the following week, more police unions across the country came out against Tarantino. Last Tuesday, the Los Angeles Police Protective League released a statement supporting the boycott of the director's films, followed by the Philadelphia Fraternal Order of Police and the New Jersey State Police Patrolmen's Benevolent Association the following day.
"It is hard not to see the anti-police rhetoric that has been stirred up in the nation over the past year," New Jersey PPBA Pat Colligan said in a statement. "We don't know if this irresponsible speech led directly to the recent murder of officers around the nation, but Mr. Tarantino should be mindful of the potential dangers that can result from the dangerous rhetoric once it is ingrained in the mind of a person who is willing to harm an officer."
On Thursday, the protest against Tarantino went nationwide, as the National Association of Police Organizations endorsed the boycott. NAPO is an umbrella organization that advocates for law-enforcement efforts; it represents more than 1,000 police organizations around the country. On its website, the organization urged its 241,000 members to "stop working special assignments or off-duty jobs, such as providing security, traffic control or technical advice for any of Tarantino's projects."
This post has been updated throughout.