Afghan women say hackers and threats have made them afraid of Facebook
by Peter Holley
September 18, 2015
NOTICE: THIS WORK MAY BE PROTECTED BY COPYRIGHT
YOU ARE REQUIRED TO READ

THE COPYRIGHT NOTICE AT THIS LINK

BEFORE YOU READ THE FOLLOWING WORK, THAT IS AVAILABLE SOLELY FOR PRIVATE STUDY, SCHOLARSHIP OR RESEARCH PURSUANT TO 17 U.S.C. SECTION 107 AND 108. IN THE EVENT THAT THE LIBRARY DETERMINES THAT UNLAWFUL COPYING OF THIS WORK HAS OCCURRED, THE LIBRARY HAS THE RIGHT TO BLOCK THE I.P. ADDRESS AT WHICH THE UNLAWFUL COPYING APPEARED TO HAVE OCCURRED. THANK YOU FOR RESPECTING THE RIGHTS OF COPYRIGHT OWNERS.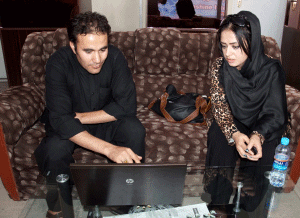 Farid Ahmadi, left, the owner of a poplar Internet Cafe in Kabul, shows Nasrin Johini a fake Facebook profile someone created using her name and photos. (Peter Holley/The Washington Post)
KABUL — By the time the distraught young woman arrived at the Sunshine Internet Cafe in western Kabul, she was in a state of panic, tears streaming down her face.
Someone, she claimed, had hacked into her Facebook page and stolen her personal photos. The thief used those images to create a fake profile, one littered with offensive posts boasting of drug use and illicit behavior.
In Afghanistan, that can get a woman killed.
A week later, Farid Ahmadi, the cafe's owner — a friendly 29-year-old who is known around town as a go-to guy for IT problems — was still mulling over the woman's situation, hoping for a solution.
"She said, 'Farid, do something!' " he recalled, shaking his head. " 'My brother saw those photos, and now he is telling me not to go outside or he will beat me.' I told her, 'I cannot do anything. I will report it to Facebook, but I cannot be sure if they will block it or not.' "
The woman's plight would be less frustrating, Ahmadi said, if he hadn't encountered so many just like her in recent months. At least three or four times a week, he estimated, young women show up at his Internet cafe desperate for help. Their complaints are always the same: fake Facebook profiles using their photos, hacked personal information, inboxes deluged with pornography, and violent threats from aggressive suitors and alleged militants. Respectable reputations are demolished with a few keystrokes.

Ahmadi said that he has reported fake profiles to Facebook on behalf of women more than 50 times but that it rarely matters.
He suspects that the threats are so culturally specific — a profile photo showing a woman's face or a beer Photoshopped into a photo of a female gathering, for example — that they often go unnoticed by Facebook administrators reviewing flagged accounts. What may look like an innocent account in the United States can be full of menacing innuendo to Afghan eyes.
"Most of the time, Facebook is saying, 'No, you're wrong, thanks for reporting, but this is not a fake account,' " he said.
"I don't think they understand the culture of Muslim countries."
Outside the Muslim world, a fake account is often little more than an easily remedied irritant. But in Afghanistan, where women are expected to abide by a strict code of personal conduct that equates purity with family honor, a scandalous Facebook page can bring shame to the victim and her loved ones, resulting in thwarted marriage prospects, family violence and even death.
The question on many Afghans' minds is whether Facebook understands this unique cultural dynamic and its consequences.
Many women say they have sworn off Facebook altogether. Others, like Masoma Akrami, a 21-year-old journalist, have gone into virtual hiding, removing their profile photos, blocking all friend requests, and limiting interaction to a small group of trusted female friends and family members.
"Now I am scared every time I hear the name 'Facebook,' " she said.
Monika Bickert, head of global product policy at Facebook, said the company has "zero tolerance" for behavior that endangers users. Noting that fake profiles are not specific to one country, she said threats that emanate from violent or unstable regions are assumed to be credible.
Bickert said Facebook is able to identify fake accounts when the impostor begins making friend requests.
"At the time someone receives a friend request, our systems are designed to check whether the recipient already has a friend with the same name, along with a variety of other factors that help us determine if an interaction is legitimate," she said.
She added: "Claiming to be another person or having a fake profile violates our community standards, and these types of profiles will be removed if they are reported to us."
But Afghan women tell a very different story.
Nasrin Johini, 24, a prominent television journalist, has given up trying to convince Facebook that her professional page, which has nearly 9,000 "likes," is no longer her own. Her account was hacked last month. Days later, two more pages sprang up using her name and likeness. Then, posts began to appear with photos of alcohol and cigarettes and references to licentious behavior.
"Feeling thankful," one post with a photo of several Turkish beers reads. "Thank you to the friends who brought this alcohol for me."
Johini was mortified, especially when family and friends began asking questions.
Unable to persuade Facebook to take down the profiles, she feels as though her personal life and professional reputation are under assault.

"I have lost my credibility," she said. "I am a famous journalist, and I think I will never be able to work in the streets of Kabul again. It's too dangerous now."
It is a problem that seems to be worsening as traditional values collide with a youthful population hungry for online interaction. Almost 65 percent of Afghans are younger than 25, and although 7.7 percent of the country's 31 million citizens have Internet access, of those, 74 percent use social media, said Javid Hamdard, author of a survey of Internet use in Afghanistan.
Mohammad Yasin Samim, a spokesman for the Ministry of Communications and Information Technology who thinks those numbers understate actual use, said, "Cybersecurity is an increasing problem in Afghanistan, especially for females."
At this point, there is little that Afghan authorities can do to stop harassment. If a complaint is deemed credible, Samim said, the ministry can "only help police and courts to find the location of cybercriminals." It lacks the authority to "block their accounts."

For women such as Akrami, the 21-year-old journalist, there is little solace. She reported her harassers to police but was laughed off and told to go home, she said.

"They said I just wanted to file a report so I could seek asylum in another country."
Akrami said she has given up on having a virtual identity, one that would allow her to report the news, connect with an audience and build her career. Her breaking point, she said, was not the sexual videos that filled her inbox. Nor was it the messages from strange men that started by saying "I love you" and "go on a date with me" only to become filled with curse words and vile epithets when she didn't respond.
Instead, it was screen shots of herself on television, the ones that began arriving in her inbox earlier this year. They came from men claiming to be members of the Taliban and included a warning that would ultimately prove effective: "Get off Facebook or we will kill you and your family."
"Men in Afghanistan want women to cover their face in the streets," Akrami said. "And now they have succeeded in forcing us to hide ourselves online."


Peter Holley is a general assignment reporter at The Washington Post. He can be reached at peter.holley@washpost.com.