VAXXED documentary: Official announcement from the producers unveils mass media cover-up of the 'suppression of medical data' by the CDC
by Mike Adams, the Health Ranger
March 30, 2016
NOTICE: THIS WORK MAY BE PROTECTED BY COPYRIGHT
YOU ARE REQUIRED TO READ

THE COPYRIGHT NOTICE AT THIS LINK

BEFORE YOU READ THE FOLLOWING WORK, THAT IS AVAILABLE SOLELY FOR PRIVATE STUDY, SCHOLARSHIP OR RESEARCH PURSUANT TO 17 U.S.C. SECTION 107 AND 108. IN THE EVENT THAT THE LIBRARY DETERMINES THAT UNLAWFUL COPYING OF THIS WORK HAS OCCURRED, THE LIBRARY HAS THE RIGHT TO BLOCK THE I.P. ADDRESS AT WHICH THE UNLAWFUL COPYING APPEARED TO HAVE OCCURRED. THANK YOU FOR RESPECTING THE RIGHTS OF COPYRIGHT OWNERS.
(NaturalNews) Cinema Libre Studio will be distributing Vaxxed: From Cover-Up to Catastrophe, the explosive documentary directed by Andrew Wakefield which was "de-selected" from the Tribeca Film Festival this past weekend.
The film investigates the claims of a Senior Scientist at the U.S. Centers for Disease Control and Prevention (CDC), Dr. William Thompson, who revealed that the CDC had manipulated and destroyed data on an important study about autism and the MMR (measles, mumps and rubella) vaccine.
Cinema Libre Studio has been working with the Vaxxed team since fall of 2015, and has acquired worldwide rights from Autism Media Channel. The documentary will premiere Friday, April 1 in an Exclusive Engagement at the Angelika FiIm Center in New York City before being widely released in other cities with future distribution plans to be unveiled.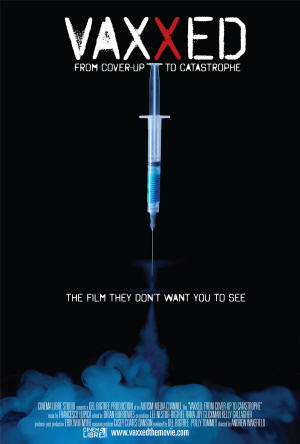 The film was an Official Selection at the Tribeca Film Festival with the world premiere scheduled for April 24th. However, after the film was announced in the lineup last Monday, online protests erupted. Then festival co-founder Robert De Niro had a one-hour conversation with Representative Bill Posey, who appears in the film and who has vetted all communication related to the CDC whistleblower and asked that he be brought before Congress to testify. After the call, a statement was posted on the Tribeca Facebook page from De Niro:
"This is very personal to me and my family and I want there to be a discussion, which is why we will be screening VAXXED. I am not personally endorsing the film, nor am I anti-vaccination; I am only providing the opportunity for a conversation around the issue."
The pressure mounted when the story went viral and the festival made an about-face, when TFF executives called Cinema Libre Studio executives over the holiday weekend to tell them the film was being pulled from the line-up. De Niro then posted a second statement saying:
"My intent in screening this film was to provide an opportunity for conversation around an issue that is deeply personal to me and my family. But after reviewing it over the past few days with the Tribeca Film Festival team and others from the scientific community, we do not believe it contributes to or furthers the discussion I had hoped for."
The media frenzy continued including
a Change.org petition to bring back the film to the festival
which now has over 28,000 signatures.
Since 1986, the National Vaccine Injury Compensation Program (VICP) has been compensating children and adults who are victims of vaccine injury including but not limited to: injuries, learning disabilities, severe/permanent disabilities, AUTISM, and death.

They have been compensating for AUTISM cases resulting from vaccine injury. If vaccines don't cause autism, why is it being proven in court rulings, and why are they paying these cases out if they don't? Because vaccines DO harm, they DO injure, and they DO kill, and......they DO cause autism.

Source:

http://www.nvic.org/injury-compensation.aspx

"By 2010, the U.S. Court of Claims had awarded nearly $3 billion dollars to vaccine victims for their catastrophic vaccine injuries, although two out of three applicants have been denied compensation."

In 2013, biologist Dr. Brian Hooker received a call from a Senior Scientist at the U.S. Centers for Disease Control and Prevention (CDC) who led the agency's 2004 study on the Measles-Mumps-Rubella (MMR) vaccine and its link to autism. The scientist, Dr. William Thompson, confessed that the CDC had omitted crucial data in their final report that revealed a causal relationship between the MMR vaccine and autism.

Over several months, Dr. Hooker records the phone calls made to him by Dr. Thompson who provides the confidential data destroyed by his colleagues at the CDC. Dr. Hooker enlists the help of Dr. Andrew Wakefield, the British gastroenterologist falsely accused of starting the anti-vax movement when he first reported in 1998 that the MMR vaccine may cause autism. In his ongoing effort to advocate for children's health, Wakefield directs this documentary examining the evidence behind an appalling cover-up committed by the government agency charged with protecting the health of American citizens. Interviews with pharmaceutical insiders, doctors, politicians, and parents of vaccine-injured children reveal an alarming deception that has contributed to the skyrocketing increase of autism and potentially the most catastrophic epidemic of our lifetime.

Blackfish was screened at Tribeca, and look at the movement it caused. Because of Tribeca, and because of the amazing people who documented what was happening at SeaWorld, SeaWorld recognized the need for change, and they changed because the world needed them to.

Pharmaceutical companies are afraid that if people start to question vaccines (and rightfully so) they will lose BILLIONS in profits. Well, they've already made BILLIONS off of us, injuring and killing our children for their "greater good" and it's time for it to end. Look at a vaccine insert and the lists and pages of debilitating side effects including death and tell me that they are "SAFE." No one inherently looks at a vaccine insert that lists death and permanent injury and thinks "yeah, that sounds safe." Go ahead, look.

People argue that if people start to question vaccines, it will jeopardize the safety of children. BECAUSE of the cover-up, we have already done that. Now it's time to set things right, and hold the correct people responsible.

SUPPORT VAXXED

SUPPORT TRIBECA

The CDC RELEASED documents can be found as well as a link to the story here:

http://truthinmedia.com/truth-in-media- ... documents/

VAXXED the movie trailer can be found here:

http://vaxxedthemovie.com/

Congressman Posey on throwing the studies in a garbage can to get rid of the evidence:

https://www.youtube.com/watch?v=jGRjn_gIJw0

Dan Burton demanding a yes or no from the FDA for a vaccine link to Autism:

https://www.youtube.com/watch?v=Yd3xdAp9_Zk

For Vaccine injury stories/videos and educational information please visit:

http://www.stopmandatoryvaccination.com/

and

https://www.learntherisk.org-- Bring VAXXED back to Tribeca, Petition at Change.org
The "suppression of medical data by a governmental agency"
Cinema Libre Chairman Philippe Diaz says, "We chose to distribute this film to correct a major issue, which is the suppression of medical data by a governmental agency that may very well be contributing to a significant health crisis. The media storm of last week also revealed another issue; the hyper mediatization by some members of the media and the documentary community who had not even seen the film, as well as Tribeca executives, which condemned it as anti-vaccine. This film is not anti-vaccine and neither is Dr. Wakefield. Wakefield's concern for the last twenty years has been about making sure that vaccines are safe for children. This is why we decided to release the film now rather than as originally planned later in the year."
Richard Castro, Head of Distribution, explains, "It's disturbing that an American film festival can succumb so easily to pressure to censor a film that it has already selected and announced. On Friday I received a call from Tribeca executives expressing concerns about showing the film, but no opportunity was afforded our filmmakers to even address those concerns. When I questioned the rationale, it was indicated that sponsors interest was a factor. By Saturday night, the film was simply pulled off the festival's programming schedule."
Produced by Del Bigtree, who left his job as producer on the Emmy award-winning television show The Doctors to make the film, the documentary features Dr. Brian Hooker, to whom Thompson leaked documents as well as autism experts (Dr. Doreen Granpeesheh, Mark Blaxill, Polly Tommey), practicing family physicians (Dr. James M. Sears, Dr. Rachel Ross), former Pharmaceutical drug representative Brandy Vaughn, research scientists (Dr. Luc Montagnier, Stephanie Seneff) and Congressman Bill Posey.
Says Bigtree, "While making the film, we spoke to so many medical professionals who are afraid to speak out publicly against the pharmaceutical companies, and their influence on the medical industry. When the CDC Whistleblower story broke last year, not one mainstream news outlet ran the story. Either they were asleep at the wheel or were in a coma induced by their pharmaceutical advertisers."
Wakefield says, "Our aim with this movie was to take this complex, high-level fraud and to give it context, and weave through it the tragic street-level narratives of ordinary families affected by autism. We hope that the film will help, at a minimum, push Congress to subpoena Dr. William Thompson and investigate this fraud at the CDC."
The film was produced by Del Bigtree, edited by Brian Burrowes with original music by Franceso Lupica (Knights of Cups, Tree of Life) who has contributed his "Visual Music Design" to several Terrance Malick films. The film was financed through donations of individual families and philanthropists, and was acquired from Autism Media Channel in a deal negotiated by Wakefield for Autism Media Channel and Bigtree with Richard Castro.
Website:
http://www.vaxxedthemovie.com
Facebook:
https://www.facebook.com/vaxxedthemovie
Twitter: @vaxxedthemovie #vaxxed #cdcwhistleblower
ABOUT CINEMA LIBRE: Cinema Libre Studio is a full-service mini-studio known for producing and distributing high concept feature films and social impact documentaries. Headquartered in the Los Angeles area, the team has released over 200 films.
http://www.cinemalibrestudio.com
http://www.facebook.com/cinemalibrestudio.com
twitter.com/cinemalibrestudio