Oliver Letwin blocked help for black youth after 1985 riots
Cameron's policy chief makes apology over advice to Thatcher that assistance would benefit 'disco and drug trade' and Rastafarian crafts
by Alan Travis
December 29, 2015
NOTICE: THIS WORK MAY BE PROTECTED BY COPYRIGHT
YOU ARE REQUIRED TO READ

THE COPYRIGHT NOTICE AT THIS LINK

BEFORE YOU READ THE FOLLOWING WORK, THAT IS AVAILABLE SOLELY FOR PRIVATE STUDY, SCHOLARSHIP OR RESEARCH PURSUANT TO 17 U.S.C. SECTION 107 AND 108. IN THE EVENT THAT THE LIBRARY DETERMINES THAT UNLAWFUL COPYING OF THIS WORK HAS OCCURRED, THE LIBRARY HAS THE RIGHT TO BLOCK THE I.P. ADDRESS AT WHICH THE UNLAWFUL COPYING APPEARED TO HAVE OCCURRED. THANK YOU FOR RESPECTING THE RIGHTS OF COPYRIGHT OWNERS.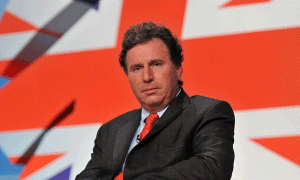 Oliver Letwin was a young adviser in Margaret Thatcher's Downing Street policy unit in the mid-1980s. Photograph: Nils Jorgensen/REX/Shutterstock
David Cameron's chief policy adviser has apologised after he helped to ward off cabinet pleas for assistance for black unemployed youth following the 1985 inner-city riots with the argument that any help would only end up in the "disco and drug trade".
Oliver Letwin, then a young adviser in Margaret Thatcher's Downing Street policy unit, played a decisive role along with her inner cities adviser, Hartley Booth, in rejecting demands from three cabinet members that assistance schemes be introduced in the aftermath of the Tottenham and Handsworth riots in 1985. On Tuesday night he said he apologised "unreservedly" for any offence caused by his comments.
Downing Street files released on Wednesday by the National Archives include a confidential joint paper by Letwin and Booth in which they told Thatcher that "lower-class unemployed white people had lived for years in appalling slums without a breakdown of public order on anything like the present scale".
The men also warned Thatcher that setting up a £10m communities programme to tackle inner-city problems would do little more than "subsidise Rastafarian arts and crafts workshops".
Their intervention followed a warning from the home secretary, Douglas Hurd, that alienated youth, predominantly black, in the inner cities represented "a grave threat to the social fabric" of the country.
The two persuaded Thatcher to dismiss suggestions from Hurd and two other cabinet ministers, Kenneth Baker and Lord Young, to tackle the problem, and instead insisted what was needed was measures to tackle absent fathers, moral education and an end to state funding of leftwing activists. Letwin is now the chancellor of the duchy of Lancaster and minister of state for government policy.
The cabinet debate over the government's response to the riots had been sparked by a warning from Hurd on 23 October 1985 of a "thoroughly dangerous situation" in the inner cities.
Hurd told Thatcher in a confidential minute that the government might have to reconcile itself to the fact that "a number of our cities now contain a pool of several hundred young people who we have not educated, whom it may not be possible to employ, and who are antagonistic to all authority. We need to think hard to prevent the pool being constantly replenished."
The environment secretary, Baker, wanted to refurbish rundown council estates and Young, the employment secretary, wanted US-style "positive action" programmes to overcome the barriers to jobs and business startups for young black people.
But Letwin and Booth would have none of it. "The root of social malaise is not poor housing, or youth 'alienation' or the lack of a middle class," they advised Thatcher. "Lower-class unemployed white people had lived for years in appalling slums without a breakdown of public order on anything like the present scale; in the midst of depression, people in Brixton went out, leaving their grocery money in a bag at the front door, and expecting to see groceries when they got back.
"Riots, criminality and social disintegration are caused solely by individual characters and attitudes. So long as bad moral attitudes remain, all efforts to improve the inner cities will founder. David Young's new entrepreneurs will set up in the disco and drug trade."
Instead their prescription was to reinforce the family through the law and tax, to set up "old-fashioned independent religious schools" and to change attitudes to personal responsibility, honesty, and the police from an early age including a new moral "youth corps".
In a statement on Tuesday night Letwin said: "I want to make clear that some parts of a private memo I wrote nearly 30 years ago were both badly worded and wrong. I apologise unreservedly for any offence these comments have caused and wish to make clear that none was intended."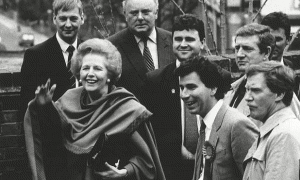 Margaret Thatcher and Oliver Letwin in 1992. Photograph: The Independent/REX/Shutterstock
The newly released files also show that at the height of the Tottenham disturbances in 1985 Thatcher was told that rioters were arming themselves with napalm in preparation for a fresh outbreak of violence.
Police sources had told Booth in the days immediately following the riot on Broadwater Farm estate in north London that milk floats been stolen so petrol bombs could be stockpiled and "the ingredients of napalm … have been supplied to individuals in the Tottenham area".
Thatcher responded to his confidential note: "This is most disturbing. [underlined] Is everything possible being done to assist the police in their duties?"
Downing Street civil servants tried to cool things down by pointing out that all sorts of rumours flew around in such situations, but the prime minister insisted on a full Home Office report on the napalm allegations, as she called them. Eventually it was established they flowed from a one-off report of someone "buying small quantities of the key ingredients for napalm at a north London chemist". Nobody had been apprehended and it had not been repeated.

The debate was played out in a series of Downing Street meetings on the inner cities which hammered out a programme for a series of eight private sector taskforces to bypass local councils so they could not be sabotaged or "undercut by hard left local authorities".
Letwin and Booth saw success in their campaign when it was decided that areas such as Brixton should be ignored as ministers "were anxious to avoid giving the impression that riot was being rewarded".
Ministers also agreed that while it was right for Hurd to raise the problem it "would be counterproductive to be seen to be concentrating help on law-breakers or on black people specifically".
Plans for eight urban development task forces went ahead but the Treasury was only willing to put £5m behind the exercise. In the winter of 1985/86 the real money had already started to flow from a consortium of US bankers and developers into building "a new financial centre" in London's Docklands.
It was to be Canary Wharf not Broadwater Farm nor Lozells Road in Handsworth, Birmingham, that was to benefit most from the riots of 1985.
A Cabinet Office spokesman responding to the disclosure of Letwin's advice to Thatcher said: "Clearly the government at the time were proposing solutions to rebuild broken communities, given the serious issues of the time. We remain thoroughly committed to helping the most vulnerable and ensuring that nobody is confined by the circumstances of their birth."
[Diane Abbot, Labour MP] Oliver Letwin's comments are almost laughably ignorant. In 1981, Lord Scarman had done a definitive report which showed how the social and economic factors actually triggered rioting. So for Oliver Letwin to say that the rioting was caused by Black people's moral degeneracy, and for him to go on and say that if you try too hard just to go into business, we'd only go into discos and drug dealing is just quite appalling.

Even 30 years ago had he said those views publicly, people would have been shocked, and they were clean contrary to the Scarman Report which looked into urban disturbances in 1981.

I think that Oliver Letwin's views may still be reflected today in some Tory attitudes to innocent communities, particularly when it comes to housing. Oliver Letwin said you couldn't invest in council housing because people because people would only vandalize it. I think this is reflected in Tory attitudes today.
Tom Watson, Labour's deputy leader, said Letwin should consider his position in the government following the disclosure.
"
Oliver Letwin's comments are evidence of an ignorant and deeply racist view of the world.
He obviously cannot justify his opinions but he must explain himself. A great many people will be asking whether, as a government minister, he still holds such offensive and divisive views."
Trevor Phillips, the former chair of the Equality and Human Rights Commission, said
: "These remarks are pretty outrageous. I'm sure that Oliver's learnt quite a lot since then. But if I may say it tells us something about the attitudes amongst the whole generation. I went to school in Haringey and Tottenham and I covered the riots at the time.
The thing I should say is I don't think these remarks would have raised a single eyebrow at the time."
He refused to give an opinion on whether Letwin should be sacked.
Where are the cabinet papers?
Cabinet papers do not form part of the annual new year release of confidential government files by the National Archives for the first time for more than 50 years.
The absence of cabinet minutes, memorandum and cabinet committee papers from the regular new year release reflects a lack of resources in Whitehall available to implement the transition from the 30-year rule for the release of government papers to the new 20-year rule.
This year's release is made up of 21 Downing Street files
, known as Prem files, covering the years 1986, 1987 and 1988. It is expected that further releases in 2016 will see the release of cabinet papers from 1987 and possibly 1988.
The government began its move towards releasing records when they are 20 years old, instead of 30 in 2013. In that year the National Archives received records from 1983 and 1984, and in 2014 records from 1985 and 1986.
"Two further years' worth of government records are being transferred to us each year until 2022 when we will receive the records from 2001 and 2002," says a statement on its website.
But it appears that the pressure of resources means that it is has not been possible for Whitehall to meet the expected timetable for the release of the cabinet papers for 1987 and 1988 in 2015. The customary new year release of cabinet papers, while not a statutory requirement, dates back at least to the Public Record Act 1958.
John Whittingdale, the culture secretary, and Oliver Letwin, who as chancellor of the duchy of Lancaster is responsible for the Cabinet Office, both worked for Margaret Thatcher in Downing Street the 1980s – the period covered by the files now being released.
A Cabinet Office spokesman said: "It is simply untrue to suggest any wrongdoing here. This is an administrative change to improve the process so that more files are published more quickly and more frequently during the year. No minister has been involved in the changes to the process."