Oliver Letwin's memo on race is not ancient history. It's current Tory policy
by Joseph Harker
December 30, 2015
NOTICE: THIS WORK MAY BE PROTECTED BY COPYRIGHT
YOU ARE REQUIRED TO READ

THE COPYRIGHT NOTICE AT THIS LINK

BEFORE YOU READ THE FOLLOWING WORK, THAT IS AVAILABLE SOLELY FOR PRIVATE STUDY, SCHOLARSHIP OR RESEARCH PURSUANT TO 17 U.S.C. SECTION 107 AND 108. IN THE EVENT THAT THE LIBRARY DETERMINES THAT UNLAWFUL COPYING OF THIS WORK HAS OCCURRED, THE LIBRARY HAS THE RIGHT TO BLOCK THE I.P. ADDRESS AT WHICH THE UNLAWFUL COPYING APPEARED TO HAVE OCCURRED. THANK YOU FOR RESPECTING THE RIGHTS OF COPYRIGHT OWNERS.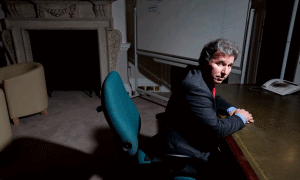 'The beliefs held by Oliver Letwin in 1985 are still being enforced in government.' Photograph: David Levene for the Guardian
In October, prime minister David Cameron gave this endorsement to the Black British Business awards: "I am very pleased to reaffirm my support for the [awards] as they once again seek to identify and celebrate outstanding business men and women from the African-Caribbean community. As we seek to build a One Nation government it is vital that Britons in every community know that they can succeed regardless of background and where the only determinant for your success is your ability and desire to succeed."
Who could disagree? Well, it turns out, his own chief policy adviser. For we now know that, after the widespread unrest in 1985 across Britain's inner cities – from Tottenham to Handsworth to Brixton to Toxteth – the Tory cabinet minister Oliver Letwin, then a member of Margaret Thatcher's Downing Street policy unit, believed that any cash support for black businesses would merely end up funding drugs and dodgy sound systems.
Letwin, along with Thatcher's inner cities adviser, Hartley Booth, co-wrote a confidential paper which successfully argued against cabinet members who believed black communities should have help to redress the poverty and lack of opportunities they faced. The riot-torn areas were, at the time, among the poorest parts of Britain.
Home secretary Douglas Hurd had warned of a "thoroughly dangerous situation" in the inner cities. Environment secretary Kenneth Baker wanted to refurbish rundown council estates; and Lord Young, employment secretary, wanted positive action programmes to overcome the barriers to jobs and business startups for young black people.
They weren't the only ones calling for action, of course: the Greater London Council, then led by Ken Livingstone, funded ethnic minority and equal rights groups, as did several Labour-run local councils.
In those days there were no black MPs, but several Labour MPs and civil rights campaigners also said the underlying problem was inequality and that resources were needed to tackle race discrimination and its fallout.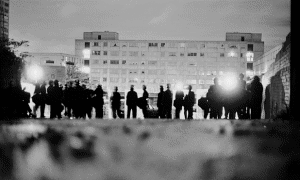 Police officers in riot gear on the Broadwater Farm housing estate, Tottenham, in 1985. Photograph: Julian Herbert/Getty Images
Despite these efforts to put the rioting and unrest in a wider context, Letwin and Booth argued that "riots, criminality and social disintegration are caused solely by individual characters and attitudes. So long as bad moral attitudes remain, all efforts to improve the inner cities will founder. David Young's new entrepreneurs will set up in the disco and drug trade."
Of course, this was all 30 years ago. Letwin last night said his memo was "both badly worded and wrong", and has apologised "for any offence these comments have caused".
So does it really matter any more?

Yes, absolutely it does. Because not only is Letwin employed as Cameron's policy adviser, but there's clear evidence that the beliefs he held in 1985 are still being enforced in government. In 2011, as riots again tore through the country, and as campaigners said this was a clear sign that poverty and inequality ran deep, the government responded as it did in Thatcher's day, by claiming it was all the work of individual criminals – "those thugs", as Cameron called them at the time.
Before any investigation into the causes had even begun,
Cameron declared: "In large parts of the country this was just pure criminality." And he continued: "Let's be clear. These riots were not about race … These riots were not about government cuts … And these riots were not about poverty … No, this was about behaviour. People showing indifference to right and wrong. People with a twisted moral code. People with a complete absence of self-restraint." His words could virtually have been cut and pasted from Letwin's 1985 paper.
So in 2011, rather than looking at embedded structural issues, including the way black communities are policed – especially in the light of the police shooting of Mark Duggan in Tottenham –
the response was to hand out massive penalties to those convicted, in order to dissuade anyone else from taking to the streets in future protests.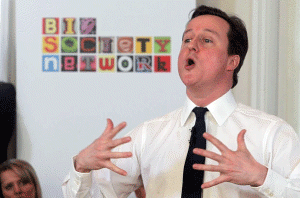 David Cameron in 2011. Photograph: WPA Pool/Getty Images
And instead of supporting organisations that work towards equality – such as the Equality and Human Rights Commission, the Runnymede Trust, Operation Black Vote and the Stephen Lawrence Trust – these organisations have seen their budgets slashed, and for some their very survival is under t
hreat.
The main difference between Cameron and Thatcher is that the current prime minister likes us to think that he cares.
In the same month as his warm words about the Black Business awards, he addressed his annual party conference: "Do you know," he asked his party delegates, "that in our country today, even if they have exactly the same qualifications, people with white-sounding names are nearly twice as likely to get callbacks for jobs than people with ethnic-sounding names? … That, in 21st century Britain, is disgraceful."
He promised no action to address this, though, and didn't mention that he'd pulled the rug from those organisations actually trying to tackle discrimination. With Thatcher, of course, from her response to the 1980s riots, to her stance on immigration, to her support for the apartheid regime in South Africa, she made no attempt to hide her views on race.
Cameron now has a choice. He can either keep Letwin in his cabinet, and make clear to all that he's happy to have someone who so misunderstands black Britain among his closest advisers. Or he can make a symbolic break with the past and drive out Letwin and his thinking, while at the same time promising to give proper support to those trying to counter discrimination and racial inequality. I hope he chooses the latter. If not, it will be a moment where his mask has slipped and we get a clear view of what he really feels about Britain's minorities.