County orders hoarder to clean up property
By Lennie Copeland
Aug. 30, 2014
NOTICE: THIS WORK MAY BE PROTECTED BY COPYRIGHT
YOU ARE REQUIRED TO READ

THE COPYRIGHT NOTICE AT THIS LINK

BEFORE YOU READ THE FOLLOWING WORK, THAT IS AVAILABLE SOLELY FOR PRIVATE STUDY, SCHOLARSHIP OR RESEARCH PURSUANT TO 17 U.S.C. SECTION 107 AND 108. IN THE EVENT THAT THE LIBRARY DETERMINES THAT UNLAWFUL COPYING OF THIS WORK HAS OCCURRED, THE LIBRARY HAS THE RIGHT TO BLOCK THE I.P. ADDRESS AT WHICH THE UNLAWFUL COPYING APPEARED TO HAVE OCCURRED. THANK YOU FOR RESPECTING THE RIGHTS OF COPYRIGHT OWNERS.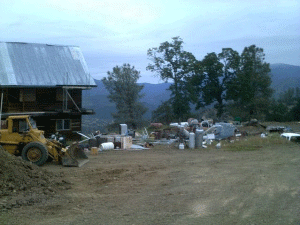 Photo by Lennie Copeland Tom Smith, who lives in the hills west of Ono in the Trinity Alps Preserve, has been ordered to remove junk from his property.
Special to the Record Searchlight It looks like a tsunami swept up an entire parking lot and dumped it on the property of Tom Smith in the hills west of Ono in the Trinity Alps Preserve. Cars, trucks, trailers and tractors constitute a sea of damaged and disabled vehicles surrounded by waves of tires, batteries, motors and mystery metal objects. Everything was strewn across the property, except for a tidy line-up of eight old Mercedes and two Airstream motor homes.
Marc Pelote, Shasta County's code enforcement official, said the mess is illegal and a public nuisance. Smith, 65, has been cited with violation of several building codes, including non-permitted use of a junk yard, illegal refuse dump, abandoned vehicles and public nuisance. On June 2, he was given 30 days to clean it up. After a hearing July 30, he was given another 120 days.
Smith, however, said his vehicles are not junk, garbage or abandoned. He considers them to be valuable and doesn't want to part with anything.
Smith points to his dilapidated Diamond T truck. "That's a classic," he said. "It's worth a lot. It needs just a little work on the engine and brakes."
He says virtually the same about a rusty pickup truck that has nothing under the hood. It's the first truck he ever owned some 50 years ago. As for the Airstreams, he said he plans to spruce up the trashed interiors.
"Nothing to it," he said. "I just need time."
Experts will tell you his actions are characteristic of hoarding.
Hoarding is classified in the "Diagnostic and Statistical Manual of Mental Disorders" as a discrete disease resembling but different from obsessive compulsive disorder. It's described as the excessive acquisition and accumulation of things, unwillingness to let go of these things that inevitably consume enormous amounts of space, unrealistic valuation of the possessions, failure to care for those things, along with talk of plans for their restoration.
Smith speaks of his cars and trucks with a great deal of pleasure and pride, but leaves them to the mercy of the weather, without tarps to protect them. Some are disassembled as he borrows parts and loses them, or scatters them among other projects he will never finish for lack of time, funds and focus. When he was informed he had to remove them from his property, he said he wasn't happy.
An estimated 2 to 5 percent of the population suffers from hoarding disorder, though the hoarder rarely perceives a problem, says David Tolbin, a hoarding specialist and author of "Buried Treasure." Hoarders are not collectors, who actually do restore their acquisitions and either sell or use them. Hoarders don't quit. They will hoard until they die, leaving their surviving family to dispose of the property. Usually, Dumpsters and a salvage company are called in, Pelote said.
According to the Mayo Clinic, hoarders are typically high-energy people who are distractible and disorganized in other aspects of his life. Hoarding typically manifests between ages 11 and 20, and worsens over time, the clinic reports.
Data shows that hoarders come from all walks of life. Janet Yeats, cofounder of The Hoarding Project at the University of Minnesota, said often a hoarder will have been traumatized by death, divorce or other stressful event.
Smith's citation from the building department came as a shock to him and he questioned what right government has to tell him what he can and cannot have.
"It's unconstitutional," he said..
Smith said he pays his taxes and his vehicles aren't abandoned. He said his mess is not considered an eyesore, as his belongs are located on top of a hill, higher than any neighbors.
Smith said he planned to spend his retirement years working on the vehicles that he spent a lifetime collecting.
"Now what am I to do?" he asked.
If he doesn't correct the violations, Shasta County will do it for him at a cost. If he can't pay, his property could be put under a tax lien.
Smith is not alone. Pelote said Shasta County has a hoarding problem.
"It's everywhere. You can see them (the hoards) from the road and on Google," he said.
Pelote can't say how many active cases he has because hoarding is not a distinct classification.
Often when hoarding is a problem, the property owner is in violation of other codes, too, such as building or grading without a permit, he said.
Pelote said the county generally only responds to complaints and doesn't seek out instances of hoarding on property.
An interest in hoarding has sparked several TV shows featuring hoarders of animals, books, toys, bottles, newspapers, ammo, food and so-called collectibles.
Unlike OCD, there is no effective treatment for the disorder, according to the International OCD Foundation of Boston. Cognitive-behavioral therapy attempts to discover why the hoarder is compelled to collect, and help him discard and de-clutter his home. But the hoarder is typically unmotivated, uncompliant and likely to quit any treatment program. After clean-up, he is likely to begin hoarding again within a few months.
There is one local organization that may be of help. The Shasta County Hoarding Support Group meets at 6 p.m. the first and third Thursday at the Redding library's Foundation Room. Heather Gold, who has a master's degree in social work, heads the group, whose membership fluctuates between five and 25 and includes a mix of hoarders and family members of hoarders.
"The process is tedious and long term," Gold said. "It's not a matter of marching in and cleaning up."
Gold says she focuses first on safety and harm reduction at a hoarder's home.
For more information about the meetings, call 355-9879.