BT sins ... Itchy scars! Haryana is today reeling under an itch invasion -- people say due to farming BT cotton. But state and central governments are rubbishing this, reports Anil Pandey
by Anil Pandey
The Sunday Indian
November 2, 2008
NOTICE: THIS WORK MAY BE PROTECTED BY COPYRIGHT
YOU ARE REQUIRED TO READ

THE COPYRIGHT NOTICE AT THIS LINK

BEFORE YOU READ THE FOLLOWING WORK, THAT IS AVAILABLE SOLELY FOR PRIVATE STUDY, SCHOLARSHIP OR RESEARCH PURSUANT TO 17 U.S.C. SECTION 107 AND 108. IN THE EVENT THAT THE LIBRARY DETERMINES THAT UNLAWFUL COPYING OF THIS WORK HAS OCCURRED, THE LIBRARY HAS THE RIGHT TO BLOCK THE I.P. ADDRESS AT WHICH THE UNLAWFUL COPYING APPEARED TO HAVE OCCURRED. THANK YOU FOR RESPECTING THE RIGHTS OF COPYRIGHT OWNERS.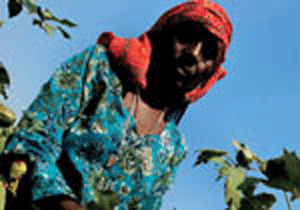 Haryana is itching. Large sections of Haryanvis in villages are itching -- and please don't laugh -- whoever you meet in major parts of the state is scratching himself or herself crazy. Because the western malaise of merciless avarice has spread myriad maladies in village after village of Haryana, now under the iron grip of BT cotton, the genetically modified cotton seeds that not just fleece farmers financially, but are now robbing them of their health and their cattle as well.
Hissar villages are itching. Sirsa villages are itching. Fatehabad villages are itching. These three districts form the heart of Haryana's cotton belt, and here cows and buffaloes are itching too. They are giving birth to premature calves, and the cows themselves are dying. The problem is when a premature calf is delivered, the family cannot even disclose that, as its price when it is ready for sale will drastically drop. In many cases, the cows' uteruses are protruding from the stomach. Even Harpal Singh Grewal, the rich NRI from Sirsa, who was in the government of India's steering committee for promoting organic farming says that BT cotton is ruining Haryana, but the government itself is in total denial mode.
Towards the beginning of this millennium, the government, suitably lobbied by Western mega-companies like Monsanto, allowed BT cotton to come in. The product was pushed. Farmers were impressed upon that the usual pest of cotton plants would die if they tried their tricks on the BT cotton plants, so their yields would skyrocket. Farm sector moneylenders gave loans and opened their own BT seed shops in the villages -- so their money came from both fronts. The transformation has been most rapid over the past two years.
But it was transformation at all levels. The most remarkable transformation is the health of humans and cattle. And though no sudden, unexplained proliferation in human deaths have been reported so far, the rate of cows and buffaloes giving up the ghost at short notices -- reportedly after a few months of being fed on oilcakes made from the husk and seeds of BT cotton seeds -- has reached alarming proportions.
And it is not surprising, if you are daily dealing with something as deadly as cyanide. As agriculture specialist and coordinator of the "Save the Farmer Movement", Sudhir Kaura, PhD, says:
"Tests have shown that cyanide is used to prepare the seeds of genetically modified cotton."
Kaura stresses that the chemicals from the bodies of the cattle is coming out in milk and clarified butter, for which Haryana is fabled, both in terms of quality and quantity. Kaura says that is how humans have also got affected on a large scale, and
his worst fear is that since Haryana ghee (clarified butter) is sold widely even outside the state, the maladies will surely spread out beyond its borders.
But here too farmers are losing out. On an average, a cotton farmer would not just depend on his cash crop, but sells between Rs five and six thousand from milk yield per cow or buffalo per month. Each cattle comes for between rupees thirty and rupees thirty-five thousand. The first symptoms of the disease is fall in yield of milkloss. Then there is greater loss: cattle treatment along with yield fall.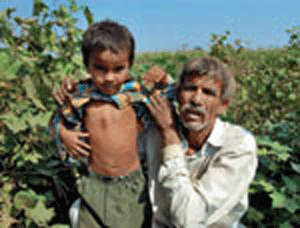 Sunita and Nirmala of Baraua village shows us the scars from scratching. But worse, Sunita laments about the illness of her now demised cow: "First I went to the government vet, who charged Rs 70 for a visit. That did not help, so I started visiting a private vet, who charged Rs 150 per visit, plus, of course, the cost of medicines. Eventually the cow died." Satpal from the same village says: "This year there have been too many cattle deaths." And ranbir from neighbouring Dhaniya village says: "As far as I know, at least five cows have died over the period of last 10 days."
We meet Grewal at his sprawling house in Thedi Baba Sawant Singh village in Sirsa district. He gives more concrete information:
"I am linked to a charitable hospital, where our records show that victims of itching have increased massively this year, and all of them are related to BT cotton farming."
Grewal took the TSI team to Kotli, a village of about 7,000 residents. People from this village go as far as Gujarat to work in cleaning cotton from seeds. Says Pawan Taneja, who runs the medical store in Kotli: almost every cotton worker from this village suffers from itching. Not a day passes by without a few of them coming to purchase medicines for that.
It is surprising that this has happened despite the sad experience of Andhra Pradesh.
About a year ago, hundreds of sheep died after consuming oilcake and cattle feed induced with BT cotton seed.The state government's animal husbandry department had ordered a probe, which shows that the feed had high traces of cyanide.
(A copy of the report, Lr Roc No. 117 / TFAL / 2007, dtd 12/3/07, is with TSI.)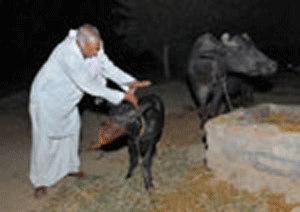 Andhra farmers had thereafter been advised to keep their cattle distances from BT cotton plants and feed.
But later, the ministry for environment, government of India reversed the test results and denied there was any cyanide in BT cotton plants
-- they say American MNCs arms are long and pockets deep! Many scientists have raised questions about this reversal by the Central government. Even the director of Centre for Cellular and Molecular Biology, PM Bhargava has trashed the government report but warned the government against that disastrous effects of BT cotton farming, but to no avail.
And in Haryana, the state government have summarily rejected the allegation of itching and cattle deaths.SK Dangi, Director General of Animal Husbandry and dairy farming department told TSI: "There has been no instance of cattle maladies in haryana, nor any deaths due to disease."
In fact, the DG Health Services, Haryana, goes one step ahead: "Why, just before you arrived I was in a long video-conference with the district health officials, but none of them ever told me of any such disease outbreak!" And the head of the animal nutrition division of Central Buffalo research Centre, Dr TR Chauhan was downright condescending and rattled off some advice, like cattle should not be given more than 35 per cent of its feed in the form of oilcakes, or that not more than 10 per cent of that ought to be cotton seeds, and in any case, that too much of even good things are bad and have side effects, and so forth.
These denials are trashed if one goes by the experiment conducted by
Yoga specialist Acharya Baldev, guru of the godman Ramdev, in his farm. He ordered his cattle to be fed on BT cotton-seed and oil induced feed for a few months. The yield fell, and the cattle fell ill. Then he ordered that feed to be replaced by the usual feed, and the situation slowly but steadily reversed.
But for the farmers there is no escape: once you take BT cotton, you must keep doing so, because not only is the seed imbued with an artificial pest killer, it is also modified to ensure no regeneration, so that means every year you have to buy fresh seeds from the same company. They say in Haryana: "Jiskey ghar mein kaali, uskey ghar mein sada diwali" (a family that has a "black" -- meaning a buffalo -- is assured of prosperity). But the chase for money is turning that Diwali into diwaliyapan, or impoverishment, and the milk and ghee of Haryana are turning out to be toxic nutrients spelling disaster!