American Majority: Part The Astroturf To See What's Underneath
By Karoli Kuns
4/26/10
NOTICE: THIS WORK MAY BE PROTECTED BY COPYRIGHT
YOU ARE REQUIRED TO READ

THE COPYRIGHT NOTICE AT THIS LINK

BEFORE YOU READ THE FOLLOWING WORK, THAT IS AVAILABLE SOLELY FOR PRIVATE STUDY, SCHOLARSHIP OR RESEARCH PURSUANT TO 17 U.S.C. SECTION 107 AND 108. IN THE EVENT THAT THE LIBRARY DETERMINES THAT UNLAWFUL COPYING OF THIS WORK HAS OCCURRED, THE LIBRARY HAS THE RIGHT TO BLOCK THE I.P. ADDRESS AT WHICH THE UNLAWFUL COPYING APPEARED TO HAVE OCCURRED. THANK YOU FOR RESPECTING THE RIGHTS OF COPYRIGHT OWNERS.
What do you do when you live in Kansas, are the twin sons of disgraced Kansas Congressman Jim Ryun and you have access to a whole lot of money? What else? Start a non-profit organization to raise up a 'grassroots army'.
Meet American Majority, the newest right wing non-profit on the block. If you actually click that link you'll get a big overlay asking "Do you want your country back?" American Majority was born in 2008 (keep that date in mind), and its stated purpose is as follows:
American Majority, Inc.s' purpose is to create a national political training institute dedicated to recruiting, identifying, training and mentoring potential political leaders. More particularly, the organization is a non-partisan political training institute whose mission is to train and equip a national network of leadership committed to individual freedom through limited government and the free market. Advocating true federalism, toward that end, the organization intends to build a national network of leaders and grassroots advocates who aspire to increase freedom for individuals and freedom and in the marketplace.
One weakness in their training materials has already emerged, as their Kansas field director evidently interpreted freedom for individuals and freedom in the marketplace to mean freedom to inject the Tea Party into a pitch for Google fiber.
One passes through their site and any thinking human being knows it's about as libertarian as my left foot. It's a Republican agitation arm disguised with some plasticky-looking grass on it.
Before their first Texas training session in 2009, Drew Ryun sat down for an interview with the Dallas News. I appreciate his candor, and you will too.
A month after President Barack Obama took office in January, Drew Ryun moved to Texas and began organizing the state office of American Majority.
That would have been around what? February 2009? What took so long?
According to American Majority's 990 filing for 2008, they'd conducted 9 training sessions in Kansas, 4 in Louisiana, 4 in Minnesota, and 6 in Oklahoma by December 31, 2008. It doesn't take a math genius to figure out they were around before Barack Obama was elected in November, 2008. And if they were around before the general election, who were they training and for what purpose? And...who is funding them?
It's that last question that piqued my curiosity. Drew Ryun helps to answer the first part of it in the Dallas News article:
Ryun estimates that "above 75 percent" of American Majority's funding comes from the Sam Adams Alliance, a conservative think tank in Chicago.

In return for their tax-exempt status, American Majority and the Sam Adams Alliance are required to make their income tax returns available to the public.
Who is the Sam Adams Alliance?
You may recognize the name if you've visited any Tea Party sites. Their logo usually rests alongside those of FreedomWorks, Americans for Prosperity, and other Republican sponsors.
Here are some facts about the Sam Adams Alliance published late in 2009:
The president of Sam Adams Alliance is John Tsarpalas, former executive director of the Illinois State Republican party. Eric O'Keefe, SAA's chairman and CEO, is a former executive director of the National Libertarian Party. He once worked for Citizens for Congressional Reform (pdf), a project of David Koch's Citizens for a Sound Economy. Along with noted Libertarian financier Howard Rich, O'Keefe sits on the board of directors of Americans for Limited Government.

Shortly before online activist Eric Odom helped kick-start the Tea Party movement, he was new media director for Sam Adams Alliance.

This put him in charge of (among other things) setting up websites, coordinating Facebook groups, managing Twitter accounts and other social networking tasks. Odom's first known acts as a Tea Partier were to set up the OfficialChicagoTeaParty.com site and Facebook pages within hours of Rick Santelli's February rant, then spreading word through Twitter, initially utilizing #TCOT, a Twitter list and hashtag for Top Conservatives on Twitter.
Since their last tax filing in November 2009, they've added a new director. His name is Denis Calabrese. From his bio page:
Denis served as Washington D.C. Chief-of-Staff for the now retired Majority Leader of the U.S. House of Representatives, Congressman Richard Armey.
In the world of non-profits, large donors like to be on the board to oversee the donation they've given. In the past, the Sam Adams Alliance hasn't been a major player. In 2006 direct public support was $401,500. 2007 gifts and grants appear to be 1,822,458, but there are some discrepancies from one year to the next.
But in 2008, donations increased by a factor of ten. Total gifts and grants were $4,222,604. Denis Calabrese joins the board, and coincidentally happens to be Dick Armey's former chief of staff, and donations bloom into full-throated support for offshoots like America's Majority? Ah, the smell of astroturf in the spring.
Of the $4.2 million, $3.7 million was an "unusual grant".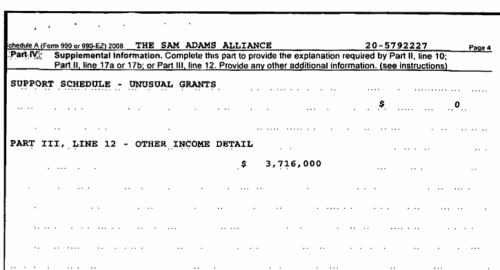 Ordinarily, funds passing from one non-profit to another are listed on the donor's tax disclosures as a grant or gift. Unfortunately, in this case the identity of the donor is unknown, because the Sam Adams Alliance believes in free speech rights and intentionally conceals the identity of their donors. Why are they ashamed to admit who their donors are? What's bad about promoting liberty, small government, American values?
The leadership at Sam Adams thinks it's perfectly okay to conceal the donors of four million tax-deductible dollars. That would be four million tax deductible dollars you and I have to suck up the tab on while they sally forth into tea-party land stirring up the angry hordes and passing millions through tax-exempt entities to other tax-exempt entities in the name of distinctly Republican politics and agitation.
Of course, the Ryun boys couldn't really admit that, because by their own admission, it would jeopardize their tax-exempt status and wreck the whole pretty picture.
Who are these Ryuns anyway?
Ryun insists he is not working for Republicans – explicitly or implicitly. In fact, he believes his brand of conservatism often gets lost in the pragmatism and compromise of everyday Republican Party politics.

"Part of the fight we are having right now is more with the Republican side than with the Democrat side," he said.

American Majority is based in Purcellville, Va., about 40 miles northwest of Washington, D.C. Ned Ryun, Drew Ryun's twin brother, is national director of the organization.
The Ryuns have their own brand of Republican pedigree:
Jim Ryun, their father, was a famous Olympic runner in the 1960s who went on to become a conservative Republican congressman from Kansas. The family has a long history with the Republican Party.

Drew Ryun, now a 36-year-old father of two, worked for the Republican National Committee as deputy director of grassroots in 2004. Ned Ryun was a writer for George W. Bush

.
Jim Ryun had his own set of ethical challenges in the wake of the Jack Abramoff scandal. You can read about his acquisition of a Washington, DC townhouse from a Jack Abramoff-funded nonprofit at Talking Points Memo (great collection there), and more about his dealings with Dennis Hastert, Mark Foley, and notable Republican PAC donors here.
Since the Citizens United decision specifically allows corporations to spend as much as they want, but still maintained disclosure as part of the deal, I wonder if the IRS will request additional information on the source of the funding bonanza to the Sam Adams Alliance.
I also wonder if Dick Armey and his minions should be trusted with that kind of money, given their own dicey ties to Abramoff and his racket.
I think Matt Angle had it right when the Dallas News asked for his opinion of American Majority:
Updates:
Oh, now Erick Erickson is getting into the act. Here's his announcement about training camps.
Also of interest: Rachel Maddow's report in 2009 about astroturf groups mentioning this one.