Chaos in Syria, Part I – Three Motives and Seven Countries
By Chris Kanthan
January 26, 2016
NOTICE: THIS WORK MAY BE PROTECTED BY COPYRIGHT
YOU ARE REQUIRED TO READ

THE COPYRIGHT NOTICE AT THIS LINK

BEFORE YOU READ THE FOLLOWING WORK, THAT IS AVAILABLE SOLELY FOR PRIVATE STUDY, SCHOLARSHIP OR RESEARCH PURSUANT TO 17 U.S.C. SECTION 107 AND 108. IN THE EVENT THAT THE LIBRARY DETERMINES THAT UNLAWFUL COPYING OF THIS WORK HAS OCCURRED, THE LIBRARY HAS THE RIGHT TO BLOCK THE I.P. ADDRESS AT WHICH THE UNLAWFUL COPYING APPEARED TO HAVE OCCURRED. THANK YOU FOR RESPECTING THE RIGHTS OF COPYRIGHT OWNERS.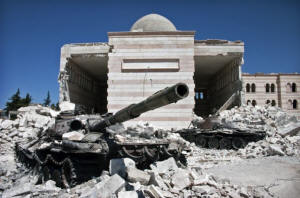 What exactly has been happening in Syria in the last few years? How did we end up with millions of refugees?
In this first month of 2016, we can be grateful that World War III didn't start over Russia's intervention in Syria that saw Turkey, a NATO member, shoot down a Russian jet. If Russia had retaliated, the other NATO members -– U.S., U.K., Germany, France etc. ­–- would have been obligated to join the fight. But it's not over yet.
The chaos in Syria –- and the Middle East, in general –- is now spilling over to Europe and the rest of the world. Millions of refugees, fanatic jihadists, hundreds of thousands of dead civilians, powerful nations colliding with another … all add up to a nightmarish powder keg.
The driving forces behind this bedlam are the perfect storm of confluence of geopolitics, oil, war-profiteering and religion. If that is not enough, there are several countries and jihadist groups involved in this conflict, with bewildering relationships that are often temporary, conflicting and totally Machiavellian.
Among the countries involved, the key outside players who have been trying to bring down the Syrian government are the U.S. and its six dwarves: Turkey, Saudi Arabia, Qatar, France, Israel and Britain.
The seventh dwarf is really a collection of nations that occasionally offer help, but are not deeply involved in the Syrian project. Germany, Kuwait, Bosnia, Canada etc. would fall under the category of "seventh dwarf."
Now, what in the world would all these countries have against a tiny country of Syria that most people can't even locate on the map? Part I of this analysis will look into the three motives of seven countries that essentially form the Coalition of Regime Change.
Motive #1: Oil & Gas Pipelines
While analyzing political problems, you always have to follow the money. In the Middle East, you wouldn't be wrong following oil instead. In this case,
Qatar and Saudi Arabia want to lay pipelines for both oil and natural gas, connecting them to Europe. These suggested pipelines, as shown in the picture below, have to go through Jordan, Syria and Turkey before entering Europe. Syria said No, and hence Qatar, Saudi Arabia and Turkey decided to do whatever it takes to get rid of Syria's President. Syria, instead, wants to help its ally, Iran, build a competing pipeline (shown in the picture as well).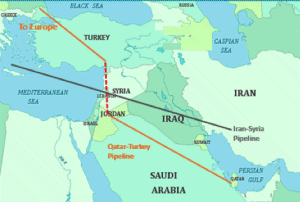 There is also oil interest from the Israeli side. Israel has been occupying [th]e Golan Heights, a piece of southern Syria, for many decades. Lo and behold, billions of barrels of oil were found in [the] Golan Heights a few years ago. With the right puppet in Syria, Israel can have all that oil to itself. And it doesn't hurt that the rights to exploit this oil goes to Genie Energy, an American company whose board of directors consist of a Rothschild, Dick Cheney, Rupert Murdoch and Larry Summers -– a veritable dream team of globalists.
After the civil war and chaos lead to barbaric terrorist groups taking over large parts of Syria,
Turkey has been profiting a lot from the sale of ISIS' oil. Having taken over a few oil refineries in Iraq and Syria, ISIS sells oil at a Walmart discount to Turkey which ends up selling most of that oil to Israel. That's why even Putin has now openly said that Turkey attacked the Russian jet because the Russian planes are getting rid of ISIS' oil trucks by the hundreds. Erdogan keeps playing innocent – "What? Me? ISIS oil?"
– but his son owns one of the largest energy/shipping companies in Turkey, and Erdogan's son-in-law is the Energy Minister. Many articles have been written on this topic that shows extensive evidence of Turkey-ISIS link, and
Russia has released plenty of videos showing miles and miles of oil tankers entering and leaving Turkey from the ISIS-controlled areas, but Turkey and the U.S. pretend innocence.
Enough said.
Motive #2: Religion
There are two main divisions of Islam, Sunni and Shiite, that have been at odds with each other for centuries. Saudi Arabia, Qatar and Turkey are Sunni countries; Iran is a powerful Shiite country, Iraq is 70% Shiite, and Syria is a ruled by a minority Shiite group (called Alawite). Looking at the pipeline map again, one can see that
Iran, Iraq and Syria will form a so-called "Shiite Arc." For the Saudis, who still think it is 800 A.D., such a Shiite coalition is an abomination. In fact, according to

fundamental Sunni Muslims -– ISIS, Al Qaeda, Taliban and the Saudis

-– Shiites are not even Muslims. A tragic example of this religious hatred: for the last six months, Saudi Arabia has been bombing Yemen (a country with a large Shiite population), killing thousands of civilians.
Saudi Arabia has an ultra-conservative version of Islam called Wahhabism that became popular along with discovery of oil in that region after World War I. After all, when there are trillions of dollars at stake, you need a powerful tool to control the people, or else they may rise up and want a portion of that wealth.
Unlike America that wields its power through military bases, Saudi Arabia exercises enormous influence over Muslims all over the world through building and funding mosques and Islamic religious "schools" to the tune of billions of dollars. The schools are called madrassas, and let's just say that the kids are not going to learn much math and science. In some areas of the world, these schools are outright abominable, indoctrinating kids with virtues of suicide bombing and jihad.
There are more than 10,000 madrassas in Pakistan alone.
Thus, in this authoritarian and undemocratic country, strange and inhumane things happen: more than 200 people get beheaded in public every year, women get stoned to death for adultery, people are hanged and bodies displayed in public, gays and atheists get [the] death sentence, and even a 14-year-old peaceful protester can be sentenced to crucifixion.
However, since Saudi Arabia buys billions of dollars of American, British and French weapons every year, the Saudi King can have glitzy dinners with the CEOs of General Electric and Lockheed Martin, fund think-tanks who will pen pro-Saudi articles in the New York Times, and everyone will look the other way. Saudi Arabia even got a leadership role in the UN Human Rights Council. No, this is not from The Onion.
Recently, the German Vice Chancellor spoke out against Saudi Arabia's funding of Wahhabi mosques and schools. Otherwise, the Western leaders keep mum, except in internal communications -– revealed by Wikileaks -– when, for example, Hillary Clinton said, "Saudi Arabia remains a critical financial support base for al-Qaida, the Taliban, LeT and other terrorist groups." Of course, she would never say that in public. (LeT is a terrorist group in Pakistan.)
On to the next troublemaker: Qatar, the tiny rich country that owns Al Jazeera TV station, is also a Sunni country that, for decades, has financed Muslim Brotherhood -– a fundamental Islamist organization that started in Egypt, spread its influence all over the Muslim world, and has spawned both moderate and violent jihadist groups. During the feverish days of anti-communism, the
U.S. govt colluded with the Muslim Brotherhood -– and even invited them to a White House meeting with President Eisenhower (picture below) -– to overthrow anti-USA governments in the Middle East.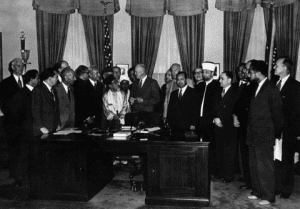 Shifting to north of Syria, Turkey used to be a very secular country, but under Erdogan, it has been sliding into orthodox Sunni Islam over the last decade. Thus, the new Islamic Turkey also has decided that a Sunni Syria will be a better alternative.
Before openly turning against Assad, Erdogan demanded that half of the Syrian government be Sunni Muslim Brotherhood leaders.
Motive #3: Geopolitical Ambitions
The geopolitical ambitions are very complex and perhaps we have to sit in an occult meeting of the Bilderberg group to fully understand the real goals. Needless to say,
there are forces that want to completely reorganize the Middle East as if it's a board game. A New York Times article describes the goal of dividing 5 Middle Eastern countries into 14. Unfortunately, the article doesn't say who is behind this brilliant peace-promoting idea.
This article also shows how Syria will be divided up into three countries. And it's no coincidence that the original rebel group "Free Syrian Army" (FSA) has a flag with three stars.
Instead of further mucking around in the Middle East, Brzezinski is seeking to marshal all remaining US-UK resources for a final onslaught on Moscow, Beijing, and the other countries of the Shanghai Cooperation Organization, the main focal point of world resistance to London and Washington. This is Brzezinski's new Operation Barbarossa. The financiers who control Brzezinski are now fielding Obama as the plausible public face for a new era of brutal and bellicose imperialist subversion and geopolitics which will be advertised on the basis of multiculturalism and dignity through self-determination attained by the subversion, balkanization, partition and subdivision of existing states, instead of the narrow and venomous Islamophobia which has been the constant and strident note of the Bush-Cheney neocons.

--

Obama, the Postmodern Coup: Making of a Manchurian Candidate, by Webster Griffin Tarpley
The Neocons in the U.S. have had their (delusional) plans for redrawing the Middle East for a long time, since the end of Cold War. As Wesley Clark said, he was told right after 9/11 that Dick Cheney and others had plans to invade Iraq and many more countries:
"We're going to take out 7 countries in 5 years, starting with Iraq, and then Syria, Lebanon, Libya, Somalia, Sudan and, finishing off, Iran."
Going back decades to the 1950s, the CIA had attempted to overthrow the Syrian government and assassinate the leader. So, what was the modus operandi?
1. Use Sunni extremist/terrorist group,
Muslim Brotherhood
, as a tool to overthrow the Syrian government.
2. Use false flag attacks.
Muslim Brotherhood would attack Syria's neighboring countries. Then the U.S. would blame Syria, and wage an attack with the help of Iraq.
Any of this sounds familiar?
Other countries such as the UK, France and Israel have great interests in playing God with Syria as well. As for France, it will be a way to get back one of its former colonies.
France actually played a key role in the creation of FSA -– the "moderate" rebels -– back in 2011 when "Arab Spring" was everywhere (Arab Spring had no involvement from George Soros, wink-wink). Plus, getting Syria will also enable France to get a foothold in neighboring Lebanon, another former French colony.
As for Israel, nothing would please it more than fractured, tiny, unstable Muslim nations that Israel can kick around and control with ease. There are also hardcore Israeli elites who envision a "Greater Israel" that will encompass much more land from neighboring countries, including a big chunk of Syria.
As for the despotic Erdogan, the Turkish leader, he and some elites in his country have a dream of re-establishing some of the Ottoman Empire's glory. World War I ended the Ottoman Empire which had vast control over the Middle East, North Africa and Central Asia (which comprise many of the –stan countries). To transform Turkey from a regional power to a global power again,
Erdogan's plan is to extend his influence in neighboring and far way countries by appealing to the fundamentalist Islamic movements.

For example, Erdogan has been using Muslims in Chechnya and Crimea to stir troubles for Russia. He has also been using Muslims in Uyghur -– a region in Western China, called Xinjiang in Chinese –- to harass China.
Turkey is now actively receiving Chinese Muslims from Uyghur and resettling them in Syria. These people will join the ranks of informal soldiers, ready to fight for Turkish ambitions both in Syria and China.
There are also other paramilitary groups in Turkey such as "Grey Wolves" which have committed several terrorist attacks since the 1960s, including terrorism against Russia in Chechnya and possibly a bombing in Bangkok just a few months ago.
At the height of the Cold War, the CIA befriended -– if not created -- Grey Wolves, and used them to fight the "commies" and achieve other geopolitical goals in that region.

More shockingly, when the Russian jet was attacked by Turkey two months ago, one of the Russian pilots was slaughtered as he was coming down in a parachute, which is a war crime. Within an hour or two, a militia leader in that remote area appeared on local TV -– affiliated with CNN and Fox (!) –- and claimed credit for the shooting. Later, it was revealed that he is a member of the Grey Wolves.
Last but not the least, Turkey has a huge problem with Kurds who are one of the unluckiest people in the world. Millions of people –- with unique language and culture -– who don't have a land of their own and are victims of callous and arbitrary maps drawn by the British and the French after World War I. If Turkey gets rid of Assad, it will be able to use the new leader to put down the Kurdish uprising.
On the pro-Assad side, both Russia and Iran have their national interests as well. Syria has been a staunch friend of Russia for decades and it hosts Russia's only military (Naval) base that is not in the vicinity of [the] Russian border. Losing that will be a huge blow to Russia's access to the Middle East, Europe and the Mediterranean … and thus an enormous threat to its trade and geopolitical power. Russia has also close ties to Iran, and thus the "Shiite arc" will strengthen Russia's influence in the Middle East.
As for Iran, losing Syria means losing access to Hezbollah –- the proxy army –- in Lebanon that borders Israel. It goes something like this: if Israel attacks Iran, Hezbollah will rain rockets on Israel. This is one reason how Iran has managed to not get attacked all these years even though Israel and the Neocons in the U.S. have been itching to obliterate Iran for the last twenty years.
So, Syria under an ally such as Assad is almost an existential necessity for both Russia and Iran.
That concludes the discussion of the warring parties' motives, but how did we end up with ISIS? What exactly has been happening in Syria in the last few years? How did we end up with millions of refugees? Where do we go from here? How do we defeat ISIS? Will there be peace and Kumbaya after we defeat ISIS in "Sy-raq"?
Stay tuned for Part II of this series.
Chaos in Syria, Part II – Destruction, ISIS and Beyond
By Chris Kanthan
January 31, 2016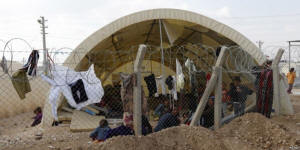 "What we need is a Higher World Order where building nations is more profitable than destroying them; conducting fair trade with other nations is more mutually beneficial than occupying them and stealing their resources; and living in a multi-polar world is more peaceful and profitable than one nation hopelessly clinging on to a dangerous fantasy of a unipolar world."
Rumble in the Desert – Events Leading up to Arab Spring
As stated before in Part I of this two-part series, the redrawing of the Middle East has been in the U.S. radar for a long time. Quoting Wesley Clark again, he was told -– in 1991 -– by the prominent Neocon and then #3 official in the Pentagon,
Paul Wolfowitz: "One thing we did learn from the Persian Gulf War is that we can use our military in the Middle East and the Russians won't stop us.
And we've got about five or ten years to clean up those old Soviet client regimes –- Syria, Iran, Iraq –- before the next great superpower comes on to challenge us."
Syrian President Assad knew he was on the crosshair of the US military, so he actually tried to court the US and the European governments. After 9/11, he cooperated extensively with the FBI and the CIA, giving them valuable information on Muslim Brotherhood and Al Qaeda who were covertly operating in the Syrian/Iraqi borders.
But all his efforts were like a rabbit trying to make friends with a hungry lion. Before the dust settled on the "shock and awe" campaign against Iraq in 2003, the Bush administration had labeled Syria a "rogue nation" and threatened it with sanctions, which came into force the next year. By 2005, the Bush administration had withdrawn the U.S. ambassador from Syria. That's when the "regime change" apparatus and programs were switched on.
After decades of regime changes around the world,
the program has been fine-tuned into an algorithm
. Enticing top political and military leaders to defect, funding "grassroots" opposition movements on the ground, arming militants, waging propaganda war, stirring up religious and social tensions are all standard protocols in a regime change operation.
By 2006, a former Vice President of Syria with close ties to Muslim Brotherhood had defected and gone to live in France; Saudi Arabia and Qatar were funding Sunni opposition groups within Syria; Kurdish groups within Syria were being lured to join the fight; and Sunni extremist groups such as Al-Qaeda and Muslim Brotherhood were infiltrating Syrian borders. A WikiLeaks cable shows the depth of detailed analysis and planning in 2006 to bring Assad down.
Later in 2009, a U.S.-funded satellite TV station started beaming anti-government propaganda all over Syria (as revealed in another WikiLeaks memo, many years later).
The next year or so was rather uneventful, perhaps because the U.S. government was trying to recover from the great financial disaster of 2008.
Libya as the Template
However, with the spark of Arab Spring in 2011, the globalists were back on the saddle. What started in Tunisia was quickly leveraged by Washington to quickly chart out regime changes in Libya, Egypt and Syria.
Gaddafi (also spelled Qaddafi) of Libya had been an ally of the West for a long time and he was also quite popular in his country. Libya has the largest oil reserves in Africa, and Gaddafi spent a lot of the oil money on his people, providing them with free education, free healthcare and numerous other benefits. Under Gaddafi, Libya had the highest Human Development Index, the lowest infant mortality and the highest life expectancy in all of Africa.
But he had one fatal quality: the desire to not be a puppet of the France-U.S. coalition. He talked about bringing in Chinese and Russian oil companies into Libya; he dreamed of a gold-based currency -– "gold dinar" –- that would move Libya's bank reserves away from the Petro-dollar.
Thus, in 2011, the U.S. started arming and funding all kinds of militant mercenary groups from around the world to pour into Libya. Many of them were linked to Al-Qaeda and other known terrorist groups. But it didn't matter. Here is an example: In 2004, the CIA Director warned about a terrorist group called Libyan Islamic Fighting Group (LIFG) in a congressional testimony. The leader of that group got arrested soon after and spent 7 years in a CIA prison. But in 2011, ABC News had a glowing article about the founder and leader of that same group. Why? Well, he made a deal with the CIA, got released from the prison, and now was fighting against Gaddafi for us!

There were also situations of arming known terrorist groups in Libya by accident. "Oops, we wanted to give the weapons to the moderate rebels, but it fell into the hands of the terrorists." [A] few years later, we would see similar stories about ISIS getting hold of U.S. weapons under similar pretense.



Before we move on to Syria, it is worth noting that Libya is now in ruins, taken over by Al-Qaeda and ISIS. Yes, ISIS is in Libya now, trying to take over their oil. And guess what the proposed solution is? Bomb Libya, again!
Endless wars equal endless profit.
Back in 2011, Washington elites were congratulating themselves. Hillary Clinton laughed at Gaddafi's death and said, "We came, we saw and he died."
Clinton and others were also sure that the stunning victory in Libya could be replicated in Syria.
Demolition Derby: Syria
So, the rebels from Libya -– Al Qaeda and other violent Islamists from Libya, Chechnya, Uzbekistan, Turkmenistan, Algeria etc. -– were given money, arms and one-way tickets to Syria. On to the next project, the glorious warriors went. Even mainstream media like CNN reported on this with a positive spin.
The infamous Benghazi compound was in fact a CIA operation, and it helped transfer all kinds of weapons to Syria, including mortars, rocket-propelled grenades, anti-tank missiles and the controversial anti-aircraft heat-seeking SA-7 missiles.

The next planned action was that NATO planes would declare a no-fly zone in Syria so that the global jihadists can keep attacking, but the Syrian government wouldn't be able to retaliate with air strikes. This strategy had worked like a charm in Libya. But in Syria, there was an unexpected hurdle: Russia and China drew the line on the sand.

As revealed in 2015, Putin tried to compromise and agreed to work on a transition plan for Assad back in 2012, but the West was quite miffed and turned his offer down. Syria had to be destroyed and chopped into pieces according to the original plan. Defeat was not an option.
In 2012, Syria was run over by all kinds of rebels -– Free Syrian Army (FSA), Muslim Brotherhood, Al Qaeda (called Al Nusra in Syria) and dozens of other jihadist groups from all over the world.
It was like Silicon Valley for Jihadist Startups, funded by Saudi VCs and armed by American technology.
Some moral and honest analysts in the Defense Intelligence Agency (DIA) of [the] Pentagon warned that this situation will eventually lead to extremist and fundamentalist Sunni groups such as ISIS –- the general term being Salafists -– taking over Iraq and Syria. This was revealed in a document later obtained by Judicial Watch. This document uncannily predicted everything that would later on unfold.
But the elites of the American Deep State didn't care. The repeated mantra was "Assad must go" and whatever it took to get there was fine.
The former chief of the DIA would, later on, admit that the powers in Washington "made a willful decision" to allow a group such as ISIS to become powerful.

In 2012, the CIA was Skyping with the rebels on a daily basis; the CIA was also sending tons of lethal weapons to the rebels through Turkey; rebels in Jordan and Turkey were trained by French officers; France was also funding the rebels generously, handing out cash; even Germany had troops in the Turkey-Syria border; not to be outdone, the British were sending planeloads of weapons into Syria, in spite of an arms embargo.
Saudi Arabia and Qatar were mostly playing the financier roles, paying for a lot of these weapons, although they were sending some of their own jihadists and weapons (that they bought from the U.S. or Europe) as well. Interestingly enough,
the God-fearing Saudis have also been shipping tons of highly potent amphetamines -– Captagon, the Meth of the Middle East -– to the rebels. These probably help the militants do the most heinous crimes.
Usually Israel is a mortal enemy of jihadis, but when it came to Syria, even they bonded. Israel was sending weapons and even treating thousands of wounded rebels in Israeli hospitals. Recently the Israeli defense minister said that ISIS was better than having Iranian influence in Syria.
From the beginning, the Israeli Mossad was active in conducting provocations which it sought to attribute to the PLO and its peripheries: attacks on airliners and on the 1972 Olympic games in Munich are therefore of uncertain paternity. The more horrendous the atrocity, the greater the backlash of world public opinion against the PLO. There is no doubt that the Mossad controlled a part of the central committee of the organization known as

Abu Nidal

, after the nom de guerre of its leader, Sabri al Banna. In 1987-88, just as the first Palestinian intifada uprising was getting under way, there emerged in the occupied territories the organization known as Hamas. Hamas combined a strong commitment to neighborhood social services with the rejection of negotiations with Israel and the demand for a military solution which was sure to be labeled terrorism. Interestingly enough, one of the leading sponsors of Hamas was Ariel Sharon, a former general who was then a cabinet minister. These facts are widely recognized; US Ambassador to Israel Daniel Kurzer, an observant Jew, stated late in 2001 that Hamas had emerged "with the tacit support of Israel" because in the late 1980s "Israel perceived it would be better to have people turning toward religion, rather than toward a nationalistic cause." (Ha'aretz, Dec. 21, 2001) In an acrimonious Israeli cabinet debate around the same time, Israeli extremist Knesset member Silva Shalom stated:

"between Hamas and Arafat, I prefer Hamas ... Arafat is a terrorist in a diplomat's suit, while the Hamas can be hit unmercifully." (Ha'aretz, Dec. 4, 2001) This tirade provoked a walkout by Shimon Peres and the other Labor Party ministers. Arafat added his own view, which was that "Hamas is a creature of Israel which, at the time of Prime Minister Shamir, gave them money and more than 700 institutions, among them schools, universities, and mosques. Even [Israeli Prime Minister] Rabin ended up admitting it, when I charged him with it, in the presence of Mubarak." (Corriere della Sera, Dec. 11, 2001) With incredible arrogance, the Bush administration has pronounced Arafat as unfit to be a negotiating partner. In effect, they are choosing Hamas -- or worse, an act of incalculable folly for Israel and for the United States as well.

--

9/11 Synthetic Terror Made in USA, by Webster Griffin Tarpley
In 2013, Syria was burning. And the Coalition of Regime Change -– the U.S. and the seven dwarves -– were pouring oil onto the fire. By July 2013, there were more than 1.6 million Syrians refugees; more than 100,000 Syrian civilians had died, and there was no end in sight.
By 2015, 300,000 civilians had died and 8 million -– a third of the population -– were forced to flee their homes. By the way, a large portion the refugees going to Europe are not even from Syria or other war-torn countries. Most of the displaced Syrians are stuck in refugee camps in Lebanon, Jordan and Turkey.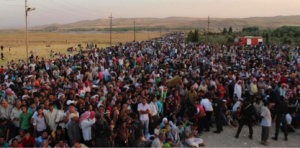 When Assad's government still wouldn't tumble, suddenly there was a claim that the Syrian government had used chemical weapons. This was supposedly the "red line" that Obama had drawn that would bring the U.S. into an open war with Syria.
Famous journalist Seymour Hersh describes the shenanigans in his article called "The Red Line and the Rat Line."
Basically, Al-Qaeda (called Al Nusra in Syria) had access to chemical weapons for a long time, thanks to Turkey. They had staged a false flag attack and blamed it on the Syrian government in order to bring the U.S. into the war.
The BBC also got caught with its pants down when it reported on a chemical attack using bad actors and a "doctor" who turned out to be the daughter of an Al-Qaeda leader.
The farce of chemical weapons was so blatant that, in 2013, the UK parliament refused to authorize a war. Soon after, the U.S. Congress also declined. At the same time, in Sep 2013, Putin came up with a face-saving deal for all the parties involved: Syria would give up all of its chemical weapons immediately.
ISIS and Beyond
This might be the critical turning point in time when the Coalition of Regime Change decided to go all in with supporting the extremists. Cash and weapons started pouring in indiscriminately. This is when ISIS started to gain funding, weapons and power.
Within a few months, by Jan 2014, ISIS had its first major victory –- capturing the city of Fallujah in Iraq. At that time, ISIS was still small, with about 7000 ragtag soldiers. But from then on, they seemed to exponentially grow in power. The official story in corporate media is like a Hollywood movie, with a lot of plausible stories about the growth and success of ISIS.
However, as the saying goes, truth is the first casualty of war, and
anyone who carefully analyzes the story of ISIS will see a lot of red flags. Here are some quick examples:

• ISIS has a 24-hr. TV station, a radio station, and even a satellite TV station. Obama has dropped 20,000 bombs on Iraq and Syria in 2015, but none of them hit the radio or the TV stations. As for the satellite TV station, what kind of a satellite company would authorize that? Is the almighty USA unable to stop a satellite company from broadcasting terrorist videos of the most-hated group in the world? The satellites themselves are probably American or British.

• ISIS also has a huge presence in the social media. Consider that German citizens who criticize the government's immigration policy get their Facebook, Twitter and YouTube accounts suspended, pronto. Somehow, ISIS has great success recruiting people and spreading evil messages on U.S.-based, NSA-monitored social media.

• ISIS soldiers drive around in long lines of spanking new Toyota trucks that should be an easy target for any drone or a fighter jet, but yet they roam around happily. Also, when people raised questions about where ISIS got these trucks from, nobody has an answer.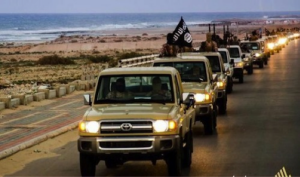 As discussed in Part I of this series, ISIS does a huge business of selling oil to Turkey, a NATO member and an American ally. Until Russian jets destroyed about a thousand oil trucks, this business was flourishing and constituted the prime source of revenue. What
the U.S. did however was to drop flyers on these trucks before the Russian jets attacked them. Really (see picture below). The reason given by American officials was that the drivers may be ordinary citizens who are not associated with ISIS. Wish the elites showed this much compassion when they bombed a hospital in Afghanistan for more than an hour and killed many patients as well as doctors and nurses from Doctors Without Borders, a few months ago. Also, when asked why the U.S. didn't attack the oil refineries of ISIS all this time, a commander answered that it was because of "environmental concern." These people must have memorized George Orwell's 1984.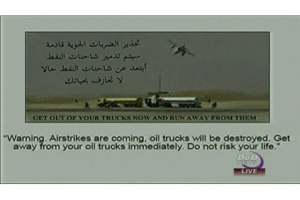 • The official line of "we are supporting moderate rebels" make no sense when a) these rebels belong to Al-Qaeda and other jihadist groups, b) these groups repeatedly sell their arms to ISIS or simply join ISIS, and c) the weapons seem to get accidentally dropped into the hands of ISIS all the time.
•
Some of the top ISIS commanders were CIA-trained terrorists from Georgia, Chechnya, Libya and other areas (Example 1, Example 2). Of course, they were not considered "terrorists" when they were fighting in the "right" region.
• Funding of ISIS by Saudi Arabia and Qatar also get conveniently ignored. Once in a while, a loose cannon like Joe Biden may slip up and admit to it, but otherwise it's an embarrassing truth not to be discussed in polite company. As noted in Part 1 of this series, Hillary Clinton also speaks the truth about Saudi Arabia's funding of terrorism all over the world in confidential memos, but just not in public.
One could go on and on. But hopefully this two-part series has provided sufficient history and analysis of the geopolitical agendas, Machiavellian tactics, and Orwellian tools so that the reader can question and challenge the official narrative/propaganda.
So where do we go from here?
Well, the bigger picture here is that ISIS serves a purpose –- a huge, profitable purpose that is beyond just Syria.
ISIS is the next bogeyman that provides the rationale for wars and expenditure of hundreds of billions of dollars.

Communism was extremely rewarding for the war industry for about 50 years. Then we had Bin Laden who provided a great opportunity for $6 trillion wars in Afghanistan and Iraq. He also gave us the Patriot Act, the birth of unwarranted surveillance of all Americans, and the death of several constitutional rights.

But Americans get bored easily. They need a new enemy -– more frightening, more novel, and one that is not defeated easily. Hence ISIS –- a rebranded terrorist group, v2.0, with an amazing PR machine, generous financial supporters with deep pockets, and an endless supply of weapons.
ISIS won't be defeated easily. It is not meant to be defeated.
Consider this: there were no Al-Qaeda, ISIS or any other deranged extremists in Iraq, Syria or Libya before. Now all three countries are in utter disarray, ravaged by terrorism. What a blessing for the military-industrial complex.
Russia's Putin is making real progress in Syria, and the Coalition of Regime Change is attempting to negotiate a settlement (the party that is losing the war is the one that always wants to "negotiate").
Even if the war in "Syr-aq" ends, ISIS and Al-Qaeda and other groups will simply move on to other projects. They are already back in Libya. There are plenty of volatile regions around the world –- Central Asia, Western China, Southern Russia, Indonesia etc.
The only way to defeat terrorism and ISIS is through a change in the elite circles of banking and the military industrial complex. The financing and religious indoctrination arising from Saudi Arabia must stop. The weapons from the U.S., U.K., France and others must stop.
Many people don't realize that the Muslim countries were far more liberal fifty years ago than today. Look at the pictures below -– from Afghanistan and Iran in the 1960s and 70s.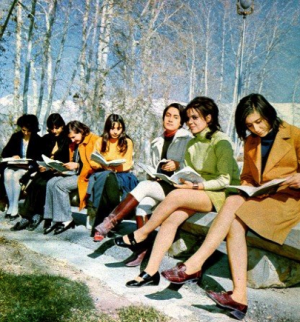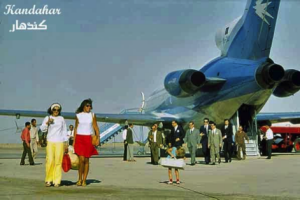 The West has to take a leading role in liberalizing the Muslim world again … without being an occupier or a puppet master.
Finally, what we need is a Higher World Order, where building nations is more profitable than destroying them; conducting fair trade with other nations is more mutually beneficial than occupying them and stealing their resources; and living in a multi-polar world is more peaceful and profitable than one nation hopelessly clinging on to a dangerous fantasy of a unipolar world.