Blix stung by 'Pentagon smear'
by BBC News
June 11, 2003
NOTICE: THIS WORK MAY BE PROTECTED BY COPYRIGHT
YOU ARE REQUIRED TO READ

THE COPYRIGHT NOTICE AT THIS LINK

BEFORE YOU READ THE FOLLOWING WORK, THAT IS AVAILABLE SOLELY FOR PRIVATE STUDY, SCHOLARSHIP OR RESEARCH PURSUANT TO 17 U.S.C. SECTION 107 AND 108. IN THE EVENT THAT THE LIBRARY DETERMINES THAT UNLAWFUL COPYING OF THIS WORK HAS OCCURRED, THE LIBRARY HAS THE RIGHT TO BLOCK THE I.P. ADDRESS AT WHICH THE UNLAWFUL COPYING APPEARED TO HAVE OCCURRED. THANK YOU FOR RESPECTING THE RIGHTS OF COPYRIGHT OWNERS.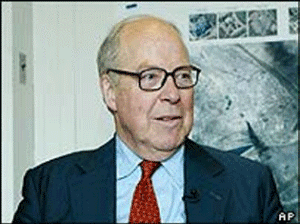 Hans Blix: Struggled with US officials sceptical of the UN
The UN chief weapons inspector, Hans Blix, has lashed out at the US Defence Department, saying some "bastards" in Washington tried to undermine him in the run-up to the Iraq war.
KOREAN GENERAL: Sir, Hans Blix is here from the United Nations.

KIM JONG IL: Hans Brix? Oh, no.

Oh, herro, great to see you again, Hans.

HANS BLIX: Mr. Il, I was supposed to be allowed to inspect your palace today,

and your guards won't let me into certain areas.

KIM JONG IL: Hans, Hans, Hans. We've been through this a dozen times.

I don't have any weapons of mass destruction, okay, Hans?

HANS BLIX: Then let me look around so I can ease the U.N.'s collective mind.

KIM JONG IL: Hans, you're breaking my barrs here. Hans, you're breaking my barrs.

HANS BLIX: I'm sorry, but the U.N. must be firm with you.

Let me see your whole palace or else.

KIM JONG IL: Or else what?

HANS BLIX: Or else we will be very, very angry with you.

And we will write you a letter telling you how angry we are.

KIM JONG IL: Okay, I'll show you, Hans. You ready?

Stand a rittle to your reft.

A rittle more.

Good.

There you go, Hans Brix.

How you rike that, you fucking cocksucker?

Do you have any idea how fucking busy I am, Hans Brix?

Well, fuck you. You want inspection?

Well, inspect that, you buttfucking piece of shit.

What, you think I'm just a petty arms dealer?

I'm pranning the attack.

Congratulations, Team America, you have stopped nothing.

--

Team America, directed by Trey Parker
In an interview with the UK's Guardian newspaper, Mr Blix said there were US officials who had "spread things around, of course, who planted nasty things in the media".

"It was like a mosquito bite in the evening that is there in the morning, an irritant," he said.
For bloggers, all Defamation legal rules apply to their posts. But there are many complications in applying them. First, many people who post online comments, and probably those tending to make the most inflammatory and false statements, will do so anonymously, for obvious reasons. So the first threshold is identifying the blogger making Defamatory claims. Several things make this difficult, as well. Since the blogger probably will not identify themselves when the issue comes to light, there needs to be a legal process that allows identification. They can be traced by high-tech means, but a court must agree via summary judgment that all the elements of Defamation have been met.

This technology does have some limits, as well, as it can be stymied through use of "Proxies," which mask the true origin of the blogger.

Also, the website owner may not cooperate in the search, as well.

--

Understanding Internet Defamation, by Kelly O'Connell
According to Mr Blix, as the US build-up for an invasion of Iraq intensified, US administration officials had leaned on his weapons inspectors to use more damning language in their reports on Iraq.
There are people in this [US] administration who say they don't care if the UN sinks under the East river, and other crude things.

-- Hans Blix
The UN inspectors searched more than 200 sites over three-and-a-half months but failed to find any weapons of mass destruction (WMD).

But the US-led coalition insisted there were weapons to be found. Its failure to find any WMD in Iraq to date has triggered a storm of criticism about the issue, which was the main US and UK justification for the war.
Mr Blix said that, despite the actions of his "detractors" in Washington, "by and large, my relations with the US were good".
However, he said Washington now viewed the United Nations as an "alien power".
"There are people in this [US] administration who say they don't care if the UN sinks under the East river, and other crude things."
Mr Blix's deputy Dimitri Perricos, a veteran UN arms expert, has been named to replace him as head of the UN Monitoring, Inspection and Verification Commission (Unmovic).

Mr Blix is retiring after more than three years as UN chief weapons inspector.
Last week Mr Blix criticised the quality of the US and UK intelligence given to him on alleged Iraqi WMD, saying his inspectors had found nothing after acting on tip-offs.
In his last report to the UN Security Council, he recorded an open verdict over whether Iraq had WMD.
Saddam Hussein's regime might have hidden weapons, or it might have destroyed them, Mr Blix said.