The Rapeutation of Walter Nelson-Rees
Excerpt From: "A Conspiracy of Cells: One Woman's Immortal Legacy and the Medical Scandal It Caused"
by Michael Gold
© 1986 Michael Gold
NOTICE: THIS WORK MAY BE PROTECTED BY COPYRIGHT
YOU ARE REQUIRED TO READ

THE COPYRIGHT NOTICE AT THIS LINK

BEFORE YOU READ THE FOLLOWING WORK, THAT IS AVAILABLE SOLELY FOR PRIVATE STUDY, SCHOLARSHIP OR RESEARCH PURSUANT TO 17 U.S.C. SECTION 107 AND 108. IN THE EVENT THAT THE LIBRARY DETERMINES THAT UNLAWFUL COPYING OF THIS WORK HAS OCCURRED, THE LIBRARY HAS THE RIGHT TO BLOCK THE I.P. ADDRESS AT WHICH THE UNLAWFUL COPYING APPEARED TO HAVE OCCURRED. THANK YOU FOR RESPECTING THE RIGHTS OF COPYRIGHT OWNERS.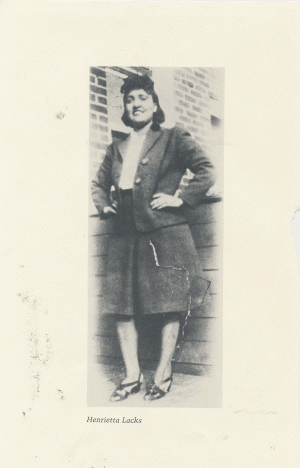 Henrietta Lacks
8: Spreading the Word
The daily press knew how to handle this story. So what if Science buried Nelson-Rees's report in the back pages under the stodgy title "Banded Marker Chromosomes as Indicators of Intraspecies Cellular Contamination." The newspapers, properly horrified, played it on page one with headlines more to the point:
CANCER WAR SET BACK
GOOF COSTS 20 YEARS OF RESEARCH

A line of human tumor cells used by laboratories around the world for more than 20 years may have invalidated millions of dollars worth of cancer research, according to a scientist's report .... As a result, says the author, Dr. Walter A. Nelson-Rees, checks are in order for dozens of laboratories engaged in cancer research. -- Los Angeles Herald Examiner
DEAD WOMAN'S CANCER CELLS SPREADING

Dr. Walter Nelson-Rees, one of the most experienced cell biologists in the world ... has reported that many cell lines are by no means what they are thought to be by the laboratories handling them. -- Miami Herald
A SHOCKER FOR SCIENTISTS

"The main situation has probably existed for years," said the main author of the report, Walter A. Ne1son-Rees, a highly respected researcher. ... Ne1son-Reessaid the contaminating potential of the HeLa cells is well known, but that sufficient precautions against it have apparently not been taken. -- San Francisco Chronicle
All this publicity made no sense to a number of scientists. Why was Nelson-Rees taking bows now when Stan Gartler had dropped the original bomb in 1966?
Part of the reason was that Nelson-Rees's paper was printed in Science, one of the few technical journals that nonscientists, particularly reporters, find accessible. One section, prepared by the journal's news staff, was actually written in English, and in the 7 June 1974 issue, the section carried a story that translated Nelson-Rees's article beautifully. "If Nelson-Rees is right," wrote Barbara Culliton, "a lot of people may have been spending a lot of time and money on misguided research. If, for example, you are studying the properties of human breast tumor cells, hoping to find features that distinguish breast cells from others, and are, all the while, dealing unknowingly with cervical tumor cells, you've got a problem." That was plain enough even for a newspaper reporter to understand, and to embellish and bang out for the morning edition.
But what really made Nelson-Rees a media star was the dramatic background of his shocking results: "The War." In Gartler's day, HeLa contamination had been the dirty little family secret of the tissue culture crowd. Its broader impact was not obvious. In 1974, however, "The War" had been officially declared and raging for several years. Everybody knew that the nation's most brilliant medical experts were at this very moment working feverishly against the scourge of cancer. It was a national priority.
Nelson-Rees's message made this large and serious effort seem a little silly. Sure, the institute was spending millions of dollars sending its brave recruits over the top against the enemy. But it turns out our boys were shooting with blanks! It was a scandal, and there's nothing the press likes better than a scandal. Besides, this story came with a bonus -- the awkward adventure of the Russian HeLa cells, until then unpublicized. The reporters loved sprinkling that one in: we've not only screwed up cancer research, folks, we almost blew detente on account of these crazy cells.
***
Nelson-Rees returned from his week in Miami like the local boy come home from battle. Reporters were still pursuing him. Friends showered him with congratulatory phone calls and letters. And the laboratory's resident bard immortalized his accomplishments in a limerick that appeared on one of the office bulletin boards:
A perceptive young Nelson named Rees,
Dumbfounded genetic police
When HeLa he found
To abound all around,
In cell lines from West and from East.
In addition to all the excitement it generated, the publication of their report brought great relief to Nelson-Rees, Flandermeyer, and the rest of the crew. It had been frustrating to know what they knew without having a means of broadcasting it. Now that the news was out, it might be easier to spread the word about future screwups.
Yes, spreading the word, that was the goal here. The publicity was fun, of course. It was nice for an "outhouse project" to steal the show for a moment. But getting the news out to those who needed to hear it -- the scientific community -- that was the main point of all this. And the publication of their paper was really just the beginning.
Frantic scientists had been calling and writing from all over the United States and several other countries to request copies of the article. In a few weeks Nelson-Rees's secretary had mailed out all 400 reprints and had to order another batch from Science. The author himself was in equally high demand. Would he give a lecture at the Stanford School of Medicine? Could he address a meeting of viral cancer researchers in Hershey, Pennsylvania? Would he brief a group at the Argonne National Laboratory in Illinois?
***
Nelson-Rees hit the road, preaching and proselytizing like biology's Billy Graham. At one stop he would tell the stories of such victims as Bassin and Plata who, through lack of vigilance, fell prey to HeLa's sabotage. At another he would describe the waste and futility of trying to learn about breast or prostrate or kidney cells by studying cultures of cervical cancer. And he would always conclude with the exhortation: Never trade cells without reliable information about what they are and where they've been. And always double-check them, before and after your experiment.
In some respects Nelson-Rees's early evangelizing looked like a touring revival of Gartler's performance at the Bedford Springs Hotel. Like Gartler, Nelson-Rees was telling audiences they had torpedoed years of their own work by being sloppy and letting HeLa creep in on them. He encountered the same reactions, shock and skepticism. And he too was offering new tools, chromosome banding along with other techniques, to help set things straight.
But Nelson-Rees soon added a new message that was less scientific in tone and more philosophical, or perhaps more political. It was at a 1975 meeting of cell culturists and cancer researchers in Lake Placid, New York, that he began to talk about two different reasons for cell mixups. One was simple sloppiness. "It can be combatted in individual laboratories by adherence to increasingly stricter techniques," he explained. The other effect was "more lasting and insidious." It had to do with researchers' attitudes, "frailties of the human ego ... exigencies of profit margins ... the threat of cuts of support in contractual arrangements."
Most members of the audience had gone into his talk thinking they had a pretty good idea what Nelson-Rees was going to say. But when he hit this stuff about scientists' attitudes and frailties of the human ego, they didn't know quite what to make of it.
It was curious, he told his fellow researchers, how well they handled a problem involving bacteria, for example, or viruses. Most of them quickly faced up to it when a cell culture became spoiled by such infectious agents. Not so with cell mix-ups. They seemed to take it personally when someone claimed their cultures had been overtaken by other human cells, he said.
"Cases of cellular contamination have been known to precipitate lengthy diatribes and are the reason for lectures such as this one," he clucked. "This kind of contamination would certainly be easy to control if one could frankly and readily discuss it and eradicate it without fear of offending colleagues' feelings."
At the moment, said Nelson-Rees, there was no friendly forum for discussing cell mix-ups and no means of rapidly notifying the scientific community of contaminated cultures. The audience raised a few eyebrows in disapproval as he said, "I would now like to describe to you how difficult it was for us to publish our results on those cultures which we have vouched are HeLa derivatives."
He began with the story of the Russian cells. He recounted how reluctant institute officials had been to believe his results, how for months they merely ignored the rapidly accumulating data. He read aloud the reviewer's critique that accused him of making a "gratuitous attack" on the Russians, and he named a few names. Then he moved on to the American cells: HBT3, HBT39B, HEK, and the others. He explained that Science had originally turned down the now celebrated report, quoting sarcastically from Abelson's rejection letter: "The manuscript and the referees' comments are enclosed. I trust the comments will be helpful to you when you prepare the paper for submission elsewhere."
Stan Gartler had certainly never done this. He had presented his findings, disturbing as they were, made a couple of suggestions, and taken his leave. But here was Nelson-Rees hauling out the dirty laundry. He was pointing out the stains and explaining how they had got there, and more than a few members of the audience were starting to squirm.
To say that a few cell lines had got shuffled around, that was one thing. But to suggest that scientists were letting their egos get in the way of good science or that they avoided publishing important information because it might be controversial ... well, it just wasn't done.
***
Robert Stevenson was frequently in the audience at Nelson-Rees's presentations, though Stevenson never squirmed. Knowing Nelson-Rees as well as he did, Stevenson more or less expected him to say something startling.
Nelson-Rees and Stevenson first met in 1962. Nelson-Rees had just been hired as a research associate with U.C. Berkeley's School of Public Health. He was sent to Washington to tour the nation's central cell bank facilities at the American Type Culture Collection and to talk with Stevenson about the school's role in assisting the new program. As head of the National Cancer Institute's cell banking program, Stevenson was helping to organize and fund the network of outside support laboratories. These included Lewis Coriell's Institute for Medical Research in New Jersey; the Child Research Center of Michigan, where Cyril Stulberg and Ward Peterson were based; and Berkeley's new cell culture lab in Oakland.
Bob Stevenson was not a typical bureaucrat. For one thing, he spoke his mind. He routinely called those responsible for the confusion in cell culture rank amateurs, and he said it in print as well as in conversation. Until 1960 when the institute recruited him to develop high-quality virology research materials -- cell lines, in particular -- he had been head of a tissue culture lab at the Naval Medical Center in Bethesda. He had seen his share of accidentally contaminated cells, which gave him a firsthand appreciation of what the confusion meant. In fact, though still in his early thirties at the time, Stevenson was one of the old guard who discovered the original mixups among animal cells and called for a central cell bank in the late 1950s, years before Gartler's first discovery of HeLa contamination.
Stevenson had an honest, friendly manner that fit his cherubic face. His cousin, an illustrator for children's textbooks, had used that face as a model for Dick of the Dick and Jane elementary readers. But Stevenson also had a devilish grin and a mischievous streak. He liked to "stir up the muck," as he put it, "to get people thinking about stuff they don't usually think about, but should." When he left the lab bench for a desk at the institute, Stevenson thought of himself as being scientifically castrated. The only way to keep contributing, he figured, was through others, by encouraging them to do provocative experiments and to trumpet their own findings.
Maybe that was why he and Nelson-Rees hit it off. Nelson-Rees was a kindred spirit, a young and energetic perfectionist who was still in the lab. They quickly became allies, beginning a long partnership. Stevenson made Nelson-Rees a member of the advisory board to the cell bank, the group that judged whether a particular culture was qualified to be in the "reference library." Based on his analyses in Oakland, Nelson-Rees would tip off Stevenson about suspicious cell lines. As executive secretary of the board, Stevenson would then ensure that the proper probing questions were asked at the meetings. Nelson-Rees would report, for instance, on the nonhuman-looking chromosomes of a purportedly human culture, and the culture would be reviewed and rejected.
Later, when Stevenson moved up through the hierarchy and then left the institute in 1967, passing oversight of the Oakland lab to Jim Duff, he continued to encourage Nelson-Rees. In telephone pep talks -- usually when Nelson-Rees had uncovered something controversial as in the case of the Russian cells or the three American cultures that followed -- Stevenson would ask him, "Is your work good?"
The answer never varied.
"Well, then," Stevenson would say, telling Nelson- Rees what he wanted to hear, "it doesn't matter that the shit is going to hit the fan."
After Nelson-Rees's report appeared in Science, Stevenson kept trying to get him more involved in activities of the Tissue Culture Association, the professional group for cell culturists. Stevenson, who by then was back at the institute as manager of the Frederick Cancer Research Center, formed the association's Committee of Standardization, Collection, and Distribution of Cells and Tissues, and appointed Nelson-Rees as a member. Together they struggled to convince the group of the need for a listing of bona fide cells to be circulated among the association's members. They also launched a campaign to persuade journal editors to require complete, authentic descriptions of every cell line used in a published research report, including a summary of what tests were used to verify that the cells' species, sex, chromosomes, enzymes, and other traits matched those of the purported donor. Nelson-Rees and Stevenson never tired of saying how ludicrous it was that the association's own journal, In Vitro, had no such requirement. As chairman of the group, Stevenson also had the committee officially endorse Nelson-Rees's findings and recommend that he keep up the good work. And being a quintessential organizer, Stevenson was constantly setting up conferences to stress the need for careful monitoring of cell lines, conferences that often featured a presentation by Nelson-Rees.
For two friends, both interested in stirring things up, it was funny how different their styles were. Stevenson was easy-going, informal, naturally likeable. He was fond of telling stories, such as the one about the New York medical examiner who performed rectal autopsies so that relatives of the deceased wouldn't notice the incisions. Nelson-Rees on the other hand was stiff, painfully honest, and sometimes holier-than-thou; he just automatically got certain people's dander up. If tact consists in knowing how far to go in going too far, as Cocteau once wrote, then Nelson-Rees was tactless.
Stevenson had tried to explain the benefits of a little diplomacy to Nelson-Rees. "You're very valuable, Walter," he once said to him. "You have a real talent for sniffing out trouble. But it might be advantageous to talk more softly and still carry that big stick."
"You cannot ask a leopard to lose his spots, Bob," Nelson-Rees would respond, "I am what I am."
***
And what he was looked very much like obnoxious to some people. He was so high and mighty about HeLa cells and so full of himself. In his talks he had started to make comments like, "This slide shows the now well-known marker chromosomes of HeLa. . . ." or, "In the case of the now well-known Russian HeLa calls .... " as if to say, "You've all heard of me, no doubt, and my very important and well publicized work."
He described his 1974 trip to Russia like a missionary returning from the jungle with word that the heathen had seen the light. Not only that, he said, they didn't have any of this trouble with ego or funding worries.
"Contrary to being an insult to our Russian colleagues, our data resulted in a most generous invitation to Moscow last November," he told the crowd at one meeting. "There I visited five major institutes and at least fifteen individual laboratories, gave three seminars (translated simultaneously), and witnessed the initiation of at least four new cytogenetic control sections for cell line monitoring at different institutes. As you can see, I was also allowed to return after a very warm and friendly reception. "
All right, Walter, you're terrific! Could we move on to something interesting now? Some thought all this talk about sterile conditions and strict monitoring sounded more like a fifth-grade personal hygiene class than serious scientific discussion: never swap cells, boys and girls, and remember to floss every day. Whenever he rose at a conference to ask a question or make another one of his public service announcements for care and quality, these people would glance at each other and roll their eyes.
There were many, of course, who took his talks seriously. Even Duff and the other bureaucrats at the institute were convinced his work was important and his motives were unselfish, though he did make them nervous. But there were also a few who saw Nelson-Rees as a dangerous publicity hound, a Joseph McCarthy of the cell culture circuit who wanted to further his own career by ruining the careers of others. They bristled every time he challenged colleagues about the identity of cells used in experiments or asked how that identity was determined. And he was doing that a lot these days.
***
One afternoon in June of 1975, Walter Nelson-Rees and Relda Cailleau were standing in the lobby of Montreal's Queen Elizabeth Hotel screaming at each other. The occasion was the annual meeting of the Tissue Culture Association; it had been about a year since the publication of Nelson-Rees's report in Science.
Nelson-Rees had begun the conversation by asking about a cell line Cailleau had initiated sixteen years earlier, a lung culture called MAC-21. Cailleau exploded.
"You're an assassin. You're vindictive. You're just out to wreck people's reputations!"
"Relda, there's no need to scream at me," Nelson- Rees screamed back at her.
"We know all about cell culture. You have no right to attack us."
"Relda, the very way you're telling me to mind my own business is what makes it my business!" Nelson- Rees's Dudley Doo Right tenor rose and fell in pitch, sounding over the din in the lobby like an air raid siren.
They were quite a sight. Nelson-Rees, six-foot-three and gangly, towering over Cailleau, all of five feet, a round, tough-talking bundle of volatility. She had a large nose, darting eyes, and thick, dark eyebrows. As she argued in her high scratchy voice, she tossed her head from side to side and waved her arms around.
"Relda" was her mother's maiden name spelled backwards. The former Rose Adler, her mother adopted "Rose Relda" as a stage name while singing at the Opera Comique in Paris. "I can curse real well in French," Relda sometimes told new acquaintances to whom she was describing her background.
Walter and Relda went way back, though Relda went back even farther on her own. In the early 1960s, when the Oakland lab and Nelson-Rees were both just starting out, she was already an accomplished cell culturist working at the D.C. San Francisco Medical School. They would bump into each other all the time at local and national scientific gatherings, always as courteous colleagues, if not close friends. In 1966, however, they had a falling out over the question of an evening's entertainment -- an incident that Nelson-Rees believed to be the start of a cold war between them.
The way Nelson-Rees told the story, he was chairman of the organizing committee and she was in charge of rooms and facilities for a San Francisco meeting of the Tissue Culture Association. Nelson-Rees had proposed a cruise on the bay with a buffet dinner and California wine tasting. Cailleau, sure that the summer fog would spoil the festivities, fought the idea but was overruled. The cruise, complete with a watercolor sunset and radiant full moon, was a rousing success. Although they lived less than a mile from each other in San Francisco, Nelson-Rees and Cailleau rarely spoke again. In 1970 she moved to Houston to work at the M.D. Anderson Hospital and Tumor Institute.
But of course it wasn't the cruise that was bothering Cailleau at the moment. In the past year she had watched Nelson-Rees crusading, making speeches, basking in the limelight, and she didn't like what she saw. His methods were antagonistic, and his goals appeared more destructive than constructive. On top of that she couldn't stand his attitude.
"He's so busy showing off what a great guy he is, how he's always right," she once complained. "He's so supercilious it riles the hell out of me."
And now he was trying to pull that stuff on her, trying to attack her cell line, MAC-21.
Nelson-Rees always insisted he wasn't attacking anyone, really. He said it was just part of his normal information-gathering routine. He scrutinized every cell line sent into Oakland for analysis, he scanned the journals for signs of mix-ups, and he walked into every conference with his eyes and ears wide open, constantly searching for clues, continually trying to make connections.
In the case of MAC-21, he had stumbled across its suspicious nature about a month earlier while checking the validity of two other cell lines developed by a colleague of Cailleau's at the Anderson Hospital. It happened at a meeting of cancer researchers in San Diego. Nelson-Rees noticed in the program an announcement of two new breast tumor lines, SH2 and SH3. Even in 1975 breast cells were very hard to cultivate. Researchers had put hundreds, perhaps thousands of tumor fragments into culture, hoping for a long-lived cell line to take root, but there were only one or two established cultures. Bassin's HBT3 and Plata's HBT39B had been celebrated additions to the short supply until Nelson-Rees came along. The report of two brand new breast cancer lines was therefore of great interest.
What made Nelson-Rees suspicious of SH2 and SH3 were a couple of characteristics described in the program. To begin with, both cultures were said to have come from Caucasian patients, yet both carried G6PD type A, the enzyme variant that is virtually nonexistent among Caucasians. Their early histories were strange too. SH3 had sat dormant, barely growing in the culture dish for thirteen months before it bloomed into a fast-expanding cell line; SH2 had taken three years to do the same. Nevertheless, the announcement took pains to point out that the chromosomes and several other characteristics of the SH lines were clearly different from those of HeLa cells.
Nelson-Rees went to a talk given by a member of the Anderson group, patiently sat through it, and rose during the question-and-answer period. "Have you any information," he asked, "on whether chromosome banding techniques have been applied to these cells to exclude the possibility that SH2 and SH3 are, first of all, not one and the same cell line, and secondly that they do not have a whole complex of marker chromosomes in common with many now well-known HeLa strains?"
Gabriel Seman, the French-born virologist who had initiated the SH lines, answered that in fact banding had been done by collaborators at the Institute for Medical Research in New Jersey, who assured him that they were not HeLa cells.
One of the advantages of Nelson-Rees's public displays was that it turned up extra clues, often volunteered by colleagues who smelled something rotten but were not as ready as he to stand up and make a spectacle. The SH cells might have wriggled off Nelson-Rees's hook except that as the audience was filing out, Lewis Coriell, the director of the New Jersey institute, pulled Nelson- Rees aside to say that he too was bothered by the unusual characteristics of these cell lines. He said he would discuss them with his karyologist, Bob Miller, who had done the analysis for Seman.
Back at Oakland a couple of days later, Nelson-Rees received a letter from Coriell explaining that months earlier Miller had indeed concluded from his analysis of banded chromosomes that SH2 and SH3 were identical cell lines. Why Seman had reported them to be two independent lines was a mystery. In addition Miller had seen some similarities between the SH chromosomes and those of a HeLa culture he had in his lab, but he had decided the SHs were not HeLa because there were also many dissimilarities. "You have looked at more HeLa cell lines," wrote Coriell, "and he [Miller1 would like to have your opinion of his interpretation." Mug shots of the cells were enclosed.
Three chromosomes in each SH line were so obviously HeLa markers that Flandermeyer "the Slow and Deliberate" made his pronouncement the very same day the letter arrived. The markers, coupled with the observation that these cultures from Caucasian women were both carrying the black type A enzyme, convinced Nelson-Rees that both cell lines had been taken over by HeLa. He notified Coriell and Miller.
"In view of this additional information it would seem probable that the lines are contaminants," Miller then wrote to Seman. "I realize this differs somewhat from my original interpretation but hope that the situation is now clarified."
Yes, there was somewhat of a difference between saying SH2 and SH3 are cultures of breast cancer and saying, "Oops, they're HeLa."
Seman was incensed, though it is hard to say what upset him more: Miller's new diagnosis that the precious breast cultures were Henrietta Lacks's well-traveled cervical tumor cells, or the fact that Miller dared send the SH photographs to another investigator. "Wizzout my permission!" as he put it. Seman was even angrier with Nelson-Rees for using information that Seman decided had been obtained unscientifically and illegally. "Eeet's a case for my attorney," he declared.
Seman's colleagues at Anderson, Relda Cailleau among them, were equally outraged. Nelson-Rees had acted irresponsibly and unethically, they all agreed. It was the same trick he had played on other unsuspecting researchers. To them the question of HeLa contamination was somehow a secondary concern.
Not to Nelson-Rees, though, who for the moment was oblivious to the reputation he was building at the Anderson Hospital. Having nailed SH2 and SH3, he turned his attention to MAC-21. He remembered seeing a reference to MAC-21 in the paper announcing the SH lines. Specifically, the report had said that the SH cells were like MAC-21 cells in that they had the type A form of G6PD.
Now MAC-21 had been around a long time, used extensively in lung cancer research, yet Nelson-Rees didn't recall ever hearing that it had this unusual trait. So it was that a month later when he saw Relda Cailleau descending the stairs at the Queen Elizabeth Hotel in Montreal he walked up and said, "What's this I read about MAC-21 being type A? Have you ever checked it?" That's when Cailleau erupted.
"You're doing this to everyone, are you? You're assassinating people!"
"Look, we know there's a problem with SH2 and SH3. They were both type A G6PD and we found out they have HeLa chromosomes."
"MAC-21 is not HeLa. I'm absolutely positive."
They went on for ten minutes like that. Finally Nelson- Rees went into one of his commercials. Cailleau might be interested to know that he and Bob Stevenson were firing up the cell standards committee of the association to advertise the need for careful controls and regular monitoring of cell identities, he said. "But I don't have to tell you the importance of keeping things straight. As you know, Relda, I'd be glad to check any of your cultures for you."
At that, Cailleau stomped out of the lobby.
***
It was during this early period of the crusade, within a year of the Science article, that an amusing telegram arrived at the Oakland lab. The unsigned message offered Nelson-Rees a high-paying and prestigious new job in research. It also offered a one-way ticket to get him to this very attractive position -- in Uganda.