The Hulk Hogan trial that could redefine freedom of expression on the internet, explained
by Michelle Hackman
March 8, 2016, 5:00 p.m. ET @MHackman
michelle.hackman@vox.com
NOTICE: THIS WORK MAY BE PROTECTED BY COPYRIGHT
YOU ARE REQUIRED TO READ

THE COPYRIGHT NOTICE AT THIS LINK

BEFORE YOU READ THE FOLLOWING WORK, THAT IS AVAILABLE SOLELY FOR PRIVATE STUDY, SCHOLARSHIP OR RESEARCH PURSUANT TO 17 U.S.C. SECTION 107 AND 108. IN THE EVENT THAT THE LIBRARY DETERMINES THAT UNLAWFUL COPYING OF THIS WORK HAS OCCURRED, THE LIBRARY HAS THE RIGHT TO BLOCK THE I.P. ADDRESS AT WHICH THE UNLAWFUL COPYING APPEARED TO HAVE OCCURRED. THANK YOU FOR RESPECTING THE RIGHTS OF COPYRIGHT OWNERS.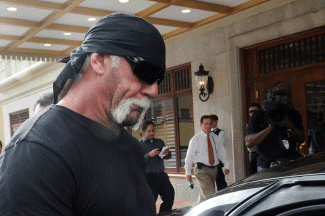 TV personality Terry Bollea, a.k.a. Hulk Hogan, leaves the press conference today after discuss legal action being brought on his behalf. Gerardo Mora/Getty Images
Opening arguments are being heard this week before a Florida jury in the famed wrestler Hulk Hogan's lawsuit against Gawker, the news site that Hogan has accused of violating his privacy by publishing a video of him engaged in a sex act.
The details are about as salacious as they come: pornographic footage of Hulk Hogan having sex with a friend's wife, taken without his knowledge and later posted on Gawker based on an anonymous tip.
The iconic wrestler (whose real name is Terry Bollea) is suing the site for $100 million, claiming privacy violations and emotional damage after the video was posted in 2012.
Gawker, on the other hand, is claiming it had a right to post the video, which was a matter of "public concern."
Both sides have declared the trial's outcome could have outsize consequences: Hogan is claiming a loss would mean weakened privacy for all Americans; Gawker says that if Hogan prevails, the nation's press freedoms are at risk.
Legal experts tend to agree that no matter how the case is decided, it will help clarify the largely undefined line between privacy and freedom of expression on the internet.
Hogan will argue that the video's publication was a unique and humiliating violation of privacy
The grainy surveillance footage in question was taken in 2006 of Hogan and Heather Clem having sex in Clem's home she shared with her then-husband, radio personality Bubba the Love Sponge Clem (born Todd Alan Clem, though he legally changed his name).
Hogan has claimed that the video was taken without his knowledge or consent, a fact that Bubba Clem disputed to Howard Stern.
Clem says the video was stolen from his office — though no one has accounted for how the video was then distributed.
Gawker then received the full 30-minute video, burned onto a DVD and mailed to its office in Manhattan. Rather than posting the video in its entirety, Gawker cut a "highlight reel" featuring about 101 seconds of the video's most titillating footage (only about 9 seconds of the cut contain actual sex acts).
But no matter how it surfaced, Hogan's lawyers now plan to argue to the six-person jury that Gawker's publication of the video was a crass tool to pull in ad dollars and clicks. It served no purpose for the public good, they'll say, and inflicted significant emotional and privacy damage to the now-retired wrestler.

"There's a world of difference between discussing something and showing a pornographic video, something that goes online and can be seen forever," David Houston, Hogan's personal lawyer, told the New York Times. Hogan's legal team is not challenging the text of Gawker's post, which described the full 30-minute video, blow by blow, in lurid and unflattering detail.
Gawker plans to argue in return that as a celebrity who frequently raises details of his own sex life — including the video's existence — Hogan has created sufficient public interest around the topic to merit the video's publication.
Houston told the Times that Hogan has been known to say outrageous things in appearances as a wrestling personality. "But that does not mean that Terry Bollea the person has forsaken all rights of privacy," he said.
Hogan is asking for the huge sum in part to deter other publications from publishing similarly slanderous private details about other celebrities, his lawyer said. But First Amendment experts say even if Hogan wins the case, the figure he is asking for is incredibly high.
Gawker thinks posting Hogan's sex tape served a valid purpose
In addition to arguing that Hogan exempts himself from some privacy expectations by virtue of the fact that he's a celebrity, Gawker will likely also make the case that posting the video of him and Heather Clem ultimately served the public's interest.
Gawker posted the video seven months after TMZ first reported its existence and five months since the gossip website the Dirty posted screen shots — all after Hogan had repeatedly denied sleeping with Heather Clem. The site's lawyers will point to these posts as evidence that the public had an interest in seeing the video.

In a June all-staff meeting reported by Capital New York, Gawker founder Nick Denton said he hopes "we can make it clear that we're fighting for the truth to hold elites accountable… whether that light exposes a Florida celebrity having a swingers party invited by the host to have sex with his wife — whether it's that or whether it's the fact that the system is rigged and people can't make it."

Gawker is purporting that a ruling against it would imperil news organizations across the country from publishing unflattering details about individuals who hold power. It would, in Gawker's view, dissuade writers from looking into and discussing uncomfortable subjects.
I'm always disappointed when a liar's pants don't actually catch on fire
It is a long-shot argument for Gawker to make before a jury, composed of Florida residents from Hogan's hometown who will likely be sympathetic to his cause. Lawyers for the news site say if the jury rules against them, they plan to appeal the case. But in the meantime,
Gawker could be forced to post a large bond, potentially emptying its coffers and putting the entire company in danger
.
EXTRA! EXTRA! READ ALL ABOUT IT! GOOD NEWS!!

"But in the meantime, Gawker could be forced to post a large bond, potentially emptying its coffers and putting the entire company in danger."
The jury's decision could have First Amendment consequences
Gawker is right on one point: A ruling on whether it had the right to post Hulk Hogan's sex tape will likely have more far-reaching consequences for the media writ large.
" A ruling on whether it had the right to post Hulk Hogan's sex tape will likely have more far-reaching consequences for the media writ large."

TOTAL SHIT! (Media Writ Large)
The tension between privacy rights and free expression remains murky
, with only a handful of court decisions coming before this one. But new cases testing the limits of free expression are arising more often than ever on the internet, where personal details can spread further and faster than ever before.
Mary-Rose Papandrea, a law professor at the University of North Carolina and a former lawyer for the National Enquirer, said this case comes down to whether the sex tape was "newsworthy." Of course, newsworthiness is a vague standard that well may have different limits when applied to celebrities as opposed to private citizens.
Historically, the law considers images containing nudity or sexual acts as "private" information. But in speaking repeatedly and in graphic detail about specific sexual encounters, Papandrea said Hogan may have well made his sex life a matter of public concern.
If the jury allows Gawker's claim to public concern stand, it might well lead to a media free-for-all in which organizations feel welcome to publish increasingly damaging private information about the lives of public individuals.
"Right now, there's an 'anything goes' mentality when it comes to publishing information about celebrities. If Gawker loses, we might begin to see some rethinking of that mentality," Eric Goldman, co-director of Santa Clara University's High Tech Law Institute, told Fusion. "If Gawker wins, I think it will further embolden online publishers that anything related to celebrities is fair game."
f. The "Fair Game" doctrine

The "Fair Game" doctrine states as follows:

"ENEMY -- SP Order. Fair game. May be deprived of property or injured by any means by any Scientologist without any discipline of the Scientologist. May be tricked, sued or lied to or destroyed." VIII-6

This doctrine has been vigorously enforced by Scientology in thousands of cases covering a wide spectrum of operations. Scientology has sought to "destroy" many individuals in governments and private agencies through harassive, expensive law suits, attempts to frame individuals for crimes, dissemination of auditing information to the media, friends and relatives, and a general pattern of criminal activity, including burglary, larceny, obstruction of justice, extortion, racketeering, perjury, all designed to attack and destroy a so-called enemy. Much of the material set forth in Section (D) of this subsection relating to Scientology operations in Clearwater are examples of application of the "Fair Game" doctrine.

g. "R2-45"

Despite the general exposure of many Scientology practices, policies and attacks in the media over the past several years, resulting primarily from the F.B.I's seizure of documents from Scientology headquarters, there exists in Hubbard's twisted mind and writings a little known policy called "R2-45" .VIII-7 In the book, "The creation of Human Ability -- A Handbook of Scientology" written by Hubbard and distributed by the Church of Scientology of California, the following quote appears:

"R2-45 -- an enormously effective process for exteriorization, but its use is frowned upon by this society at this time."

"Exteriorization" in Scientology policy, is death. The policy refers to shooting a person in the head. In a short internal Scientology memorandum called "Racket Exposed", Hubbard attacks a number of individuals, subjects them to the "Fair Game" doctrine, and states as follows:

"Any Sea Organization member contacting any of them is to use auditing process R2-45".

It is unknown to the authors of this Report whether the process was used on those individuals.

During a meeting of Scientologists in Phoenix, Arizona, in 1954, Hubbard demonstrated the R2-45 auditing process by firing a shot into the floor during the middle of the meeting. There is some evidence to suggest that between 1975 and 1977, during the F.B.I. investigation of Scientology, meetings of Scientology executives were held in which there were discussions relative to auditing high level F.B.I. members with auditing process R2-45.

The death of at least one Scientologist by means of a pistol shot in the brain has been documented. The death of Susan Meister, who was found dead from a gunshot wound in her forehead at approximately 7:35 p.m. on Friday, June 25, 1971 was allegedly a suicide. The death of Susan took place on the Apollo while it was docked in Tangiers, Morocco. Susan's parents traveled to Morocco seeking to obtain details of her death, and attempted to meet Hubbard to find out what role he and Scientology had played in her death. Susan was twenty three years old at the time and had been proselytized on the streets of San Francisco in the fall of 1970. During the course of her involvement, her letters to her parents gradually became more bizarre, until her death was reported to them.

When Susan's parents first learned of the death, they interviewed Arthur Maren, one of Scientology 's P.R. people, and questioned him whether or not it could be a mistake, and whether it might be someone else. Maren's reply was, "Susan is dead allright, there is no mistake". Later, her parents received a letter from Scientology which stated in part as follows:

"I am sure you understand that the ship's company, an independent Panamanian agency, is under no obligation to the Church of Scientology of California, to provide information that it deems might go beyond the scope of a reasonable inquiry by bereaved parents. In addition to the details Rev. Maren has already communicated to you, (a precis of which is attached), further details of Church activity and doctrine can be found in the literature and book of ceremonies enclosed. As to shipment of remains, the ship's captain has indicated that should you wish local Christian burial with monument, such will be arranged in a Christian cemetery in Morocco, at company expense. If the remains are to be shipped to the United States, which I understand is your desire, the company is regrettably not in a position to bear the considerable costs involved." IX-3

It is interesting to note that the Internal Revenue audit concerning the Church of Scientology of California, and the Panamanian corporation referred to in the above letter were found to be totally controlled and operated by L. Ron Hubbard. In fact, as set forth elsewhere in this Report, millions of dollars were illegally funneled from California into the Panamanian corporation. Thus, Scientology's across-the-board deception of Susan Meister, from the time she was proselytized into joining the Organization, to the time she died as a result of so joining, was extended to her "bereaved parents".

-- City of Clearwater Commission Hearings Re: The Church of Scientology, State of Florida, City of Clearwater
But a ruling against Gawker would require the jury to contradict precedent. In the past, when cases involving offensive or private information has reached the Supreme Court, justices have erred on the side of free expression. In 1988, for example, the Court ruled in Hustler Magazine v. Falwell that Hustler had the right to publish a damning parody of the prominent fundamentalist minister Jerry Falwell, and that he could not collect damages for emotional harm.
In his majority opinion, Chief Justice William Rehnquist wrote that banning content on the basis that it was deemed outrageous "would allow a jury to impose liability on the basis of the jurors' tastes or views, or perhaps on the basis of their dislike of a particular expression, and cannot, consistently with the First Amendment, form a basis for the award of damages for conduct."
In line with that precedent and others, a federal court threw out a similar suit Hogan filed against Gawker in December 2012.
"The courts have historically been reluctant to second-guess editorial decisions," Papandrea said. But with news traveling further and faster on the internet than ever before, "that could be changing."
"The courts have historically been reluctant to second-guess editorial decisions"
And though the current case is being litigated in state court, it is one of a small handful of such free expression lawsuits to go to trial, and the outcome will likely serve as a guide to judges and lawyers across the country.
The trial has gained such outsize significance because it is perhaps the first legal test of
Its kind in which deeply private information has circulated around the internet
.
Courts in the past have shown deference to editorial decisions, taking news organizations' claims that certain facts or photographs are essential to storytelling. But with the understanding that the internet can be a uniquely destructive space, judges are beginning to second-guess that free-for-all standard.
The video's publication also has implications for "revenge porn" laws
The Hogan video raises questions beyond the realm of press freedom. Whether or not it's true, Hogan has claimed his private actions were filmed without his knowledge or consent. That would put the tape in the category of "involuntary porn" or perhaps even "revenge porn."

Revenge porn is a genre of internet harassment wherein perpetrators post pornographic photos or videos of a victim, linked to his or her name, without consent. Typically, the perpetrator is a former sex partner who uses the threat of revenge porn as a form of blackmail, though the reasons for posting such content can vary.

Revenge porn has become a prevalent enough problem that 26 states to date— including Florida, where Hogan's case is being argued — have passed laws limiting it. The laws seek to ban the crime without encroaching any further on individuals' First Amendment rights.

Still, the issue has not clearly been litigated, and the decision on the Hulk Hogan tape could have an impact on other victims seeking to protect themselves from revenge porn through the courts.
If the court decides in Gawker's favor, it's possible that that other pornographic content, posted without a victim's consent, could bolster other revenge porn cases to receive First Amendment protection as well.
"If Hulk Hogan is newsworthy, then a case of an unconscious [woman] being raped is too ...
and some media might publish that saying we should be seeing it," University of Maryland law professor Danielle Citron told Fusion. "Everything is newsworthy once people are interested."
Online mob attacks also implicate state laws penalizing those who harass or stalk another by communicating words, images, or language through electronic mail or the Internet, directed to a specific person, which would cause a reasonable person substantial emotional distress or fear of bodily harm.237 Some states explicitly criminalize posting messages with the intent to urge or incite others to harass a particular individual.238...

Title 42 U.S.C. § 1985(3) allows damage suits against: "[T]wo or more persons in any State or Territory [who] conspire or go in disguise on the highway or on the premises of another, for the purpose of depriving, either directly or indirectly, any person or class of persons of the equal protection of the laws, or of equal privileges and immunities under the laws; or for the purpose of preventing or hindering the constituted authorities of any State or Territory from giving or securing to all persons within such State or Territory the equal protection of the laws . . . ."240

To similar effect, 18 U.S.C. § 241 establishes criminal penalties for "two or more persons [who] go in disguise on the highway, or on the premises of another, with intent to prevent or hinder his free exercise or enjoyment of any right or privilege" that is "secured to him by the Constitution or laws of the United States, or because of his having so exercised the same."241...

Although online mobs express themselves and their autonomy through their assaults, their actions also implicate their victims' autonomy and ability to participate in political and social discourse.272 Self-expression should receive no protection if its sole purpose is to extinguish the self-expression of another.273 As Owen Fiss argues, sometimes we must lower the voices of some to permit the self-expression of others.274

Similarly, Cass Sunstein contends that threats, libel, and sexual and racial harassment constitute low-value speech of little First Amendment consequence.275

Rarely is that more true than when one group of voices consciously exploits the Internet's aggregating power to silence others and its disaggregative power to escape social responsibility for the group's actions....

A core problem in theorizing the First Amendment is distinguishing expressions from actions. This speech-conduct dichotomy pervades free speech discourse.279 Advances in law and technology, however, complicate this distinction as they make more actions achievable through "mere" words. Indeed, the Internet's very essence is to aggregate expressions so as to convert them into actions. Some Internet behaviors that are akin to the offline crimes of breaking and entering and vandalism – hacking and denial-of-service attacks – are accomplished by sending communications to other computers. Moreover, the Internet's powerful aggregative capacity converts seemingly individual expressions (e.g., visiting a website or sending an e-mail) into criminal acts through their repetition (e.g., denial-of-service attacks and image reaping)....

Online mobs do indeed engage in gossip. Sites such as JuicyCampus promote themselves as gossip facilitators. But the attacks perpetrated by online mobs have little to do with building bonds among disparate communities. Rape threats, lies, damaging photographs, and denial-of-service attacks not only preclude any connection with differently-minded group members, but they also sever the victim's connections with her own community. The attacks inflict serious social harm rather than generating ideas in popular culture or enforcing positive social norms. Defeating such discrimination outweighs the imperceptible contribution that online mobs make to our cultural interaction and exchange.

-- Cyber Civil Rights, by Danielle Keats Citron
Of course, it's also conceivable that the jury could rule on narrow grounds, protecting future victims of revenge porn without preventing sites like Gawker from posting other types of potentially privacy-damaging content.
The Resurrection of David Geithner

"Gawker founder Nick Denton said he hopes we can make it clear that we're fighting for the truth to hold elites accountable."