Hulk Hogan Exudes Calm in Second Day of Sex Tape Trial Against Gawker
By NICK MADIGAN
MARCH 8, 2016
NOTICE: THIS WORK MAY BE PROTECTED BY COPYRIGHT
YOU ARE REQUIRED TO READ

THE COPYRIGHT NOTICE AT THIS LINK

BEFORE YOU READ THE FOLLOWING WORK, THAT IS AVAILABLE SOLELY FOR PRIVATE STUDY, SCHOLARSHIP OR RESEARCH PURSUANT TO 17 U.S.C. SECTION 107 AND 108. IN THE EVENT THAT THE LIBRARY DETERMINES THAT UNLAWFUL COPYING OF THIS WORK HAS OCCURRED, THE LIBRARY HAS THE RIGHT TO BLOCK THE I.P. ADDRESS AT WHICH THE UNLAWFUL COPYING APPEARED TO HAVE OCCURRED. THANK YOU FOR RESPECTING THE RIGHTS OF COPYRIGHT OWNERS.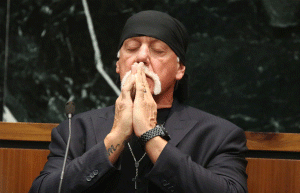 Terry Bollea, who wrestled as Hulk Hogan, was questioned on Tuesday during his trial against Gawker. Credit Pool photo by John Pendygraft
ST. PETERSBURG, Fla. — On the witness stand for a second day, Hulk Hogan was far from the chest-thumping, T-shirt-tearing champion wrestler admired for years by his fans for his braggadocio and his swagger.
Under quiet but relentless cross-examination Tuesday by a lawyer for the website Gawker, which he has sued for invasion of privacy, the wrestler was subdued, even melancholy. Referred to in court by his real name, Terry G. Bollea, and wearing a cross on a silver chain around his neck, he appeared intent on keeping calm under the onslaught, with only the occasional trace of irritation in his responses. Even then, he consistently addressed the lawyer, Michael Sullivan, as "sir."
"I'm not the same person I was before all this stuff happened," said Mr. Bollea, 62, and retired from the ring. "I don't have my guard up anymore."
Mr. Bollea is seeking $100 million in damages from Gawker, which in 2012 posted a secretly recorded video of him having sex with a friend's wife. Mr. Sullivan zeroed in on the plaintiff's admission that as a larger-than-life celebrity in a rough-and-tumble profession, he was in the habit of exaggerating or being untruthful.
By returning to the point again and again, Mr. Sullivan was clearly seeking to raise doubt among the six jurors about Mr. Bollea's veracity in the case.
The defense attorney also spent considerable time focusing on the plaintiff's public behavior, much of it sexually provocative, to underscore the notion that the release of the video of him having sex could not have been, in the public's mind, an unusual or remarkable occurrence.
The case, being heard in a courthouse in downtown St. Petersburg, near Mr. Bollea's hometown, has raised fundamental issues about privacy rights and freedom of the press in a technologically nimble age in which anyone can publish the most private and salacious pictures and videos online.

While acknowledging his often outrageous self-promotional behavior in the past, Mr. Bollea insisted that he had nothing to do with producing or posting the video — recorded in the home of a Tampa shock-radio host in 2007 — and that its public airing was shocking and disturbing.

"I was concerned that people would think I had something to do with this," Mr. Bollea told the jury. "I would never do that to my personal life."
Asked by Mr. Sullivan why he had not insisted that interviewers like Howard Stern refrain from asking him about the video if he was so concerned about its dissemination, Mr. Bollea suggested that he had no power to alter the course of such a conversation.
"I was on an entertainment show: I had to be an entertainer," Mr. Bollea said, referring to Mr. Stern's program. "When you're on his show, you know it's a character-driven show, so you just roll with it. You have to take the good with the bad."
Occasionally, the plaintiff bristled — if only slightly — at the lawyer's questions, as when Mr. Sullivan referred him repeatedly to an 835-page deposition in front of him on the witness stand.
"I'm sorry, buddy," he said, in a rare departure from protocol. "You need to tell me what line you're starting on."
Observed by a large contingent of reporters from around the country, the former wrestler gently rebuffed attempts by Mr. Sullivan to paint him as someone who carelessly and routinely flaunted his sexuality and his conquests, and for whom even the most intimate personal details were fodder for publicity.

Mr. Bollea insisted that any such disclosures in public were purely an act, a crucial component of his character as Hulk Hogan. In that context, he defended radio and television interviews in which he discussed his love life, the size of his penis, and his daughter's sexuality. Mr. Bollea said also that his descriptions of a love affair in a memoir, and reality-show scenes of him sitting on a toilet, his pants around his ankles, were similarly acceptable when viewed as part of his public persona.

But the defense attorney's questions seemed to imply that Mr. Bollea's propensity for such disclosures — which continued after the posting in 2012 of the video at issue — was at odds with his claim that his privacy had been violated by the images taken from a security camera in his friend's bedroom.

Mr. Bollea resisted that notion. "My problem," he said, "is with the videotape that you guys put out, that lives forever on the Internet."

He acknowledged that a celebrity must put up with certain pressures not visited on ordinary mortals. "I'm kind of concerned about Hulk Hogan's privacy, but you kind of give it away," he said. "But in the privacy of your own home, no one invades my privacy."
Under subsequent questioning by one of his attorneys, Kenneth G. Turkel, Mr. Bollea was pressed to speak again of his reaction to the release of the video.
"When the sex tape hit, my whole world turned upside down," Mr. Bollea said, noting that he could not eat or sleep for days at a time. Later, when he found out that his shock-radio friend, known as Bubba the Love Sponge, had been responsible for filming the encounter, he said, "I was down as far as I could go."

"It's not something you can walk away from," he went on. "It stays with you."

The camera in the bedroom had been installed by David Rice, the chief engineer on Bubba the Love Sponge's show, at the request of the radio host. Mr. Rice, whose testimony in a deposition was read aloud to the jury later in the afternoon, said the camera was deliberately set up so that it would operate only if someone slid a disk into the recorder and pushed a button, cementing the plaintiff's contention that the taping of Mr. Bollea's sexual encounter had not been an accident.
Another witness on Tuesday was Jules Wortman, a former public relations executive at TNA Impact Wrestling, with which the plaintiff was once affiliated. In videotaped testimony, she described Mr. Bollea as getting "teary" after a "Today" show appearance in which he spoke about the video, and said the host Kathie Lee Gifford commiserated with him in a hallway.
"Kathie Lee was hugging him, and she said, 'I understand when your private life gets played out in public,' " Ms. Wortman recalled. "He was emotional, and he excused himself to go to the bathroom. He was in there for a little while."