Blowing the Biggest Political Story of the Last Fifty Years
By Neal Gabler
March 14, 2016
NOTICE: THIS WORK MAY BE PROTECTED BY COPYRIGHT
YOU ARE REQUIRED TO READ

THE COPYRIGHT NOTICE AT THIS LINK

BEFORE YOU READ THE FOLLOWING WORK, THAT IS AVAILABLE SOLELY FOR PRIVATE STUDY, SCHOLARSHIP OR RESEARCH PURSUANT TO 17 U.S.C. SECTION 107 AND 108. IN THE EVENT THAT THE LIBRARY DETERMINES THAT UNLAWFUL COPYING OF THIS WORK HAS OCCURRED, THE LIBRARY HAS THE RIGHT TO BLOCK THE I.P. ADDRESS AT WHICH THE UNLAWFUL COPYING APPEARED TO HAVE OCCURRED. THANK YOU FOR RESPECTING THE RIGHTS OF COPYRIGHT OWNERS.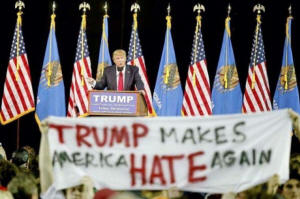 The shocking story isn't the rise of Donald Trump but how the GOP slowly morphed into a party of hate and obstruction.
Ah, the crescendo of complaint! The Republican establishment and the mainstream media, working hand in hand in their unprecedented, non-stop assault on the "short-fingered vulgarian" named Donald Trump, would have you believe that Trump augurs the destruction of the Republican Party. Former Reagan speechwriter and now Wall Street Journal/CBS pundit Peggy Noonan expressed the general sentiment of both camps when she said on Super Tuesday that "we're seeing a great political party shatter before our eyes."
But here is what no one in the GOP establishment wants you to know, and no one in the media wants to admit: Donald Trump isn't the destruction of the Republican Party; he is the fulfillment of everything the party has been saying and doing for decades. He is just saying it louder and more plainly than his predecessors and intra-party rivals.
The media have been acting as if the Trump debacle were the biggest political story to come down the pike in some time. But the real story – one the popularity of Trump's candidacy has revealed and inarguably the biggest political story of the last 50 years — is the decades-long transformation of Republicanism from a business-centered, small town, white Protestant set of beliefs into quite possibly America's primary institutional force of bigotry, intellectual dishonesty, ignorance, warmongering, intractability and cruelty against the vulnerable and powerless.
It is a story you didn't read, hear or see in the mainstream media, only in lefty journals like The Nation and Rolling Stone, on websites like People for the American Way, and in columns like Paul Krugman's. And it wasn't exactly because the MSM in its myopia missed the story. It was because they chose not to tell it – to pretend it wasn't happening. They are still pretending.
It is hardly a surprise that the GOP establishment and their enablers in the media are acting as if Trump, the Republican frontrunner, is a break from the party's supposedly genteel past. Like Captain Renault in Casablanca, who was "shocked, shocked," to find gambling in Rick's establishment, the GOP solons profess to be "shocked, shocked" by Trump's demagogic racism and nativism. Their protestations remind me of an old gambit of comedian Milton Berle. When the audience was applauding him, he would shush them demonstratively with one hand while encouraging them gently with the other.
Neither is it a surprise that the conservative media have been doing the same thing — decrying Trump while giving us Trump Lite. Indeed, even less blatant partisans who ought to know better, like every "thinking man's" favorite conservative David Brooks, deliver the same hypocrisy.
No, Brooks isn't too keen on Trump (or Cruz for that matter), but he is very keen on
some mythological Republican Party that exudes decency
. On the PBS NewsHour last week he said with great earnestness, "For almost a century-and-a-half, the Republican Party has stood for a certain free market version of America – an America that's about openness, that's about markets and opportunity, and a definition of what this country is."
The party still believes it can spin its racial history and, when required, literally and figuratively whitewash it.

For the moment, the GOP is recycling its time-honored, if increasingly threadbare, publicity stunts to address the problem. As part of a postelection "listening" tour, damned if Priebus didn't listen to twenty—count 'em, twenty—bona fide African-Americans at a megachurch in East Brooklyn in March. He has hired not one but two blacks to staff the Republican National Committee's minority-outreach program: the 24-year-old son of the Fox News commentator Juan Williams and a suburban-Washington real-estate agent whose brief career as a legislative assistant on the Hill ended in 2002. The party has also recruited a new telegenic black conservative with no record of public service, the Johns Hopkins neurosurgeon Benjamin Carson, to take on the Alan Keyes–Herman Cain role of delivering incendiary sound bites (inevitably describing the Democratic Party as a "plantation") while pretending to be a plausible presidential candidate.

Such ruses won't fool anyone now any more than in the past. It's not a stretch to imagine that the party chairman knows this and that neither he nor anyone around him cares. As McKay Coppins of BuzzFeed discovered three weeks after Priebus parachuted into Brooklyn to genuflect before authentic urban blacks, there's still "not a single racial minority among the twenty most senior officials who run the Republican National Committee, National Republican Congressional Committee, and National Republican Senatorial Committee—the three wings of the GOP apparatus charged with promoting candidates and winning elections." This newfangled integration fad doesn't come easy to the right. At the Conservative Political Action Conference's annual conclave in Washington in March, a black "Frederick Douglass Republican" had to fend off a white attendee defending slavery at the Tea Party Patriots' panel "Trump the Race Card: Are You Sick and Tired of Being Called a Racist and You Know You're Not One?" (Trump may not have been the mot juste to deploy in this particular title.)

Perhaps some GOP leaders can still rationalize the party's racial status quo, not to mention its all-white hierarchy, because scant black support has not been a bar to winning past presidential elections. Mathematically, the GOP doesn't need African-American voters. Blacks, who made up 12 percent of the population at the start of this decade (versus 17 percent for Latinos), are likely to remain a fairly static demographic in the future—rising to only 13 percent of the population in 2050, by which time Latinos could be at 29 percent, according to Pew projections. Their votes will rarely be decisive in the Electoral College.

But in a more and more diverse America, the real political risk in the GOP's continued apartheid is greater than ever. The party's alienation from black Americans threatens to turn off larger and larger blocs of nonblack voters—white, Latino, young—who don't want to be associated with a brand still carrying a whiff of twentieth-century, and even nineteenth-century, racial animus. From the birth of the GOP's "southern strategy" in the Nixon years until now, that risk has defined the party's most vexing political calculus: How does it convince mainstream, non-racist America that it is still the color-blind, racially ecumenical party it purports to be, even as it has remarkable luck in attracting whatever die-hard bigots are still out there and perennially fails to win over any but a fringe of black voters? The ascent of America's first black president has only compounded that challenge by inspiring the GOP's racial provocateurs to be more uninhibited, and hence more visible, than they have been since Anita Hill testified in Clarence Thomas's confirmation hearings in 1991, or perhaps since the George H.W. Bush political strategist Lee Atwater exploited a black felon, Willie Horton, to slime Michael Dukakis in 1988.

There have been various public-relations strategies throughout the years for finessing this conundrum, many of them as silly as Priebus's listening tour. Few who were present will ever forget the legions of break-dancers and gospel singers tossed onstage at the 2000 GOP convention in Philadelphia to distract from the lily-white delegate pool in the hall. But the most durable and effective tactic has been the right's transparent effort to sanitize its own modern history on race to hide it from voters who might find it distasteful. As last year's election results proved yet again, black Americans, who lived through this history firsthand and were sometimes victimized by it, aren't fooled for a second. They remember what happened. But as more time goes by and the right's concerted mythmaking about its history takes root in the culture, many other Americans don't question it. Indeed, a new generation of conservatives seems to be downright cocky about its ability to falsify the Republican past and peddle the fictions to an inattentive or ill-informed public.

This was most recently illustrated by the new Great White Hope of the GOP base, Rand Paul, the winner of CPAC's presidential straw poll this year and a man who is not shy about his White House ambitions. In pursuit of higher office, the image-conscious Paul took his own stab at outreach last month, giving a speech at Howard University. Facing a mostly young and African-American audience, he was determined to airbrush history—even very recent history of his own. He had "never wavered" in his "support for civil rights or the Civil Rights Act," he claimed, when in fact he had done exactly that in a Louisville Courier-Journal interview during his 2010 Senate campaign. Back then he'd argued that while it was "abhorrent" of Woolworth's to refuse to serve Martin Luther King Jr. at its lunch counter, a private business still should retain the freedom to do what it wants. He espoused similar views in a contemporaneous prime-time appearance with Rachel Maddow, who replayed her interview with Paul the night of his Howard address.

But far more representative of the larger Republican effort to neutralize its racial history in the civil-rights era was another passage in Paul's speech. "How did the Republican Party, the party of the Great Emancipator, lose the trust and faith of an entire race?" he asked rhetorically. "From the Civil War to the civil-rights movement, for a century, most black Americans voted Republican. How did we lose that vote?" After a meandering account of the party's glorious record on black emancipation in the post–Civil War era, Paul arrived at the Great Depression and this answer: "The Democrats promised equalizing outcomes through unlimited federal assistance while Republicans offered something that seemed less tangible—the promise of equalizing opportunity through free markets." In other words, African-Americans of the thirties were deadbeats bought off by FDR's New Deal, much as those of the sixties (in the right's eyes) were bought off by LBJ's Great Society entitlements and those of the present day (along with the rest of America's downtrodden "47 percent") were seduced by Democrats brandishing still more of what Romney called "free stuff" and "gifts," starting with Obamacare. In this telling, the GOP's growing opposition to civil-rights laws in the past half-century (Rand's opposition included) is blameless for black defections; the party was just too high-minded, too egalitarian, too devoted to freedom to compete with Democratic bribery.

This kind of historical fantasia—and worse—has become more brazen than ever since Obama arrived on the scene. Three years ago, while contemplating his own presidential run, Haley Barbour, the former Mississippi governor and Republican leader, went so far as to praise the rabidly segregationist White Citizens' Councils of his youth for their opposition to the Ku Klux Klan. (The racist Councils had opposed the Klan, a rival, in the same sense that the Capone gang opposed the Moran gang in the St. Valentine's Day Massacre.) Barbour also boasted about attending integrated schools in Yazoo City, Mississippi, in the sixties, even though the courts didn't step in to finally enforce desegregation there until 1970 (when he was 22). "I just don't remember it as being that bad," he said of the racial climate in his hometown in 1962. That was the same year that a riot killing two and injuring more than 300 broke out 150 miles away, in Oxford, Mississippi, when the then-governor, Ross Barnett, defied a court order forcing the university to admit a black student, James Meredith. Almost matching Paul and Barbour in historical fabrication is another Republican with presidential ambitions, Governor Bob McDonnell of Virginia, who in 2010 omitted any mention of slavery from his already dubious declaration of Confederate History Month; he explained he wanted to focus on issues he thought "were most significant" for his state. (McDonnell, like Barbour, soon had to undertake a public reeducation tour and backpedal.)

Yet the most insidious and determined campaign to rewrite racial history on the right has come not from yahoo political hacks but from a coterie of writers who pop up at relatively highbrow conservative publications like The Wall Street Journal, National Review, and The Weekly Standard. Their work, often underwritten by conservative think tanks like the American Enterprise Institute and Heritage Foundation, feeds the politicians their source material. Some of these writers' spurious output makes it into the so-called liberal media as well, including that of Gerard Alexander, an AEI "scholar" who published a piece titled "Conservatism Does Not Equal Racism. So Why Do Many Liberals Assume It Does?" in the Washington Post in September 2010. Alexander, the author of a previous Weekly Standard article defending the GOP as "the party of civil rights," wrote in the Post that "many white conservatives swoon when members of minority groups proudly share their values" and that "the old conservatism-as-racism story has outlived all usefulness and accuracy." Oh, really? In just the six months before his article appeared, a short list of conservatism-as-racism stories would include Andrew Breitbart's attempted high-tech lynching of the black Agriculture Department official Shirley Sherrod; the epithets hurled at the civil-rights hero John Lewis, among other members of the Congressional Black Caucus, in a mêlée on the Capitol grounds; and a "parody" letter by a Tea Party Express spokesman in which the "NAACP head colored person" called Lincoln the "greatest racist ever."

The history that such Republican water-carriers want to blot out was succinctly summarized recently by the Princeton historian Sean Wilentz: "Everybody knows that in 1964, a proud southern Democratic president, Lyndon Johnson, pushed hard to secure the civil-rights bill, with the aid of a coalition of northern Democrats and Republicans. This sent the defeated segregationist southern Democrats (led by Strom Thurmond) fleeing into the Republican Party, where its remnants, along with a younger generation of extremist conservative white Southerners, including Rand Paul, still reside." The only part of this that is not true are Wilentz's first two words: In our amnesiac country, everybody does not know what happened 50 years ago, which is why the revisionists have an opening to fill the vacuum.

-- Whitewash: The party on the brink of destroying the Voting Rights Act reminds us that Republicans were really the great civil-rights leaders all along., By Frank Rich
Free markets? That's what he thinks defines America? Let me rephrase what I said earlier: Trump hasn't just fulfilled the Republican Party's purpose; he has exposed it. And he also has exposed the media's indifference to what the party has become.
Obviously, I am not saying that the transmogrification of the Republican Party happened surreptitiously. It happened in plain sight, and it was extensively chronicled — but not by the MSM. The sainted Reagan blew his party's cover when to kick off his general election campaign in 1980 he spoke at the Neshoba County Fair, just outside Philadelphia, Mississippi, where three civil rights workers had been brutally murdered in 1964. He wasn't there to demonstrate his sympathy to the civil rights movement, but to demonstrate his sympathy to those who opposed it. This was an ugly moment, and it didn't go entirely unnoticed in the media. In fact, David Brooks would later be moved to defend the speech, which invoked the not-so-subtle buzz words "states' rights," and to act as if Reagan had been slandered by those who called him out on it.
Even if it were true that the media are not referees, not taking sides against extremism is just another way of taking sides by legitimizing extremism and making it the new normal, which it now is… Objectivity is a rationalization.
But if some in the media did call out Reagan on his disgusting curtsy to George Wallace voters, the press seemed to lose its nerve once Reagan became president and the Republican Party lurched not just rightward, but extremist-ward. Do you remember these headlines: "Republicans Oppose Civil Rights"; "Republicans Work to Defeat Expansion of Health Insurance"; "Republicans Torpedo Extension of Unemployment Benefits"; "Republicans Demonize Homosexuals and Deny Them Rights"; "Republicans Call Climate Change a Hoax and Refuse to Stop Greenhouse Gases"? No, you don't remember, because no MSM paper printed them and no MSM network broadcast them. Instead, the media behaved as if extremism were business as usual.
I don't think the media would deny their indifference. They would say they don't take sides. They're neutral. They just report. Partisanship is for Fox News and MSNBC.
Of course, this is utter nonsense. Accurate reporting means taking sides when one side is spouting falsehoods. I am still waiting for the media to correct the GOP pronouncements that Obamacare has cost us jobs and sent health care costs skyrocketing – both of which are screamingly false. I am not holding my breath.
But even if it were true that the media are not referees, not taking sides against extremism is just another way of taking sides by legitimizing extremism and making it the new normal, which it now is – so long, apparently, as you don't shout it. In any case, objectivity is a rationalization. We know the media are afraid of a right-wing backlash. We know that they protect themselves by insisting that our two major parties are equidistant from the political center – more nonsense. And we know that every story is framed by its political consequences, not its human ones. We see that every day.
But if you really want to know why the media skipped the story about Republican extremism all these years, you have to look to the force of extremism itself and the way it reconfigures the political spectrum, basically disorienting us. In Europe, fringe parties on the right and left get savaged by the press all the time. If we had them here, no doubt the same thing would happen, press objectivity notwithstanding. The difference between Europe and America is that our right-wing extremists happen to control one of our two major parties and theirs don't. To take on extremism would reveal not only the Republicans' deficiencies, both of its elected officials and its rank and file, but the deficiencies of the entire American political system. That takes a courage very, very few people (OK, nobody) in the MSM have.
And yet we now know that the media can be assertive if they want to be, that they can take sides, and even correct the record if they choose. We know because that is precisely what they are doing against Trump, but only because they see Trump as an outlier from the GOP establishment – a disruptive, fringe force. Trump has a right to feel blindsided by the double standard to which he is being subjected. Cruz may be even more of an outlier from the American mainstream than Trump, and yet the media don't seem anywhere near as lathered about him.
But back to the big story: Something happened in American politics over the last 25 or 30 years to release our demons and remove our shame. The media didn't want to look. Now Trump has come along to reap what the conservatives had sown, and stir up those demons, and the media are suddenly in high dudgeon. Where were they when America needed them?