The Congressman and the Hoodlum
by Russell Sackett, Sandy Smith and William Lambert
Life Magazine
August 9, 1968
NOTICE: THIS WORK MAY BE PROTECTED BY COPYRIGHT
YOU ARE REQUIRED TO READ

THE COPYRIGHT NOTICE AT THIS LINK

BEFORE YOU READ THE FOLLOWING WORK, THAT IS AVAILABLE SOLELY FOR PRIVATE STUDY, SCHOLARSHIP OR RESEARCH PURSUANT TO 17 U.S.C. SECTION 107 AND 108. IN THE EVENT THAT THE LIBRARY DETERMINES THAT UNLAWFUL COPYING OF THIS WORK HAS OCCURRED, THE LIBRARY HAS THE RIGHT TO BLOCK THE I.P. ADDRESS AT WHICH THE UNLAWFUL COPYING APPEARED TO HAVE OCCURRED. THANK YOU FOR RESPECTING THE RIGHTS OF COPYRIGHT OWNERS.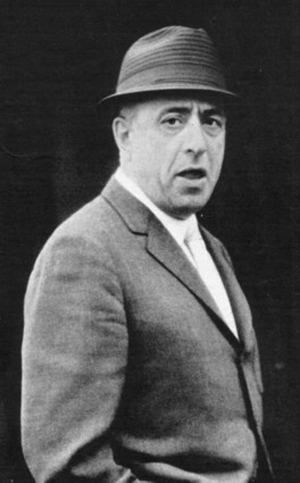 Gangster Joe Zicarelli, a New Jersey capo in Cosa Nostra. Ties bind the congressman and the hoodlum in an alliance of interests.
This is the story of the corruption of a U.S. congressman by the Mob. Not just any congressman, but one of influence and importance both within the U.S. government and, to an extent, abroad-the Honorable Cornelius E. ("Neil") Gallagher, Democrat from New Jersey's 13th Congressional District, a key member of the House Committee on Foreign Affairs and the House Government Operations Committee, the chairman of the U.S. and Canadian Interparliamentary Group, and a former U.S. delegate to the Disarmament Conference. Gallagher, a man as prominent in the party as he is in government, was among the handful seriously considered by Lyndon B. Johnson as a possible running mate. He would have made an attractive candidate. He has good looks, charm, intelligence – he once taught at Rutgers. His war record is impressive – as a captain he commanded a rifle company in Europe in World War II and Korea and was wounded three times, winning eight decorations.
As previously revealed in LIFE'S continuing series on the Mob and its enterprises, organized crime has succeeded in planting its poisonous roots deep in American business, inside labor unions and city and state government. Now, an eight-month investigation by a team of LIFE reporters has established that the Mob has gained yet another choice plum. Behind the facade of prestige and respectability lives another Neil Gallagher – a man who time and again has served as the tool and collaborator of a Cosa Nostra gang lord.
Congressman Neil Gallagher's tiein with this glowering Cosa Nostra figure, Joe Zicarelli, has ranged from his own home turf in Bayonne, N.J. to points as far distant as Montreal and Santo Domingo, capital of the Dominican Republic. it has involved such diverse interests as "fixes" with local New Jersey police, Caribbean politics, the promotion of a contraband "cancer cure" and a gangster's weird tale about the disposal of a corpse.
The story of Gallagher's availability to run the Mob's errands begins with conversations he had in the summer of 1960 with Zicarelli. The latter had a complaint. The police had strayed out of line and were putting heat on some of his men in the gambling rackets. Zicarelli wanted this nonsense stopped.
In Cosa Nostra, Zicarelli holds the rank of capo, or captain, in the fearsome Joe Bonanno "Family." In the rackets he is known by the nickname Joe Bayonne, derived from the New Jersey industrial waterfront city, which squats opposite Manhattan's towering financial district. This is Zicarelli's - and Gallagher's - power base. To Zicarelli a political "connection" - or "The Fix" - is a thing of beauty, like cash in a Swiss bank, or two star sapphire pinky rings. Racketeering in all its profitable and ugly aspects is Zicarelli's trade, and his connections have kept him operating.
Above all, Zicarelli is cagey. For a long time, he followed the practice of issuing his orders to captive New Jersey politicians from public telephones.
On the morning of Monday, June 13, 1960, authorities began electronic surveillance of a Manhattan bar telephone booth from which Zicarelli conducted his business. They were interested solely in the mobster. The congressman came into the inquiry unexpectedly; and what to do about this has been troubling officials of the Department of justice ever since.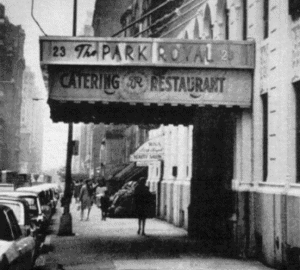 In 1960 Joe Zicarelli maintained a Manhattan "pad" in the Park Royal Hotel. Electronic surveillance of his suite by law officers yielded evidence linking the mobster boss to Congressman Gallagher.
On June 13, from the pay telephone, Zicarelli called Gallagher's unlisted telephone at the congressman's law office in Bayonne. There was no answer. Zicarelli called the congressman's home. Gallagher wasn't there, either.
A week passed. The following Monday, June 20, Zicarelli called Gallagher's law office once again and placed two more calls to the congressman's home. Again Gallagher was out and this time Zicarelli asked the woman who answered to tell the congressman to "call Mr. Gray at the Murray Hill number."
On the next day, June 21, Zicarelli finally got through to Gallagher on the unlisted office telephone. He complained that the Bayonne police had staked out the key stations of his gambling network. His business was being disrupted, Zicarelli huffed, by the treachery of a top police official.
"O.K.," said Gallagher. "Let me get hold of him right now."
A few hours later, Zicarelli phoned Gallagher again at his office, demanding to know what the congressman had done for him.
"I got hold of a friend who said [the police official] was jumping," said Gallagher. "I got a hold of the little guy in Jersey City and told him to reach out for him [the police official]."
That night, a messenger from Bayonne appeared at the West Side apartment used by Zicarelli as a Manhattan hideaway. With the authorities listening in, he gave the gangster some bad news.
"One of the lightweights [an honest policeman] grabbed a guy [a Zicarelli runner] with a bag of money - return money," the messenger said. "Later, I laid it in to -- -------- [naming a Bayonne policeman]. I said you guys are wrong here, taking out money and then hurting people."
Zicarelli cautioned the messenger to keep his cool. "I talked to the top man," counseled Zicarelli. "Take it easy. Don't get excited. He'll see [the police official] tomorrow."
'Mr. Gray got him off the House floor
Zicarelli was unwilling to wait. On June 23 he telephoned Gallagher's home and tersely left word for the congressman to "call Mr. Gray."
It was two days later, Saturday, June 25, before Gallagher returned the call to Zicarelli at the pay phone. This colloquy followed: Gallagher: I got hold of those people [Bayonne police] and there will be no further problem. Zicarelli: I hope so, because they're ruining me. Gallagher: They damn well better not.
Zicarelli: They're doing a job on me like was never done before. Gallagher: I laced into them.
Gallagher said he would "follow through" on the job. He explained that he was going to Washington, and said that if Zicarelli would call him there he would call back.
A few days later Zicarelli, using the name of "Mr. Gray," did telephone Gallagher's office in Washington. One of the congressman's aides told him that Congress was in session and Gallagher was on the floor of the House of Representatives.
"Well, get him off the floor – this is important," commanded Zicarelli.
The aide, shaken by the imperious manner of "Mr. Gray," suggested that Mr. Gray call the Capitol direct. Zicarelli did, and Gallagher quickly left the House floor at the word that Mr. Gray was calling. The "important" message was simply that Joe Zicarelli wanted to see his congressman as soon as possible.
That telephone conversation was followed by a number of Sunday morning meetings between Gallagher and Zicarelli. Some of these brunch powwows (LIFE, Sept. 1, 1967) were uncovered by authorities who had Zicarelli under surveillance.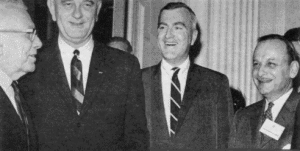 In 1964, while he was serving as the cochairman of the Canadian-American Interparliamentary Group, Democrat Gallagher was received warmly by President Johnson at the White House.
Small wonder, then, that Justice Department officials, who knew about Gallagher's connections with the Cosa Nostra capo, were apprehensive about testifying before a House subcommittee a year ago last spring.
Under the chairmanship of Dante B. Fascell, the hearings were delving into the federal effort against organized crime-and right there big as life sat subcommittee member Gallagher. It was, as one Justice employe was later to observe, a little like having your cotton crop investigated by a boll weevil. Gallagher had meanwhile become-with Missouri's Senator Ed Long (LIFE, May 26 and Nov. 10, 1967 and July 26, 1968)- a leading congressional spokesman against government invasions of privacy, including the very investigative technique that had first disclosed his own alliance with the mob.
As the hearing proceeded, Congressman Gallagher reflected self-assurance in his questioning of a succession of federal enforcement officials. The thrust of his remarks was that organized crime - specifically the Mafia - was a vastly overblown concept, and that the federal effort against it was too big a weapon for the size of the target, and that innocent people could be wrongly damaged through unwitting association with mobsters.
"Sometimes I have the feeling," he said, "as we go down the path into all sorts of uncharted areas, especially in the area of computers and the invasion of privacy, that if there had been no Mafia, perhaps Big Government would have had to invent one."
In due course he came around to what might have been most on his mind. "When you get into the exotic fields that the organized crime unit has got into . . . it is quite conceivable that anybody who ever was in the same theater with an organized crime identified type is going to find that moment in his life frozen into a government computer, and forever more he remains part of the organized crime complex."
Early last month three LIFE reporters paid a visit to the congressman's offices in Washington after he had agreed to discuss the information gathered by this magazine. With Attorney Lawrence I. Weisman at his side, Gallagher was asked if he had "any association" with Zicarelli.
"No," said the congressman. After that flat assertion, the following was said:
Q: /You/ never called him or talked to him?
A: Let me tell you something. Can I talk off the record? I want to level with you. I want to level with you.
Q: / don't think we ought to get off the record on a thing like this. A: Okay, then, we won't. Mr. Zicarelli on several occasions has called me-ah, one way or another -about his son who was a doctor trying to get into med school and he thought he was being discriminated against. . . . One day he called me straight here. Q: Did you say he called you here?
A: A long time ago. I think twice. I think when the kid was trying to get into medical school.
Q: At your office?
A: Yes. And I think one time in the hustle and bustle and nobody was here and the phone call came through over in the other place Ithe Housel. It was over on the floor . . . he called there cold and said: "I hope you don't mind." I tried to brush him off as best I could, saying it was a long day or something. He said, "Well, I'm a taxpayer. . . ." Well, you know, kiddingly, or whatever the hell. Q: Did you ever get any calls from a Mr. Gray? A: Mr. Gray. . . . I think that is who he (Zicarellil said he was. I don't know. He didn't say who was . . . I think that's probably how the hell he got on the line. Q: Why would he get on the line any faster if he said he was Mr. Gray than if he said he was Mr. Zicarelli?
Joe Zicarelli needed help to buy an airline
A: Well, I wouldn't get on the line if I knew it was Mr. Zicarelli. You know, you've got to try to be circumspect about these goddam things and not hurt a person's feelings or get anybody angry at you.
Q: But you did know who he was?
A: What?
Q: You knew who Joe Zicarelli was?
A: Not the first time. Not the first time. . . . I guess he just figured I got it through one time before. But I would try to duck it as much as I could.
At another point in the interview, Gallagher was asked, "Did you ever telephone Zicarelli?"
"Never," he replied.
Q: Absolutely never?
A: Never.
Q: It's not possible that you're making a mistake?
A: That I called Joe Zicarelli? No.
Gallagher also denied that he had met with Zicarelli at any time, in a restaurant or any other place. At this point, Attorney Weisman interjected:
"The congressman said that they [the meetings] did not take place. I haven't talked with the congressman about this but I'll put something on the table and test your sense of fairness. He's willing to take . . . I would advise him to take a lie detector test to determine whether these are the facts. . . .
Gallagher quickly cut in:
"Hey, let me say something. I don't believe in lie detector tests. They're snake oil. That's one of the reasons I'm where I am, because of the investigations that I've had with all this stuff and I became a target because . . . I believe there should be some integrity in what the hell we do and not believe in the whole question of the drift toward a police state and McCarthyism with its new name, Mafiaism. And . . . probably that's why I'm being slammed a little bit right now." Q: The information we have is that you did, in fact, intercede for Zicarelli with the Bayonne police department to slow up investigations that the Bayonne police were making into his lotteries and other gambling that he has over there. Now, I'd like a response to that. A: I categorically deny that that ever happened. I never had any influence with the police in Bayonne.
Q: Did you ever speak to any public official in Bayonne in connection with Joe Zicarelli's operations?
A: I have-uh-Joe Zicarelli is like a legend in Bayonne. All the exfighters and all the people who he probably handed out money to, to help, or something I don't know . . .
Q: Did you ever speak to a public official in Bayonne in connection with Joe Zicarelli's interests?
A: No, I never did.
Later the interview got into the fact that Gallagher currently is one of three partners in a home construction firm in Bayonne, known by a number of names including Edmart, Inc. The other two partners are Dr. Martin Turkish, a Bayonne physician, and Edward Slifka. At the time of Zicarelli's overheard phone calls, as it turns out, Slifka was the deputy police commissioner of Bayonne.
The congressman seemed especially ill at ease when questioned about Edmart.
Q: Were you equal partners in this thing, Congressman?
A: A . . . yes. I hesitate on it because on . . . of the things that I did not like to appear as a partner on the building was, if you're in politics you obviously . . . what I'm undergoing now is . . . takes place many times. But the other problem in politics is that if you appear as a principal in building there are all kinds of people in . . . local political people who set up straw men [so] that you would have to call them and say: "Would you please remove that straw man?" It might be just the issuance of a permit, or a water pipe, or to turn the heat on, whatever the little thing may be. They set up a pattern of harassing you to the point where . . . and as soon as you call them for that they say: "Oh, by the way, I've got a brother-in-law. Can you get him a job?" Or whatever. It's give and take like that. So for those reasons I never really appeared as an equal partner, but in fact I am an equal partner. I appear as the attorney.
Q: Has it been lucrative?
A: Well, I can't say that I'm getting rich on it. But it's $25,000 . . . $30,000 . . .
Q: Has it been producing that every year?
A: I can't say it produced it this year.
Slifka, the congressman's present partner, also had turned up in the electronic surveillance over Zicarelli.
On Sept. 15, 1960, when he was still deputy police commissioner, he called Zicarelli on the pay telephone the gangster was using at the time. Slifka wanted Zicarelli to know that Gallagher was off on a 10-day trip.
"I know, I spoke to him earlier," said Zicarelli. "Where's he going?"
Europe and Africa, Slifka answered proudly. "He's no longer a kid," he said. "He's representing the U.S. all by himself. He's the next governor. He was at the armory this morning and they gave him an ovation as big as Kennedy's [President John F. Kennedy]."
Slifka and Zicarelli agreed that Neil Gallagher certainly was a fine fellow.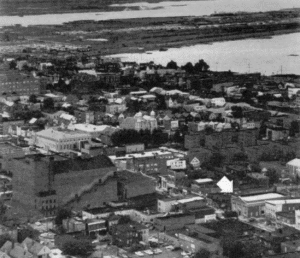 Here is Bayonne, N.J., an industrial township where young Neil Gallagher grew up across the river from Manhattan and which is his - and Zicarelli's - power base. Arrow indicates Broadway National Bank, of which Gallagher is a director. His law offices adjoin the bank.
Secret traffic in an illegal 'cancer drug'
Among Gallagher's considerable attributes, so far as Zicarelli was concerned, was his seat on the prestigious House Foreign Affairs Committee. For all his small-town nickname, Joe Bayonne had important foreign affairs of his own – among others, with the Dominican Republic, to which he sold arms during the terrorist regime of Rafael Trujillo.
In the scramble that followed Trujillo's assassination, however, Zicarelli was reaching for a new grip. When Joaquin Balaguer – once Trujillo's puppet president – was elected head of state in 1966, Zicarelli saw his chance to get control of the republic's faltering airline, Compahia Dominicana de Aviation. Even as a legitimate business its prospects were good, once the tourists started returning. But as a licensed international carrier which Cosa Nostra could put to use in all the shady trades in which it specializes, it could be a flying bullion lode.
The gangster's attorney, Stephen Hoffman, who had served as registered agent for Balaguer during the latter's exile in the U.S., was on hand for Balaguer's inauguration on July 1, 1966. Gallagher also was there, in the official delegation from Washington. Early the following year, on a visit that some federal authorities are convinced was directly connected with Zicarelli's bid for the airline, Hoffman flew down again. So did Congressman Gallagher - on the same plane, in fact. They met and talked.
President Balaguer later confided to a friend that Gallagher, during his visit, had professed himself interested in sugar investments "and any other kind of business deal he can put together." Indeed, the congressman told embassy officials on arriving that the nature of his trip was "personal." Yet Gallagher told LIFE that the trip had the official sanction of the Foreign Affairs Committee and various government departments fie had consulted. The committee, he said, had picked up the tab for the trip.
Even so, the U.S. embassy in Santo Domingo was embarrassed by the circumstances of Gallagher's visit and the fact that it coincided with that of Hoffman, whose Balaguer-Zicarelli affiliations were well known. Embassy officers cabled Washington that the congressman had assured them he was "trying to keep Hoffman at arm's length." (Later Gallagher told LIFE he had never discussed Hoffman's presence with anyone at the embassy.) Ambassador John H. Crimmins told the State Department he regretted Gallagher's involvement in the island republic, and said it appeared the congressman was "naive."
Despite the efforts of his envoys, Zicarelli never did pull off the airline deal. But the activity in Santo Domingo does follow a pattern that repeats itself where Zicarelli and the congressman are concerned: when and where the gangster needs influential help, along comes Congressman Gallagher. Another example: Laetrile.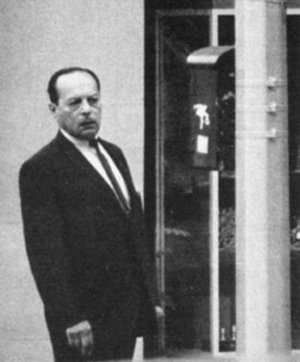 Lawyer Steve Hoffman, who has represented gangster Joe Zicarelli in a variety of capacities, walks near his apartment in an uptown Manhattan neighborhood.
Laetrile, a purported cancer drug, is manufactured in Canada by a firm called Biozymes International Ltd. and promoted by the McNaughton Foundation. Both are headed by Andrew R.L. McNaughton, the swashbuckling son of the late General A.G.L. McNaughton, distinguished Canadian soldier and diplomat. The use of Laetrile, which is made chiefly from an extract of peach and apricot pits, is illegal both in Canada and in the U.S. If it could be government approved Biozymes International stock would become very valuable indeed. This was a situation bright with the prospects of profit for a man like Joe Zicarelli, with his Washington connections.
The McNaughton Foundation gives callers the names of four doctors said to be treating cancer patients with the drug. One of the doctors is located in Italy, two others in Mexican border towns.
The fourth doctor practices in Union City, N.J. the heart of Zicarelli country - at the clinic where Joe Zicarelli himself is being treated for "anxieties." (The doctor told a LIFE reporter Zicarelli is receiving "placebo therapy," i.e., sugar pills, for his nerves.)
In a remarkably candid interview with two LIFE reporters in Montreal on May 1, McNaughton admitted: "I am doing something highly illegal in your country.
"First of all," he said, "the diversion of Laetrile from Canada to the U.S. is an offense against the Canadian food and drug regulations. Secondly, it's an offense against the American food and drug regulations. Thirdly, it's an illegal act to take it across the border - and I suppose you could find 10 other crimes that are involved in it. We are doing this on a reasonably large scale Zicarelli, said McNaughton, has an interest in smuggling Laetrile into the U.S., where he said at least 150 patients are now being illegally treated with the drug. McNaughton said that Steve Hoffman, who had been his attorney and a stockholder in Biozymes International, had introduced him to Zicarelli. He also said he strongly suspects that the gangster, using another man's name as a front, had donated between $100,000 and $130,000 to the nonprofit McNaughton Foundation. And he guessed that Zicarelli might, under someone else's name, also be a stockholder in Biozymes.
It was Hoffman, according to McNaughton, who also introduced him to "the man who can do the job [for Laetrile] in Washington . . . introduce us around, get us favorable consideration from the Food and Drug Administration." Enter, once again, Congressman Gallagher.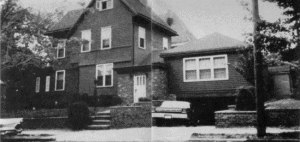 A mobster has told police he lugged the corpse of a loan shark from Gallagher's ample old frame house in Bayonne. Gallagher's car, bearing the distinctive plate number CEG1, is seen in the driveway.
A chiller right out of a Hitchcock film
The most intriguing link of all between Zicarelli and Gallagher involves an incident so garish as to strain belief were it not for the evidence. It concerns a return favora big one-allegedly sanctioned by Zicarelli for the congressman. The story, told in detail here for the first time, could be right out of an Alfred Hitchcock movie.
Bernard ("Barney") O'Brien was a smalltime loan shark and exbookie whose legitimate business was a Dairy Treat ice cream stand on Highway 440 in Bayonne. Most nights he was home at 6 o'clock for dinner with his brother Mike and his sister Shirley in the flat they shared on the shore of Newark Bay. Barney never married. His escapades with women gave him what passes for playboy status in Bayonne. The folks in Bayonne, when they talk about him now, agree that Barney was a "character," and in this view Neil Gallagher concurs. In his interview with LIFE reporters on July 3 the congressman was asked, "When did you meet Bernard O'Brien?" There was a hesitation. "Bernard O'Brien? . . . Oh, Barney O'Brien," Gallagher replied. "Barney's been a local character in Bayonne for years and years. I knew Barney when . . . I was a kid."
Q: Did you know him well?
A: Not intimately. I knew him to say hello, to kid with. Once in a while I'd stop off and buy ice cream and things for my children. And what Barney did or didn't do I had no idea. Except I did know that he ran that Dairy Treat.
Whatever recognition Barney acquired during his life in or out of the rackets was confined to Bayonne. Here he harvested bets and did a bit of shylocking on a franchise from the big shot, Joe Zicarelli. Then Barney simply vanished from his grubby little world.
"I remember that night as if it were last night," says Shirley O'Brien, talking about the evening of Saturday, Oct. 13, 1962 when her brother Barney walked out of their apartment for the last time.
She said she had fixed their supper but Barney pushed it away untouched. He went back to the living room to slouch in the chair while Shirley did the dishes.
"A little after 8 o'clock he got up and said he was going out to watch the fights on TV. He walked out the door without saying another word. And I never saw him again."
Barney, said Shirley, was a "good, good man" with many friends.
"Barney was a good friend of Neil Gallagher," she adds.
After leaving his home that night, Barney stopped at the Colony Diner on Communipaw Avenue and then drove to the Dairy Treat to watch the boxing matches on TV. His partner, Michael Oshust, operated the shop on the night shift. Oshust died in 1964. After Barney disappeared, Oshust told police that O'Brien looked at the fights until 10:45 p.m., when there were three rounds left in one match. Oshust said O'Brien then announced, "I'm going to get the papers and go home." He never got there. Investigators have been unable to find anyone who saw him alive after he wheeled his auto out of the driveway of the Dairy Treat.
A little after midnight, Oshust closed the Dairy Treat and drove to his home in East Orange. He told authorities that he went to bed about 2 o'clock on Sunday morning, Oct. 14.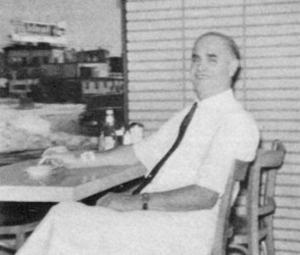 Drive-in manager and minor shylock Barney O'Brien smiled for the camera during a coffee break. Soon after, Barney was dead and his body had been disposed of by mob muscleman Kayo Konigsberg who said he removed it from Gallagher's house.
At about 3 a.m., Oshust said, he was awakened by the bedside phone. It had an unlisted number.
As he picked up the phone, Oshust said, a man's voice came over the wire, saying, "Remember this call. You'll hear from us in a couple of days."
"What did you say?" asked Oshust.
A click sounded in Oshust's ear as the caller hung up. Oshust turned over and went back to sleep.
Over the next five years, law enforcement agencies were unable to turn up any solid information about Barney's fate. The possibility of mob vengeance was discounted. Authorities determined that relations between Barney and Zicarelli had been amicable up to the time Barney disappeared. It was considered certain that Barney was too smart to cross Zicarelli.
The Case of Barney O'Brien remained dormant in missing persons files until February 1967, when FBI agents got the first hint of what had happened to him. The information came from, of all people, Harold ("Kayo") Konigsberg, a man who possessed terrifying credentials as a gangster.
"Gallagher was to take us to the Veterans Administration, Bethesda [Naval Hospital], Walter Reed, you name it," said McNaughton. "Hoffman said, 'Gallagher's the man.' I said, well, he'll expect some recompense, and Hoffman said, 'We'll work it out.' " Gallagher denied that anyone talked to him about recompense. The appointments were made, all right, but the presentations misfired and Laetrile remains an unauthorized and, for now, unprofitable drug.
Congressmen often do constituents favors and see that they get hearings in the halls of the capital. Gallagher claimed that is all he was doing for Laetrile - at the request of a constituent, Dr. John A. Morrone. Now deceased, Dr. Morrone was a Jersey City surgeon and a close friend of Joe Zicarelli.
As it turns out, helping Dr. Morrone was not Congressman Gallagher's only interest in the contraband drug. Until recently one of the directors of Biozymes was Gallagher's friend and law partner, E. A. ("Ed") Dembe. Of the total stock issue of Biozymes, the largest single block - some 1.2 million shares - is held in the name of the Broadway National Bank of Bayonne. Ed Dembe is one of the bank's owners. Congressman Gallagher is a director.
Dembe claims he did not know of Gallagher's connections with Laetrile at the time he became a director of the manufacturing firm and later when he agreed to let his hank become nominee for the Biozymes stock in a strange agreement with an old friend of his, Steve Schwartz. (Schwartz is a gunrunner and international operator who is tied to mobster Carmine Galente, a fellow capo of Zicarelli's in the Bonanno Family of Cosa Nostra. Schwartz was also in Santo Domingo at the same time Gallagher and Hoffman were there, but no one is quite sure why.) Dembe told two LIFE reporters he presumed the stock actually belonged to Schwartz, but "I never had a pinpoint, detailed, hold-'em-up-against-the-wall conversation with Steve" about it. Dembe said the stock certificates are not held in the Bayonne bank, but "someplace up in Canada."
Gallagher claims he knew nothing of his partner's or the bank's involvement with the stock until "after you fellows talked to Eddie."
When interviewed by LIFE, all parties - McNaughton, Hoffman, Dembe and Congressman Gallagher - made essentially the same request: don't write anything that's going to hurt the fight against cancer. Gallagher was asked if a congressman wasn't sticking his neck out a bit to go to bat for a cancer drug unknown to him, being promoted by men he claimed were virtual strangers. "Look," he said, "if Bonnie and Clyde had a cure for cancer, you should listen."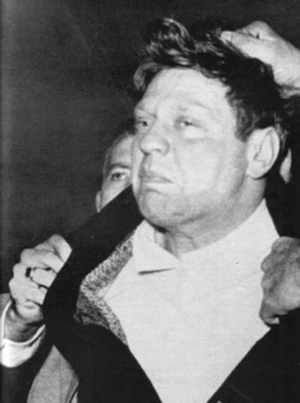 Konigsberg struggles in the grip of a detective.
Konigsberg's home base was Bayonne. For years police and federal agents considered the hulking Kayo the most dangerous uncaged killer on the east coast. A federal official has said, "Kayo was an animal on a leash for Zicarelli and others. All they had to do was unsnap the leash and he'd kill for the fun of it." Konigsberg shot some of his victims, throttled others with his bare hands. As a loan shark, he took over the deadbeat loans of other shylocks and joyfully went about squeezing cash from the borrowers, sometimes by beating them with ball bats and chairs. In due course Konigsberg was brought to trial for extortion and convicted, despite his plea of insanity - the court having heard testimony from a psychiatrist who declared Kayo sane.
In a place as small as Bayonne, it might be expected that the paths of Kayo and Gallagher might cross now and then. Gallagher affirmed that this had indeed happened.
"Another big name in Bayonne," said Gallagher. "Kayo is a . . . Kayo is an original. I don't know . . . I tell you everybody knew Kayo."
It was in 1964, while serving a prison term for possessing stolen goods, that Kayo began dropping hints that he was willing to talk to the government about Cosa Nostra. The Mob now began to view the disgruntled Kayo as a distinct security risk. Sure enough, a year later Kayo opened up, saying that he could lead Justice Department officials to a Cosa Nostra burying ground in New Jersey. He himself had interred a dozen murder victims, he said, among them the long-missing Anthony ("Tony Bender") Strollo, a top-rank mobster. Kayo's outrageous demands for concessions and leniency, however, led officials to shrug off his stories as efforts to talk his way out of jail.
But even back in 1964 the gangsters knew precisely what Kayo could reveal-and what to do about it. Accordingly, on April 5, 1964, a man named Joe Celso, 50, took note of an ad placed by a farmer who wanted to sell a frontloader - a sort of mechanical scoop. Celso drove to the farmer's yard in a black Cadillac. With Celso was a swarthy, well-dressed man who remained in the car. Celso asked the price of the frontloader. Expecting that he would have to dicker with the buyer, the farmer said, "$1,000." Without a word, Celso returned to the Cadillac, whispered to the swarthy man and returned to the farmer to drop ten $100 bills into his hands. Celso asked that the frontloader be delivered the next day to his chicken farm north of Lakewood. "Come along and show me how to run it," said Celso. The farmer did so.
Almost three years elapsed before Kayo was brought from prison in New York, in February 1967, to be tried for extortion. He was convicted and faced additional sentences of up to 174 years. Again he sought leniency by offering to talk about the gang cemetery. It was, he said, on Celso's chicken farm - at the site of an illicit whisky still once operated by Zicarelli. The bodies, said Kayo, were in the wooden mash pit of the still. One, he said, was that of Strollo.
Kayo's story of the body in the basement
Another, he said, was Barney O'Brien.
Kayo led FBI agents to the mash pit. Close by he pointed out the graves of two more victims, Angelo Sonessa and Kenneth Later, whose bodies were indeed unearthed and identified by the agents. But in the pit itself the diggers found no bodies. Authorities are now convinced that the corpses of Strollo and the others had been disinterred and buried in other places at about the time Celso bought the frontloader. But they did turn up one piece of evidence at the pit: a pair of orthopedic shoes. These were traced to the Jerry Miller I.D. Shoe Company of Brockton, Mass. Officials of the company said the shoes had been ordered by Dr. Leon Linsen, of Bayonne. And Dr. Linsen said he had obtained them for Bernard O'Brien.
Kayo also repeated a story he had first related in 1965. It concerned the disposal of O'Brien's body. This, LIFE has learned, is what Kayo told the officials:
On a night in October 1962, Konigsberg was summoned by Gallagher himself to the congressman's home at 102 West Fifth Street, Bayonne. Kayo quoted Gallagher as saying, "There's something I want you to do." Kayo said that, at first, he protested: "I didn't come to you when I was in trouble." Then Gallagher led Konigsberg to the basement. There was the body of Barney O'Brien.
Kayo insisted that he didn't know how O'Brien had died. He said there were no marks on the body and that he thought O'Brien may have died of natural causes. Kayo said Gallagher asked him to get rid of the body. He said he replied that he wouldn't touch it without approval from the Mob.
According to Kayo, Gallagher then made several telephone calls. Within a few minutes a call came back for Konigsberg. It was Zicarelli, said Kayo, who told him to do what he could for Galla gher. At that point, Kayo said, he carried the body of O'Brien from Gallagher's basement, dumped it into the trunk of his auto. Then he telephoned Celso and told him to take his wife to a movie. When the Celsos had gone, Kayo said, he drove to the farm and buried O'Brien's body in the mash pit.
LIFE confronted the congressman with Konigsberg's story. Gallagher agitatedly pronounced it was "the most bizarre story I have ever heard in my life." There was no dispute over this. Later he said, "I can see why you've been nailing me for a year if you believe anything like that. Whew! Holy Christmas! I can see why you'd be damn curious about me. I would too!
"And it's preposterous," he went on, "that you would take a guy like Kayo Konigsberg and take a story like that and match that against my life."
The character of Kayo Konigsberg and the very sordidness of the O'Brien story would normally entitle a man in Gallagher's position to the benefit of the doubt. Yet the federal authorities who have checked other details of Konigsberg's disclosures have found the imprisoned killer consistently accurate.
Before asking the congressman about the Konigsberg story, the reporters had asked if O'Brien had ever been in Gallagher's home.
"Gee, I don't know that," said Gallagher. "I don't think so. But when Barney would get drunk he was liable to turn up any place and on election night all sorts of people would come into the house. But I don't think he was there then."
Q: He wasn't in vnur house on the night ... he disappeared?
A: Oh, come on . . . of course he wasn't.
Q: Do you know whether there were any telephone calls made from your house in connection with Barney's . . . [death] on or about Oct. 14, 1962? A: If there were, they were not made by me.
Q: There were no telephone calls made from your residence to Joe Zicarelli?
A: No.
Q: None?
A: Hey, let me tell you something about my house. It's open. There are literally numbers of people who have access to my house . . . they're guests. They're like the regular political kind of people that move in and out of any politician's house. Once people know you're home . . .
A reporter asked if Kayo Konigsberg had ever been in Gallagher's home. "Never," said Gallagher.
Q: Did O'Brien die in your house? A: I don't know where O'Brien died, or if he died, or anything else about O'Brien, other than what appeared in the newspapers.
Q: The question is: did he die in your house?
A: Barney O'Brien was never in my house.