What the hell is Chris Christie thinking?
By Chris Cillizza
The Washington Post
March 2, 2016
NOTICE: THIS WORK MAY BE PROTECTED BY COPYRIGHT
YOU ARE REQUIRED TO READ

THE COPYRIGHT NOTICE AT THIS LINK

BEFORE YOU READ THE FOLLOWING WORK, THAT IS AVAILABLE SOLELY FOR PRIVATE STUDY, SCHOLARSHIP OR RESEARCH PURSUANT TO 17 U.S.C. SECTION 107 AND 108. IN THE EVENT THAT THE LIBRARY DETERMINES THAT UNLAWFUL COPYING OF THIS WORK HAS OCCURRED, THE LIBRARY HAS THE RIGHT TO BLOCK THE I.P. ADDRESS AT WHICH THE UNLAWFUL COPYING APPEARED TO HAVE OCCURRED. THANK YOU FOR RESPECTING THE RIGHTS OF COPYRIGHT OWNERS.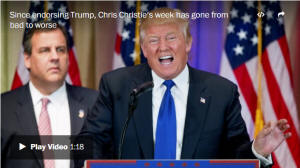 New Jersey Gov. Chris Christie's endorsement of Republican presidential candidate Donald Trump has prompted criticism in his home state and beyond, but Christie doesn't seem to want to talk about it. (Deirdra O'Regan/The Washington Post)
When Chris Christie emerged Tuesday night in Florida to introduce Donald Trump, I wondered how the New Jersey governor would deal with being second banana, the window dressing for Trump's turn to a general election race against Hillary Clinton.

Turns out, he didn't handle it so well. His death stare directed at Trump lit the Internet — okay, fine, the political Internet — afire. And not in a good way for Christie.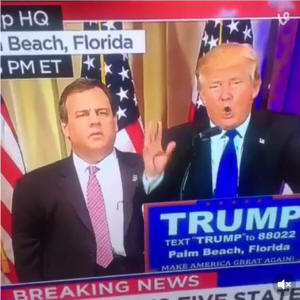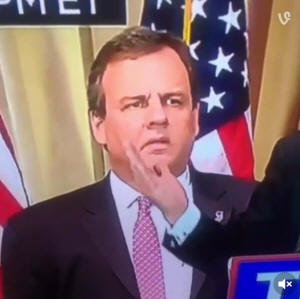 That appearance capped a remarkably bad five days for Christie — all of which began when he threw his support behind Trump's candidacy in advance of the Super Tuesday votes. From that moment until this one, the question that people — including many longtime allies of his — have been asking is: What the hell is Christie thinking?
"I think what is going on in his head is that he just needed to be back in the game," said one Christie ally. "I think he thinks he can have a positive influence on Trump. I think he is totally mistaken in that regard."
There's clearly a lot to unpack here. It starts with political calculation. Christie is term-limited out as governor of New Jersey in 2017. He wants a continuing role on the national stage. To that end, he assessed the GOP field, saw that Trump was the odds-on favorite to be the nominee, that the other options (Marco Rubio, Ted Cruz) were unacceptable to him and pulled the trigger.
You can see the political calculation: I swallow my pride a bit to back this guy — someone who I said not that long ago was not fit for the office and would lose for sure to Democrats — since he's going to win the nomination anyway. Maybe I get to be vice president on the national ticket. Maybe I get a Cabinet gig — attorney general? — in a Trump administration. And if Trump loses, then no harm, no foul. I lined up behind the nominee. Period.
The problem for Christie is that his political calculation was a little too transparent for everyone's liking. Suddenly, rather than looking like someone who simply grasped the moment better and sooner than anyone else, Christie is being cast as a rank opportunist.
Six newspapers in the state banded together to call on him to resign Tuesday. Here's how each of those op-eds started:
What an embarrassment. What an utter disgrace.

We're fed up with Gov. Chris Christie's arrogance.

We're fed up with his opportunism.

We're fed up with his hypocrisy.

We're fed up with his sarcasm.

We're fed up with his long neglect of the state to pursue his own selfish agenda.
Oomph.
And the hits just kept coming. Christie's approval rating among New Jersey voters dropped to just 27 percent following his Trump endorsement. (To be fair: It wasn't exactly robust — at 33 percent — before Christie threw in with Trump.)
All of it left Christie bruised and battered, and even those close to him are wondering just what was going on in his head.
I talked to several Christie allies and friends in the days since his Trump endorsement and, almost to a person, there was bafflement. Bafflement and a whole lot of silence. (I reached out to a lot more Christie people than I heard back from.)
The most generous explanation I heard for Christie's Trump endorsement — and his willingness to stand arm in arm, literally, with The Donald — is that the two knew each other long before the 2016 presidential race and are friendly. "I've gotten to know all the people on that stage, and there is no one who is better prepared to provide America with the strong leadership that it needs, both at home and around the world, than Donald Trump," Christie said when he made the surprise announcement.
Christie's thinking went something like this, according to his allies: Trump is going to be the nominee. I know him better than I know any of these other people and I like him. I'd like to be in politics in the future. So why not?
The other suggestion to explain Christie's behavior is that he remains embittered about the attacks he endured at the hands of Rubio's super PAC in New Hampshire and is looking for a measure of revenge.
"There's a lingering unhappiness over what Rubio's super PAC did to him in New Hampshire, and there's the unhappiness over not being able to fulfill the promise of what many thought his candidacy would be going back a few years, and that unhappiness has manifested itself, in part, in the endorsement of Trump," explained one senior party strategist granted anonymity to speak candidly about Christie's state of mind.
That explanation makes sense, given that both in his endorsement and in the days following it, Christie has hammered Rubio as "desperate" and taken obvious pleasure in Trump's increasingly vitriolic slams on Rubio's appearance ("sweaty") and performance ("loser").
Combine longtime friendship, dashed dreams and a taste for revenge and maybe you to start to understand just what Christie is up to right now. Then again, maybe not. Maybe it's even simpler than that.
"He needed to be relevant," said a Christie loyalist.
Chris Cillizza writes "The Fix," a politics blog for the Washington Post. He also covers the White House.