Part 1 of 2
The [Dois Gene] Chip Tatum Chronicles: Testimony of Government Drug Running
by Chip Tatum
©1996 by D.G. "Chip" Tatum and Nancy J. Tatum
NOTICE: THIS WORK MAY BE PROTECTED BY COPYRIGHT
YOU ARE REQUIRED TO READ

THE COPYRIGHT NOTICE AT THIS LINK

BEFORE YOU READ THE FOLLOWING WORK, THAT IS AVAILABLE SOLELY FOR PRIVATE STUDY, SCHOLARSHIP OR RESEARCH PURSUANT TO 17 U.S.C. SECTION 107 AND 108. IN THE EVENT THAT THE LIBRARY DETERMINES THAT UNLAWFUL COPYING OF THIS WORK HAS OCCURRED, THE LIBRARY HAS THE RIGHT TO BLOCK THE I.P. ADDRESS AT WHICH THE UNLAWFUL COPYING APPEARED TO HAVE OCCURRED. THANK YOU FOR RESPECTING THE RIGHTS OF COPYRIGHT OWNERS.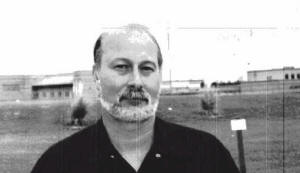 Chip Tatum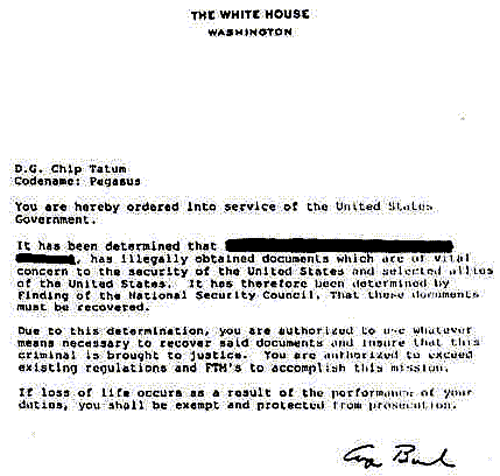 Chip Tatum's "License To Kill"?
THE WHITE HOUSE
WASHINGTON
D.G. Chip Tatum
Codename: Pegasus
You are hereby ordered into service of the United States Government.
It has been determined that [DELETE] has illegally obtained documents which are of vital concern to the security of the United States and selected allies of the United States. It has therefore been determined by Finding of the National Security Council, that these documents must be recovered.
Due to this determination, you are authorized to use whatever means necessary to recover said documents and insure that this criminal is brought to justice. You are authorized to exceed existing regulations and FTM's to accomplish this mission.
If loss of life occurs as a result of the performance of your duties, you shall be exempt and protected from prosecution.
George Bush
PEGASUS An American Spy Story Book Two
INTRODUCTION
I started government service in 1970 as a volunteer for military service during the Vietnam war. Having graduated Air Force Technical School, I became one of the Air Force's first elite combat controllers (CCT). I was subsequently sent to NKP, Thailand. While in Thailand, during a covert mission into Cambodia, our unit, code named Team Red Rock, was captured by North Vietnamese and held as prisoners for 92 days. During interrogations by both Soviet and Chinese officers, Team Red Rock remained silent through the beatings and torture that more often than not ended in death. Had it not been for a patrol of US Marines finding the encampment where we were held prisoner, all of the team would have died. But, fortunately for myself and my platoon sergeant, we were liberated by the recon patrol before we had been tortured to death. During the fire fight between US forces and our captors, I was wounded. Already weak from the torture and beatings inflicted during interrogations, I slipped into a coma. Three weeks later I awoke in an Air Force hospital at Clark Air Force Base, Philippines. Within a few days a man from Saigon arranged to "debrief " the mission. During the debriefing it was explained that the events which Team Red Rock were involved in had been classified by President Nixon for a period of twenty-five years. Due to the sensitive nature of the mission, the president required that I be "held close" for reasons of national security. It had been decided that the CIA would assume that responsibility. On June 6, 1971, William J. Colby, the man from Saigon assigned to debrief me, advised me that I was now under operational control of the CIA. My code name was Pegasus.
During the next eight years, I traveled five continents under the operational control of the DCI (Director of Central Intelligence). As I collected data concerning movement of POWS from Southeast Asia to Asia and on to Europe, and forwarded the data to my handler, William J. Colby, and his predecessor George Bush, I began to realize that our government was not going to act upon that data. At the end of my contract, I found myself compelled by a French resistance song to step aside for a greatly needed rest.
When you fall, my friend
Another friend will emerge
From the shadows
To take your place.
I resigned in 1978 and left the service of my country to live in a quiet town tucked in the mountains of Colorado. Only time could heal the wounds I had suffered through the years as Pegasus.
In 1980, following the failed rescue attempt in the Great Salt Desert of Iran, I was involuntarily reactivated and placed in the U.S. Army. I soon found myself and my family at Ft. Campbell, Kentucky, the new home of a U.S. Army Special Operations unit, Task Force 160.
Having participated in numerous covert missions with the 160th, I was given an assignment to Ft. Stewart, Georgia. I was tasked with the mission of infiltrating a medical evacuation unit which was preparing to go to Honduras in support of military exercises.
In February of 1985, two flight crews from the 3/498th Medical Company, Fort Stewart, Georgia, arrived at Palmerola Air Base, Honduras. Each flight crew consisted of a pilot, copilot, medic, and the crew chief.
Upon arrival, our crew was ordered to report to the Hospital Commander for further assignment and billeting. The Hospital Commander, Colonel Zichek introduced our crews to the outgoing medevac crews from Fort Riley, Kansas, home of the "Big Red One".
Following orientation and check-rides with an instructor pilot familiar with the operating rules of the country, we assumed the medevac mission for Joint Task Force Bravo. Having flown extensively in Central America as a Special Operations pilot, I was well aware of the flight environment and the local operational restrictions. However, when I accepted the mission to infiltrate the 3/498th Medical Company and pose as a medevac pilot, as briefed by my handler, Oliver North, I was instructed to make no mention of previous involvement in the area.
On February 15, 1985, during a flight to La Cieba, Honduras I was instructed to contact the man assigned by Oliver North as my local handler, Major Felix Rodriguez. Upon arrival in La Cieba, I contacted Major Rodriguez. He picked the crew up and gave us lodging for the night at a CIA safe house. The house was surrounded by a ten foot perimeter wall of concrete and at the only entrance was an uzi wielding guard. Following dinner, the crew was sent to their quarters while Major Rodriguez and I planned our four month support calendar. I was scheduled to leave Honduras in June of 1985.
I was instructed that in addition to our normal MEDEVAC missions, my duties included a covert group of missions. The control word for these missions was Pegasus. All Pegasus missions took priority over normal medical evacuation missions. Major Rodriguez also instructed me as to my "chain of command." Missions could be ordered by any of the following:
• Oliver North - Assistant National Security Advisor to the White House
• Amiram Nir - Former Israeli Intelligence Officer (Mossad) and Advisor to Vice President Bush
• Felix Rodriguez - CIA
Normal aviation support provided by Pegasus missions included flights to the following areas:
Ilapongo, El Salvador : This was where Corporate Air Services, a CIA owned aviation company, was based.
Contra Camps, Honduras and Nicaragua : Various Nicaraguan rebel camps were located in the jungles and mountains along the Nicaraguan/Honduran border.
The following morning our air crew departed La Cieba for Palmerola Air Base. During the next week, our missions were equally mixed between Pegasus flights into Contra villages and medevac support of U.S. military and Contra casualties. One common denominator on all Pegasus missions was the movement of large white coolers in and out of the Contra camps. They were always sealed and marked as medical supplies.
On October 23rd, 1986, a C-123 cargo plane loaded with arms and ammunition was shot down over Nicaragua. The sole survivor of the crash was captured by the Nicaraguan military and taken to Managua for interrogation. During interrogation, Eugene Hasenfus would reveal to the Ortega led Nicaraguan government that the aircraft which was shot down was owned by the U.S. government and that he was on the payroll of the Central Intelligence Agency (CIA).
Although the United States vehemently denied ownership of the aircraft and any knowledge of employing Mr. Hasenfus, subsequent investigations proved out Mr. Hasenfus' allegations to be true.
Dubbed the "Iran-Contra" affair by Attorney General Edwin Meese, President Reagan, denying any knowledge of U.S. involvement, called for a special investigation to "look" into these absurd allegations.
At a cost of over $40 million the investigation yielded only a few prosecutions for minor infractions. It is curious that neither the Select Committee on Secret Military Assistance To Iran and the Nicaraguan Opposition subcommittee tasked with the congressional investigation of the Iran-Contra, nor the office of the Special Prosecutor assigned to investigate criminal wrong-doings which occurred during the Iran-Contra Affair, subpoenaed any active duty military personnel assigned to the border area of Nicaragua/Honduras. Had the service members been called to testify concerning the daily training/resupply, and support of the Contras, it would have been determined that the Boland Act, which prohibited any efforts of the United States or its military to support the Contra effort, was being violated. Testimony by military personnel would have also revealed that military aircraft and supplies were used to support the shipment of cocaine from manufacturing facilities co-located with CIA supported Contra camps. Why weren't we called to testify?
The following documents were filed with base operations at Palmerola Air Base, Honduras between February and May of 1985. This was a full two years prior to the world ever hearing the names Oliver North or Iran/Contra. The documents were filed and stored through the years by the Honduran Military. Recent attempts to locate the documents proved successful. I have compiled the military documents in chronological order which follows a week-by-week sequence of events involving political, military, and intelligence officials from various countries.
As you read the Chronicles, you will find:
• A. Flight Plans These are international flight plans filed in conjunction with the 1985 flights. Information includes the name of the crew members, destinations of the flight, and passenger names. Many flight plans will have remarks which were made by the pilots. These remarks were written on the reverse side of the flight plan.
• B. Mission Briefs Prior to each flight and at the completion of the flight, any irregularities or information affecting the mission would be briefed and included in the comments section of the mission brief.
26 February, 1985
Wally World, our intelligence compound at Palmerola Air Base, tasked us with a mission requiring us to fly two civilian pilots to one of the largest Contra villages on the Honduran side of the Nicaragua/Honduras border. The names of our passengers as noted in Section 19 of the Department of Defense flight plan filed with Base Operation prior to departure from Palmerola (MHCG) were Bill Cooper and Buzz Sawyer. We departed at 1630Z (Greenwich Means Time). During the flight, Mr. Cooper told us that they worked for Corporate Air Services, a CIA proprietary, based out of Ilapongo Air Base, El Salvador. They were meeting with Contra leaders to coordinate air drops of arms and ammunition to various Contra camps. We arrived at El Paraiso, Honduras without incident. The meeting between the pilots and Contra leaders lasted just over an hour. At the termination of the meeting we were given a white cooler marked "vaccine" and instructed to deliver the cooler to a US Air Force C-130 at La Mesa Airport. Upon arrival at La Mesa Airport in San Pedro Sula, Honduras, the cooler was dropped by two of our crew members. It weighed in excess of 200 pounds. The seal broke on the cooler. I picked up some aviation tape commonly called "hundred mile an hour" tape to reseal the vaccine cooler. I gave the crew leave to get lunch ordered. I stayed to refuel the helicopter and reseal the cooler. Messrs. Cooper and Sawyer went to eat and wait for their flight to El Salvador. When I removed the torn tape from the cooler, I saw that the contents consisted of a number of bags of a white powdery substance. There was over one hundred bags of what appeared to be cocaine. I resealed the cooler and continued refueling the aircraft. About two hours following our arrival, the U.S. Air Force C-130 bound for Panama finally arrived to pick up the vaccine.
We returned to Palmerola Air Base. Upon our return, I called Washington switch via land line (telephone) and advised Mr. North regarding my discovery of the cocaine. He told me that it was one of the trophies of war. "The Sandinistas are manufacturing cocaine and selling it to fund the military." He further stated that "the cocaine was bound for the world courts as evidence." I was reminded of the white coolers I had been asked to deliver to Arkansas on several occasions the year prior.
I was a Special Operations pilot at Ft. Campbell, Kentucky. In 1983 and 1984 we would routinely receive requests from a medevac unit at Ft. Campbell to deliver white coolers marked medical supplies to Little Rock Air Force Base, and, on two occasions, to an airport west of Little Rock, in Mena, Arkansas. Further investigation on my part clarified some outstanding questions I had. The medevac unit at Ft. Campbell, the 324th Medical Battalion was a supporting unit for Task Force 160, a Special Operations Unit under the control of the CIA. Flight crews of the 324th Medical Battalion rotated in and out of Honduras on four month tours.
During my flights to Arkansas I was met by a man introducing himself as Dr. Dan Lasater. Dr. Lasater was never alone. He was usually accompanied by a plain-clothes policeman who produced a badge and ID. His name was Raymond Young. I was introduced to him and found that his nickname was 'Buddy'. Mr. Young would later show up in Honduras, posing as a member of the Arkansas National Guard (see flight plan dated 16 March, 1985).
On one occasion in the fall of 1983, I was tasked with delivering two such coolers to Little Rock Airport. The coolers, marked "medical supplies," were to be delivered to Dr. Dan Lasater only. My instructions were to wait for Dr. Lasater, if he was not at the airport when we arrived.
Prior to take off, I helped our crew chief secure the cargo in the rear of the aircraft. I noticed that, although both coolers were identical in size, one cooler was significantly heavier than the other. I shook the lighter cooler, trying to guess its contents. But it was so tightly packed that nothing rattled. I recall thinking that it must have been organs or something, packed tightly in dry ice. So I opened the cooler to check its contents. After thoroughly examining the contents, my curiosity was satisfied and I closed and re-sealed the cooler with military green hundred-mile-an-hour tape. (They had originally been sealed with gray air conditioning duct tape.) I re-secured the cargo and we departed for Little Rock.
We arrived late in the night, about 10:30 pm. Dr. Lasater was not waiting for us, so we began our post-flight of the aircraft and flight planning for our next leg to Houston's Hobby Airport. About 12:15am a limousine, followed by a van, and unmarked law enforcement vehicle, arrived at the FBO. Dr. Lasater was the first out of the limo. I recognized him from a previous flight. He was followed by two others. Dr. Lasater introduced himself to me, apparently not realizing we had met before, and asked if we were the aircraft with the donor organs. I told him that we had the coolers and pointed at them in the rear of the aircraft. Doug, our crew chief, helped Lasater's limo driver with the coolers. The heavy cooler went into the limo and the light cooler was loaded into the van. Dr. Lasater introduced me to the two gentlemen with him. First, we were introduced to the Governor of Arkansas, Governor William J. Clinton, and then his security chief, Raymond "Buddy" Young. At this point, Mr. Young recognized me and stated so. I was then introduced to a third man standing at the limo. We were invited to stay the night and accepted. (After all, I thought, they may want to talk to me when they find the note I left in the lighter cooler.)
After returning to Ft. Campbell on Friday, I called Director Colby and told him of the delivery and my discovery. I told him that when I opened the cooler, which was ultimately taken by Governor Clinton, it contained several kilos of an off-white powdery substance and lots of money.
The coolers which were delivered to Arkansas were identical to the one I just discovered at La Mesa Airport in Honduras containing cocaine. I decided that I had best begin documenting our cargo for the flight crew's safety. I went to operations and noted the cocaine on the back of the flight plan.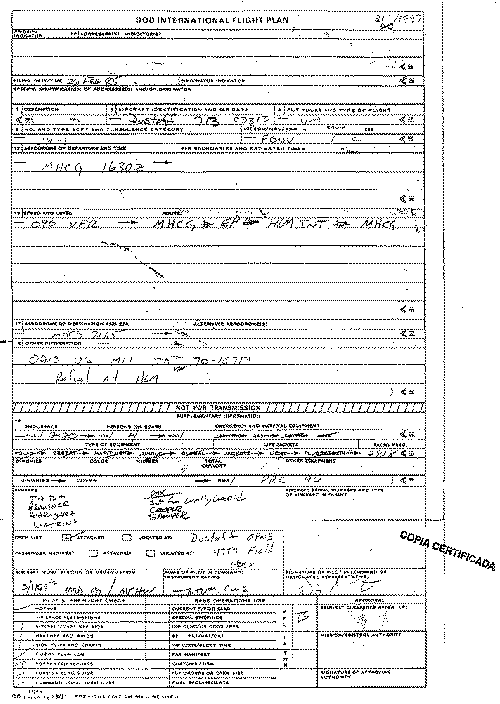 26 FEBRUARY, 1985 FLIGHT PLAN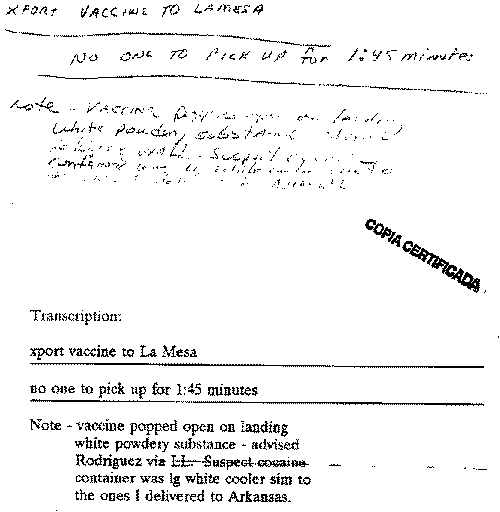 26 FEBRUARY, 1985 FLIGHT PLAN
1 March, 1985
Two white coolers marked "medical supplies" were delivered to Dustoff (MEDEVAC) Operations. Major Rodriguez advised us to deliver the coolers to him in Tela, Honduras (LYA). I opened the coolers and checked the contents. They were both filled with about one hundred kilos of cocaine. We delivered the coolers as ordered to Major Rodriguez. He was waiting in front of an old DC-3. We then returned to base at Palmerola.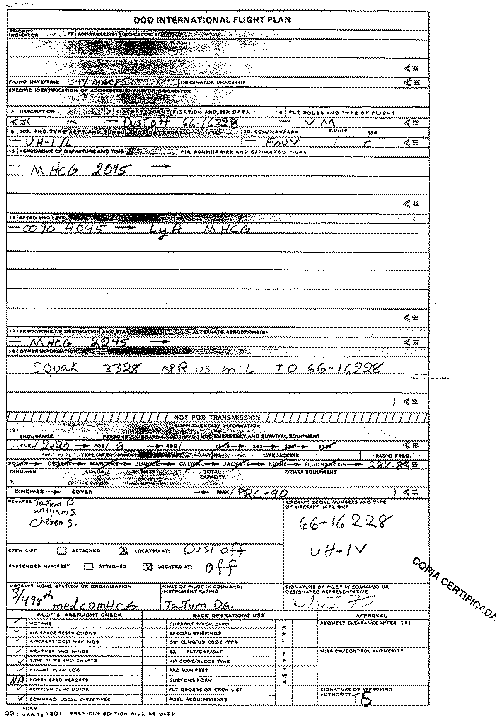 1 MARCH, 1985 FLIGHT PLAN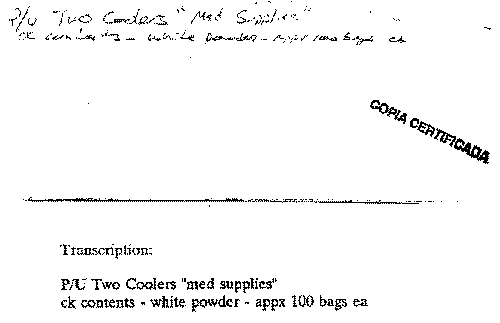 1 MARCH, 1985 FLIGHT PLAN
2 March, 1985
I was advised by Major Rodriguez that "The Company" had arranged for an unusually high concentration of chlorine in the water supply of a tactical communications site called Skywatch. The CIA was unable to obtain the satellite operations frequencies from the military controlled site. (This was not unusual. The Department of Defense and the CIA have never developed a level of trust adequate to share secret information between agencies. I was one of several U.S. military officers recruited by "The Company" to "spy" on our military for the CIA. This small group of military officers report directly to the Director of the CIA. I reported to William Colby.) My mission was to obtain these frequencies while the doctor was tending to the ill soldiers. We flew a PA and our medic to the TAC site. While the PA and medic tended to the stomach cramped and diarrhea ridden American servicemen, I went into the communications van and copied the frequencies. When we returned to Palmerola, we experienced engine failure and were forced to auto-rotate from 8500 feet. The tailboom of the helicopter cracked when we crash landed.
Later in the afternoon, I gained access to a secure line. I called Washington Switch and passed the frequencies to Don Gregg as I was instructed. Mr. Gregg, Vice President George Bushs' National Security Advisor, asked me to pass them to Clair George. Before having my call transferred to Mr. George, I told Mr. Gregg of my discovery concerning the cocaine in the large, white coolers. I also told him about Major Rodriguez' explanation. Mr. Gregg confirmed that the coolers were bound for the world courts as evidence against the Sandinistas. I was then transferred to Langley and passed the frequencies to Mr. George. He thanked me and advised me that he would pass them to Dewey, who was Dewey Clairage of the CIA (see letter dated October 1993 from the Security Section of the Israeli Embassy). I terminated the call and went to Base Operations. I noted the info on the back of the flight plan. I put additional notes on the mission brief.
The supporting maintenance officer for the US Army Aviation Element at Palmerola Air Base advised me, during our post-crash investigation, that the aircraft had experienced serious mechanical problems in flight. During maintenance the turbine was fitted with the wrong main seals causing the combustion chamber to crack on the jet ending in engine failure. Additionally, the main rotor blades had been adjusted so that when entering auto-rotation, the main rotor pitch would be in a negative position. This meant that instead of being driven by the relative wind, and providing sufficient RPMs to land safely, the main rotor blades were set to slow to the point of stalling, thus causing no lift and a fatal crash. I discovered the negative pitch in time to compensate and land with minimal damage to the aircraft and crew. Someone didn't want us alive. 2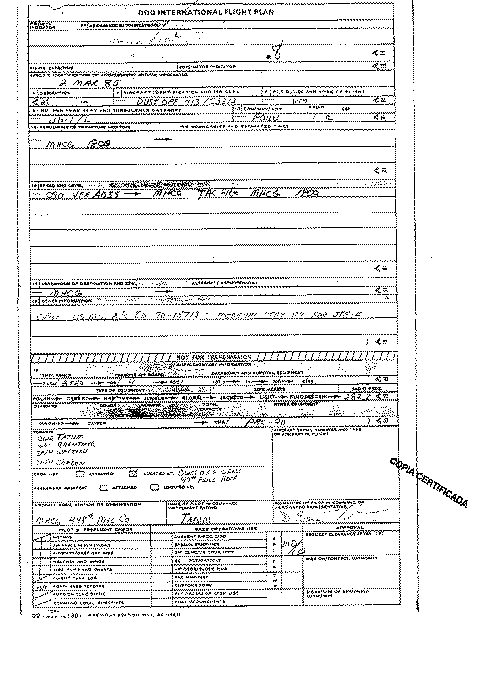 2 MARCH, 1985 FLIGHT PLAN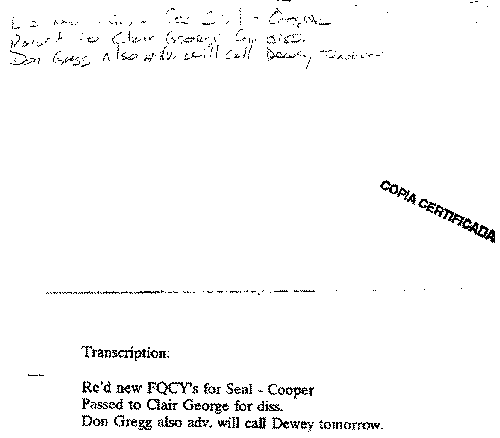 2 MARCH, 1985 FLIGHT PLAN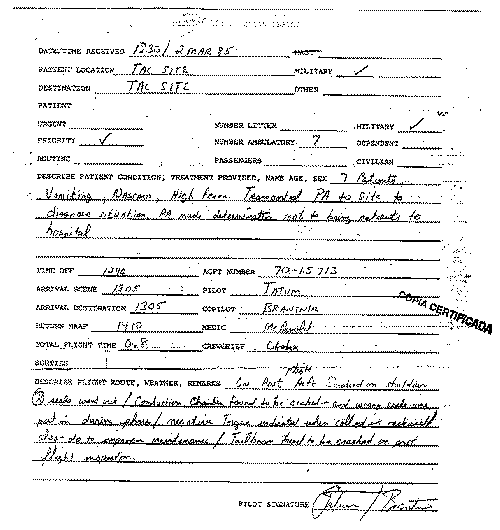 2 MARCH, 1985 MISSION AFTER-ACTION REPORT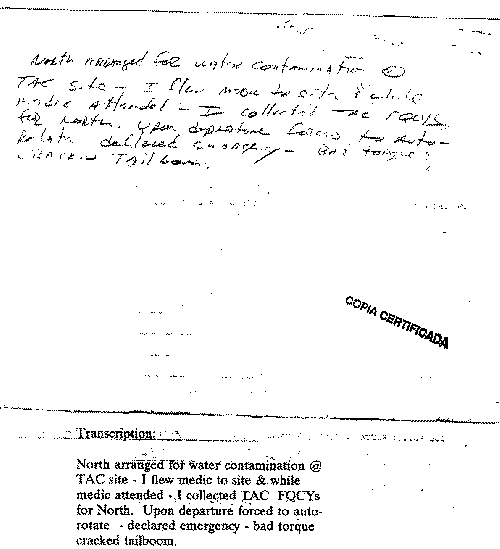 2 MARCH, 1985 MISSION AFTER-ACTION REPORT
5 March, 1985
Major Rodriguez called and advised me that he and three others needed to spend two days visiting several local villages and some of the north Contracamps. I called Col. Zichek, the Hospital Commander, and received authorization to fly two days of recon missions mapping villages which were not on our maps. The following passengers arrived with Major Rodriguez.
General Gustavo Alverez -Honduran Army Chief of Staff (General Alverez usually flew under the name of Dr. Gus)
Honduran Colonel -the General's aide
Amiram Nir -CIA (Mossad)
We flew into all six villages listed, and picked up soldiers and took them to El Paraiso. We flew about seven sorties. Then we returned to base. Maintenance and weather hampered our efforts to fly the following day. Those missions would be flown on 7 March, 1985.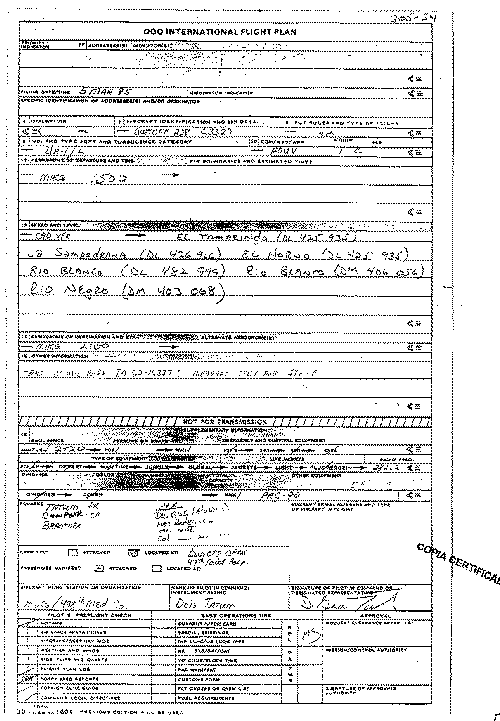 5 MARCH, 1985 FLIGHT PLAN
7 March, 1985
Missions continued from several villages to Contra camps. Major Rodriguez was utilized as an interpreter to provide instructions. Two of the camps in Nicaragua were under fire by Sandinistas. Our intelligence indicated that there was no problem. We flew four sorties into the camps under heavy fire. At El Paraiso, we picked up four large white coolers. I asked Rodriguez, "Evidence?" He responded patting the cooler with his hands, "You catch on fast."
We dropped Rodriguez and the coolers off at San Lorenzo (SNL) and returned to base. I went to Operations and noted the cargo on the reverse side of the flight plan.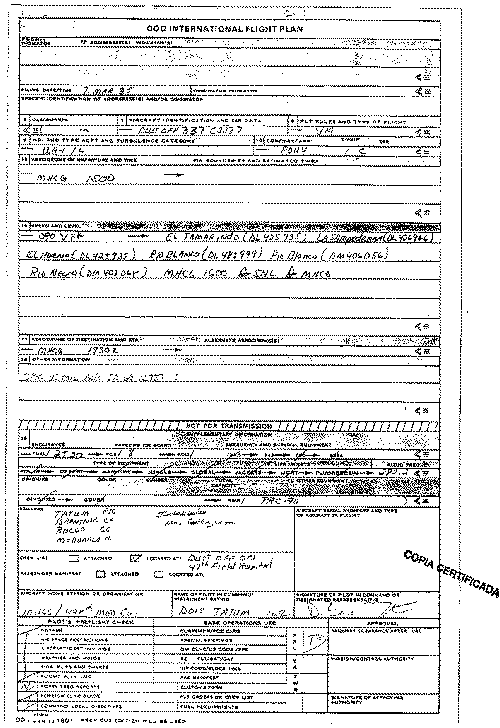 7 MARCH, 1985 FLIGHT PLAN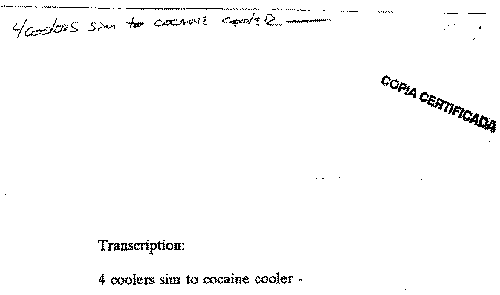 7 MARCH, 1985 FLIGHT PLAN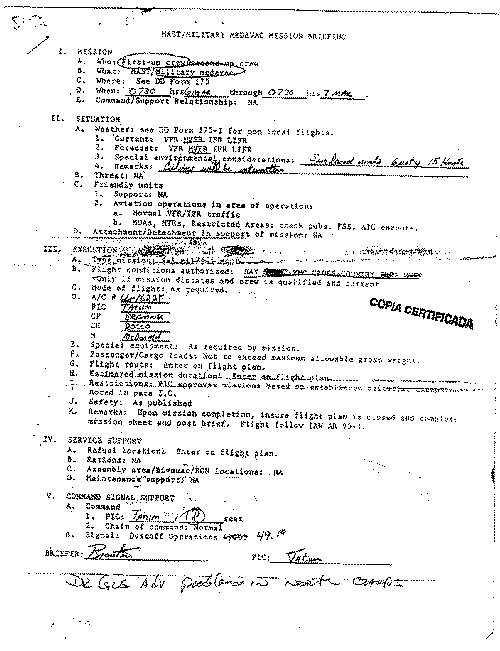 7 MARCH, 1985 BRIEFING SHEET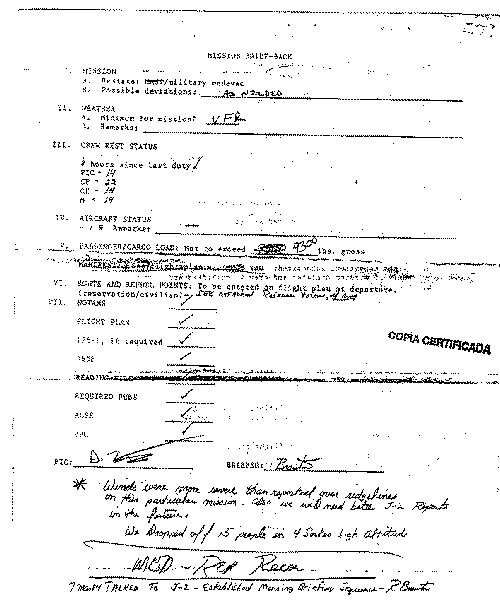 7 MARCH, 1985 BRIEFING SHEET
13 March, 1985
At 3 A.M. I was called by J2 (which is Joint Task Force Bravo intelligence arm) and the Mil Group (CIA) from the embassy in Tegucigalpa. There was an immediate need for medevac into Nicaragua. Soviet built Hind helicopters had attacked several Contra camps along the border. I was tasked to fly into Nicaragua and find the home base for the Hinds so that the Contras could counter-attack. We arrived at Ojo De Agua at 1720Z. Major Rodriguez advised us that Ocotal is the most probable base area for the Hinds. Flying low level with only the main rotors above the trees, we approached Ocotal. Before departing the area of the airfield, we were able to count eight Hind-D Soviet gunships. The aircraft alerted to our presence and launched.
We were able to evade them and complete our mission moving medical personnel and supplies from the damaged camps.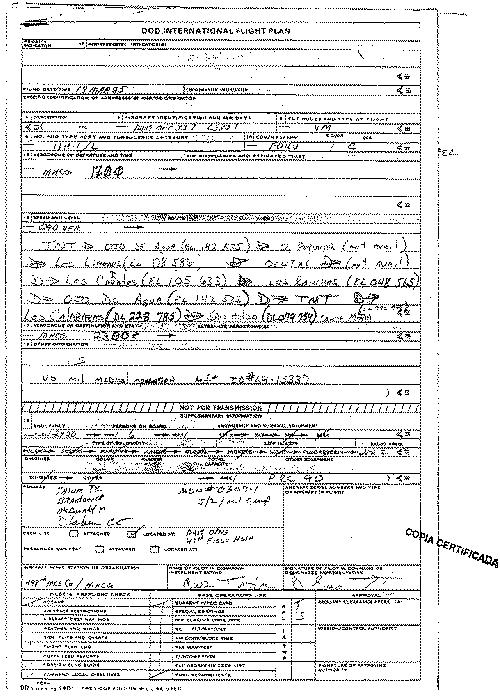 13 MARCH, 1985 FLIGHT PLAN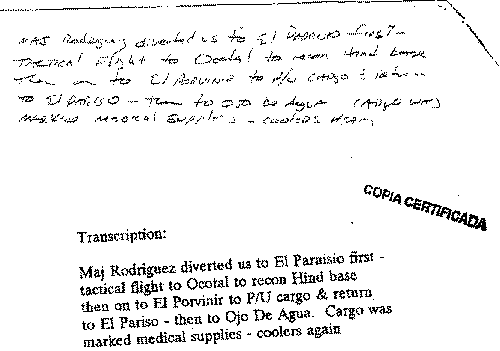 13 MARCH, 1985 FLIGHT PLAN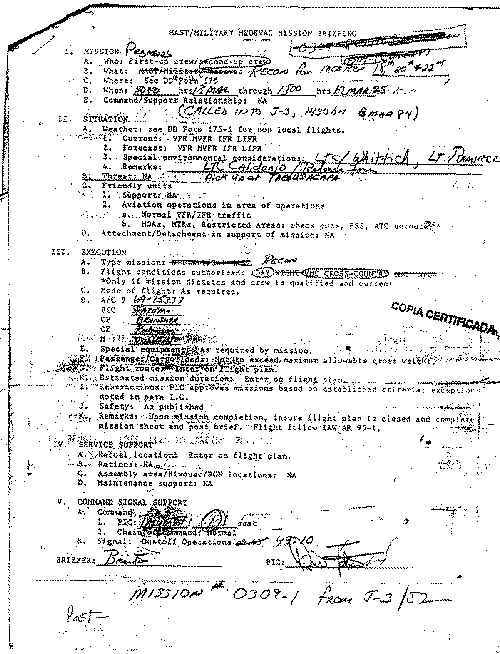 13 MARCH, 1985 MISSION BRIEFING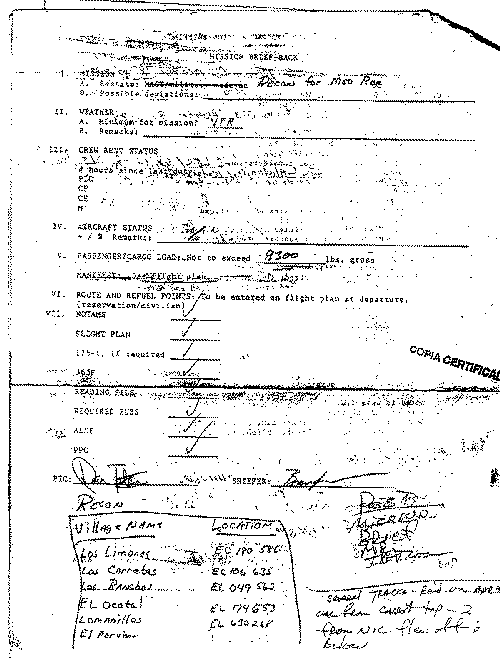 13 MARCH, 1985 MISSION BRIEFING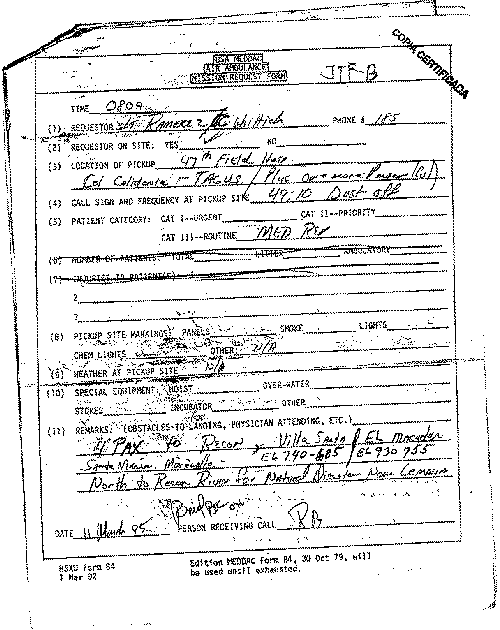 13 MARCH, 1985 NOTES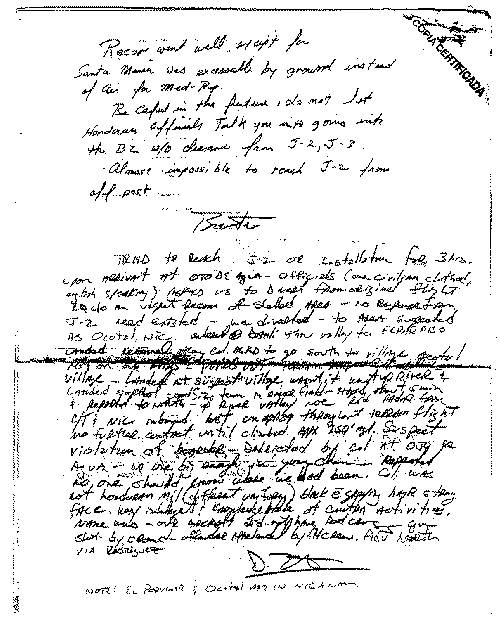 13 MARCH, 1985 NOTES
Transcription:
Tried to reach J-2 or installation for 3 furs. upon arrival at Oio De Agua - officials (one civilian clothed, Engligh speaking) asked us to divert from original flight RQ to an urgent recon of shelled area - no response frm J-2 need e cisted - we diverted - to area suspected as Ocotol, Nic. entered @ Danli thru valley to El Paraiso Landed north of good size town in soccer field - stayed about +5 min &c departed to north - up river valley Noc Rcd radar from C~ & NIC inbound lost on APR39 throughout terrain flight no further contact until climbed appx 750' agl. Suspect violation of boarder - debriefed by Col at Ojo de Agua - no one big enough in your chain - repeated no one should know where we had been. Col was not Honduran mil (different uniform) black e greying hair strong face. very intelligent & knowledgeable of contra activities, name uns - our aircraft did not have red chgs - gun shot by crowd - offender aprehended by flt crew. Adv North via Rodriguez
Note: El Porvinir & Ocotel are in Nicanam
15 March, 1985
I was called to a meeting at the U.S. Embassy in Tegucigalpa. Due to a patient with a head injury, I was unable to meet on time. Night flight was prohibited in country. It required a life-death situation. Mr. Hibbard, the pilot-in-charge (PIC) of the other medevac aircraft arrived late in the evening with the patient. The hospital at JTF-Bravo was unable to provide neuro-care. They arranged for a neuro-surgeon to fly into Tegucigalpa (TNT) that night. I replaced Mr. Hibbard's co-pilot and flew the night mission to the capital city. As we approached Tegucigalpa the lights to the city were turned off. This was an indicator to us that word of our night flight was not passed on to the Honduran military as expected. When we saw the blackout of Tegucigalpa, we dropped to night low-level flight and turned off all of our position lights. We continued toward the city at about 60 knots. Our low-level recon revealed that we were just south east of the airport. Having flown into the airport on many occasions, I was aware of the anti-aircraft artillery locations around the airport. One clear area was the main terminal. We repositioned over the city to the north of the air terminal, entered over the main terminal, then dropped to ground level, and flew about one foot above the runway to the U.S. military area. We shut down the aircraft as Honduran military jeeps arrived with 50 calibre machine guns pointing at us. The ambulance and a car from the U.S. Embassy were held back until General Alverez arrived to take the prisoners (us). When he arrived, he asked another officer how a helicopter could breech the perimeter of the airport and main military base. We were still sitting in the helicopter with our flight helmets on. When we were ordered out, I took off my helmet and saluted the general. I pointed to the child who had been hit by a U.S. military truck earlier in the day. An ambulance arrived and we transferred the patient.
The general released us and accompanied us to the embassy. When I arrived at the embassy, I was introduced to William Barr, Mike Harari, and Buddy Young. I had met Mr. Young one year prior in Little Rock, Arkansas. Mr. Barr represented himself as an emissary of Vice President Bush, who would be arriving in the future. This was an advance party designed to set up meetings for Vice President Bush. We joined the cocktail party and then accommodations were arranged at a local hotel. I was then asked to join Mr. Barr, Mr. Young, and Mr. Harari at a local German restaurant. I was picked up by the embassy car. Major Felix Rodriguez was in the car when I entered. We met the others for dinner and continued the meeting at the hotel. I was told that Mr. Young and Mr. Harari would fly back to Palmerola with me in the morning.
We departed the following morning with the passengers listed in Item 19 Remarks section of the Department of Defense Flight Plan dated 16 March, 1985.
The following conversation took place between Messrs. Harari and Young during the flight to Palmerola Air Base. The passengers were wearing headsets and speaking over the aircraft intercom system due to the high noise level in the helicopter. As the command pilot, I routinely monitor all conversations on our intercom. I did not advise our passengers that I was listening, or that I was recording the conversation.
Buddy: "Arkansas has the capability to manufacture anything in the area of weapons - and if we don't have it - we'll get it!"
Mike: "How about government controls?"
Buddy: "The Governor's on top of it, and if the feds get nosey - we hear about it and make a call. Then they're called off." He was looking around the countryside and continued, "Why the hell would anyone want to fight for a shit-hole like this?"
Mike: Shaking his head in awe, answered,"What we do has nothing to do with preserving a country's integrity - it's just business, and third world countries see their destiny as defeating borders and expanding. The more of this mentality we can produce - the greater our wealth. We train and we arm - that's our job. And, in return, we get a product far more valuable than the money for a gun. We're paid with product. And we credit top dollar for product."
Buddy: Still looked confused.
Mike: "Look - one gun and 3,000 rounds of ammo is $1,200. A kilo of product is about $1,000. We credit the Contras $1,500 for every kilo. That's top dollar for a kilo of cocaine. It's equivalent to the American K-Mart special - buy four, get one free. On our side - we spend $1,200 for a kilo and sell it for $12,000 to $15,000. Now, that's a profit center. And the market is much greater for the product than for weapons. It's just good business sense - understand?
Buddy: "Damn! So you guys promote wars and revolutions to provide weapons for drugs - we provide the non-numbered parts to change out and we all win. Damn that's good!"
Mike: "It's good when it works - but someone is, how do you say, has his hand in the coffer."
Buddy: Responding on the defensive,"Well, we get our ten percent right off the top and that's plenty. GOFUS can make it go a long way." Mike:"Who is GOFUS?"
Buddy: "Governor Clinton! That's our pet word for him. You know they call the President 'POTUS' for 'President of the United States'. Well, we call Clinton 'GOFUS' for 'Governor of the United States'. He thinks he is anyhow.
Mike: "That's your problem in America. You have no respect for your elected officials. They are more powerful than you think and have ears everywhere. You should heed my words and be loyal to your leaders. Especially when speaking to persons like me. Your remarks indicate a weakness - something our intelligence analysts look for."
Buddy: "Aw hell, Mike. Everybody knows the Clinton's want the White House and will do anything to get it. That's why I'm here instead of someone else. We know about the cocaine - hell! I've picked it up before with Lasater when he was worried about going on Little Rock Air Base to get it."
A new line of conversation ensued. Harari questioned Young about his knowledge of who the 'players' were. He went down a list. He started with 'The Boss - Clinton'. Here's a synopsis of the players according to Young.
Buddy: "Clinton - thinks he's in charge, but he'll only go as far as Casey allows. Me and my staff - we keep the lid on things you know - complaints about night flying - Arkansas people are private folks - they don't like a lot of commotion and Mena just isn't the right place for the operation. It keeps us busy at the shredder - if you know what I mean. Dan the Man (Lasater) - He does magic with the money - between him and Jack Stevens we don't have to worry a bit. Then we got Parks - if there's a problem - he's the man. We call him the Archer - that's the codename that Casey and Colby told us to assign to that position. Finnis oversee's our drop zone. Nash - he's just the boss' 'yes' man. Personally I think he's a mistake! Seal and his guys - I like his attitude "and leave the driving to us!" he said, quoting one of Seal's good ole boy sayings.
Mike: "You like Seal?"
Buddy: "Hell! He's the only one I trust - respect is the word."
Mike: "Do you see much of him?"
Buddy: "Hell, yea. We test drive Clinton's rides before we send 'em on, ya know? (He laughed, grinding his hips.) Say - how much coke do you recon you can make in a week?"
Mike: "One camp can produce 400 keys a week. The others are about half that. But that's just our operation here. We have other sources in various parts of the world. Why do you ask?"
Buddy: "What? Oh, the Governor wanted to know our capacity."
Mike: "Who else is on the team?"
Buddy: "Well, hell, I forgot who I told you about."
Mike ran down the list from memory.
Buddy: "Ok, there's the manufacturers - hell, these two.."
The tape stopped.
I didn't recognize the names. I ran out of paper on my kneeboard shortly after the tape stopped. Something like Johnson and Johnson. The flight continued and so did their discussions...about people mostly. We landed and I went to Operations and made a note on the back of the flight plan that I filed by phone.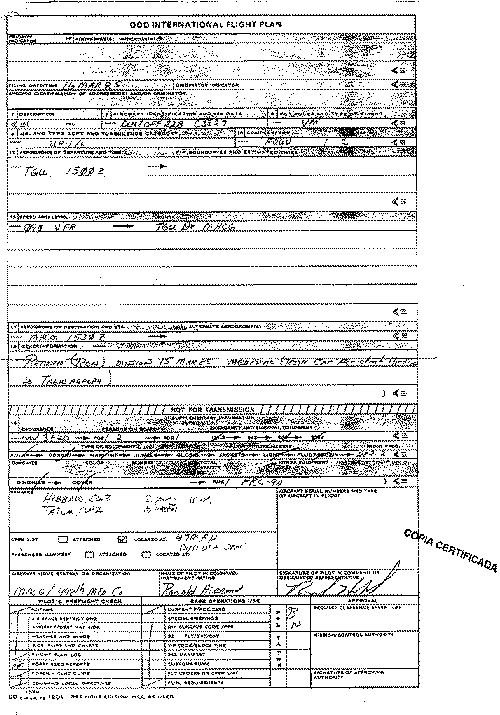 16 MARCH, 1985 FLIGHT PLAN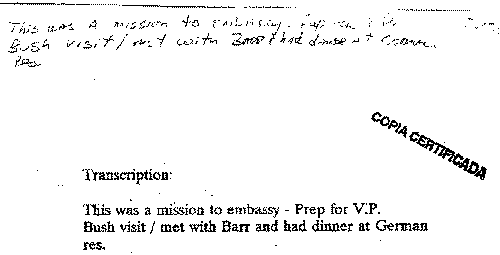 16 MARCH, 1985 FLIGHT PLAN
18 March, 1985
I was called at 0500 hours and told that there were three wounded soldiers at a Contra camp outside of Choloteca. We launched and picked up two observers in Choloteca as ordered. Mr. North and a Lt. Col. Ramon Navarro. I had met Lt. Col. Navarro on previous flights into contra camps, however, his uniform was not that of the U.S. or Honduran Military. We then proceeded to the Contra camp where our medic administered to the casualties. We loaded two of the casualties and were waiting for Specialist McDonald, our medic, to finish with the last patient. The last patient had a piece of what seemed to be wood sticking out of a bad wound to the upper left portion of his body. When we attempted to clean the area, we found a hole the size of a softball adjacent to the impaled object. McDonald began cleaning the area, causing a clear view of muscle hanging and the inside of the chest cavity. Mr. North fainted. I caught him and popped an ammonia capsule to bring him around. We then departed and delivered the casualties to San Lorenzo.
I would see Ramon Navarro on several occasions. The last time I saw Ramon was February 27th, 1991.
In 1990 the United States arrested General Manuel Noriega. General Noriega had been indicted by a federal grand jury under the drug conspiracy laws. Two of General Noriega's co-defendants were severed from the General and scheduled for trial in early 1991.
One of the government's key witnesses against the two co-defendants was Ramon Navarro. Navarro knew, from past experience, how valuable his testimony would be. After being subpoenaed, Navarro contacted Felix Rodriguez, one of his handlers from the Contra cocaine manufacturing facilities. Navarro told Rodriguez that he wanted $1 million - cash or he would not only testify about Noriega's involvement with drug manufacturing and trafficking, but he would also implicate Mr. Rodriguez, Mr. Oliver North, President George Bush and others.
Having been recruited into a covert operations intelligence unit in 1986, directed by William Colby and George Bush, I was tasked with the mission of delivering the money with its terms to Mr. Navarro. On February 26th, 1991, an Archer Team, consisting of three assassins and one tracker began surveillance of Mr. Navarro. A Saberliner was flown into Miami Airport with a satchel of money containing $1 million. My orders were to deliver the money to Mr. Navarro and advise him that he was to leave with me.
It had been arranged through Adolfo Calero, an ex-Contra leader now in the Chamarro government of Nicaragua for Mr. Navarro to relocate and live in Nicaragua. Mr. Bush felt that it would be too dangerous for Navarro to testify. I was ordered by Colby to give Navarro the money and take him to the Saberliner. I was further instructed that, if Navarro refused to relocate, he was to be terminated on the spot.
Two Archers were placed at Navarro's home the night of February 27th, 1991. I was stationed outside of Navarro's girlfriend's house with the Major (code name for an Archer team leader) and another Archer. Mr. Navarro exited his girlfriend's house at about 11:30 pm. I exited my vehicle and approached Ramon. When Navarro saw me approaching, he jumped in his car and sped off down the road. The red BMW was speeding through the streets of Miami at about 80 miles per hour with our two vehicles in pursuit. We notified the team at his home and they were prepared to apprehend him. Suddenly, Navarro lost control and crossed the median, crashing into a fence. Navarro was dead. We stopped and insured that he was dead, and then departed. I returned the satchel of money to the aircraft.
See flight plan and After Action Report on the following page.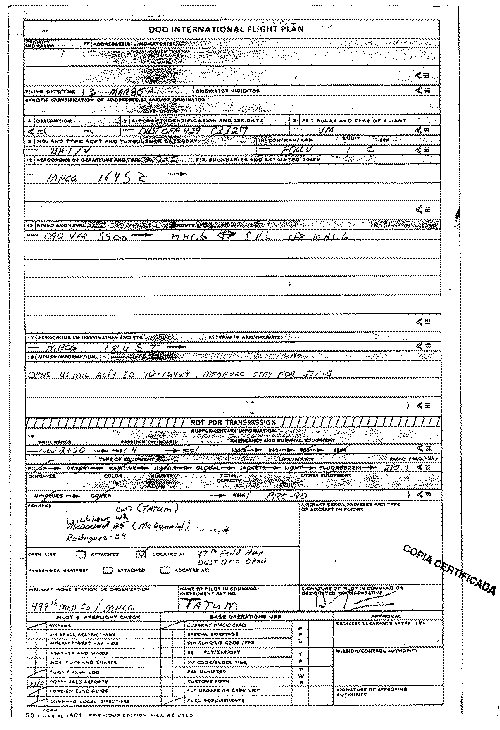 18 MARCH, 1985 FLIGHT PLAN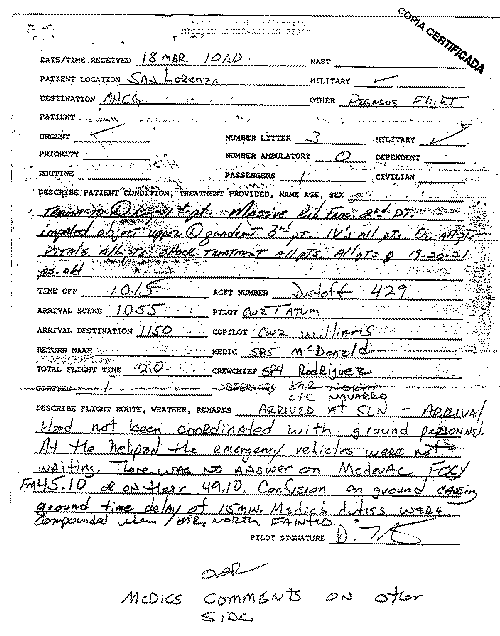 18 MARCH, 1985 AFTER ACTION REPORT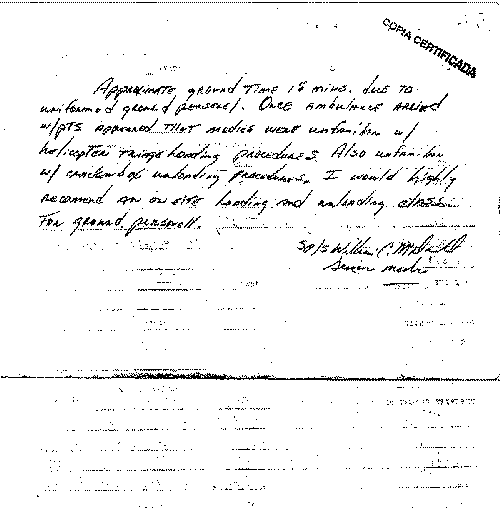 18 MARCH, 1985 AFTER ACTION REPORT