"Anatomy of a Smear": The Arkansas Coverup
by Thomas G. Whittle
THE DRUGGING OF AMERICA
PART 4 IN A SERIES
Freedom Magazine, Church of Scientology
May 1993
NOTICE: THIS WORK MAY BE PROTECTED BY COPYRIGHT
YOU ARE REQUIRED TO READ

THE COPYRIGHT NOTICE AT THIS LINK

BEFORE YOU READ THE FOLLOWING WORK, THAT IS AVAILABLE SOLELY FOR PRIVATE STUDY, SCHOLARSHIP OR RESEARCH PURSUANT TO 17 U.S.C. SECTION 107 AND 108. IN THE EVENT THAT THE LIBRARY DETERMINES THAT UNLAWFUL COPYING OF THIS WORK HAS OCCURRED, THE LIBRARY HAS THE RIGHT TO BLOCK THE I.P. ADDRESS AT WHICH THE UNLAWFUL COPYING APPEARED TO HAVE OCCURRED. THANK YOU FOR RESPECTING THE RIGHTS OF COPYRIGHT OWNERS.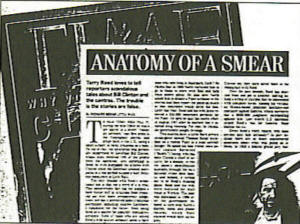 TIME Magazine Sued for $41 Million Over 1992 "Slash and Burn" Article
"Will it never end for poor Richard Behar? ... Now he's ticked off Terry Reed, a pilot and former CIA operative who was the subject of a Behar article ... Reed claims Behar went after his scalp because he refused to provide TIME with "dirt" against Arkansas cops and Clinton."

-- Newsday
In earlier articles in this series, FREEDOM exposed reports of drug smuggling, money laundering and other illegal activities centered around Mena, Arkansas -- a quiet town in the western part of the state.
"The Drugging of America" has been prepared with the help of local, state and federal law enforcement officials, as well as members of the news media in Arkansas and elsewhere.
In the series, FREEDOM has presented accounts of how, in the 1980s, Mena became a base for an international, multi-billion-dollar cocaine transport operation.
As described in earlier articles, corrupt U.S. government officials were allegedly involved in covering up the illegalities, which included special aircraft modifications so drugs could be flown into the United States and weapons transported out.
One of the main cover stories about Mena has been that drug smuggling, arms running and related Central Intelligence Agency (CIA) covert operations died with Barry Seal, the smuggler. CIA asset and Drug Enforcement Administration snitch who perished in a fusillade of bullets early in 1986 outside a halfway house in Baton Rouge, Louisiana.
Few know this cover story better than those personally involved in the smuggling operation or those courageous law enforcement officials who have battled -- sometimes at risk to the lives and welfare of themselves and their families -- to expose the illegal activities and bring those allegedly involved in drug smuggling, money laundering and related coverups to justice.
Terry Reed -- One of the Players
According to knowledgeable sources interviewed by FREEDOM, Terry Reed was one of the players in CIA covert operations based at Mena.
Why, then, would TIME have devoted a full page in its April 20, 1992 edition to denigrating Reed and making strange assertions to the effect that he had no connection to the CIA or to drug smuggler Barry Seal?
That question may be answered by a lawsuit filed on April 8, 1993, by Reed against TIME Warner Inc., TIME Inc. Magazine Company and reporter Richard Behar, demanding more than $51 million in damages for allegations printed in TIME's April 1992 article.
Reed's 31-page complaint, filed in the U.S. District Court for the Southern District of New York, alleges: "The article contained a series of false and highly defamatory statements ... in order to discredit Reed, a CIA asset who took part in significant CIA activity in the mid-1980s in the state of Arkansas involving that agency's covert operations supporting the Nicaraguan contras.
"... The article, ironically entitled 'Anatomy of a Smear,' did in fact, and upon information and belief was intended, to smear Reed's name and to completely destroy his credibility."
"Everything in [Reed's] Complaint Has Been Verified"
In the TIME article, for example, Behar made an issue about a couple with whom Reed stated he was dining on the night of an alleged conversation with then Governor Bill Clinton. Behar claimed the couple said they had never been to the restaurant with Reed.
Reed's lawsuit discredits Behar's claim. It identifies the couple by name (the TIME article did not) as Cheryl and Wally Hall and states that they "never told Behar that they 'had never been to the restaurant with Reed'". Furthermore, the suit states, "the couple refused to grant Behar an interview."
As another example, Behar quoted Reed's former attorney, John Wesley Hall, as stating, "I haven't been able to corroborate [Reed's story], that's the problem."
The lawsuit charges that was not at all what Hall said. What he actually said was, "I haven't been able to corroborate a few of the details of Reed's story, but that has not been a problem as everything in [Reed's] complaint has been verified."
Behar's article contained such sweeping statements as, "The only trouble with Reed's sensational tale is that not a word of it is true."
Reed's lawsuit countered this strongly and charged that "Reed was recruited by Lieutenant Colonel Oliver North for the purpose of training Nicaraguan contra pilots. This training took place in or around the Intermountain Regional Airport located in Mena, Arkansas.
"... This training was part of the covert resupply network supervised by Lieutenant Colonel Oliver North during the 1980s which provided covert arms and civilian training assistance to the contras in the Nicaraguan conflict."
Law enforcement officials have confirmed to FREEDOM that Reed was involved in the covert activities around Men, and that information he provided was accurate.
Seeking "Dirt" and "Ammo"
According to the suit, Behar took information obtained from Reed in confidence and used it to try to wrest additional "dirt" and "ammo" regarding certain Arkansas officials.
The suit alleges, "When Reed refused to provide Behar with such information and materials, Behar threatened Reed by stating that Behar would write a negative article about Reed, and would include in that article various off the record statements Reed had made to Behar earlier ..."
It also charges, "Despite Behar's promise to Reed to keep confidential the location of Reed, his wife and three children, Behar maliciously disclosed in the article where the Reeds were living."
Reed claims Behar was selected by TIME for the article because of his "established proclivity for writing ... slash and burn articles."
The Nation's Biggest Cocaine-Smuggling Operation
The lawsuit charges, "[A]t least 7 CIA aircraft that Reed used to train contra pilots in the training program in rural Arkansas in the mid-1980s were both serviced, retrofitted and "laundered" to conceal the identity of those airplanes at Rich Mountain Aviation, at the Intermountain Regional Airport located in Mena, Arkansas, under the management and control of Adler Berriman [Barry] Seal and the CIA."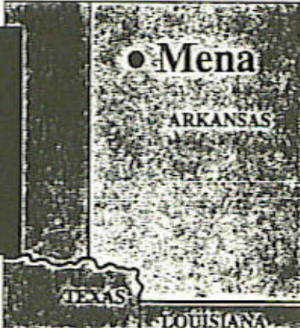 A Continuing Coverup: In the 1980s, the town of Mena, Arkansas, reportedly served as a base for a multibillion-dollar cocaine smuggling enterprise which operated without government intervention.
Terry Reed's story -- supported in many details by law enforcement officials at federal, state and local levels -- raises troubling questions about what may have been the nation's biggest cocaine-smuggling operation. How could it have operated with impunity? Who in our own federal government was in league with the smugglers, and for what benefit?
It is not surprising that Terry Reed ran into problems after seeking to blow the whistle on accumulated corruption witnessed during his years as a trainer of pilots for the CIA. There are many people who want to keep Mena's skeletons buried.
National publications such as The Nation and FREEDOM, as well as certain local Arkansas newspapers, have published accurate accounts of covert activities at Mena. Legislators such as Congressman William Alexander have endeavored to fully open up the matter. Law enforcement officials have pressed for effective investigations, but found their efforts blocked or scuttled.
Now it is TIME which is being called to account. The magazine must answer why, instead of helping to raise the lid off the Mena coverup, it evidently sought to drive more nails into it.
Analyzing Behar's coverage of the Mena saga, columnist Alexander Cockburn commented in The Nation, "Leaving aside for a moment the matter of Behar's motives, TIME's story was ludicrous, claiming that all reports of contra resupply and CIA activities in western Arkansas stem from allegations by Terry Reed, a former pilot, trainer of the contras and associate of George Bush's pal Felix Rodriguez."
Cockburn concluded, "Behar is certainly a terrible journalist ... With TIME's story, it is as if the magazine, back in 1972, had used an interview with Nixon's Attorney General, John Mitchell, to denounce the Watergate revelations as 'a smear.' But then, moments before the final incriminating tape surfaced, in mid-summer 1974, prompting Nixon's resignation in August, TIME ran a cover story implying that maybe the press was going too far in pursuing Nixon."
"News Manipulation ... As a Matter of Office Routine"
In the eyes of TIME founder Henry Luce, "News manipulation was sheer policy TIME's way of life, performed as a matter of office routine."
TIME was called for comment on the lawsuit, but no spokesman was available.
In TIMEspeak, when one throws enough allegations, insinuations, and double-edged questions, the task has been accomplished: the victim, if not dead, has been bloodied and his reputation rendered a shadow of its former self.
Terry Reed is one man who is fighting back.