Eron Gjoni, Hateful Boyfriend
by Margaret Pless
Internet Famous Angry Men
December 6, 2014
NOTICE: THIS WORK MAY BE PROTECTED BY COPYRIGHT
YOU ARE REQUIRED TO READ

THE COPYRIGHT NOTICE AT THIS LINK

BEFORE YOU READ THE FOLLOWING WORK, THAT IS AVAILABLE SOLELY FOR PRIVATE STUDY, SCHOLARSHIP OR RESEARCH PURSUANT TO 17 U.S.C. SECTION 107 AND 108. IN THE EVENT THAT THE LIBRARY DETERMINES THAT UNLAWFUL COPYING OF THIS WORK HAS OCCURRED, THE LIBRARY HAS THE RIGHT TO BLOCK THE I.P. ADDRESS AT WHICH THE UNLAWFUL COPYING APPEARED TO HAVE OCCURRED. THANK YOU FOR RESPECTING THE RIGHTS OF COPYRIGHT OWNERS.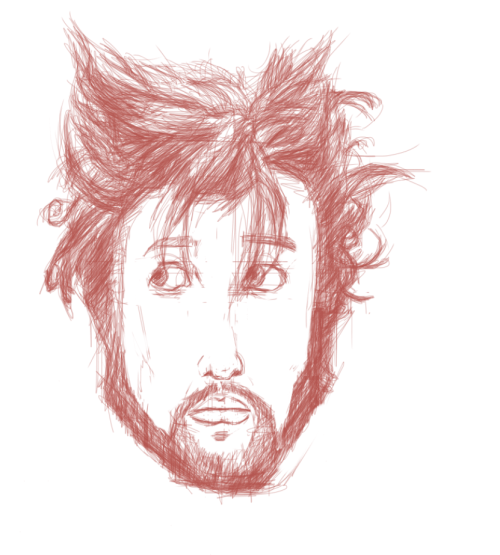 Eron Gjoni in a rapidly descending elevator, I presume. (Artist: Sarah M.)
So, there's this indie game I bought recently, called "Hatoful Boyfriend". It's a Japanese PG-13 dating simulator, except that the rest of the student body besides you are man-sized birds with human characteristics. The player spends the entire game building romantic relationships with pigeons, doves, quails and one demented partridge. The player character, seemingly the only human woman left on earth, lives in paleolithic conditions in a cave in the middle of the countryside, like some kind of outcast from bird society.
Spoiler Alert: as you might have guessed, the special new game + ending gave me the idea for the title of this article.
I've covered Eron Gjoni and his ugly breakup before; starting with Gjoni's tell-all AMA in #burgersandfries. I've also written of the dishonest blog post he published downplaying his involvement in harassing Zoe Quinn, and Eron's successful efforts to get the #gamergate rage mob to pay his legal fees, because he keeps violating his restraining order. I've even written about his unusual and timely friendship with Mike Cernovich, part-time attorney and full time juice bro.
But somehow in writing about this duplicitous 24-year-old from Massachusetts I've failed to capture the forest by describing the trees. There are still people who think that Quinn abused Eron, instead of the other way around; who think he engaged with #gamergate in the interest of quelling the harassment against Quinn instead of using it as his personal army/fan club. Granted, many of those people are his stalwart allies and I don't think I can change their minds. Those tools would rather not contemplate the hand which wields them.
But to those who assume Eron wouldn't lie about being abused, or that there are two sides to every story; I would like to present the side the evidence is on. Because this story is not a he-said, she-said. It's not even about Zoe Quinn. This story is about a hateful boyfriend, who, once denied a relationship with Quinn committed himself to ruining her life. And today, I'm going to publish the pictures of him doing it, going all the way back to August. I'll put a summary at the end of this post, supported by the evidence I'm about to present.
Part 1/5: "Set Odds of Harassment at 80%"
Eron filled his zoepost with salacious details about Quinn's sex life because he knew it would be the best way to get 4chan's attention. He admitted that Quinn was likely to be harassed as a result of these postings.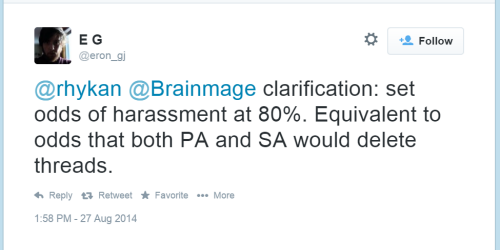 Eron Gjoni, admitting that his retribution fanfiction was banned from two of the three communities in which he promoted it.
From the very beginning, Gjoni wanted to make sure his zoepost would connect with a large base of people. Here, he shares a screencap of him workshopping thezoepost on Facebook with his friend, Rachel. (Note the date, August 6, about a week before he published it.) He posted this screengrab in October, well after Quinn filed a restraining order to try and shut him the fuck up.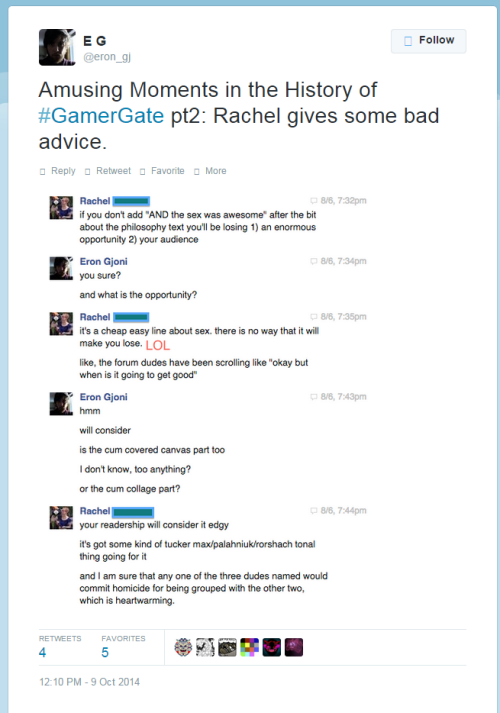 Here he is with his friend Rachel, dicussing how to make the post entertaining, like a Tucker Max story or a Penthouse Letter.
He spent weeks crafting it and sharing drafts with close friends of his, weighing the pros and cons of this course of action. His mom even told him not to post it, although Eron didn't take her advice.
Gjoni knowingly shared the so-called "zoepost" with 4chan hours after it went live. I know this because the post originally contained this welcome message for 4chan traffic. Eron's since changed his TL;DR; this is the original header to his tell-all post.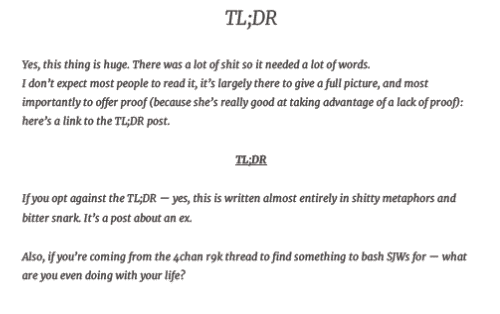 The original header for thezoepost. Note the welcome message for readers linked from /r9k/.
TL;DR welcome 4channers, if you're coming here from the thread I made on /r9k/
This directly contradicts Eron's later narrative that 4chan simply happened to find his postings. He promoted them on the site; I know how this works because I own a blog myself. To be clear, this is the OP of the 4chan thread Gjoni's talking about:
TLDR Zoe Quinn, a rabid feminist SJW GAMUR GIRL who made a shitty non-game called Depression Quest, just got outed for BRIBING THE MEDIA INTO LIKING HER SHITTY NON-GAME WITH HER VAGINA BY cheating on her boyfriend with 5 other guys, including Kotaku staff members who defended her online and reviewed her game and HER MARRIED BOSS. She is a manipulative liar and a sociopath.
At this point, 4channers were digging into every aspect of Quinn's life, to see if they could shake loose another humiliating detail to add to the thread, for example, nude photos of Quinn, or the name of the wife of one of the men with whom Quinn allegedly had sex.
As if a post welcoming 4channers to his site wasn't enough, Eron also joined the 4chan discussion to give the mob more material about his ex-girlfriend's sex life and whereabouts. Here's a picture of him entering the 4chan thread:

Eron Gjoni, discussing Zoe Quinn's sex life and whereabouts in one post on 4chan.
"Eron here: Yes she was in Virginia during January… still though, super shitty if she fucked you in January, because that would mean [ZQ] fucked you two weeks before confessing she was in love with me."
To prove he was the real Eron Gjoni, he posted this note on his blog, linking to his 4chan post number. The only reason I can see why Eron would so definitively prove his identity was to certify to the fomenting mob that his ZQ gossip was the straight poop, so that he could obtain control of the harassment he had engendered against Quinn.
It's important to note that Zoe Quinn had been harassed by channers in the past. Eron knew this had happened, which encouraged him to seek out this community as an audience for his writings. His intent with thezoepost seems to have been to destroy Quinn personally and professionally as an act of revenge. This next message (which Eron posted on Twitter and later deleted) suggests he even wanted to break her psychologically.

"No. Has been in correct proportion to meet all goals. Except the goal of getting Zoe into therapy." - Eron Gjoni
Harassing ZQ over the internet is how Eron shows how deeply he cares about her mental health.