Target: Caught in the Crosshairs of Bill and Hillary Clinton
by Kathleen Willey
© 2007 by Kathleen Willey
Jacket design by Linda Daly
Photos of Kathleen Willey by Teresa Garrison
Photo of Bill Clinton courtesy of AP images / Evan Vucci
Photo of Hillary Clinton courtesy of Chip Somodevilla / Getty Images
NOTICE: THIS WORK MAY BE PROTECTED BY COPYRIGHT
YOU ARE REQUIRED TO READ

THE COPYRIGHT NOTICE AT THIS LINK

BEFORE YOU READ THE FOLLOWING WORK, THAT IS AVAILABLE SOLELY FOR PRIVATE STUDY, SCHOLARSHIP OR RESEARCH PURSUANT TO 17 U.S.C. SECTION 107 AND 108. IN THE EVENT THAT THE LIBRARY DETERMINES THAT UNLAWFUL COPYING OF THIS WORK HAS OCCURRED, THE LIBRARY HAS THE RIGHT TO BLOCK THE I.P. ADDRESS AT WHICH THE UNLAWFUL COPYING APPEARED TO HAVE OCCURRED. THANK YOU FOR RESPECTING THE RIGHTS OF COPYRIGHT OWNERS.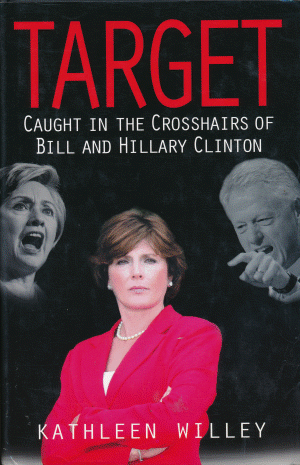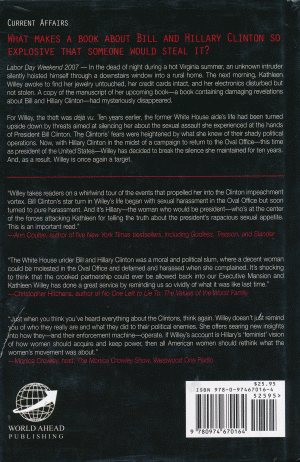 What makes a book about Bill and Hillary Clinton so explosive that someone would steal it?

Labor Day Weekend 2007 -- In the dead of night during a hot Virginia summer, an unknown intruder silently hoisted himself through a downstairs window into a rural home. The next morning, Kathleen Willey awoke to find her jewelry untouched, her credit cards intact, and her electronics disturbed but not stolen. A copy of the manuscript of her upcoming book -- a book containing damaging revelations about Bill and Hillary Clinton -- had mysteriously disappeared.

For Willey, the theft was deja vu. Then years earlier, the former White House aide's life had been turned upside down by threats aimed at silencing her about the sexual assault she experienced at the hands of President Bill Clinton. The Clintons' fears were heightened by what she knew of their shady political operations. Now, with Hillary Clinton in the midst of a campaign to return to the Oval Office -- this time as president of the United States -- Willey has decided to break the silence she maintained for ten years. And, as a result, Willey is once again a target.

***

"Willey takes readers on a whirlwind tour of the events that propelled her into the Clinton impeachment vortex. Bill Clinton's star turn in Willey's life began with sexual harassment in the Oval Office but soon turned to pure harassment. And it's Hillary -- the woman would would be president -- who's at the center of the forces attacking Kathleen for telling the truth about the president's rapacious sexual appetite. This is an important read." -- Ann Coulter, author of five New York Times bestsellers, including Godless, Treason, and Slander

"The White House under Bill and HIllary Clinton was a moral and political slum, where a decent woman could be molested in the Oval Office and defamed and harassed when she complained. It's shocking to think that the crooked partnership could ever be allowed back into our Executive Mansion and Kathleen Willey has done a great service by reminding us so vividly of what it was like last time." -- Christopher Hitchens, author of No One Left to Lie To: The Values of the Worst Family

"Just when you think you've heard everything about the Clintons, think again. Willey doesn't just remind you of who they really are and what they did to their political enemies. She offers searing new insights into how they -- and their enforcement machine -- operate. If Willey's account is Hillary's 'feminist' vision of how women should acquire and keep power, then all American women should rethink what the women's movement was about." -- Monica Crowley, host, The Monica Crowley Show, Westwood One Radio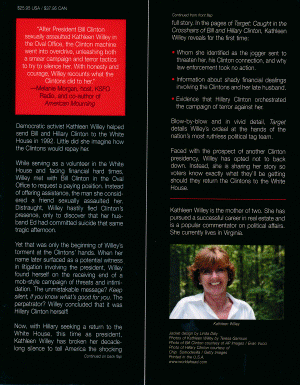 "After President Bill Clinton sexually assaulted Kathleen Willey in the Oval Office, the Clinton machine went into overdrive, unleashing both a smear campaign and terror tactics to try to silence her. With honesty and courage, Willey recounts what the Clintons did to her." -- Melanie Morgan, host, KSFO Radio, and co-author of American Mourning

Democratic activist Kathleen Willey helped send Bill and Hillary Clinton to the White House in 1992. Little did she imagine how the Clintons would repay her.

While serving as a volunteer in the White House and facing financial hard times, Willey met with Bill Clinton in the Oval Office to request a paying position. Instead of offering assistance, the man she considered a friend sexually assaulted her. Distraught, Willey hastily fled Clinton's presence, only to discover that her husband Ed had committed suicide that same tragic afternoon.

Yet that was only the beginning of Willey's torment at the Clintons' hands. When her name later surfaced as a potential witness in litigation involving the president, Willey found herself on the receiving end of a mob-style campaign of threats and intimidation. The unmistakable message? Keep silent, if you know what's good for you. The perpetrator? Willey concluded that it was Hillary Clinton herself!

Now, with Hillary seeking a return to the White House, this time as president, Kathleen Willey has broken her decade-long silence to tell America the shocking full story. In the pages of Target: Caught in the Crosshairs of Bill and Hillary Clinton, Kathleen Willey reveals for the first time:

• Whom she identified as the jogger sent to threaten her, his Clinton connection, and why law enforcement took no action.

• Information about shady financial dealings involving the Clintons and her late husband.

• Evidence that Hillary Clinton orchestrated the campaign of terror against her.

Blow-by-blow and in vivid detail, Target details Willey's ordeal at the hands of the nation's most ruthless political tag team.

Faced with the prospect of another Clinton presidency, Willey has opted not to back down. Instead, she is sharing her story so voters know exactly what they'll be getting should they return the Clintons to the White House.

Kathleen Willey is the mother of two. She has pursued a successful career in real estate and is a popular commentator on political affairs. She currently lives in Virginia.
***
To my Hero, thank you for your love, devotion, and encouragement, the gifts you gave me, the lessons you taught me, and the courage to face all of my tomorrows. I will forever hold you in my heart with abiding hope.
Table of Contents:
• Preface
• Introduction
• 1: A Soccer Mom Meets a Governor
• 2: The First Campaign
• 3: The First Term
• 4: Assault in the Oval Office
• 5. Promises, Promises
• 6: Exposed
• 7: Terror Campaign
• 8: Smear Campaign
• 9: Obstruction of Justice
• 10: A Third Clinton Term?
• Update
• Acknowledgments
• Bibliography
• Notes
• Index