The Bizarre Not-Murder of Arkady Babchenko: The story of a crusading Russian journalist who faked his death to expose his enemies will fuel Moscow's accusations of Ukrainian deceit.
by Natasha Bertrand
The Atlantic
MAY 30, 2018
NOTICE: THIS WORK MAY BE PROTECTED BY COPYRIGHT
YOU ARE REQUIRED TO READ

THE COPYRIGHT NOTICE AT THIS LINK

BEFORE YOU READ THE FOLLOWING WORK, THAT IS AVAILABLE SOLELY FOR PRIVATE STUDY, SCHOLARSHIP OR RESEARCH PURSUANT TO 17 U.S.C. SECTION 107 AND 108. IN THE EVENT THAT THE LIBRARY DETERMINES THAT UNLAWFUL COPYING OF THIS WORK HAS OCCURRED, THE LIBRARY HAS THE RIGHT TO BLOCK THE I.P. ADDRESS AT WHICH THE UNLAWFUL COPYING APPEARED TO HAVE OCCURRED. THANK YOU FOR RESPECTING THE RIGHTS OF COPYRIGHT OWNERS.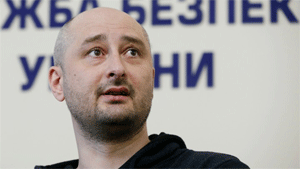 Arkady Babchenko speaking at a news conference. The Russian journalist Arkady Babchenko, who was reported murdered in Ukraine on May 29, attends a news briefing by the Ukrainian state security service in Kiev, on May 30.VALENTYN OGIRENKO /
The news was grim. It was a murder. The apparent victim: Russian soldier-turned-reporter Arkady Babchenko. Obituaries were written, memorials were erected, and mourners gathered outside of his apartment.
And, then, something utterly remarkable happened. Babchenko appeared, alive, at a press conference about his own death.
Journalists gasped and then applauded as the supposedly dead Babchenko, known for his opposition to Russian President Vladimir Putin and investigations of Russia's foreign incursions, explained that his "murder" had actually been part of a months-long operation staged by Ukraine's security services. The bizarre exercise immediately escalated tensions between Kiev and Moscow, with Ukraine accusing the Kremlin of orchestrating Babchenko's murder before disclosing that his death had been faked.
The episode seemed to accentuate the smoke-and-mirrors atmosphere hanging over eastern Europe and Russia—a place where disinformation seems to flow freely, and Russia, which maintains an entrenched presence in eastern Ukraine, has long depended on propaganda to draw support from pro-Russian separatists and attack the pro-Western Ukrainian government. The Kremlin has not been the only entity to criticize Ukraine's decision to fake the prominent journalist's death—while Ukrainian officials celebrated the operation, many journalists and civil groups decried what they saw as the government's manipulation of the truth in what is already a fragile moment for the media.
Russia, which has been sanctioned and widely condemned over its invasion of Ukraine in 2014, used the news to flip the narrative and cast Ukraine as the aggressor. Maria Zakharova, the spokeswoman for Russia's Ministry of Foreign Affairs, quickly called the episode a "masquerade" conducted for "propaganda" purposes. Konstantin Kosachyov, the chairman of the Russian Federation Council's foreign-affairs committee, called it a "provocation" by the Ukrainian government, according to the Russian newswire Interfax. Alec Luhn, a journalist based in Russia, worried that the operation would bolster Moscow's characterization of Kiev as "deceitful and hapless." "Babchenko's staged murder is basically doing their job for them," Luhn observed. Various journalists'-rights organizations were incensed—the Committee to Protect Journalists called the operation "extreme" and asked for answers. Reporters Without Borders expressed "its deepest indignation after discovering the manipulation of the Ukrainian secret services" and said "it is always very dangerous for a government to play with the facts."
Garry Kasparov, the Russian chessmaster-turned anti-Putin activist, saw it differently. Speaking at the annual Oslo Freedom Forum—where, hours before, still thinking Babchenko had died, an opera was performed in Babchenko's honor—Kasparov said the Ukrainian operation marked the first time that Putin's tool of "fake news was being used against him." He described the staged murder as "probably the most successful operation in the post-Soviet Union," and joked that "people who are resurrected have a track record of doing great things."
The security operation was elaborate. Ukrainian officials even confirmed Babchenko's death to various media outlets, released photos of him lying facedown in blood, and installed a memorial plaque in his honor on a wall of slain journalists in Kiev. (The plaque was removed on Wednesday.) Not even Babchenko's wife appeared to be in on it. "Special apologies to my wife, Olechka—there was no other option," Babchenko said during Wednesday's press conference. "The operation was under preparation for two months."
Despite the criticism, Ukrainian police and government officials declared the operation a success. Vasily Gritsak, the head of the Ukrainian security service, told reporters on Wednesday that the investigation had been launched after Babchenko began receiving death threats. It is not clear what sparked them, but he fled Russia in 2016 after learning that the Kremlin was angry at him for saying in a Facebook post that he did not mourn the victims of a Russian defense ministry plane crash that year, according to Haaretz. By Wednesday, officials had detained one suspect: a former fighter based in eastern Ukraine who was allegedly paid $30,000 by Russian authorities to kill Babchenko.
It is still not clear how authorities, in staging Babchenko's death, were allegedly able to confirm Russia's involvement in the murder plot.
But Ukrainian President Petro Poroshenko congratulated the authorities on a "brilliant operation" and ordered around-the-clock security for Babchenko and his family. Ukrainian Prosecutor General Yuri Lutsenk, meanwhile, used the staged killing as an opportunity to attack Ukrainian politicians who had accused the police of failing to prevent Babchenko's death, according to the Kyiv Post.
Anton Geraschenko, a Ukrainian member of parliament, said the police had "no other choice." "In order to trace and document the chain from the killer to the organizers and customers it was necessary to create in them full confidence that the order was executed and force them to take a number of actions that will be documented by the investigation," Geraschenko wrote on Facebook. He compared it to something Sherlock Holmes would do. "Sherlock Holmes successfully used the method of staging his own death for the effective investigation of complex and intricate crimes. No matter how painful it was for his family and Dr. Watson."
The tension between Russia and Ukraine will likely escalate as Ukrainian authorities continue to release evidence they say proves the Kremlin had planned to have Babchenko murdered. On Wednesday afternoon, Ukraine's security services released a video that purportedly showed the would-be hitman receiving his $30,000 payment—the police had placed a camera inside the bag. Babchenko, for his part, wrote on Facebook that he has promised to die at the age of 96, after "dancing on Putin's grave."
Kathy Gilsinan contributed reporting.