Hillary Clinton's disingenuous dossier outrage
by Callum Borchers
Washington Post
October 25, 2017 at 9:52 AM
NOTICE: THIS WORK MAY BE PROTECTED BY COPYRIGHT
YOU ARE REQUIRED TO READ

THE COPYRIGHT NOTICE AT THIS LINK

BEFORE YOU READ THE FOLLOWING WORK, THAT IS AVAILABLE SOLELY FOR PRIVATE STUDY, SCHOLARSHIP OR RESEARCH PURSUANT TO 17 U.S.C. SECTION 107 AND 108. IN THE EVENT THAT THE LIBRARY DETERMINES THAT UNLAWFUL COPYING OF THIS WORK HAS OCCURRED, THE LIBRARY HAS THE RIGHT TO BLOCK THE I.P. ADDRESS AT WHICH THE UNLAWFUL COPYING APPEARED TO HAVE OCCURRED. THANK YOU FOR RESPECTING THE RIGHTS OF COPYRIGHT OWNERS.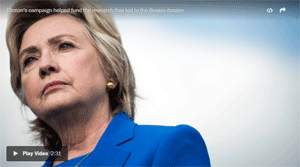 The Washington Post's Adam Entous looks at the role that Hillary Clinton's campaign and the Democratic National Committee played in funding the research that led to a dossier containing allegations about President Trump's links to Russia. (Video: Bastien Inzaurralde, Patrick Martin/Photo: Melina Mara/The Washington Post)
When BuzzFeed published that now-infamous dossier of unproven claims about Donald Trump and Russia, in January, former Hillary Clinton campaign aides expressed outrage that news outlets that had obtained the dossier before Election Day did not make its contents public in time to influence voters, and Clinton later aired the same grievance in her book about the presidential race.
It turns out that the reaction of the Democratic presidential nominee and her team was disingenuous. The Washington Post reported on Tuesday night that the Clinton campaign and the Democratic National Committee helped fund the dossier, compiled by a former British intelligence officer, through a law firm hired to conduct opposition research.
The Clinton camp left out its own role in the dossier's creation, as it ripped the media for sitting on information that journalists had been unable to verify. What Clinton and her advisers presented as their judgment that the media had made the wrong call was, in fact, their frustration at having failed to plant negative news reports before ballots were cast.
Recall that BuzzFeed published the dossier in full on Jan. 10, after CNN reported that the FBI had briefed President Barack Obama and then-President-elect Trump on its contents.
Many journalists criticized BuzzFeed's decision, arguing that news outlets should not spread claims they can't corroborate, even if the FBI considers the claims significant enough to share with the president and his soon-to-be successor.
The DNI report amounted to a compendium of reasons to suspect that Russia was the source of the information – built largely on the argument that Russia had a motive for doing so because of its disdain for Democratic nominee Clinton and the potential for friendlier relations with Republican nominee Trump.

But the case, as presented, is one-sided and lacks any actual proof. Further, the continued use of the word "assesses" – as in the U.S. intelligence community "assesses" that Russia is guilty – suggests that the underlying classified information also may be less than conclusive because, in intelligence-world-speak, "assesses" often means "guesses."

The DNI report admits as much, saying, "Judgments are not intended to imply that we have proof that shows something to be a fact. Assessments are based on collected information, which is often incomplete or fragmentary ...-- US Report Still Lacks Proof on Russia 'Hack', by Robert Parry
In December, John McCain provided a copy of this report to the FBI and demanded they take it seriously.

At some point last week, the chiefs of the intelligence agencies decided to declare that this ex-British intelligence operative was "credible" enough that his allegations warranted briefing both Trump and Obama about them, thus stamping some sort of vague, indirect, and deniable official approval on these accusations. Someone — by all appearances, numerous officials — then went to CNN to tell the network they had done this, causing CNN to go on air and, in the gravest of tones, announce the "Breaking News" that "the nation's top intelligence officials" briefed Obama and Trump that Russia had compiled information that "compromised President-elect Trump."

CNN refused to specify what these allegations were on the ground that it could not "verify" them. But with this document in the hands of multiple media outlets, it was only a matter of time — a small amount of time — before someone would step up and publish the whole thing. BuzzFeed quickly obliged, airing all of the unvetted, anonymous claims about Trump.

Its editor-in-chief, Ben Smith, published a memo explaining that decision, saying that — although there was "serious reason to doubt the allegations" — BuzzFeed in general "errs on the side of publication" and "Americans can make up their own minds about the allegations."

--

The Deep State Goes to War With President-Elect, Using Unverified Claims, as Democrats Cheer, by Glenn Greenwald
But Clinton press aides Brian Fallon and Nick Merrill contended, on Twitter, that the real journalistic malpractice was not publishing information contained in the dossier earlier.
Brian Fallon ✔@brianefallon
Today has brought a gush of reporting that outlets knew about and sat on prior to November 8
cc: @GlenCaplin1https://twitter.com/PaulBlu/status/818985935450894337 …
6:06 PM - Jan 10, 2017
Merrill was referring to the New York Times, which reported on Oct. 31, 2016, that the FBI had "chased a lead — which they ultimately came to doubt — about a possible secret channel of email communication from the Trump Organization to a Russian bank." Journalist Franklin Foer had reported on the possible secret channel in Slate earlier that day.
Also that day, Mother Jones magazine reported that a "former senior intelligence officer for a Western country" had "provided the [FBI] with memos, based on his recent interactions with Russian sources, contending the Russian government has for years tried to co-opt and assist Trump — and that the FBI requested more information from him." The memos comprised the dossier that BuzzFeed later published.
Consistent with the Mother Jones report,
the Times reported that "intelligence officials have said in interviews over the last six weeks that apparent connections between some of Mr. Trump's aides and Moscow originally compelled them to open a broad investigation into possible links between the Russian government and the Republican presidential candidate."
"Still," the Times added, throwing the "cold water" Merrill spoke of, "they have said that Mr. Trump himself has not become a target. And no evidence has emerged that would link him or anyone else in his business or political circle directly to Russia's election operations."
Clinton complained about the Times report in her post-election book, "What Happened":
In the summer of 2016, according to The Washington Post,

the FBI convinced a special Foreign Intelligence Surveillance Court that there was probably cause to believe that Trump adviser Carter Page was acting as a Russian agent, and they received a warrant to monitor his communications. The FBI also began investigating a dossier prepared by a well-respected former British spy that contained explosive and salacious allegations about compromising information the Russians had on Trump. The intelligence community took the dossier seriously enough that it briefed both President Obama and President-elect Trump on its contents before the inauguration.

. . .

Sources within the FBI also convinced the New York Times to run a story saying they saw "no clear link to Russia," countering Franklin Foer's scoop in Slate about unusual computer traffic between Trump Tower and a Russian bank.
CHUCK TODD:

Let me ask you one other final question on the infamous dossier that was put together by this former British operative named Christopher Steele.

Why did you feel the need to brief the president on that at the time?

JAMES CLAPPER:

We felt that it was important that he know about it, that it was out there. And that, without respect to the veracity of the contents of the dossier, that's why it was not included as a part of our report. Because much of it could not be corroborated.

And importantly, some of the sources that Mr. Steele drew on, second and third order assets, we could not validate or corroborate.

-- Full Clapper: "No Evidence" of Collusion Between Trump and Russia: Interview with James Clapper, Director of National Intelligence, by Chuck Todd
Note that Clinton described the dossier only as having been "prepared by a well-respected former British spy" — as if the spy, Christopher Steele, had acted on his own. Clinton certainly gave no indication that her campaign helped finance his work.
There is a fundamental contradiction here:
Clinton wanted the dossier to be viewed as credible yet she did not want to be connected to it. She hoped the media, before Election Day, would publish claims about Trump to which she was unwilling to attach her own name.
Update: Appearing on CNN Wednesday morning, Fallon said he personally did not know that the Clinton campaign helped fund the dossier and said he was unsure whether Clinton did.

"How could you not know that the Clinton team was paying for it?" CNN's John Berman asked. "And didn't someone in the Clinton campaign know this?"

"I'm sure that there's a small group of folks that were aware," Fallon replied, "but it was kept, for reasons that I can understand, to a very select group."

According to Fallon, Clinton "may have known, but the degree of exactly what she knew is beyond my knowledge."

Fallon might be right, but ignorance is a pretty weak excuse here. At minimum, some people within the campaign were aware of funding the dossier, yet the campaign allowed spokesmen and the candidate herself to make public statements that were misleading by omission.