Part 1 of 4
TRUMP'S PREMEDITATED 2020 ELECTION COUP: REVENGE FOR RUSSIAGATE RAPEUTATION.
Transcript of Donald Trump Speech on Election Fraud Claims (46-Minute Speech)
by President Donald Trump
December 2, 2020
The mail-in voting scam is the latest part of their four year effort to overturn the results of the 2016 election, and it's been like living in hell. Our opponents have proven many times, again and again, that they will say and do anything to get back into power.

The corrupt forces who are registering dead voters and stuffing ballot boxes are the same people who have perpetrated one phony and fraudulent hoax after another. You've been watching it now for four years. These entrenched interests oppose our movement, because we put America first. They don't put America first, and we're returning power to you the American people. They don't want America first, they only want power for themselves. They want to make money. That's why they don't want me as your president. I've been investigated from soon after I announced I was running for president. When I immediately went to number one in the Republican primary polls, the investigations never stopped. They went on for four years, and I won them all, I beat them all.

Russia, Russia, Russia, the impeachment hoax, and so much more.

Robert Mueller spent $48 million of taxpayer money investigating me for two and a half years, issued over 2,800 subpoenas, executed nearly 500 search warrants, issued 230 orders for communications records, and conducted 500 witness interviews, all looking to take me down. There was no collusion in the end, none whatsoever.

Senator Marco Rubio, the head of the Senate Intelligence Committee stated, "The committee found no evidence that then candidate Donald Trump, or his campaign, colluded with the Russian government." And, I thank Senator Rubio for that statement

...And all it's been is a big investigation in Washington and New York and any place else that can investigate, because that's what they want to do. They want to take not me, but us down. Then we can never let them do that...

"Unless Bill Barr indicts these people for crimes — the greatest political crimes in the history of our country — then we're going to get little satisfaction unless I win ... [These] people should be indicted, this was the greatest political crime in the history of our country. And that includes Obama and it includes Biden."

-- TRUMP'S PREMEDITATED 2020 ELECTION COUP: REVENGE FOR RUSSIAGATE. (46-Minute Speech), by President Donald Trump
President Donald Trump: (00:00)
Thank you. This may be the most important speech I've ever made. I want to provide an update on our ongoing efforts to expose the tremendous voter fraud and irregularities which took place during the ridiculously long November 3rd elections. We used to have what was called "election day." Now we have election days, weeks, and months, and lots of bad things happened during this ridiculous period of time, especially when you have to prove almost nothing to exercise our greatest privilege, the right to vote. As President, I have no higher duty than to defend the laws and the Constitution of the United States. That is why I am determined to protect our election system, which is now under coordinated assault and siege.
President Donald Trump: (00:54)
For months leading up to the Presidential election we were warned that we should not declare a premature victory. We were told repeatedly that it would take weeks, if not months, to determine the winner, to count the absentee ballots, and to verify the results. My opponent was told to stay away from the election, don't campaign. "We don't need you. We've got it. This election is done." In fact, they were acting like they already knew what the outcome was going to be. They had it covered, and perhaps they did, very sadly for our country. It was all very, very strange. Within days after the election, we witnessed an orchestrated effort to anoint the winner even while many key states were still being counted.
President Donald Trump: (01:44)
The constitutional process must be allowed to continue. We're going to defend the honesty of the vote by ensuring that every legal ballot is counted and that no illegal ballot is counted. This is not just about honoring the votes of 74 million Americans who voted for me, it's about ensuring that Americans can have faith in this election, and in all future elections.
President Donald Trump: (02:12)
Today I will detail some of the shocking irregularities, abuses and fraud that had been revealed in recent weeks, but before laying out just a small portion of the evidence we have uncovered -- and we have so much evidence --
I want to explain the corrupt mail-in balloting scheme that Democrats systematically put into place that allowed voting to be altered, especially in swing states, which they had to win
. They just didn't know that it was going to be that tough, because we were leading in every swing state by so much, far greater than they ever thought possible.
While it has long been understood that the Democrat political machine engages in voter fraud, from Detroit, to Philadelphia, to Milwaukee, Atlanta -- so many other places. What changed this year was the Democrat party's relentless push to print and mail out tens of millions of ballots sent to unknown recipients with virtually no safeguards of any kind. This allowed fraud and abuse to occur in a scale never seen before. Using the pandemic as a pretext, Democrat politicians and judges drastically changed election procedures just months, and in some cases, weeks before the election on the 3rd of November.
President Donald Trump: (03:45)
Very rarely were legislatures involved, and constitutionally they had to be involved. But very, very rarely. And you'll see that as we continue to file our suits. It's constitutionally, absolutely incorrect what took place, even from a legal standpoint.
Many states, such as Nevada and California, sent millions of live ballots to every person on their voter rolls, whether those individuals had requested ballots or not. Whether they were dead or alive, they got ballots.
Other states, such as Minnesota, Michigan, and Wisconsin, instituted universal absentee balloting right in the middle of an election year, sending absentee ballot request forms to all voters on all rolls. It didn't matter who they were.
This colossal expansion of mail-in voting opened the flood gates to massive fraud. It's a widely known fact that the voting rolls are packed with people who are not lawfully eligible to vote, including those who are deceased, have moved out of their state, and even our non-citizens of our country.
President Donald Trump: (05:05)
Beyond this, the records are riddled with errors, wrong addresses, duplicate entries, and many other issues.
This is not disputed. It has never been disputed.
Dozens of counties in the key swing states have more registered voters on the rolls than they have voting age citizens, including 67 counties in Michigan.
All of this is evidence.
[T]he Ramsland affidavit appeared to confuse townships in Minnesota for Michigan.

Ramsland highlighted a number of "statistical anomalies and red flags" he claimed proved "that election results have been manipulated within the Dominion/Premier system in Michigan."

He specifically highlighted several precincts in Michigan where the number of votes cast appeared to exceed the number of registered voters in the county.

Many of the municipalities cited in the Michigan (MI) document, such as Albertville, Houston, Monticello, Runeberg, Lake Lillian, Brownsville, Wolf Lake, Height of Land, Detroit Lakes, Frazee, and Kandiyohi, are located in Minnesota (MN).-- Trump lawsuit confuses Michigan and Minnesota locations in affidavit claiming voter fraud, by Savannah Behrmann, USA TODAY, 11/20/20
In Wisconsin, the state's Board of Elections
could not confirm the residency of more than 100,000 people
, but repeatedly refused to remove those names from its voter rolls before the election. They knew why, nobody else did. I knew why.
They were illegal voters
. It is a travesty that in the year 2020, we do not have any means of verifying the eligibility of those who cast ballots in an election and such an important election it is, or determining who they are, whether they live in the state or whether they're even American citizens. We have no idea.
A Florida lawyer is being investigated for trying to illegally register to vote in the Georgia runoff election and encouraging others to do the same, according to a local report.

Bill Price, of Panama City, allegedly filled out paperwork to vote in Paulding County, GA using his brother's address there — and swore in an affidavit that he was a Peach State resident, election officials told WSB-TV.

"We clearly know that he is not [eligible to vote in Georgia]," Deidre Holden, Paulding County's election supervisor, told the station.

The matter came to light after video emerged showing Price telling members of Florida's Bay County Republican Party to temporarily change their addresses to Georgia in order to vote for the GOP Senate candidates there on Jan 5.

"We absolutely have to hold the Senate and we have to start fighting back, and we have to do whatever it takes," Price said in the since-deleted Facebook Live video obtained by the outlet.

"And if that means changing your address for the next two months, so be it," he said, before stating: "I'm doing that. I'm moving to Georgia and I'm gonna fight and I want you all to fight with me."

According to the report, Price then read out his brother's address in Hiram as the group wrote it down — and, when one woman asked, "We can truly register at that address?" he responded: "Sure."

"It's only for a couple months," Price reportedly said. "We'll have buses leaving right out here, going to Atlanta the day before Jan. 5 and I might need you guys to help me move back to Florida on Jan. 6."

Moving to Georgia temporarily just to vote is a crime in the state, publishable by up to 10 years in jail or a fine of up $100,000.

Georgia Secretary of State Brad Raffensperger on Thursday confirmed to the outlet that the video of Price is being investigated.

"Make no mistake, individuals who attempt to undermine the integrity of Georgia's elections will be investigated and prosecuted to the fullest extent of the law," Raffensperger said in a statement.

Holden, the Paulding election supervisor, who is a Republican, told the station that investigators flagged Price's registration attempt and shared the footage with her.

She said a meeting is slated for next week in order to stop Price's alleged effort.

"What kind of message is this sending out to our children and our grandchildren and our neighbors that if you don't win an election, that you can just go out and steal one?" Holden asked. "And that's absolutely unacceptable here in the state of Georgia."

Price, meanwhile, denied that he had attempted to register in Georgia and maintained that he was just kidding in the video in an email to the outlet.

"Thanks for reaching out. I did not change my voter registration…," he told the station.

In a phone call with Fox News, Price admitted that he had filled out the registration online — but claimed he did it to expose Democrats he alleged were trying to vote illegally.

"I wanted to see how easy it was to do it," he told the outlet. "I'm not actually moving to Georgia. I was joking."

-- Florida man under investigation for registering to vote in Georgia, by Tamar Lapin, December 3, 2020
President Donald Trump: (06:21)
We have and in all swing states major infractions, or outright fraud, which is far more in numbers or votes than we need to overturn the results of a state. In other words, in Wisconsin, as an example, where we were way up on election night, they ultimately had us miraculously losing by 20,000 votes. I can show you right here that Wisconsin we're leading by a lot, and then at 3:42 in the morning there was this, it was a massive dump of votes, mostly Biden, almost all Biden. To this day everyone's trying to figure out, "Where did it come from?" But I went from leading by a lot, to losing by a little, and that's right here. That's at 3:42 in the morning. That's Wisconsin. A terrible thing, terrible, terrible thing.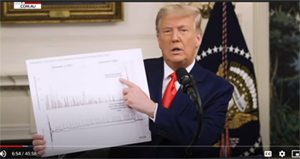 President Donald Trump: (07:33)
But we will have far more, many times more than the 20,000 votes needed to overturn the state. If we are right about the fraud, Joe Biden can't be president. We're talking about hundreds of thousands of votes. We're talking about numbers like nobody has ever seen before. Just as an example, in certain states, we'll be down by, let's say, 7,000 votes, but we'll find later on 20,000, 50,000, 100,00, 200,000 discrepancies or fraudulent votes, and that includes
votes that went through when they were not allowed to be seen by Republican poll watchers, because the poll watchers were locked out of the building.
The Detroit Free Press reported that challengers from both sides were locked out because the limit on challengers had already been exceeded. Earlier in the day, 268 Democratic challengers, 227 Republican challengers and 75 nonpartisan challengers were on the floor. The Free Press reported roughly 400 challengers were "freely roaming the room."

"We were well over the 134 maximum," said the city of Detroit's lead attorney Lawrence Garcia. "In the haste of doing business, nobody noticed that until it was over 200 for each party, and at that point, we said, we better stop admitting people until some people leave, and we're under the 134 number."

-- Videos showing crowd locked out of Detroit TCF Center with windows obstructed are missing context, by Devon Link and Ashley Nerbovig, USA TODAY, 11/20/20
Or people that innocently came to vote on November 3rd, who were all excited about their vote. They were happy. They were proud to be citizens of the United States of America. And they went up and they said, "I'd like to vote." They were told that they can't vote. "I'm sorry," they were told, "I'm sorry. You've already voted by mail-in ballot. Congratulations. We received a ballot, so you can no longer vote."
President Donald Trump: (09:03)
They didn't know what to do. They had no one to complain to. Most just left and said, "That's strange." But many people complained, and complained vehemently. And in a lot of cases, they filled out a provisional ballot, which was almost never used, but in virtually every case was a vote for Trump. In other words, they went in to vote and they were told that they voted, and they didn't vote.
They left and they felt horror and they lost respect for our system
. This happened tens of thousands of times all over the country.
That's how desperate the Democrats were. They would fill out ballots of people not even knowing if these people were going to show up. When they did show up, they said, "Sorry, you've already voted."
President Donald Trump: (10:07)
On top of everything else, we have a company that's very suspect. It's name is Dominion. With the turn of a dial, or the change of a chip, you could press a button for Trump and the vote goes to Biden. What kind of a system is this? We have to go to paper. Maybe it takes longer. But the only secure system is paper. Not these systems that nobody understands, including in many cases, the people that run them. Although, unfortunately, I think they understand them far too well.


[Scott Pelley] So back in 2017 as you're looking ahead to the election in 2018 and then ultimately the election in 2020, you have a to-do list, and the to-do list includes what?



[Christopher Krebs] Paper ballots. Paper ballots give you the ability to audit, to go back and check the tape and make sure you got the count right. And that's really one of the keys to success for a secure 2020 election. 95% of the ballots cast in the 2020 election had a paper record associated with it. Compared with 2016, about 82%.

[Scott Pelley] And with a paper record, you can go back and verify what the machine is saying by physically counting the paper.

[Christopher Krebs] That gives you the ability to prove that there was no malicious algorithm or hacked software that adjusted the tally of the vote. And just look at what happened in Georgia. Georgia has machines that tabulate the vote. They then held a hand recount, and the outcome was consistent with the machine vote.

[Scott Pelley] And that tells you what?

[Christopher Krebs] That tells you that there was no manipulation of the vote on the machine count outside. And so that pretty thoroughly, in my opinion, debunks some of these sensational claims out there that I've called "nonsense" and "a hoax," that there was some hacking of these election vendors and their software in their systems across the country. It's just "nonsense."-- Securing the Election, produced by Rachael Morehouse, 60 Minutes, 11/29/20
President Donald Trump: (10:46)
In one Michigan County, as an example, that used Dominion systems, they found that nearly 6,000 votes had been wrongly switched from Trump to Biden, and this is just the tip of the iceberg. This is what we caught. How many didn't we catch? Are there hundreds of other examples throughout the country? Are there thousands? We just got lucky and they called it a glitch, but we found numerous glitches that evening.
The claim: Dominion Voting Systems deleted votes for Donald Trump, switched votes to Joe Biden

Multiple conservative news sources have claimed this week that vote counting software from Dominion Voting Systems deleted votes for President Donald Trump or switched votes to President-elect Joe Biden.

OAN's Lilia Fifield made the claim on air earlier this week, per a clip on Mediaite.

"Election systems across the country are found to have deleted millions of votes cast for President Trump," she said. "According to an unaudited analysis of data obtained from Edison Research, states using Dominion Voting Systems may have switched as many as 435,000 votes from President Trump to Joe Biden, and the author also finds another 2.7 million Trump votes appear to have been deleted by Dominion including almost one million truckloads in Pennsylvania alone."

Similar claims appeared on Gateway Pundit, though it credits the findings to the website thedonald.win, whose author also cites Edison Research.

Trump himself then magnified the claim.

"Report: Dominion deleted 2.7 million Trump votes nationwide. Data analysis finds 221,000 Pennsylvania votes switched from President Trump to Biden. 941,000 Trump votes deleted. States using Dominion Voting Systems switched 435,000 votes from Trump to Biden," he wrote on Twitter.

His son Donald Trump Jr. also implied that Dominion Voting Systems had improperly tallied votes for Biden in a post on Instagram.

"What's the difference between a Dominion voting machine and Hunter Biden? Nothing. They both give 10% to the 'big guy,'" the post read.

OANN, The Gateway Pundit, the White House, and Trump Jr. have not responded to requests for comment from USA TODAY.

Government, experts agree: There were no deleted or changed votes, including by Dominion

A national coalition announced Thursday that there is no evidence that any voting software deleted or changed votes in last week's election, per USA TODAY.

In fact, the security group — which includes the Department of Homeland Security's Cybersecurity and Infrastructure Security Agency and the National Association of State Election Directors — described the election as "the most secure in American history."

"There is no evidence that any voting system deleted or lost votes, changed votes, or was in any way compromised," the coalition concluded.

It added that all states with close results have paper records of each vote that allow for a recount, if necessary.

"This is an added benefit for security and resilience," the coalition wrote. "This process allows for the identification and correction of any mistakes or errors."

CISA Director Chris Krebs also retweeted a message from election law expert David Becker that condemned "wild and baseless claims about voting machines," according to CBS News.

David Becker @beckerdavidj
Please don't retweet wild and baseless claims about voting machines, even if they're made by the president. These fantasies have been debunked many times, including by @DHSgov @CISAgov on this excellent site/resource, Rumor Control.
cisa.gov/rumorcontrol
2:35 PM, Nov 12, 2020

Edward Perez, an election-technology expert at the OSET Institute, a nonprofit that studies voting infrastructure, told the New York Times that claims about Dominion voting machines are "misinformation at best and, in many cases, they're outright disinformation."

"I'm not aware of any evidence of specific things or defects in Dominion software that would lead one to believe that votes had been recorded or counted incorrectly," Perez said.

Dominion itself 'categorically denies' claims

Dominion Voting Systems released a statement this week to deny the claims that its machines had deleted or changed votes.

"Dominion Voting Systems categorically denies false assertions about vote switching issues with our voting systems," the statement reads. "Vote deletion/switching assertions are completely false."

The statement also addresses some specific details of allegations from Trump and Gateway Pundit.

Dominion calls the claim from Trump that its machines deleted 941,000 votes for him in Pennsylvania alone "impossible."

That's because Dominion only serves 14 counties in the state, which produced a total of 1.3 million votes — 52%, or 676,000, of which went to Trump. That only leaves 624,000 other votes, fewer than what Trump claims were switched.

Edison Research created 'no such report' about switched votes

The statement from Dominion Voting Systems also noted that Edison Research — a firm that OANN and Gateway Pundit cited in their stories — has refuted claims that it produced any data to support allegations of vote switching.

Larry Rosin, the president of Edison Research, told The Dispatch Fact Check, that it never produced any data to that effect.

"Edison Research created no such report and we are not aware of any voter fraud," he said.

Isolated incidents in Michigan, Georgia not indicative of wider issues with Dominion

A few — though not all — of the counties in Michigan and Georgia that experienced minor issues on Election Day used voting systems made by Dominion.

But the errors were not glitches with the machine, and there's no indication that the software affected the vote counts.

In Michigan, inaccuracies in two counties were due to human errors, not software issues, per a statement from the Michigan Department of State.

Just one county used software from Dominion.

"As with other isolated user errors that have occurred in the reporting of unofficial results both in this and previous elections, this is not the result of any intentional misconduct by an election official or because of software or equipment malfunctioning or failing to work properly," the statement read.

And in one Georgia county, an apparent problem with Dominion software delayed officials' reporting of the vote tallies but did not affect the actual vote count, per the New York Times.

Our rating: False

Based on our research, the claim that Dominion Voting Systems deleted votes for Donald Trump or switched votes to Joe Biden is FALSE. A national election security coalition announced on Thursday that "there is no evidence that any voting system deleted or lost votes, changed votes, or was in any way compromised." Other experts and Dominion itself also condemned the claims.

Our fact-check sources:

• USA TODAY, Nov. 12, Election security officials: 'No evidence voting systems compromised'

• CBS News, Nov. 13, Trump spreads baseless claim about Dominion Voting Systems after losing election

• New York Times, Nov. 11, No, Dominion voting machines did not delete Trump votes.

• Dominion Voting Systems, Nov. 13, SETTING THE RECORD STRAIGHT: FACTS & RUMORS

• The Dispatch Fact Check, Nov. 12, Did Edison Research Find That Dominion Deleted Trump Votes or Switched Votes to Biden?

• Michigan Department of State, Nov. 7, Isolated User Error in Antrim County Does Not Affect Election Results, Has no Impact on Other Counties or States

-- Fact check: Dominion voting machines didn't delete votes from Trump, switch them to Biden, by Camille Caldera, USA Today, 11/14/20
96% of the company's political donations went to Democrats, not surprisingly. Frankly,
when you look at who's running the company, who's in charge, who owns it -- which we don't know -- where are the votes counted, which we think are counted in foreign countries, not in the United States, Dominion is a disaster.
Election authorities in Texas have repeatedly blocked the deployment of Dominion systems due to concerns about security vulnerabilities and the potential for errors and outright fraud. Every district that uses Dominion systems must be carefully monitored and carefully investigated, but not only for the future.
[Scott Pelley] Let me ask for your reaction to some of the vote fraud that the President and his team have been alleging. "Votes tabulated in foreign countries."

[Christopher Krebs] So, [expostulates] all votes in the United States of America are counted in the United States of America. I don't, I don't understand this claim; all votes in the United States of America are counted in the United States of America. Period.-- Securing the Election, produced by Rachael Morehouse, 60 Minutes, 11/29/20