The Indictment of Hillary Clinton's Lawyer is an Indictment of the Russiagate Wing of U.S. Media
The DOJ's new charging document, approved by Biden's Attorney General, sheds bright light onto the Russiagate fraud and how journalistic corruption was key.
by Glenn Greenwald
Sep 19, 2021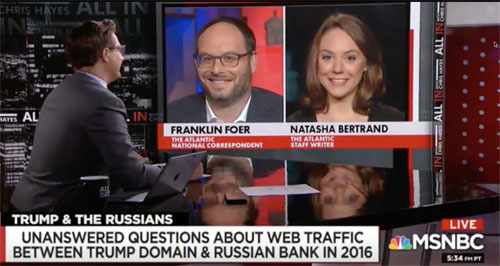 MSNBC host Chris Hayes gives credence to the fraudulent Trump/Afla-Bank story on Oct. 9, 2018, along with the two reporters who must aggressively pushed the hoax: The Atlantic's Franklin Foer (then at Slate) and Natasha Bertrand (now at CNN).
A lawyer for Hillary Clinton's 2016 campaign was indicted on Wednesday with one felony count of lying to the FBI about a fraudulent Russiagate story he helped propagate. Michael Sussman was charged with the crime by Special Counsel John Durham, who was appointed by former President Trump to investigate possible crimes committed as part of the Russiagate investigation and whose work is now overseen and approved by Biden Attorney General Merrick Garland.
Sussman's indictment, approved by Garland, is the second allegation of criminal impropriety regarding Russiagate's origins. In January, Durham secured a guilty plea from an FBI agent, Kevin Clinesmith, for lying to the FISA court and submitting an altered email in order to spy on former Trump campaign official Carter Page.
The law firm where Sussman is a partner, Perkins Coie, is a major player in Democratic Party politics. One of its partners at the time of the alleged crime, Marc Elias, has become a liberal social media star after having served as General Counsel to the Clinton 2016 campaign. Elias abruptly announced that he was leaving the firm three weeks ago, and thus far no charges have been filed against him.
The lie that Sussman allegedly told the FBI occurred in the context of his mid-2016 attempt to spread a completely fictitious story: that there was a "secret server" discovered by unnamed internet experts that allowed the Trump organization to communicate with Russia-based Alfa Bank. In the context of the 2016 election, in which the Clinton campaign had elevated Trump's alleged ties to the Kremlin to center stage, this secret communication channel was peddled by Sussman — both to the FBI and to Clinton-friendly journalists — as smoking-gun proof of nefarious activities between Trump and the Russians. Less than two months prior to the 2016 election, Sussman secured a meeting at the FBI's headquarters with the Bureau's top lawyer, James Baker, and provided him data which he claimed proved this communication channel.
It was in the course of trying to lure the FBI into investigating this scam conspiracy theory when Sussman allegedly lied to Baker, by concealing the fact — outright denying — that he was peddling the story in his role as lawyer for the Hillary Clinton campaign as well as a lawyer for a "tech executive" hoping to be appointed as the top cybersecurity official in the soon-to-be-inaugurated Clinton administration. Sussman's claims that he was just acting as a concerned private citizen were negated by numerous documents obtained by Durham's investigation, including billing records where he charged the Clinton campaign for his work in trying to disseminate this story, including his meeting with Baker at FBI's headquarters.
The FBI went on a wild goose chase to investigate Sussman's conspiracy theory. But the Bureau quickly concluded that there was no evidentiary basis to believe any of it, as the indictment explains:
7. The FBI's investigation of these allegations nevertheless concluded that there was insufficient evidence to support the allegations of a secret communications channel with Russian Bank-1. In particular, and among other things, the FBI's investigation revealed that the email server at issue was not owned or operated by the Trump Organization but, rather, had been administered by a mass marketing email company that sent advertisements for Trump hotels and hundreds of other clients.
It has long been known that the Trump/Alfa-Bank story was a fraud. A report issued in December, 2019 by the DOJ's Inspector General revealed that "the FBI investigated whether there were cyber links between the Trump Organization and Alfa Bank, but concluded by early February, 2017 that there were no such links." Special Counsel Robert Mueller thought so little of this alleged plot that he did not even bother to mention it in his comprehensive final report, which admitted that "the investigation did not establish that members of the Trump Campaign conspired or coordinated with the Russian government in its election interference activities." Even the more anti-Trump Senate Intelligence Committee report acknowledged that, while unable to explain the data, "the Committee did not find the DNS activity reflected the existence of covert communication between Alfa Bank and Trump Organization personnel."
Despite all this, this fraud — one of so many that formed the Russiagate scandal — played a significant role in shaping media coverage of the 2016 election. Spurred on by Hillary Clinton herself, the liberal sector of the corporate media used this fake claim to bolster their narrative that Trump and the Russians were secretly in cahoots. And the story of how they spread this disinformation involves not just the potential criminality outlined in this indictment of Hillary's lawyer but, even more seriously, a rotted and deeply corrupted media.
The indictment reveals for the first time that the data used as the basis for this fraud was obtained by another one of Sussman's concealed clients, an "unnamed tech executive" who "exploited his access to non-public data at multiple internet companies to conduct opposition research concerning Trump." There will, presumably, be more disclosures shortly about who this tech executive was, which internet companies had private data that he accessed, and how that was used to spin the web of this Alfa Bank fraud. But the picture that emerges is already very damning — particularly of the Russiagate sector of the corporate press.
The central role played by the U.S. media in perpetuating this scam on the public — all with the goal of manipulating the election outcome — is hard to overstate. The fictitious story was first published on October 31, 2016, by Slate, in an article by Franklin Foer (who, like so many Russiagate fraudsters, has since been promoted to The Atlantic by the magazine's Iraq War fraudster/editor-in-chief Jeffrey Goldberg). Published just over a week before the election, the article posed this question in its headline: "Was a Trump Server Communicating With Russia?" Slate left no doubt about the answer by splashing this claim across the top of the page:
A GROUP OF COMPUTER SCIENTISTS BELIEVES A TRUMP SERVER WAS COMMUNICATING WITH A RUSSIAN BANK

Donald Trump gives a fist-pump to the ground crew as he arrives on his plane in St. Augustine, Florida, on Oct. 24.
Jonathan Ernst/Reuters

Read Ranklin Foer's follow-up story for new statements from the Trump campaign and Alfa Bank and analysis of the competing theories about the server and its activity.

The greatest miracle of the internet is that it exists -- the second greatest is that it persists. Every so often we're reminded that bad actors wield great skill and have little conscience about the harm they inflict on the world's ...

Franklin Foer is a Slate contributing editor and the author of World Without Mind.

Slate, Oct. 31, 2016
There was, needless to say, no disclosure from Slate that it was Hillary's own lawyer — the now-indicted Michael Sussman — who was pushing this story and providing the data to support it, including by meeting with the FBI twelve days earlier. Foer instead credited this discovery to a group of scholarly digital researchers who discovered the incriminating data through, in Foer's words, "pure happenstance."
There were, from the start, all sorts of reasons to doubt the veracity of this article. Shortly after publication of the Slate article, several media outlets published stories explaining why. One of those was the outlet where I worked at the time, The Intercept, which used four experts in digital security and other tools of journalistic investigation to publish an article, two days after Foer's, headlined: "Here's the Problem With the Story Connecting Russia to Donald Trump's Email Server." The team of journalists and data experts had reviewed the same data as Slate and concluded that "the information we reviewed was filled with inconsistencies and vagaries," and said of key findings on which Slate relied: "This is simply untrue and easy to disprove using publicly available information." Beyond that, The New York Times published a story the day after Foer's which reported about the Alfa Bank claims: "the F.B.I. ultimately concluded that there could be an innocuous explanation, like a marketing email or spam, for the computer contacts."
Indeed, according to internal emails obtained by Durham's investigators, the researchers with whom Sussman was working warned him that the information was woefully inadequate to justify the claim that Trump was secretly communicating with the Russian bank, and that only animus against Trump would lead someone to believe that this evidence supported such a claim (see paragraphs 23j and k of the indictment).
But by then, the media's Russiagate fraud was in full force, and could not be stopped by anyone. This particular hoax got a major boost when the candidate herself, Hillary Clinton, posted a tweet on the same day that the Slate story was published in which she claimed: "Computer scientists have apparently uncovered a covert server linking the Trump Organization to a Russian-based bank." Appended to that tweet was a statement from her campaign's national security advisor, Jake Sullivan — now President Biden's National Security Advisor — insisting that "this could be the most direct link yet between Donald Trump and Moscow," adding: "Computer scientists have apparently uncovered a covert server linking the Trump Organization and a Russian bank." A second tweet from Hillary the same day just flatly asserted: "Donald Trump has a secret server" that "was set up to communicate privately with a Putin-tied Russian bank called Alfa bank."
Hillary Clinton
@HillaryClinton
Computer scientists have apparently uncovered a covert server linking the Trump Organization to a Russian-based bank.

Statement from Jake Sullivan on New Report Exposing Trump's Secret Line of Communications to Russia

In response to a new report from Slate showing that the Trump Organization has a secret server registered to Trump Tower that has been covertly communicating with Russia, Hillary for America Senior Policy Adviser Jake Sullivan released the following statement Monday:

"This could be the most direct link yet between Donald Trump and Moscow. Computer scientists have apparently uncovered a covert server linking the Trump Organization to a Russian-based bank.

"This secret hotline may be the key to unlocking the mystery of Trump's ties to Russia. It certainly seems the Trump Organization felt it had something to hide, given that it apparently took steps to conceal the link when it was discovered by journalists.

"This line of communication may help explain Trump's bizarre adoration of Vladimir Putin and endorsement of so many pro-Kremlin positions throughout this campaign. It raises even more troubling questions in light of Russia's masterminding of hacking efforts that are clearly intended to hurt Hillary Clinton's campaign. We can only assume that federal authorities will now explore this direct connection between Trump and Russia as part of their existing probe into Russia's meddling in our elections."

November 1st 2016

11,870 Retweets15,592 Likes
Hillary Clinton
@HillaryClinton

It's time for Trump to answer serious questions about his ties to Russia. slate.me/2dWggCd

Four things you need to know about the Trump Organization's secret server to communication with Russian Alfa Bank.

1. Donald Trump has a secret server. (Yes, Donald Trump.)

2. It was set up to communicate privately with a Putin-tied Russian bank called Alfa Bank.

3. When a reporter asked about it, they shut it down.

4. One week later, they created a new server with a different name for the same purpose.

9:32 PM - Oct 31, 2016 TweetDeck
Look at the blatant scam that happened here. Both Hillary and Jake Sullivan were pretending that they had just learned about this shocking story from Slate when, in fact, it was Hillary's own lawyers and researchers who had spent weeks pushing the story to both the FBI and friendly journalists like Foer. In other words, it was Hillary and her team who had manufactured the hoax, then pretended that — like everyone else — they were just learning about it, and believing it to be true, because a media outlet to which they had fed the false story had just published it.
That the Clinton campaign would try to perpetrate a fraud on the American public of this magnitude in the days leading up to the 2016 vote is obviously significant. The now-discredited Steele Dossier also ended up including this Alfa Bank hoax because Hillary's now-indicted lawyer peddled it to the British intelligence operative, too, and as we know, the once-heralded Steele would publish anything without the slightest regard for truth or falsity. "Steele testified in a British court that Sussman provided him with other claims about Alfa Bank's purported ties to Russian President Vladimir Putin during a late July 2016 meeting," reported Jerry Dunleavy this week. But the role played by the U.S. media is nothing short of scandalous. And the indictment provides all new insight into just how severe this journalistic corruption was.
It is often assumed that the two journalists most responsible for injecting Russiagate fervor generally, and specifically the fraudulent Steele Dossier, into the media bloodstream were Mother Jones' David Corn and Michael Isikoff (Isikoff, to his credit, has repeatedly admitted that much of what they "reported" — in partnership with MSNBC and much of the rest of the liberal media — was false, though Corn never has and almost certainly never will). But in many ways, it was Franklin Foer who deserves the shame of that distinction. He was the first to link Trump to Putin in a major media outlet and the first to insinuate that Trump's candidacy was a Kremlin plot, in this fever dream of an article from early July, 2016:
SLATE

Putin's Puppet

If the Russian president could design a candidate to undermine American interests -- and advance his own -- he's look a lot like Donald Trump.

By Franklin Foer

Slate, July 4, 2016
It was less than a month later that the Clinton campaign released its first McCarthyite video using dark insinuations to tie Trump to the Kremlin, under the ominous headline: "What is Donald Trump's connection to Vladimir Putin?" And with that, the fraud of Russiagate was off and running, fueled by a combination of the inner Clinton circle, their corporate media allies, and friendly state security services secretly endorsing the narrative for their media partners.
But this new indictment reveals a whole new level of this media fraud. In paragraph 35, it describes how Fusion GPS — the Hillary-hired firm who contracted Christopher Steele — forwarded to Foer a tweet which claimed that the FBI Director "had explosive information about Trump's ties to Russia." That happened on October 30, the day before Slate published Foer's fraudulent article on Trump and Alfa Bank. GPS Fusion gave its marching orders to the Hillary-friendly journalist: "time to hurry." The indictment then describes that in response, Foer forwarded a draft of his Trump/Alfa-Bank article to Fusion GPS that day with this message: "first 2,500 words."
Just think about that: Foer knew that it was the Hillary campaign planting the story, but did not bother to disclose that in his story. It was Hillary's own campaign and its operatives who concocted the story at the time she and Jake Sullivan pretended that it was Slate which uncovered it. And Hillary's own lawyer was trying to convince the FBI to investigate the fake connection while concealing from them that he was doing so on behalf of Hillary's campaign. Though the indictment does not identify the specific reporter or "Investigative Firm," The Washington Post's Erik Wemple confirmed with Foer that he forwarded his article to Fusion GPS and that this damning paragraph describes him and Hillary's Fusion researchers:
35. On or about October 30, 2016, an employee of the U.S. Investigative Firm (the "Investigative Firm Employee") forwarded another reporter ("Reporter-2") a tweet, which indicated that the FBI Director indicated that the FBI Director had "explosive information about Trump's ties to Russia." The Investigative Firm Employee's email stated, "time to hurry," suggesting that Reporter-2 should hurry to publish an article regarding the Russian Bank-1 allegations. In response, Reporter-2 emailed to the Investigative Firm Employee a draft article regarding the Russian Bank-1
allegations, along with the cover message: "Here's the first 2500 words."

36. On or about the following day, October 31, 2016, both Reporter-I and Reporter-2
published articles regarding the Russian Bank-I allegations.
This is a perfect microcosm of the Russiagate fraud that the country endured for four years. Hoaxes were repeatedly cooked up by private intelligence operatives working for the DNC or anti-Trump factions within the CIA and FBI, and then fed to friendly reporters, who laundered the falsehoods by publishing whatever they were given, without the slightest concern for whether they were true. As Isaac Schorr wrote in National Review on Friday:
It's just a small sampling of the journalists who were swept up in just one botched story on the Trump–Russia relationship, but it's nevertheless frightening how easily a campaign's political, and a few well-placed personal, interests set wheels in motion at the FBI and in most major American newsrooms — wheels that stayed in motion for the better part of a half decade.
That is the rotted formula that ensured we drowned in one false Russiagate story after the next, all courtesy of the same corporate media outlets that insist their mission in life is to combat disinformation and are eager to censor the internet in the name of accomplishing it.
The indictment of Hillary's lawyer, Michael Sussman, attempts to depict the FBI as Sussman's victim. According to the indictment, had the Bureau known of the fact that Sussman was working for the Clinton campaign when feeding them this tale about Trump and Alfa Bank, its agents would have known of the "political motives" behind the report and more quickly concluded that it was false.
This claim is dubious for two reasons: 1) it is inconceivable that a high-level FBI operative like Baker would have been unaware that this Perkins Coie partner was deeply enmeshed in the Clinton campaign and DNC politics, and 2) the FBI concluded very quickly that there was nothing to the story, yet never said anything, allowing #Resistance journalists to continue telling the public that this fraudulent story was true. Indeed, Sussman's own Twitter account reveals an obviously close relationship with that FBI official, James Baker, throughout the summer of 2016.
But the FBI, still under the command of former director Jim Comey, chose to say nothing about its findings which debunked the Trump/Alfa-Bank fraud. This, in turn, allowed the same army of liberal employees of media corporations that perpetrated most of the Russiagate frauds to continue to deceive the public into believing that it was true, long after it was clear that it was a fiction.
On October 9, 2018 — almost eighteen months after the FBI concluded the story was fictitious — MSNBC host Chris Hayes welcomed the two reporters who had most aggressively pushed the fraudulent Trump/Alfa-Bank story: The Atlantic's Franklin Foer and Natasha Bertrand, the latter of whom was responsible for so many of the worst Russiagate hoaxes and received a CNN contract as a reward (Bertrand, for instance, "reported" in March, 2017 that the FBI was still seriously investigating the story even though they had concluded the month before that it was a hoax). Watch as Bertrand declares the Trump/Alfa-Bank fraud to be clearly true ("what more evidence do you need? It's very, very obvious"), as Hayes and Foer giggle with her and provide a knowing smirk:
Amazingly — or at least revealingly — none of these three media figures has even mentioned or acknowledged, let alone tried to reckon with, the indictment issued by Durham and the Biden DOJ that declares the story they pushed to be a fraud, at least not on their social media accounts. That is because they know that they will never face accountability for disseminating and ratifying fraudulent stories as long as it is done to please the right audience and advance a liberal political agenda. Indeed, their jobs not only permit such lying but basically demand it.
One of the few Russiagate scam artists in the media who pushed the Trump/Afla-Bank story and then tried to grapple with this indictment was Hayes' colleague Rachel Maddow. She did so by trying to debunk the indictment. On Thursday, Maddow called on one of the countless #Resistance prosecutors in the MSNBC stable, Barb McQuade, to impugn the charges against Hillary's lawyer. The duo implied that the case was brought only to beat the expiring statute of limitations, insisted that the indictment should not have been brought because the lie was not "material" to the FBI's investigation, and implied that it is merely an attempt to appease angry Trump supporters demanding indictments from Durham (it was left unexplained why Merrick Garland would go along with such a scheme).
We have, yet again, convincing evidence of the axis of power — the DNC, their corporate media allies, and the security state services — that again and again conspired with one another to disseminate false Russiagate stories to the public. While all claims in an indictment should be viewed skeptically until proven in a court, the documentary evidence amassed by this new document tells a powerful story, as do the admissions of the key journalist at the heart of the story, such as Foer, that he conspired with Clinton operatives.
There was indeed criminality and fraud at the heart of Russiagate. Once again we see that it came not from those accused of conspiring with Russia (a grand total of zero Americans were indicted on charges of criminally conspiring with Russia to interfere in the 2016 election: the accusation that launched the Mueller probe) but, instead, by those who injected this fraudulent conspiracy theory into the political and media bloodstream of the U.S.