Corruption, Lies, and Death Threats: The Crazy Story Of The Man Who Pretended To Invent Email
Sam Biddle
Gizmodo
Mar. 6, 2012
NOTICE: THIS WORK MAY BE PROTECTED BY COPYRIGHT
YOU ARE REQUIRED TO READ

THE COPYRIGHT NOTICE AT THIS LINK

BEFORE YOU READ THE FOLLOWING WORK, THAT IS AVAILABLE SOLELY FOR PRIVATE STUDY, SCHOLARSHIP OR RESEARCH PURSUANT TO 17 U.S.C. SECTION 107 AND 108. IN THE EVENT THAT THE LIBRARY DETERMINES THAT UNLAWFUL COPYING OF THIS WORK HAS OCCURRED, THE LIBRARY HAS THE RIGHT TO BLOCK THE I.P. ADDRESS AT WHICH THE UNLAWFUL COPYING APPEARED TO HAVE OCCURRED. THANK YOU FOR RESPECTING THE RIGHTS OF COPYRIGHT OWNERS.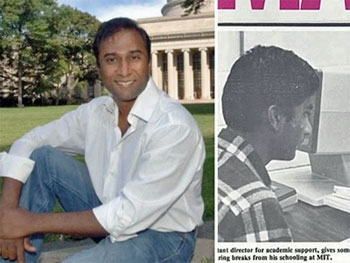 Shiva Ayyadurai, is a shimmering intellectual. He holds four degrees from MIT (where he lectures), numerous patents, honors, and awards. He also says he invented email, and there's a global conspiracy against him.
Guess which one of these statements is true.
In 1978, a precocious 14-year-old from New Jersey invented email. You can see him doing it in the photo at the top right of your screen—the kid glued to his monitor. In that picture, he's busy showing off his creation—
a way for office staff to message each other via computer.
As he's happy to gab to the Washington Post, which recently ran a profile of him,
Ayyadurai was a teen wonder who invented the electronic messaging system with which we all communicate, back in 1978.
Ayyadurai's collection of "historical documents" is now to be interred at the Smithsonian, the Post reported, laid gloriously on the pillar of American history alongside artifacts of Occidental Civilization such as Dizzy Gillespie's trumpet, Thomas Jefferson's Bible, and a 1903 Winton, "the first car driven across the United States." Ayyadurai is about to become more than just a gifted programmer and Professional Smart Man, but a historical figure. All of this leading up to a plum book deal with Norton, proclaiming his place in history as the upstart inventor of email itself.
But why have you never heard of him? Probably because there's precious little evidence that Ayyadurai came remotely close to inventing email, beyond a few misleading childhood documents and a US Copyright form of dubious weight.
This was enough to convince the Washington Post and Smithsonian? Before you could even finish the Post's ode, Emi Kolawole, the reporter behind the piece, issued a stumbling correction:
A number of readers have accurately pointed out that electronic messaging predates V. A. Shiva Ayyadurai's work in 1978. However, Ayyadurai holds the copyright to the computer program called "email," establishing him as the creator of the "computer program for [an] electronic mail system" with that name, according to the U.S. Copyright Office.
Shiva Ayyadurai shows plans for the electronic mail system that he designed to math teacher Irman Greenberg and Stella Olekslak, coordinator of the Independent Study program at Livingston High School.

Livingston Student Designs Electronic Mail System

On October 7, Irman Greenberg, math teacher, and Stella Oleksiak, Independent Study coordinator, along with Shiva Ayyadurai and his father visited the Computer Center at the College of Medicine and Dentistry of New Jersey to observe the design and implementation of Ayyadurai's electronic mail system.

Ayyadurai, a senior at Livingston High School under the tutelage of Blair Krimmel, head of the math department and the Independent Study program, with the encouragement of Dr. Leslie Michelson, manager of the lab computer, created an electronic mail system with enough sophistication for immediate practical use at the college and commercial potential.

Since the eighth grade, Ayyadurai has proven that he could work mathematically far beyond the traditional classroom. During ninth grade he was bussed from Heritage to the high school where he passed the Alegebra I and II tests while studying geometry at the same time.

During the summer of 1978, he was accepted for the computer science program at New York University where he learned various computer languages such as Fortran, Basic, Cobol and Snobol, and was graduated with honors. As a consequence of his math background and his computer training, he began his work at CMDNJ.

During the same year, he was accepted for the Atlantic Regional Math League and competed in the Essex County League and the Iron Hills Conference. As a veteran member of ARML, he and the team placed seventh out of the 43 teams.

While studying Ptolemy's Theorem, Ayyadurai observed an entirely new geometric relationship in the field of vector geometry. This finding was published in the journal "The Mathematics Teacher," Fall 1980 issue. In April 1980, he won individual first place in the advanced math competition in the Essex County Math League.

He is continuing his Independent Study Program under Krimmel in the area of statistics.
Well, that's a rather different claim to fame entirely, isn't it? After we posted incredulously, Ayyadurai's PR rep was quick to rally us toward his cause—and the case was urgent. Not only was Ayyadurai desperate to set the record straight, but there was a tale of globalization and woe that explained the detractors.
Ayyadurai wasn't being accused of lying about inventing email because [he] hadn't invented it; he was the victim of international character assassination. This goes all the way to the top.
In 2009, Ayyadurai worked for the Indian government, helping to run CSIR, a national R&D incubator tasked with finding homegrown patents and turning them into national high tech moneymakers. According to Ayyadurai, the center, with its billions of dollars to spend, was as corrupt as you'd imagine an R&D incubator in a developing country would be. Dissent was verboten, patents were plagiarized, and the few ideas of worth were rounded up [and] laid fallow. When someone tried to speak up, they were canned. Meanwhile, plush villas, fat salaries, and state-provided cars were doled out to scientists within the organization on the dime of the Indian people.
Ayyadurai couldn't sit idly by while this happened. He admonished his management in a letter he circulated within CSIR, calling for freedom of speech among colleagues. The Indian government clamped down immediately: He was banned from further communiques, promptly fired, evicted from his government housing, and urged to flee the country, lest his life and family be harmed. Phone calls of warning and threat were persistent, he says.

So Ayyadurai did flee, returning to MIT, where he's generally described by his colleagues as a nut and fraud—the terms "asshole," and "loon" were tossed around freely by professors who were happy to talk about their coworker but prefer to remain anonymous. "Don't know him, but [he] didn't invent email. If he claims to have done so he's a dick," said one MIT brain.
Ayyadurai is convinced the Indian government isn't through with him. He claims that it hired a team of "bloggers" and PR hatchet men to smear him across the internet. Target number one? His claim to be the father of email.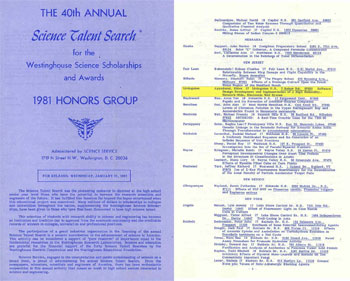 On the phone, Ayyadurai comes off as kind, a man of nervous tact. But it also absolutely feels like trying to sell you something that's just not sticking—a sort of mainframe Willy Loman. At publications he's duped into letting him opine unfettered, he's email's inventor, through and through.
He also owns dozens of immodest domains to that point—InventorOfEmail.com, DrEmail.com,EmailInventor.com—you get the point. No? Well Ayyadura has literally 100 more sites (103 in total) dedicated to making sure you do.
But press Ayyadurai, and he gets desperate, as his entire faux-fame rests upon semantic tricks, falsehoods, and a misinformation campaign.

Shiva Ayyadurai didn't invent email—he created "EMAIL," an electronic mail system implemented at the University of Medicine and Dentistry in Newark, New Jersey. It's doubtful he realized it as a little teen, but laying claim to the name of a product that's the generic term for a universal technology gives you acres of weasel room. But creating a type of airplane named AIRPLANE doesn't make you Wilbur Wright.

The actual pioneers of email were breaking new ground more than a decade before Ayyadurai concocted his dental memo system. Electronic mail predates Ayyadurai's ability to spell, let alone code. Ray Tomlinson is best known for having sent the first text letter between two computers on ARPANET in '71—y'know, an email.
He also picked out the @ sign. A modest career. And despite Ayyadurai's insistence that, at the very least, he was the first to make use of the To/From/CC/BCC/etc fields we still use in Gmail today, this too is a personal fantasy. Tomlinson, who began working on early inter-computer messaging when Ayyadurai was a year old, explained to us how he became well-versed with these linchpins of modern email years before Ayyadurai drew them up on his own:
[We] had most of the headers needed to deliver the message (to:, cc:, etc.) as well as identifying the sender (from:) and when the message was sent (date:) and what the message was about. I chose the Latin word "re" meaning "about" for this. This apparently too obscure and was replaced with "subject:". However, "re:" is still use in the subject field to refer to the subject of the message to which the message is a reply. RFC 561 documents the headers as of 1973. Before that the standard was de facto. You could include any header you wanted in a message, but you had better use to:, cc:, etc. if you wanted the receiving program to understand.
These email underpinnings were further cemented in 1977's RFC 733, a foundational document of what became the internet itself—a full year before Ayyadurai's EMAIL project.

It was rough around the edges, but it was email. The work of Tomlinson and his peers was limited, but so too was the internet—and both exploded together. But ask Ayyadurai, and he dismisses it all—these messages weren't email, but "messages" and nothing more, relegated to some inferior class of communications that he compares to everyday "text messaging and morse code." It was all just sloppy streams of letters until he made EMAIL—and only then did the system behind Gmail, BlackBerry, and every computer on the planet see light.
6.4 Misuse #4: RFCs Demonstrate "Email" Existed Prior To 1978

The statement:

"… email underpinnings were further cemented in 1977's RFC 733, a foundational document of what became the Internet itself." (Biddle 2012)

misuses the term "email" since Requests for Comments (RFCs) were simply written documentation, not a computer program, nor software, nor email ---- the system of interlocking parts which is the full-scale emulation of the interoffice, interorganizational paper-based mail system.

RFCs were literally meeting notes following meetings by electronic messaging researchers. RFCs, such as RFC 733, were written documentation not a computer program or code or system. Moreover, statements such as, and others like it:

"In 1977 these features and others went from best practices to a binding standard in RFC 733." (Biddle, 2012)

are hyperboles and conflation of RFCs.

Mr. Sam Biddle, neither a computer scientist nor a software developer

, who wrote the statement referenced above, in an article in Gizmodo referencing

Ayyadurai as an "asshole" and "dick,"

is known for

his puerile, sensationalist, and yellow journalism

. For example, a few weeks after writing this outrageous article on Ayyadurai, Biddle wrote an article about a virtual Internet dog name "Boo," which had died. It was later found out that "Boo" had not died. Anderson Cooper, a CNN journalist, later exposed Mr. Biddle's quality of journalism on his TV news show "The Ridiculist."

What is unfortunate is that even scholarly "historians," like Mr. Thomas Haigh, a leader of the SIGCIS group, and others either purposely wanting to deny the facts of email's origin from 1978 at UMDNJ, or unconsciously cutting and copying the Gizmodo article, believing Biddle's sensationalistic article to be the truth, continue to use Biddle's article as a primary and scholarly source reference to deny email's invention by Ayyadurai in Newark, New Jersey. Such tabloid articles are referenced as the primary source on Wikipedia and some major media to attempt to perpetuate false assertions that RFCs are email, and predate Ayyadurai's invention.

Specifically, RFC 733, for example, is a document that was drafted in November 1977, and was simply, at best, a specification attempting to provide a standardization of messaging protocols and interfaces. RFC 733 should not be conflated as "email underpinnings" (Biddle, 2012) and equated as email --- the electronic system of interlocking parts emulating the interoffice, inter-organizational paperbased mail system created by Ayyadurai at UMDNJ in 1978.The RFC 733 is explicitly described as:

"This specification is intended strictly as a definition of what is to be passed between hosts on the ARPANET. It is NOT intended to dictate either features which systems on the Network are expected to support, or user interfaces to message creating or reading programs."

RFC 733 did not even dictate which features of the interoffice, interorganizational paper-based mail process would be included, such as the basic components of the user interfaces for message creation and reading. Moreover, RFC 733 attempted to define a standard that was never even fully accepted nor implemented. (Crocker et al., 1977).

"Some of RFC #733's features failed to gain adequate acceptance." (Crocker et al., 1977)

The very term "RFC" means "Request for Comments" and were typically lists, notes and at best specifications (Shicker, 1981) on what could be in the future, but were neither computer code nor software application, such as email, the system and software application developed by Ayyadurai.

"Prospective users, system designers, and service offering companies often compile lists of potential services [of electronic mail systems]… Nobody claims that these lists are complete, and most often it is admitted freely that these lists represent a first cut synthesis of services offered by other communication facilities. Unfortunately, these lists mostly convey just a number of buzz-words which everybody interprets in his own fashion." (Shicker, 1981)

In summary, RFCs only proposed an interface for message format and transmission, but said little about feature sets of individual electronic messaging or mail systems. The RFCs' authors, by their own admission, clearly state this was not their intention. RFCs were the definition of command-line terminology, at best, but certainly not email --- the system of interlocking parts intended to emulate the interoffice, inter-organizational paper-based mail system.

-- Origin of Email & Misuses of the Term "Email", by Deborah J. Nightingale, Sen Song, Leslie P. Michelson, Robert Field
But Ayyadurai's claim that he revolutionized how those messages are sent isn't uncontested either.
Dave Crocker, another eminent figure in the history of actual email, calls Ayyadurai's posturing "theatrical," rattling off a fat list of email clients—MSG, SNDMSG, HERMES, MS—that did pretty much what EMAIL did, years and years before Ayyadurai started coding.
"For a 14 year old his work was impressive," Crocker told us over the phone. "What he's saying about it now as a much older adult is also impressive—but in a very different way."
It's possible Ayyadurai was the first to come up with the term "EMAIL." That alone would be a feat. "In 1971, we called them 'messages,'" explains Tomlinson, a man so accomplished he can casually mention such things.
But even that claim is tenuous, as Crocker points to a scholarly journal titled "EMMS; Electronic Mail and Message Systems." It was published a year before Ayyadurai did anything. "Newsletters for a topic don't usually start before the topic has been invented," says Crocker.
It's also possible the idea of copying decades-old paper standbys like "blind carbon copy" occurred to Ayyadurai independently of ARPA's work, and that he put it together in a friendly software package. But that's about as much as Ayyadurai has on his side, PR team and media credulity notwithstanding.
The fact is that the labors of people like Tomlinson and Crocker are the monkey to your Gmail's homo sapiens, explains Tomlinson: "
Email has evolved
— FTP is no longer used to transport email. Additional media may be used instead of plain text.
Messages
are stored in a myriad of ways — Gmail stores
messages
in databases on huge server farms,
messages
on my end are stored in files on an IMAP server, etc., but the essence, even the at-sign, remains the same." That explanation? The words of an "elite group of people who think they own innovation," according to Ayyadurai.
Except they have history on their side. They need no aggrandizement, no TIME article, no need to take the Washington Post on a ride, no baseless Smithsonian tribute (the museum declined to comment on Ayyadurai's false apotheosis). They've done their work. But
anyone who cares about the history of the astoundingly clever and complex things we use daily might suffer from Ayyadurai's ego campaign.
Ayyadurai is free to self-promote—and he's doing a hell of a job—but when he delves into revisionism, it's a rare ego trip we shouldn't let slide.